We use affiliate links. If you buy something through the links on this page, we may earn a commission at no cost to you. Learn more.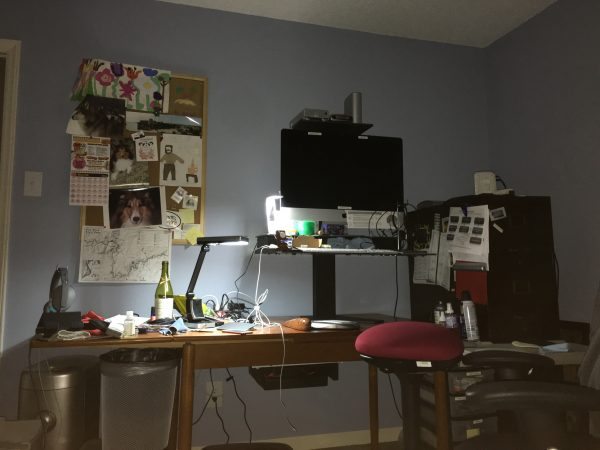 Standing desks have been around for years, but they are making a comeback, due to some recent studies. The studies revolved around the dangers of sitting for prolonged periods. I've recently seen news reports of schools that are replacing traditional desks with standing desks, and the energizing effect they've had on students. So, with my Apple Watch badgering me to stand up several times a day, I thought I'd give a standing desk a try. The folks at Beyond the Office Door offered "The Duke" adjustable desk to The Gadgeteer, and I was given the task of reviewing it.
Note: Photos may be tapped or clicked for a larger image.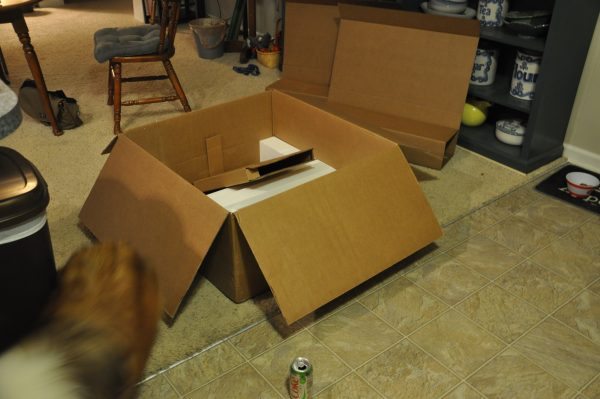 The desk comes in a very heavy box that will require two people to move inside. It's bulky as well as heavy. (Lift with your legs, not your back!) Once opened, the Duke is well-protected by cardboard and a few pieces of styrofoam, and can easily be taken out and moved piece by piece to an area for assembly. Points for the mostly recyclable packaging. I heartily recommend moving it as close as possible to its final usage spot before assembly.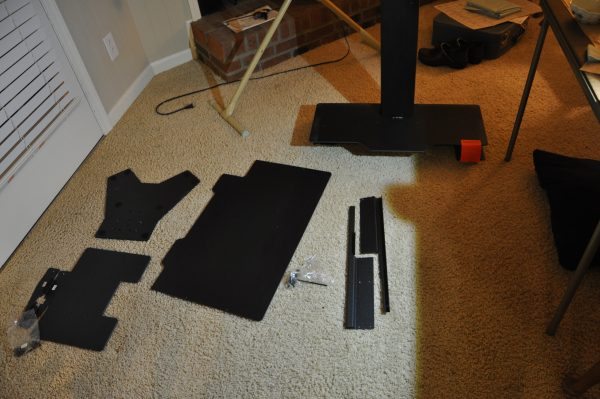 Assembly is surprisingly easy and fast. (I attempted to make a time-lapse sequence for inclusion in this review, but set the app parameters incorrectly and got a series of stills instead. But, since it only took 20-30 minutes, it would have been just a few seconds long anyway.) The instruction sheet is clearly illustrated, and the various screws are easy to distinguish from each other. Easy-peasy for any Gadgeteer worth her/his salt. Once assembled, you place it on your existing desk, place your computer equipment on it, and it's ready to use. (See lead picture at top of article for what my setup looks like now.)
Since my main work computer is a 27″ iMac, I got the model with a single platform and a shelf above for peripherals. There are also models that have VESA mounts for single or double monitors, or laptop-friendly dual display setups. Time to assemble and place computer equipment was less than an hour. The time to clear off and dust my desk, however, was – um – a good bit longer. (Before picture below.)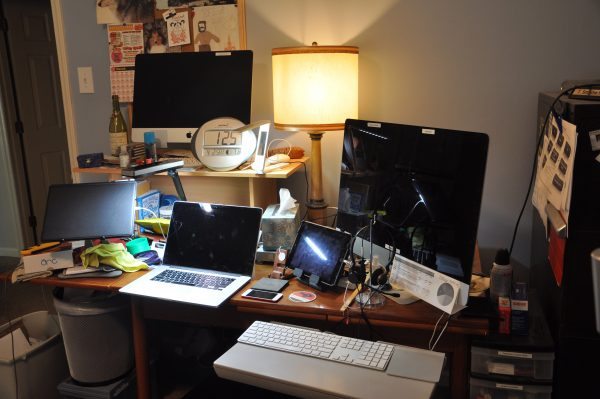 To adjust the desk height, you press down on a lever located on the right, just behind the keyboard area. With a typical load, the unit raises or lowers with just a slight bit of help. Before assembly and loading your computer on, I'd recommend against pressing the lever, as it's pretty powerful. The gas cylinder that powers it is set to make it trivial to lift 100 pounds or so. Without this weight, the action may be dangerous and sudden.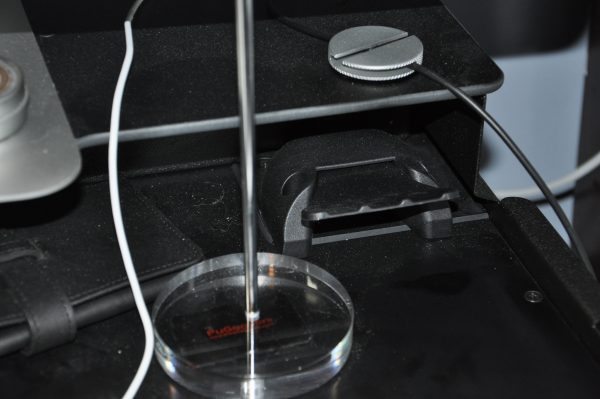 The whole unit covers an area of about 5-6 square feet, and only raises it up a fraction of an inch at the lowest setting. The base plate is the heaviest part of the whole assembly and prevents any tipping or wobbliness.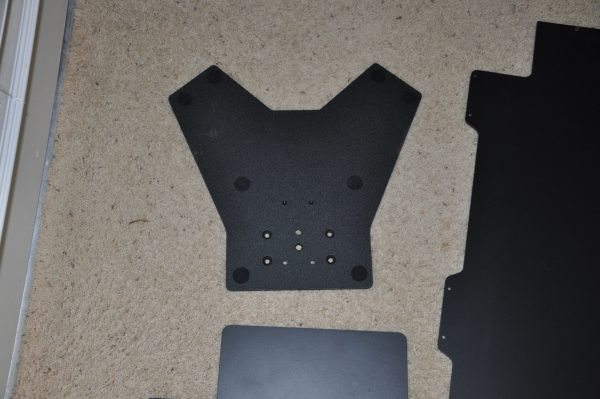 Even typing on the keyboard and using the trackpad, it's more stable than the Hermann-Miller scooter keyboard tray I had been using. There are no angle adjustments to tip the keyboard forward or backward, but those adjustments are usually needed to modify desks that are at a set height. Since this unit instantly adjusts to your most comfortable position, there's no need for much fine tuning.
The first few days, I mainly stood or leaned against a stool for most of my shift. (I work 4 10-hour days a week, pretty much glued to my computer.) I would raise the desk to my highest level (4-5 inches below the maximum height of 16 inches from the desktop), then, after an hour or so, lower it a bit and sit more fully on the stool. After a few days, I noticed that I was getting tired in the late afternoon, and enjoyed the treat of sitting down to take calls for a while. This has stabilized into my routine – I adjust my desk height constantly, and my stool height or chair as well. I'm more energetic throughout the day, mostly due to the constant movement.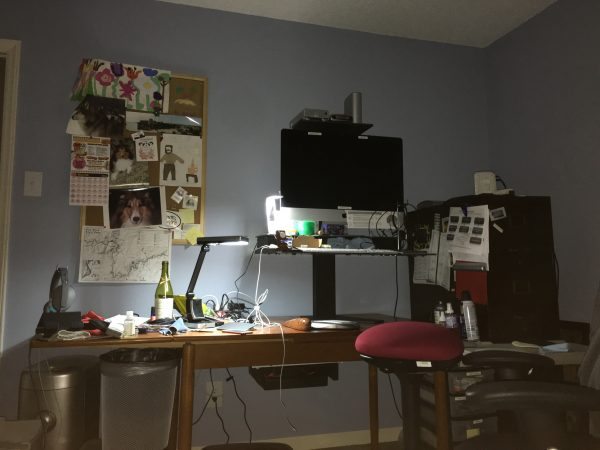 The space around the keyboard and the computer shelf is generous – I have a task light, tissues, knickknacks, Chinese stress balls, a holder for my Apple Watch and iPhone, all well-placed and convenient. (Hey, when you're on the phone all day, you have to have something to do with your hands, right?) The accessory shelf above the iMac is roomy enough for 2-3 full-sized hard drives, but is kinda tight against the top of the iMac. I've got maybe 2-3 inches to play with. Smaller all-in-ones will give you more flexibility.
Concurrent with the Duke's arrival, I ordered a Wobble stool. This is a padded stool of adjustable height, with a weighted base that has a slightly rounded bottom. This allows the sitter to move about freely. It's just as crazy as it sounds, but it's something that will truly complement an adjustable sit/stand desk setup. It has a pneumatic lift similar to The Duke's, and allows infinite adjustment from fully standing with just a touch. When I want to switch to my chair, I can push the stool away easily, and it stays upright, because of the weighted base. I find myself in constant motion now.
So, I've used this setup through 120 hours of work over the last three weeks, and I can honestly say I prefer the variety to just sitting in an office chair all day. Over time, I hope to get to where I'm standing or leaning most of the day. The Duke isn't nearly as expensive as a full desk replacement, but is more than some of the on-desk lift choices I've seen on the market. Having worked with it and seeing the quality and stability, however, I can attest that there will be few products out there that will be better in the quality and design department. And the assisted weight support means you don't have to lift it yourself, or risk having it crash to the surface while you're lowering it.
Right now, the Duke is on sale for $500, which is more than half off. Paired with free shipping and a 30 day no-questions-asked free shipping return policy, what's not to like? Give it a try. I think you'll be a convert.
Source: The sample for this review was provided by Beyond the Office Door. Please visit their site for more info and Amazon to price check / order.
Product Information
Price:
MSRP $1185 - currently on sale for $599 with free shipping
Manufacturer:
Beyond the Office Door
Retailer:
Amazon
Requirements:

Desk to place Duke adjustable desk on.

Pros:

Works with any existing flat surface.
Easy assembly.
Sturdy, well-planned, all metal construction.

Cons:

Really heavy.
Addictive - you hate working at regular desk height in a chair after a while.