We use affiliate links. If you buy something through the links on this page, we may earn a commission at no cost to you. Learn more.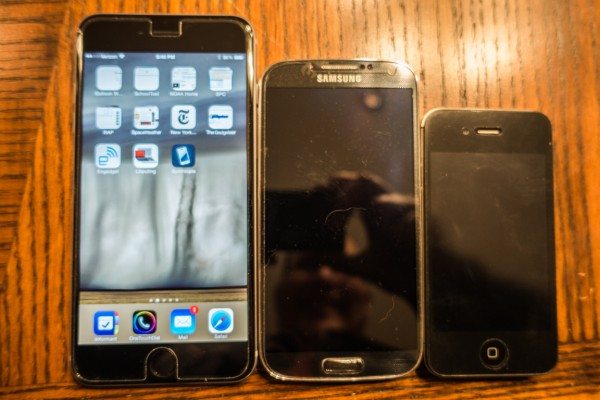 I have owned portable computing devices worn on the hip since I got my HP 200LX in 1994.  I remember going to Circuit City the day the first Palm Pilot was released to grab one. Afterwards I drove up to Woodstock to meet a friend and hike up Overlook Mountain in the Catskills after a nice lunch at a local bistro. Over the years I have also owned (just handhelds):
Palm Pilot 1000 (two of them)*   Grade B
Palm Pilot Personal (later upgraded to Professional) Grade B (then A)
Palm III*** Grade A
Palm IIIxe Grade A
Handspring Visor Deluxe (Blue)**** Grade A
IBM Workpad C3 (Palm Vx)*** Grade A
Casio A-11 WinCE HPC* Grade F
Casio E-11 Palm-Sized PC** Grade D
Uniden PSPC* Grade F
NEC Mobilepro 450*** Grade B
Sharp Mobilon 4600** Grade C
HP 660LX HPC* (2 of them) Grade C
HP Jornada 680** Grade B
HP Jornada 545*** Grade A
Psion Series 5* Grade B
OnHand watch computer*   Grade D
Xircom Rex 3 DS (two of them)** Grade C
Psion Series 5mx* Grade B
SonicBlue Diamond Mako* Grade B
NEC Mobilepro 770 Grade B
Sony Clie PEG610N, 8 MB RAM, Palm OS Grade A***
HP Jornada 690 Grade B**
Intermec 6651 Grade A-**
Sony Clie SJ33, 16 MB RAM, Palm OS 4 Grade A***
HP Jornada 720 Grade C**
Tidalwave PIC-1000 Palmbook Grade B
Prolinear PIC-3000 Palmbook 386SXLV Grade D****
Palm Zire 71, 16 MB, Palm OS, VGA camera Grade C+
Sony Clie TH-55, 32 MB RAM, Palm OS 5, WiFi, VGA camera, HiRes+ Grade A***
PalmOne Treo 650, 32 MB RAM, Palm OS 5, smartphone, VGA camera, Grade A***
Dell Axim X51v, Windows Mobile 5, 256 MB ROM, 64 MB RAM, VGA screen, wifi Grade B+
Palm Treo 700p, 128 MB RAM, Palm OS 5, smartphone, 1 MP camera, Grade A-****
HTC Touch Pro, 256 MB RAM, WinMobile 6.0 smartphone, 3 MP camera, Grade C-
OQO Model 02, VIA-1.5 GHz, 1 GB RAM, 60 GB HD, 5" 800 X 480 screen, XP Pro, 1 lb, Wifi abg, BT Grade A+***
Fujitsu U820, 1.6 GHz Atom, 1 GB RAM, 60 GB HD, WXGA, Vista Home Premium, WiFi, GPS Grade B-
Apple iPod Touch 1G 16 GB Grade B
Apple iPod Touch 2G 16 GB Grade A-***
Nokia N810 Internet Tablet, Maemo 2008, WVGA screen, slide-out keyboard, GPS Grade B-
Viliv S5 MID, 1.3 GHz Atom, 1 GB RAM, 60 GB HD, XP Home, 4.8" WSVGA, BT, WIfi, GPS, car kit Grade C+
Motorola Droid, 16 GB, Android 2.1, smartphone, 5 MP camera, WVGA, Grade A+ (F after it fell apart within the year)***
Viliv N5, 1 GB, 32 GD SSD, 1.3 GHz Atom, 4.8" WSVGA, Win7Basic, BT, WiFi, GPS             Grade B-
Apple iPhone 4, Verizon, 32 GB model, 5 MP cam, RetinaDisplay Grade A
Apple iPhone 4S, 64 GB model, 8 mp cam, RetinaDisplay, Siri   Grade A****
Samsung Galaxy S4, 16 GB model, 13 MP cam, Android Jelly Bean –> KitKat Grade A-***  (later B- as it slowed down and started glitching)
Apple iPhone 6 Plus (128 GB, 8 MP IS camera, 5.5" HD LCD, iOS 8)  Grade A
Yes, I keep a running list of every computer gadget I have ever owned that I update when I get a new one. * means I owned it less than a week, ** means I owned it less than a month, *** means I owned it over a year and **** means I owned it more than two years.
I got my Treo 650 in 2005, my first smartphone.  Replaced it with the 700p two years later.  Replaced it with the HTC Touch Pro, which was absolute garbage in 2008.  I sold it off and went back to my Treo 700p for the rest of the contract.  I replaced it with the first Droid in 2009 but it fell apart within a year.  in 2010 I bought a used iPhone 4 on eBay and sold it when my contract renewed in 2011 to get the 4S.  That kept me very happy, in fact I didn't upgrade after two years.
I waited a few months more and pounced on the Samsung Galaxy S4 because I didn't think Apple would get a decent-sized screen for years.  I loved my S4.  I loaded my life onto it, put contact icons on the home screen of my Nova Launcher.  I made extensive use of widgets and babied it in a Piel Frama leather flip case.  But as time has gone on, it has gotten weird.  Battery life, despite a new battery, became unacceptable.  It would drop calls for no reason or not even acknowledge an incoming call at all.  I loved my custom ringtones I made in RingDroid, I adored the multiple quick-open shortcuts from the lock screen.  I was not enamored of the quality of the 13-megapixel shooter, especially in less than stellar light.  Photo quality from the selfie cam was unacceptable.  The phone started getting slower and slower.  With all of the bloatware on the 16 GB device, there was no room to install anything else on the given memory.  When I pressed the Home button, it would bring up Task Manager, as if I had long-pressed.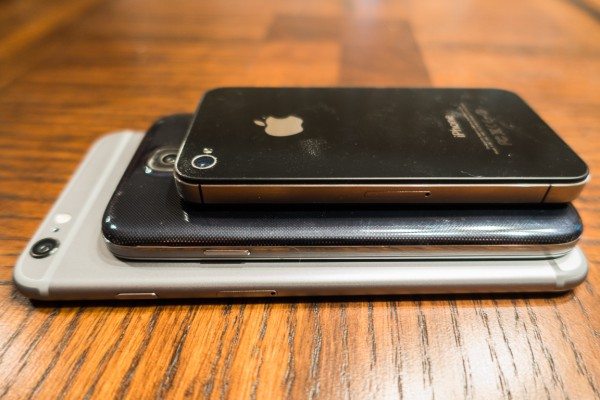 Top:  iPhone 4    Middle:  Samsung Galaxy S4   Bottom:  iPhone 6 Plus
Could I have lived with this until next June, when my contract was up?  Actually, no.  When the iPhone 6 Plus was announced, the Sammy didn't have a chance.  I preordered the 6 Plus, a tempered glass screen protector, belt pouch and armor case and, two and a half weeks later, Sixy (I call my new phone Sixy) showed up.  I got it up and running in no time.  I tried several options to get functionality that I had enjoyed on the S4 and I now have my iPhone just the way I want it.  No Home screen shortcuts for contacts, but instead of putting the Phone app on the bottom bar, I use One Touch Dial.  I have a screen just for my web shortcuts.  I used Garageband to make custom voice alerts ("Gadjitfreek has mail!") and my favorite ringtone song ("Let Me Be Your Hog" by Weird Al Yankovic…it's loud and obnoxious and impossible to ignore) and assign them to where I needed them.  Sixy and I are doing great.  I don't even use my iPad Air anymore.  Some day Sixy will be buried in the middle of my gadget list but I will look back with fondness at my first phablet.  Fast, great on aging eyes, killer battery life…and it just works!