We use affiliate links. If you buy something through the links on this page, we may earn a commission at no cost to you. Learn more.
In October of 1993, I bought what was then my ideal computer. It fit in my pocket, had a full QWERTY keyboard with dedicated numeric keypad, had lots of built-in apps, ran all my DOS programs with ease, had a gorgeous monochrome LCD screen and ran for 20 hours on two AA batteries. It was the HP 200LX. For years I used this machine for PIM storage, keeping grades for my students, writing a diary and keeping my important text documents on hand for easy reference. I moved to a new Windows-based grading program a year and a half ago, but I had used my 200LX for all that time. It still sits in my gadget cabinet, one gadget that will never see the light of Ebay.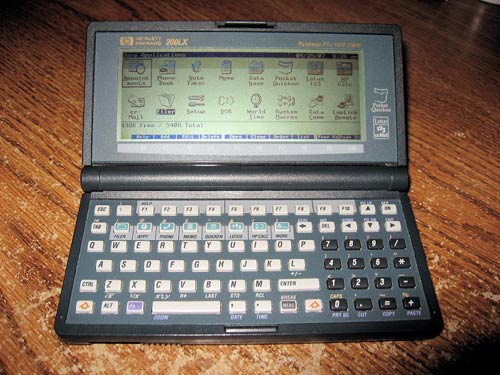 Since then, I have been on a quest to find the perfect replacement for my 200LX. It would preferably have a color screen, have the same form factor and easy-to-use chiclet keyboard. I found the IBM PC110 (imported from T-Zone in Japan), a 486 handheld that was not terribly stable. It was the first machine I ever had with a CF slot! I returned it after crash after crash. I embraced the Psion 5 and 5mx, but there were always connection issues with my desktop computers. I had several models of the Jornada clamshell series, the 660, 680 and 720, but all were larger than I really wanted, had a low screen resolution and the built-in web browser was worse than useless. I realized that only a fully Windows compatible system would serve. Why not the Zaurus? Because I don't know Linux and I want a machine that will work out of the box, not one I have to tinker with to get to work. Then came the Flipstart, but after years as vaporware, I gave up on it. The Nokia 770 was nice, but it was slow and quite limited.
Then came the OQO Model 01+.
It was the ideal size, ran XP and seemed loaded enough to do the job. I bought it from Ebay and marveled at the engineering of the tiny device. My joy was short-lived, however. The screen was difficult to see, the battery life was dismal, the keyboard was unusable, the screen was mushy to the touch and not terribly accurate with the digital pen. I sold it on Ebay and the buyer apparently still enjoys its use today.
Then came January 7th, 2007.
This is the day when I opened up Engadget.com and saw that OQO had unveiled a new model at CES. There were video clips of this new wonder, and it took me days to mop the drool off my keyboard. They were available for preorder right away, and I ordered one, despite the promised 8-12 week wait time to receive it. I ordered it, and waited.
I called OQO to ask them when I would be billed for the unit, and they told me right away. I had gone with the Bill Me Later option, so I could pay off the not-inconsiderable bill over the course of a year. I promptly canceled my order on the basis of this information. No point in paying for a few months for a unit I didn't even have yet! It turned out that this information was in error, and it was February 26th before I found out differently,. I placed a new order for the Best model (1 GB RAM, 60 GB 4200 RPM hard drive, XP Pro, no EVDO module) with the Road Warrior accessory pack (mesh cable bag, AC adapter, car/plane adapter, Stronghold metal case, extended battery, Bluetooth folding keyboard, portable USB mouse, which has still not shipped as of the time of this review), a digital pen, a spare pack of screen protectors and some spare mouse nubs. The unit shipped out after only 8 weeks and took five days to reach me due to a customs problem (the units ship from Singapore) and a weekend. I saw the Fedex truck pulling up to where I work and I ran downstairs to the main office faster than an Olympic sprinter. You should have seen the grin that cracked my face from side to side as I carried the tiny, unassuming box back up to my classroom.
The box is a small one, black, sealed in plastic. Breaking the plastic reveals a lid that opens, disclosing the slick black OQO unit, protected in a swaddling of plastic. Lift up this top compartment, and you see the middle boxlet, which contains the AC adapter, power cable and a dongle that attaches to the docking port on the bottom of the OQO, and provides Ethernet, VGA and power. This dongle is really neat, because it swivels on its cable to adjust to any workable angle you want without putting undue stress on the cable connection to the dongle. It's a very intelligent design, and just one example of the fine engineering that went into this package.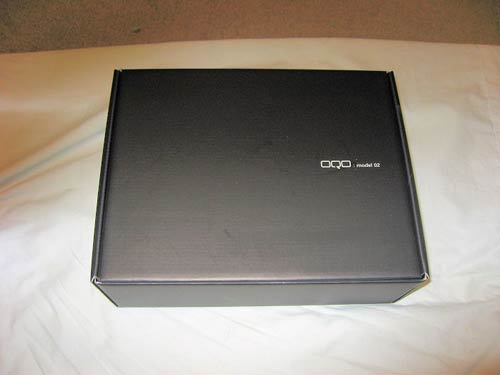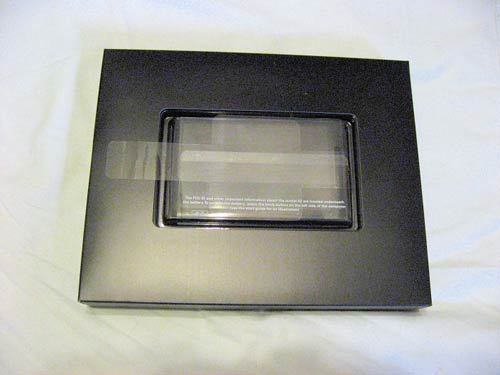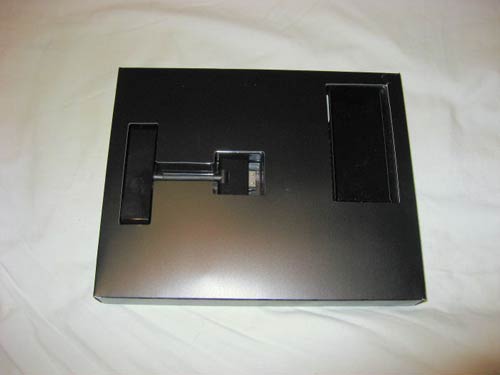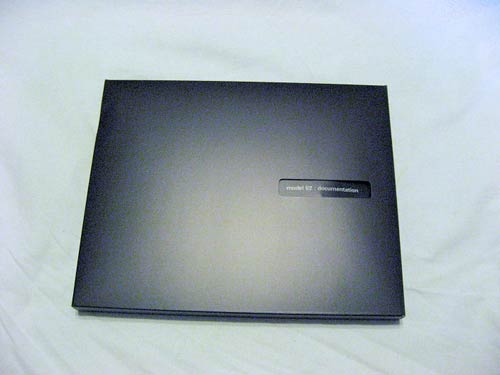 Underneath the accessory boxlet is the documentation boxlet. This has the sparse quick-start guide with a restore DVD safely ensconced in the rear of the booklet, a Windows XP certificate of authenticity and a spare mouse nubbin in a little ziplock bag.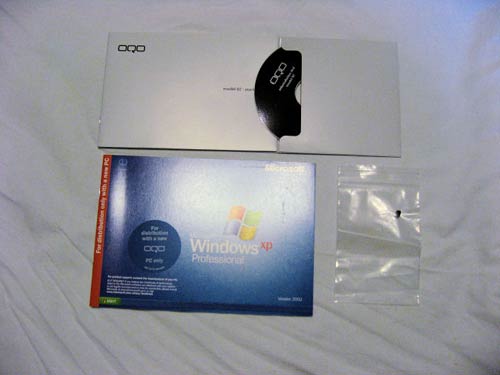 Now, to what you have all been waiting for, the tiny little marvel of cutting-edge design and engineering known as the OQO Model 02. It is a small, black brick, measuring 5.6″ long (curving outwards for the last third of an inch on both sides), 3.3″ wide and 1″ thick with the standard battery. The extended battery adds ¼" to the thickness. This is exactly the same as the HP 200LX, but half an inch SHORTER! It fits perfectly into the leather case that held my 200LX for 14 years. It weighs one pound, but it feels deceptively heavy for its size.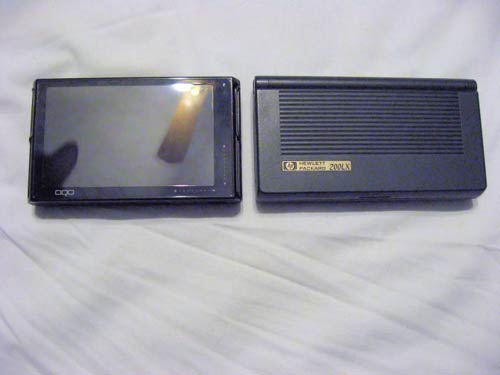 The screen bezel is made of black plastic (with metal on the back), and there is no more mush factor with the screen itself. The screen is solid. Not being a touch-screen, they really made it durable this time. The 02 comes with a screen protector installed. I had to squeeze one bubble out, and it has not returned. The protector covers the screen all the way out to the edge of the bezel, including the OQO logo on the lower left, the light sensor on the upper right and the capacitive touch scrollers on the lower right. It smudges easily, but it appears to be quite durable.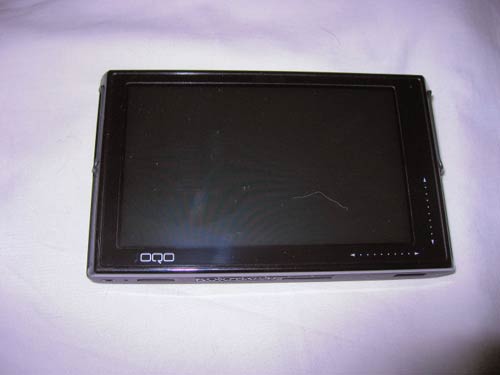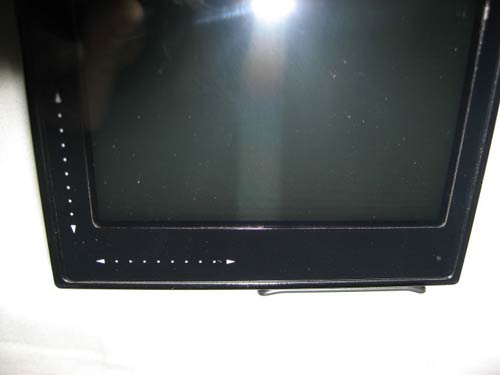 On the bottom of the unit, there is an HDMI port on the right, so you can connect it directly to an HDTV! Not MY HDTV, though. In their infinite wisdom, Samsung did not incorporate support for HD HDMI into the 24″ model I bought, despite the HDMI port.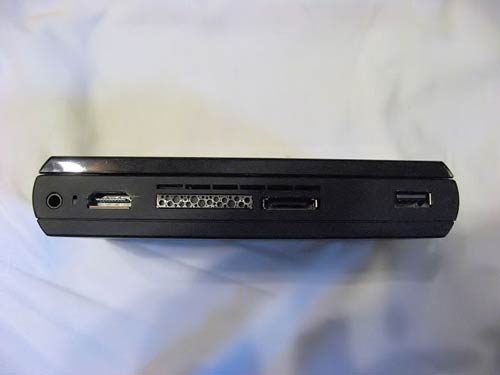 There is also a vent for the fan, the power/docking port and a single USB 2.0 port. It will drive a USB hub, so no worries there.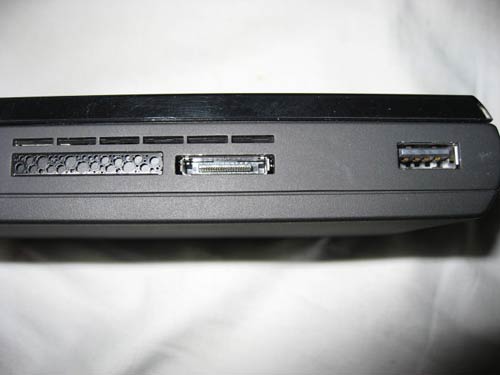 The right side is bare, except for a vent. Since I did not opt for the EVDO WWAN module (I have a Treo 700p with EVDO and PDANet), a solid piece of black plastic covers where the module and pull-out antenna would have been. It would have been nice for them to engineer a slot for storing the optional pen where the antenna would have gone, but they didn't. If you get the unit with XP Tablet installed, you get a digital pen for free. But there is nowhere on the unit to stow it. This is one of only a few design flaws I found with this unit. There is also a metal wire that appears to be a guide for the sliding screen on the top side of the unit, there is an identical one on the other side. It would be interesting to find out if these wires double as the WiFi and Bluetooth antennas. In the Model 01+, the antennas stuck out to either side of the unit. If these are doubling as antennas, they are totally out of the way when holding the unit in two hands. In the WWAN units, there is an antenna that comes out of this side and then can be swiveled into an upright position for increased reception in poor coverage areas.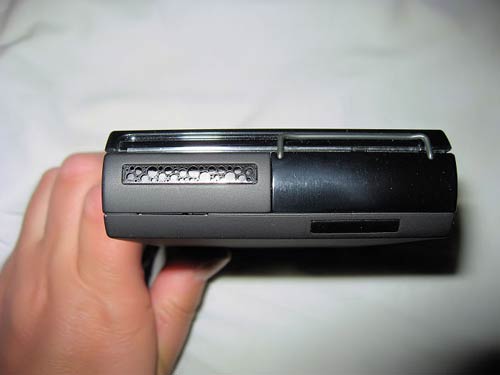 The top of the unit has one vent. This is one well-ventilated unit, and it runs a LOT cooler than the 01+ did. It still gets warm, and the fan can get pretty loud, but at least you can't fry eggs on this one.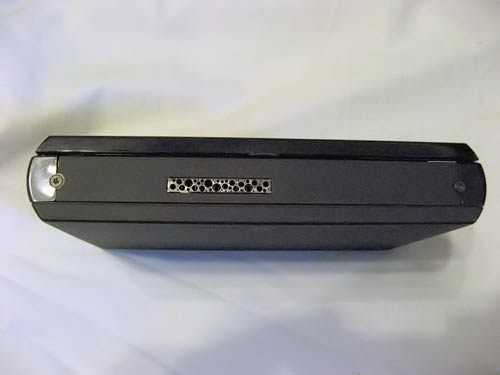 The left side is vent-free. It has the battery release button, a Kensington lock slot and the power button. Like the 01+, the power button glows white, and pulses white when the unit is in standby mode. I appreciate the Kensington lock slot, but I never let this leave my sight or side. I work in a high school, and this thing would disappear faster than a feather in a tornado if I turned my back on it for a second.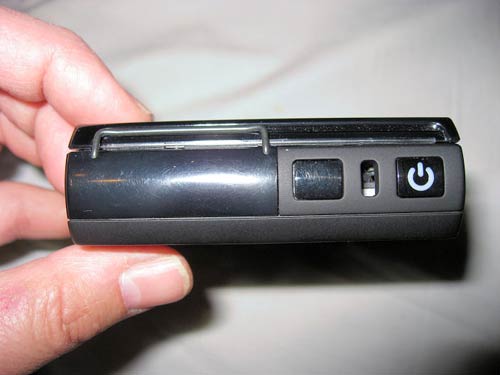 Now, about all those vents… There is a fan inside this unit that keeps the innards cool. You can adjust the fan to be louder (higher CPU performance) or quieter (slower CPU performance). I keep it in the middle, and after I installed all of my apps, I hardly ever hear the fan. It can get quite loud, but unless you are in a dead quiet room, you would likely not notice the noise. It sounds like a small hair dryer when it really gets going. It does do the job, though. While the unit can get warm with use, it is not the scorching brick of death that the 01+ was. The AC adapter also stays relatively cool. The 01+ adapter had a tendency to get hot, so this is a nice improvement.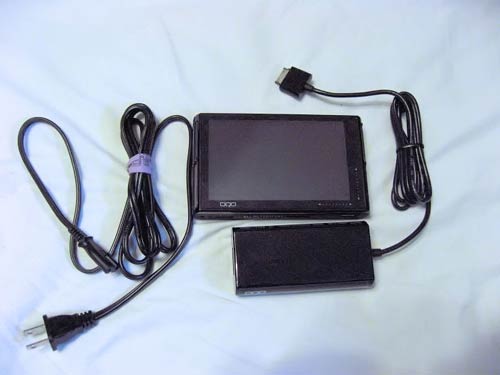 The battery attaches to the bottom of the unit. It is the entire bottom of the unit, and is released by the battery release button on the left side of the 02. There is a built-in battery gauge, a series of four rectangular white LEDs, While not as elegant as the tiny LED's on the 01+'s battery, it gets the job done. When recharging, the lights go on, cycling up through the number of LED's corresponding to the current charge. When the battery is full, it shows four LED's, and then it shuts off. When in use, pushing the long rectangular button that houses the LED's lights them up so you can see how much power is left. I love this feature on my Sony Handycam's battery, and I don't love it any less on the OQO. The standard battery is good for about 2.5 hours of real-world use, some browsing with Wifi on, keyboard backlight on, work in productivity apps. I recommend letting the battery charge overnight the first day you get it for optimum results. The extended battery should get you about five hours of continuous use, on average, and adds only 1/4″ to the thickness of the Model 02. As my extended battery has not yet arrived, I cannot give you real-world results on this.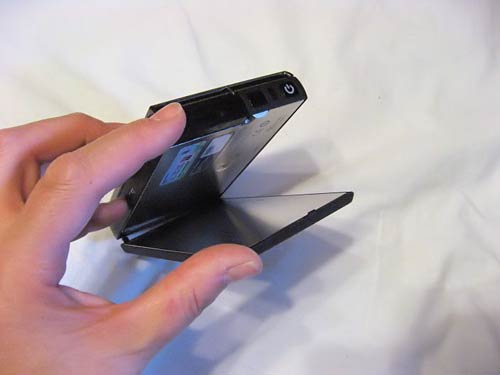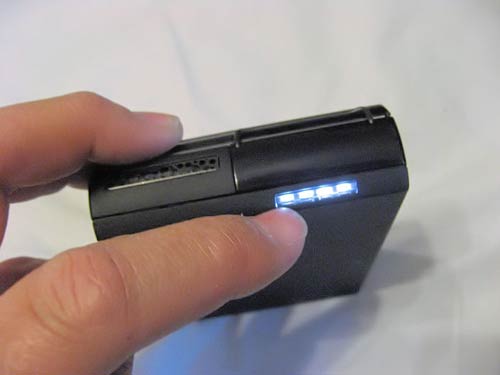 OK, now for the real fun. Slide open that screen. Push upwards with your thumbs on either side on the bottom. Feel the initial resistance and then it slides upwards smoothly and clicks into position. With the 01+, the screen would sometimes threaten to slide closed. No problem with that here. When it's up, it stays up. There is no wiggle in the screen when the unit is shaken.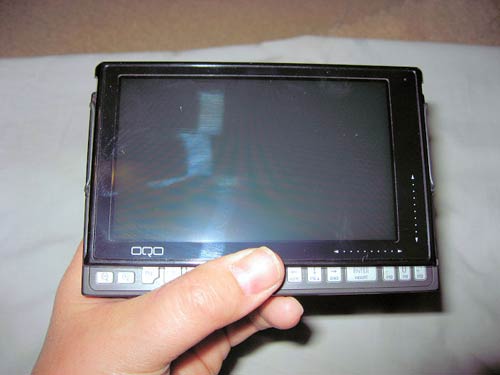 Oooh, look! A keyboard! And not a silly membrane job, but a real keyboard with real individual keys! They press easily, as they have slightly rounded tops, and they have tactile feedback!!! Just like the keyboard on my HP200LX, even a similar feel. The keys are a little wider top to bottom, and are closer together than on the 200LX, but look, there's the dedicated numeric keypad! The layout is opposite of what you would find on a calculator or a desktop keyboard's keypad, which is, in my opinion, design flaw number two. The number keys double as function keys F1-F12 with the help of the Fn button. There are -/_ and =/+ keys flanking the 0 key.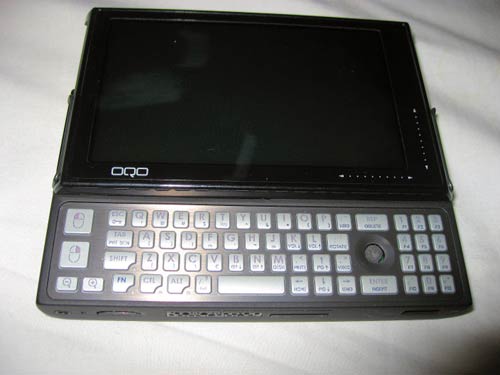 The mouse nubbin lies between the QWERTY pad and the numeric pad. Above it is the Backspace/Delete key and below it is the ENTER/Insert key. This keyboard will take a little getting used to, but it doesn't take long! The mouse is very responsive and its action is tight. The cursor can tend to wander after you let the nubbin go, but no more than any other notebook with this style of mouse control. Just let the cursor slide until it's done and happy, and then it's no problem! The mouse buttons are on the left side and are large and the whole mouse control feels natural and easy.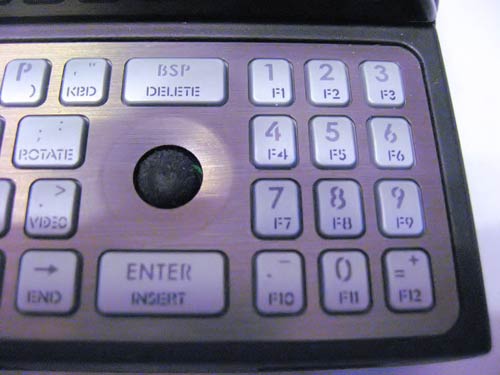 There are no Windows or Menu keys on this keyboard, but there are several specialty keys that help to make up for it. Fn+DESK takes the place of Windows + D in bringing up the desktop. While in DESK mode, there is a green rectangle in the upper right corner of the screen. Clicking on this will restore your open windows.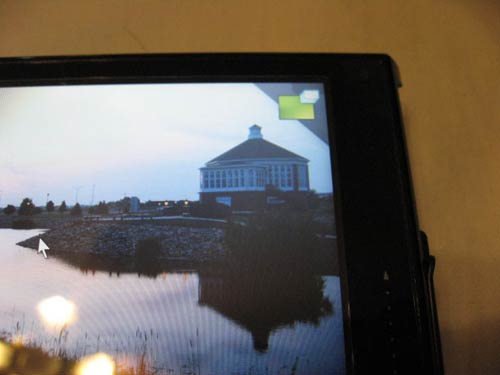 Fn+KEY brings up the Ctrl-Alt-Del Task Manager! Fn+((i)) brings up the OQO Wireless Control Panel. From here, you can power on or off your WiFi (a.b and g), Bluetooth or WWAN (if installed). You can also hit the little airplane icon to put the unit into flight mode!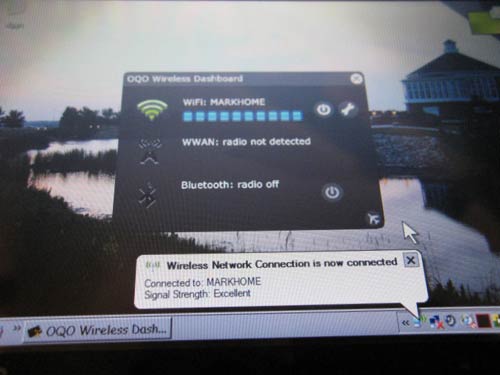 I am used to using Windows+E to bring up Windows Explorer, and you cannot do that on this model. I simply made a shortcut from C:/Windows/explorer.exe and pasted it into RocketDock. More about that nifty app later.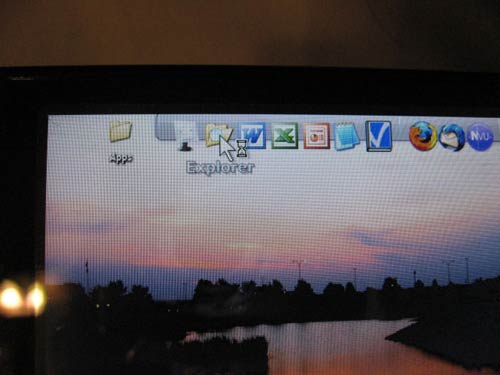 The Shift, Ctrl, Fn and Alt keys are all sticky. Press them once and a little green light lights up on the key's lower right corner. You can then press the next button without having to hold down the previous button. There is no Caps Lock, so what you do is press SHIFT twice in rapid succession, and that locks the Caps.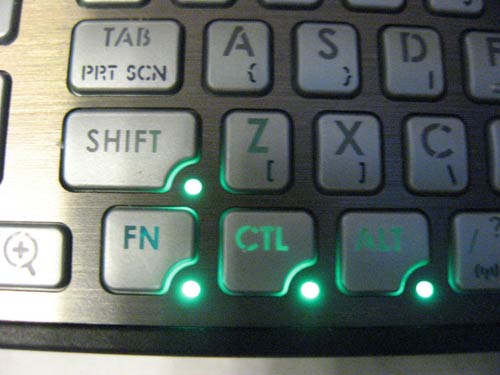 Speaking of the keyboard, turn down the lights, and the keyboard backlighting comes on! The light sensor in the upper right corner detects when the light falls below a certain level (adjustable from the control panel) and turns the blue backlight on. The keys are labeled with letters that are nice and wide, so reading the backlit keys is VERY easy. Beats the heck out of my Treo 700p's backlit keyboard. The Treo's might be brighter, but the OQO's delineates each character clearly, even the Fn-activated characters and functions! You can also turn the backlight on and off manually using Fn+KBD. This is one area where OQO really came through over the 01+. They took the keyboard from useless to perfect in one model iteration.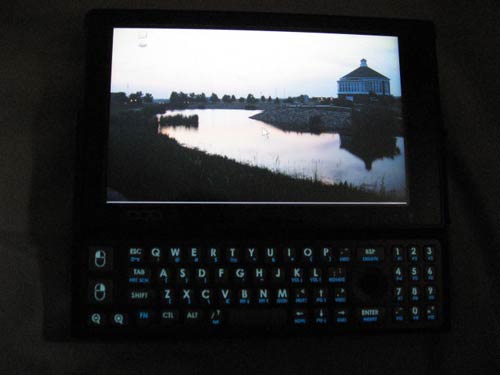 Now, push that power button on the lower left side and watch the machine boot up. The first thing you see is "OQO" on the screen and it doesn't look real. It is so crisp and clear that you might think you are looking at a silkscreened logo instead of a tiny LCD screen. The 02 boots up quite fast. Much faster than my Fujitsu P1510D! Before long, you are greeted by your typical XP screen. But MUCH smaller! I customized my screen to use a theme I put together a few years ago, based on the Classic Windows theme. No matter what you decide to make your theme, it will look great on this bright, clear and crisp display. Bright? BLINDING. The 01+ was dull, dim and dismal. The 02's screen is brighter than my P1510D's screen, which is pretty bright! It has the best screen I have ever seen on a laptop. At first, one of the pixels was stuck (visible in gray areas as I installed software), but the pixel unstuck and now the screen is perfect all the way across. There is a brightness control on the keyboard using an Fn key combination. Even turned down to half brightness, it is still more brilliant than the 01+ screen. It is a transflective screen, so it is visible in bright areas, but washes out in direct sunlight. I blame this mostly on the glossy screen protector they use. Perhaps someone can make a matte screen protector for the 02?
Compared to the Fujitsu P1510D at full brightness for both machines: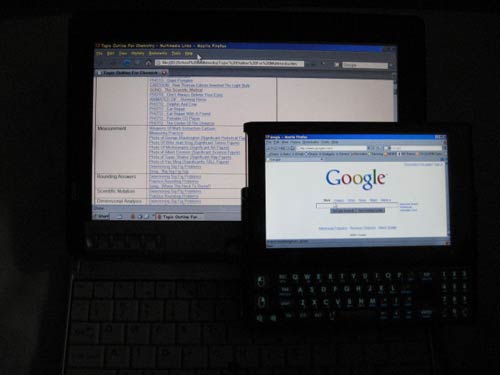 Compared to the Palm Treo 700p, both at full brightness: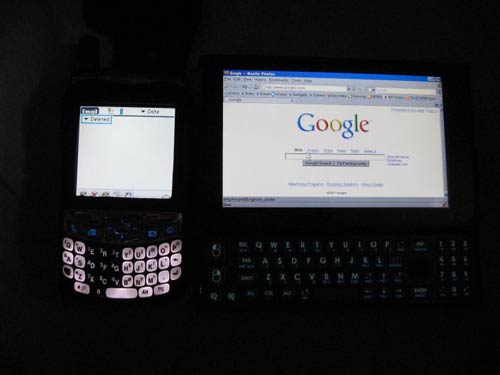 Compared to the Dell Axim x51v, both at full brightness: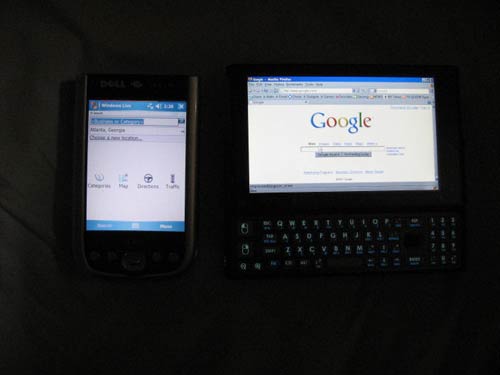 Compared to my Dell desktop 19″ LCD monitor: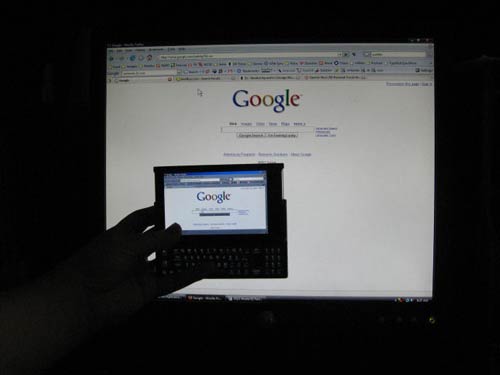 OK, now it's time to load up on apps. I used an external DVD drive, which the OQO recognized instantly. I installed all of the apps I wanted to use, and then came the moment of truth. How long would it take to start a program? Actually, programs start right up. The 1.5 GHz VIA processor may be rated as being slower than the 1.2 GHz Pentium D on my P1510D, but the OQO is actually more responsive in opening programs. Powerpoint opened immediately. Word opened quickly. The slowest apps to open were Paint Shop Pro and Firefox, and even they opened up faster than they did on my P1510D.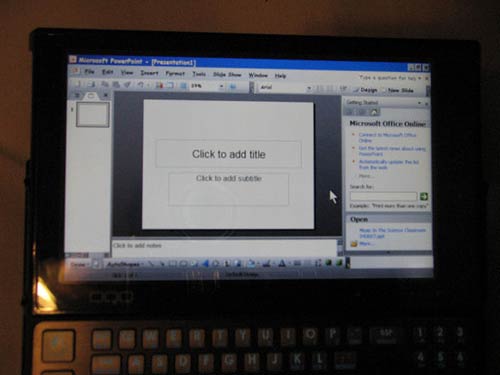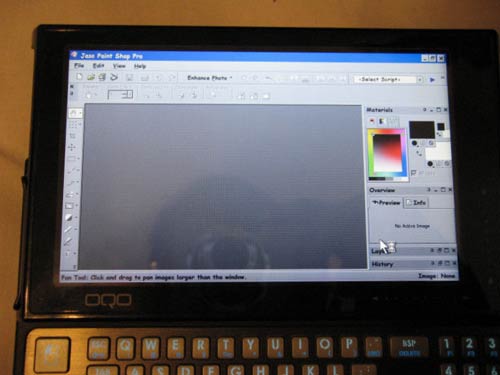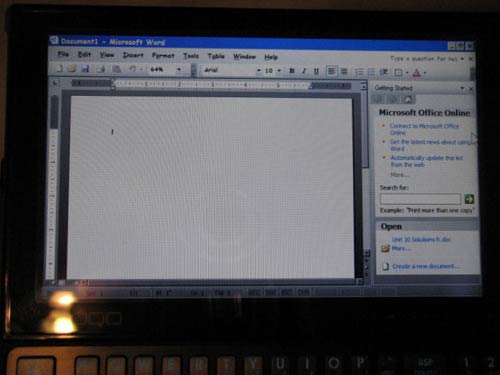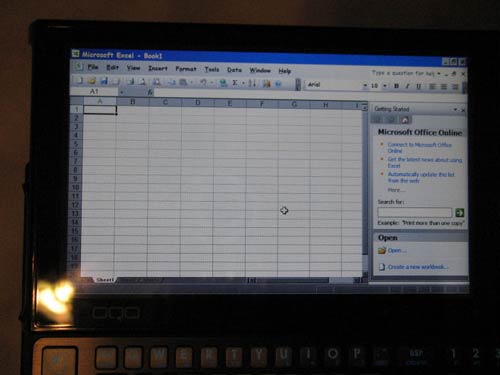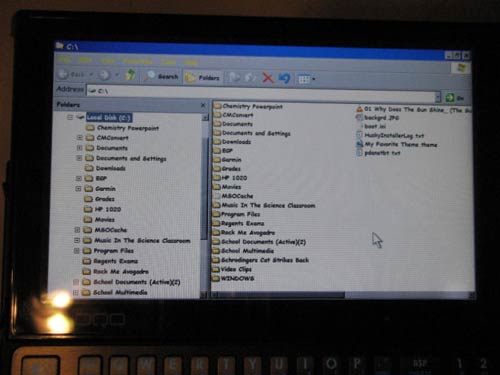 I keep a repository of hundreds of multimedia files that I put together for my chemistry classes, and organized them into an HTML file for easy browsing. I installed RealPlayer Alternative and Quicktime Alternative, both of which open their respective files in Media Player Classic. Since this program has a lot less memory overhead than the players it was designed to replace, video clips open very quickly and play stutter-free. In Powerpoint, embedded video plays smoothly. I used my 02 to give a presentation to an educational conference, and it played the video and music files stutter-free.
How about internet? I am running Firefox with the Littlefox theme. This makes the menus and toolbars smaller, increasing your browsing real estate. The scroll bars work well to go up and down your web page, although there is the occasional lag. This does not significantly impact your browsing experience. To further enhance the speed of this unit, I installed RealPlayer Alternative and Quicktime Alternative, which use Media Player Classic to play video clips and avoid the overhead of Quicktime and Real Player. Video clips open almost instantly and play very smoothly. I have over a hundred clips I culled from online sources to show my chemistry students, and the OQO 02 handles them all with no trouble at all! I connect using my 802.11.g router at home, and the speed is just as fast as with my Fujitsu P1510D on the same router. On the road, I connect to the web using PDANet with my Treo 700p on a USB cable connection. It is very fast!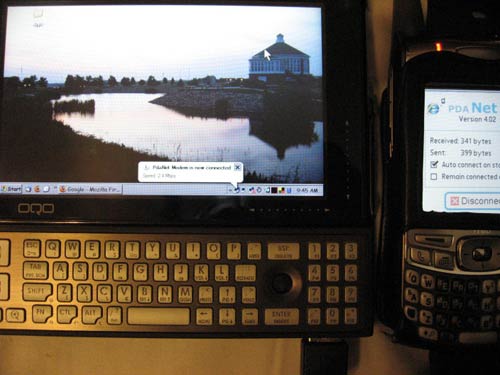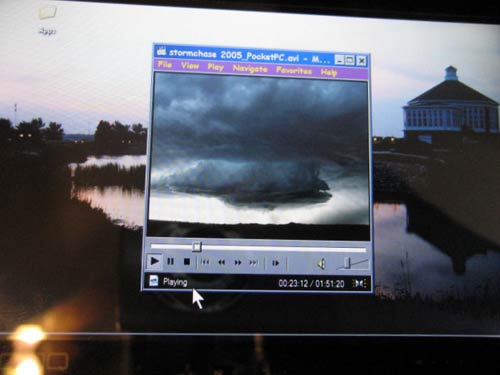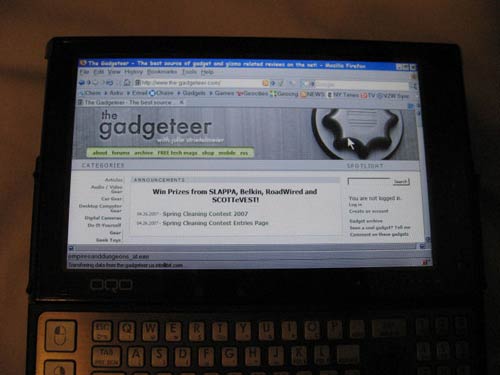 The battery attaches to the bottom of the unit. It is the entire bottom of the unit, and is released by the battery release button on the left side of the 02. I cannot speak to the double-capacity battery, as OQO is not shipping the accessory packs yet, as of the writing of this review (despite an email that it had already shipped).
Other applications that make using the OQO 02 a joy:
1) RocketDock: places a app launcher bar anywhere on the screen, it is highly customizable and designed to emulate the Mac OS X launcher bar. I do not use the Start button at all!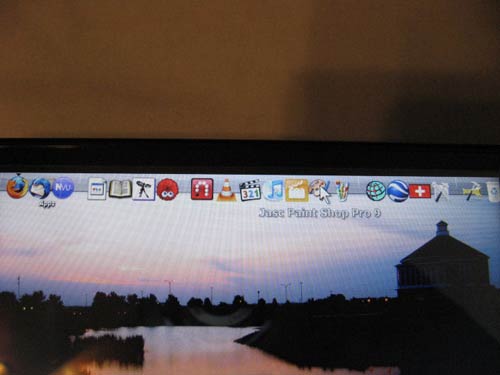 2) Google Earth: Actually works on the 02! Best results when zoomed out to 1000X600 resolution. Very responsive using OpenGL rendering. ActiveX rendering gives flickering images. Not pretty! That's my house!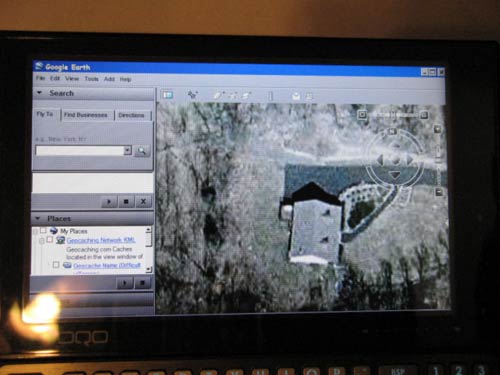 3) Candy: The 02 comes with an icon labeled "Candy". Double-click it and you are brought to a partner's page with special offers for 15% off the price of any Slingbox or accessory, special accessories for those who ordered with Vista, 50% off the price of any Popcap game (I have Chuzzle installed), free Ereader Pro for Windows, and some other special offers! A nice bonus from OQO!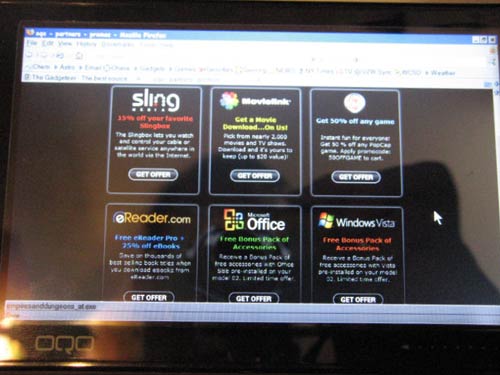 4) Nvu: an open-source WYSIWYG HTML editor that I use to maintain my website. Very simple and not a lot of overhead to bog the system down.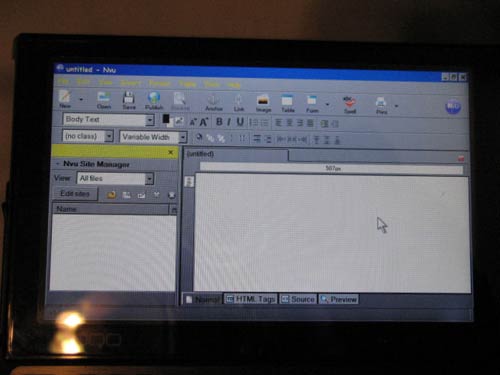 5) Starry Night: What a great portable night-time reference guide for amateur astronomers! The OQO 02 would make an excellent accessory for anyone who does digital photography with their telescope, or wants to do computer control of a telescope with that capability.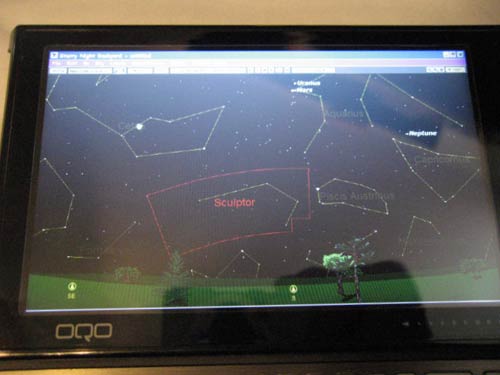 6) Media Player Classic: A nice, small open-source audio and video player. It works great in XP! I recommend downloading the XP Codec Pack to make sure you are covered. It plays my AVI video clips with aplomb!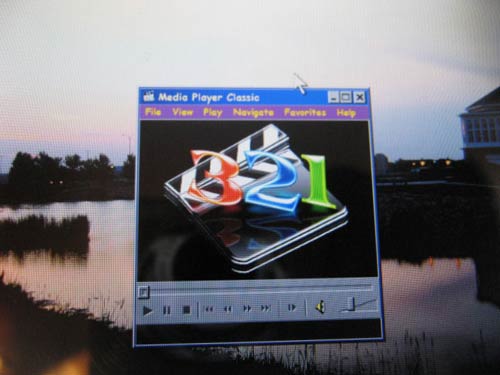 7) Thunderbird: a great complement to Firefox, I use this instead of Outlook for my email.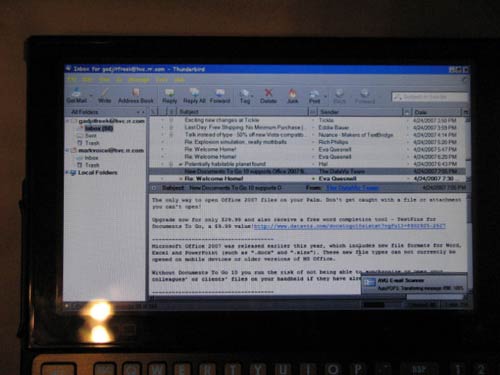 8) GSAK: Geocaching Swiss Army Knife. It allows me to collect geocache waypoints from geocaching.com and upload them to my handheld GPS! Perfect for geocaching while on vacation!
Don't like the cramped screen real estate? Change it! You can use the (+) and (-) magnification buttons to change the resolution from 800X480 to 1000X600 or 1200 X 800. These higher resolutions are interpolated. The characters have some artifacting at these higher resolutions, but at 1000X600, text is still very readable.
Zoomed in, you can use the mouse and the screen will move to where you want it to, so you have use of the whole screen. I never use it in this mode, but someone who is having trouble seeing tiny characters might find this useful.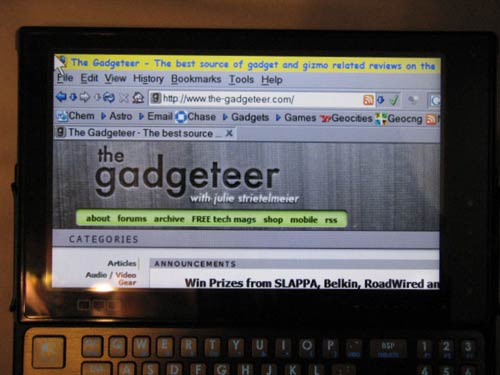 At normal 800X400 resolution: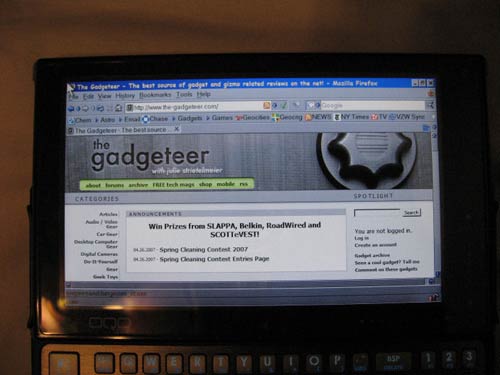 At 1000X600 interpolated resolution: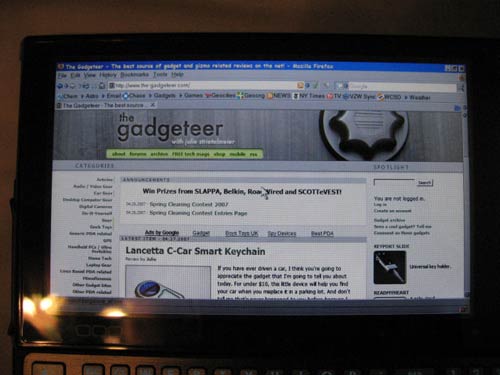 At 1200X 800 interpolated resolution: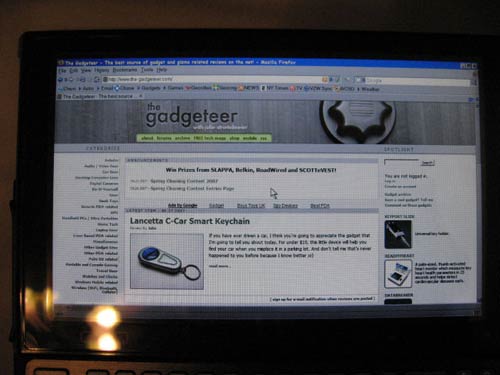 I was going to review the unit with accessories, such as the double capacity battery, Bluetooth keyboard and car adapter, but OQO has dropped the ball pretty badly with their communicating delays to customers. They have also had some quality control issues with their manufacturers. There has been a lot of talk about defective docking stations, batteries that don't fit properly, scuffed and scratched units right out of the box. My own unit had a couple of tiny scuffs on one side when I first got it. I believe that OQO should not have released this machine for order until they were sure they could actually deliver a product in a timely fashion. They have been good about taking care of problems, but they have not been terribly forthcoming about expected ship dates for units running Vista or for the accessory kit packages. This has been the one down side of this unit. I hope that it will not remain so for long, or OQO will lose their customer base on an already niche product despite their innovative and exceptional handtops.
So what am I using this OQO Model 02 for? Well, while it is possible to do document creation with this unit, especially if you have a Bluetooth keyboard, it is primarily an information storage and retrieval device. I can keep my lessons on hand at all times, the multimedia files I show my students, copies of every Regents exam in PDF format, MSDS data for hundreds of chemicals, web browsing, email, basic photo editing and storage while on the road, basic video editing and storage while on the road, storing audiobooks, maps, backing up my Treo phone, uploading waypoints to my GPS, reading a book, playing a simple puzzle game, as an astronomy reference, a geocaching tool…and the list goes on. The vast majority of my time on the computer is not spent in document creation. The OQO is perfect for making changes to existing documents and as a repository for your entire information library, on the go, at all times. The fact that it goes into and comes out of standby almost instantly and uses almost no battery power while in standby mode makes it every bit as useful as a PDA for on-the-spur-of-the-moment use. I would recommend getting the extended battery to stretch your use of this highly portable device.
The OQO Model 02 can be many different things to many different people. To me, it fits the purpose I bought it for perfectly. I rate this tiny marvel a 9.8 out of 10. How you like it will depend on your preconceptions of what it is. It is not a desktop replacement. It is not really a laptop replacement, though I will be using it in place of my P1510D for my school work. It is a solid, zippy, pocketable way to take your computer with you anywhere you might want to go.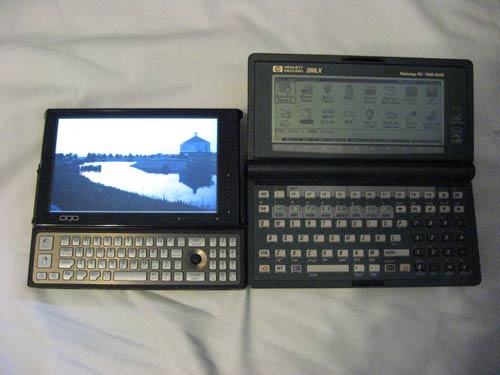 Size comparison: OQO 02 (5″ screen), Fujitsu P1510D (8.9″ screen) and Toshiba M115 (14.1″ screen)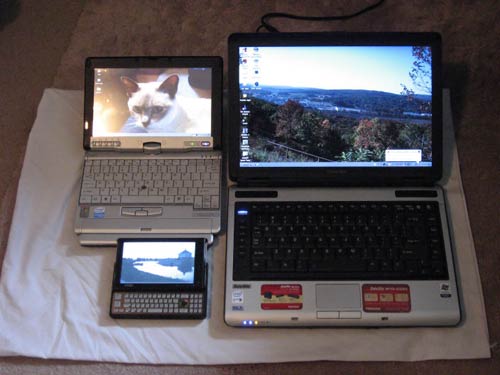 Price: $1499 (XP Home, 512 MB RAM, 30 GB HD, 1.2 GHz VIA processor)
$1699 (XP Pro, 512 MB RAM, 60 GB HD, 1.5 GHz VIA processor)
$1849 (XP Pro or Vista Business, 1 GB RAM, 60 GB HD, 1.5 GHz VIA processor), as reviewed.
Product Information
Price:
Manufacturer:
OQO
Retailer:
OQO
Pros:

TINY, full-featured PC in your pocket
Responsive enough to run your everyday apps
Brilliant screen
Autosensing backlit keyboard with individual keys with tactile feedback
Ability to zoom in or out
Nearly instantaneous standby and resume
Excellent build quality
Built-in HDMI port
Comes with screen protector preinstalled
Dedicated wireless radio button (Wifi a,b,g, Bluetooth, WWAN)
Option of getting built-in EVDO radio
Runs a lot cooler than the 01+
Capacitive touch scrollers make navigating long pages a snap
Kensington Lock Slot
Very responsive mouse

Cons:

No memory card slots
Only one USB port
No slot for optional stylus
Keyboard numeric keypad has inverted orientation
Battery life 2-3 hours. But with extended battery, this should not be an issue
OQO not forthcoming about when unit and/or accessories available to ship
Very long lead times for shipping orders
Comes with a minimum of accessories this time