We use affiliate links. If you buy something through the links on this page, we may earn a commission at no cost to you. Learn more.
Discount LED Lights and Knives recently sent me 3 really nice Coast LED flashlights to test and review. I reviewed the V6 Stainless Steel 6 Chip (LL7732) and the V2 Power Chip (LL7461) last month. The one I'm going to show to you today is the Coast LED Lenser Focus Beam (model: LL7438).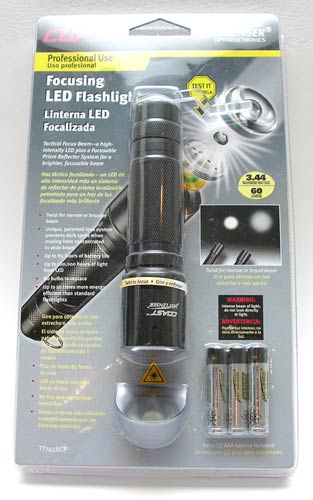 Flashlight Specs
Light type: LED
Bulb: High-intensity 1.5-watt 60.2 lumens
Lens: Plastic?
Reflector: Focusable Prism Reflector System
Beam type: Spot
Case type: Metal
Powered by: 3 AAA Alkaline batteries included
Water resistant?: Yes
Size: 5.0 x 1.25 in
Weight (with batteries): 5oz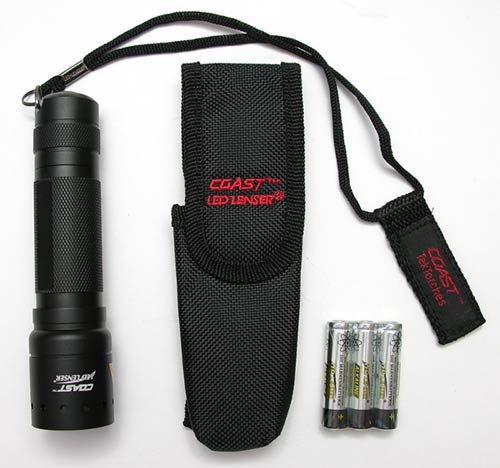 This torch comes with 2 sets of AAA Alkaline batteries (one set already installed), a handy mesh belt pouch and a hand strap.

The LL7438 has a rugged Black solid metal casing with a cross hatch style grip. The design is more military / tactical then the other Coast flashlights I've recently been reviewing.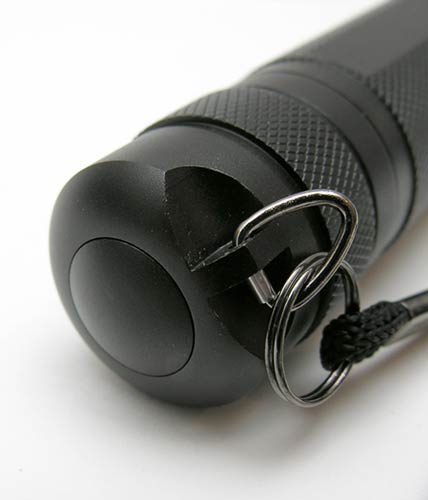 The switch is located on the end cap and is an easy to press spring loaded click button.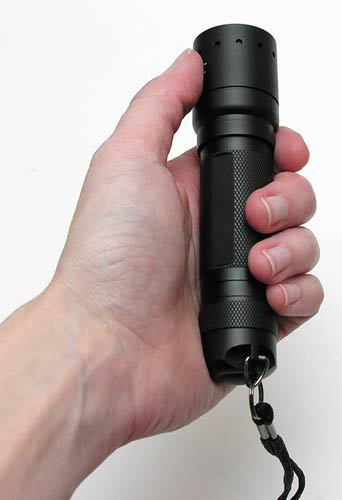 In hand the LL7438 has a nice size and is well balanced. The cross hatch grip and flat sides keep it from slipping from your grasp during use.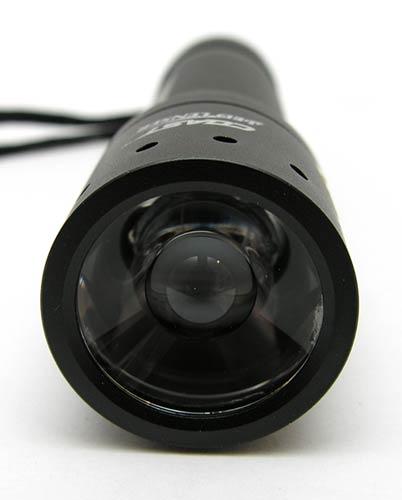 I think the lens that protects the LED is made of plastic, but I'm not for sure. I do know that it's pretty thick. Let's check out how well it helps illuminate an area.
This light has a focusing feature that allows you to change the beam from wide to narrow by twisting the head of the light by a quarter of a turn in either direction. Here is a picture of my office with no lights on, at night, with the door closed. You can only make out the glowing LEDs from some of my electronics. I'm standing in the corner of the room focusing on the opposite corner approximately 16 feet away.
Now let's power on the LL7438 and see what it can do…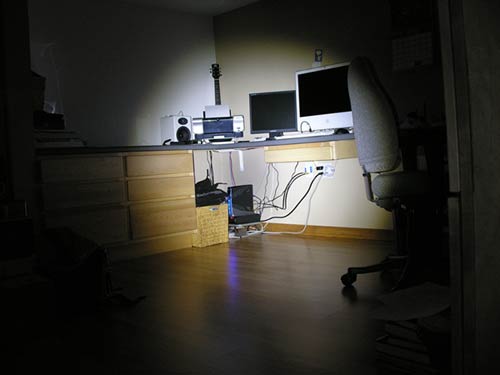 Using the wide beam setting.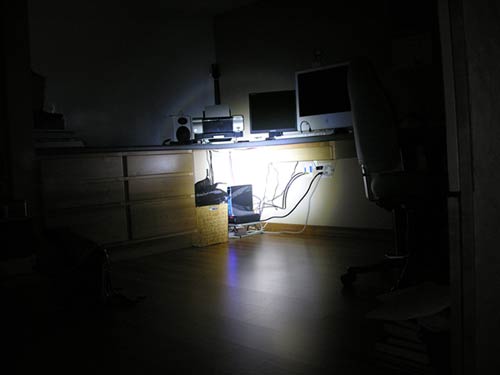 Now using the focused beam setting.
As you will notice, this flashlight illuminates the corner of the room in a noticeably circular pattern. I was unable to discern an extreme difference between brightness when using the wide vs. the focused setting. Mainly the lighted area is just smaller when in focus mode.
I will say that the 'color' of the illuminate area seems to be more natural using the LL7438 when compared to the other Coast LED Lenser flashlights. They seem to throw out a color path that has a bit more of a Blue cast to it.
This flashlight advertises the fact that it will give up to 85 hours of light on one set of batteries. I'm still in the middle of testing out how long a single set of batteries will last. Using the batteries that were installed in the flashlight when it was sent to me, the brightness dropped to at least 1/2 after 24hrs. At 48hrs the flashlight is still putting out a beam, but it's so dim that I doubt it would be useful except in a cave ;o)
I like the Coast LED Lenser Focus Beam (model: LL7438) as far as size and design and the fact that it uses regular AAA batteries, but my favorite among the Lenser lights that I have reviewed so far, is still the LL7732 which is less expensive and can brighten a much larger area.
Product Information
Price:
64.99
Manufacturer:
CoastProducts
Retailer:
Discount LED Lights and Knives
Pros:

Uses regular AAA batteries
Very bright
85hrs of illumination per set of batteries (see details in review)

Cons:

Even on wide setting, illuminated area seems small