We use affiliate links. If you buy something through the links on this page, we may earn a commission at no cost to you. Learn more.
If you have ever driven a car, I think you're going to appreciate the gadget that I'm going to tell you about today. For under $10, this little device will help you find your car when you misplace it in a parking lot. And don't tell me that's never happened to you before because I know better ;o)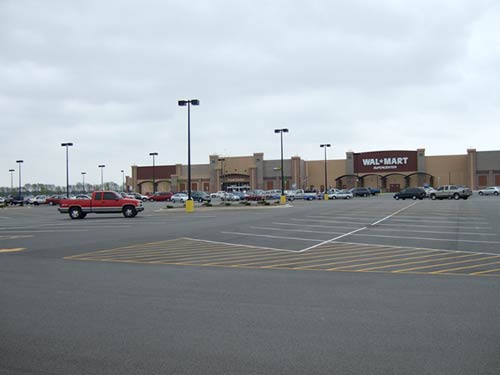 Let's start out with a little story from a friend of mine that shall remain nameless because if I name her, she'll kill me. One night I'm home sitting in front of the computer doing computer things and I get a phone call from she who shall remain nameless. Her first words were "I can't find my car". I'm like huh…? Then she tells me that she's wandering around the Super Walmart parking lot with a cart full of groceries trying to remember where she parked. Of course I started laughing, which didn't make the situation better for her. She finally found her car after walking back and forth for several minutes.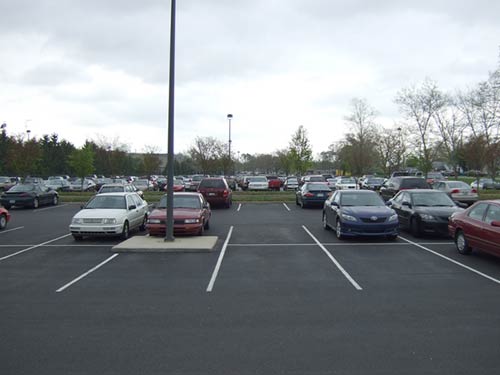 I guess I really had no room to laugh because I've done the same thing at the place where I work at least 2-3 times in the past few years. The Cummins Inc. Tech Center parking lot is pretty large considering almost 1,000 people work at this particular location. Typically I don't have any problems finding my car if I don't go out for lunch. It's those days when I do go out and end up parking in Egypt when I come back, that I have a little trouble remembering. They don't call me gnat brain for nothing ;o)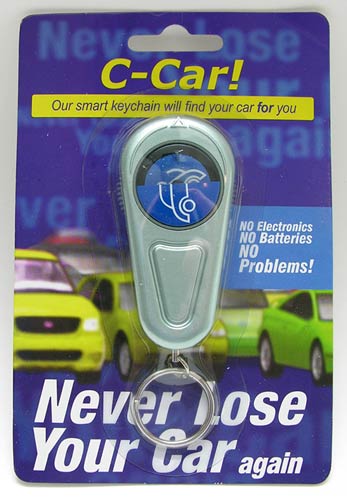 Enter the C-Car from Lancetta, Inc. How can this simple plastic keychain fob with a split ring for all of your car and house keys help you find your car in a sea of other cars, when it doesn't use batteries, doesn't have a cellular radio built in to it, doesn't have GPS functionality or require line of sight to various satellites in space? Well keep reading and you'll find out!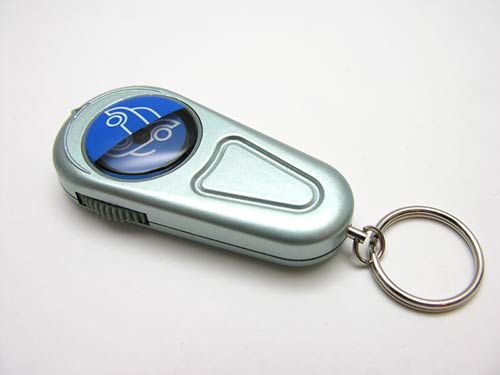 One end of the keychain has a liquid filled window with two halves of a car picture in it. The bottom half rotates as you turn the keychain in various directions.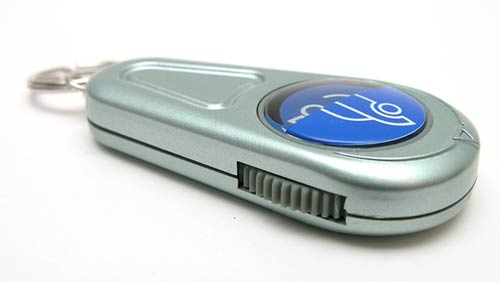 The top half of the car picture remains stationary but can be turned manually using the wheels on the side.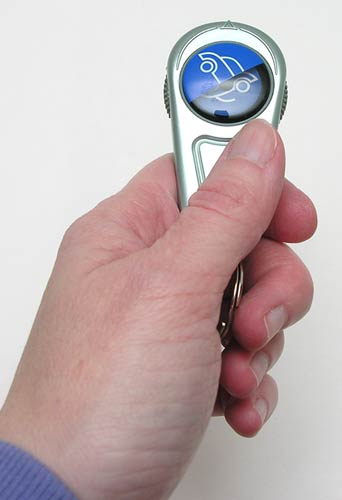 So here's what you do… When you get out of your vehicle, you hold the keychain flat and point the arrow at your destination. This is typically the front door to a store or office building. When the bottom half of the car images quits twirling, you then rotate the top half using the wheels so that it creates the image of a full car.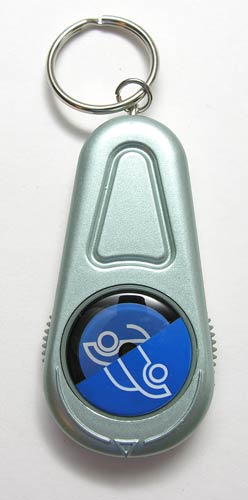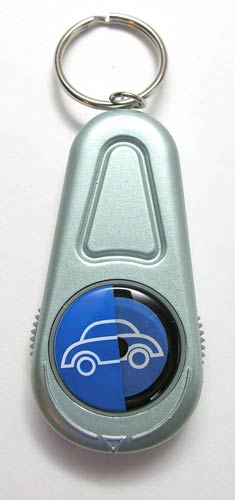 In the images above, you can see an example of the car image not lined up correctly and then one of it correctly lined up.
One it is lined up, you stick it in your pocket and you walk into the store or your office and forget about it. Then when it's time to go back to your car, you are ready to let the C-Car help you find your vehicle. To do this, you hold the keychain flat, and instead of turning the wheels to manually line up the top picture with the bottom, you just rotate the keychain until they are correctly lined up. You then walk in the direction that the arrow is pointing as that is the direction where you will find your parked car. Pretty nifty huh?
Of course, most of you will immediately understand that the C-Car is a simplified compass. Even I figured that out, and I've never been camping in my life. Unless you can count the time that the neighbors boys put up a tent in their front yard and invited my sister and I to sleep in it with them. I think my sister was about 6yrs old or younger, making me about 9yrs old. The entire camping expedition lasted about 1hr before we were both back home in REAL beds. But I digress…
I tested the C-Car Keychain and it does exactly what it says it will do. The only issue is when there are obstructions between the building and the parking lot. Like if there are sidewalks and paths you have to traverse between them. Then using the device might confuse people because it's designed to be line of sight between your car and the destination. It won't tell you to turn left, walk 100ft, then turn right and walk down 2 flights of stairs. If you can understand this limitation, then you'll be fine. I think the C-Car Smart Keychain is pretty cute and can't wait to give one to my friend who shall remain nameless!
Product Information
Price:
7.99
Manufacturer:
Lancetta, Inc.
Pros:

Inexpensive
Actually works if you understand its limitations
Requires no batteries

Cons: