We use affiliate links. If you buy something through the links on this page, we may earn a commission at no cost to you. Learn more.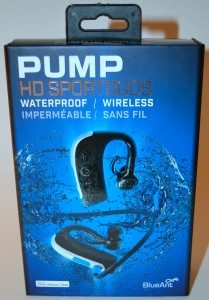 When my daughter first envisioned herself at college this year, she saw herself zipping around campus on her bike, listening to music as she rides to class with a cool wind in her hair.  She found out that it was hot and humid with no cool winds, the path was uphill on her way to all her classes, and there were way more bikes than places to park them.  She still hoped at least to be able to listen to music as she walked up those hills, and she wanted some earbuds that would stay in her ears and would not get killed by the first really hot, sweaty march around campus.  The BlueAnt PUMP HD Sportsbuds Waterproof Wireless Headphones seemed to be just what she needs.  I tried them out for awhile first, though.
BlueAnt says these headphones are "the ultimate multi-sport wireless headphones.  A rugged, military-grade design keeps water and debris out, protecting the premium audio components tuned to let the beat set the pace."  The BlueAnt PUMP "is the only wireless headphone to carry an IP67 rating. What does this mean to you? It means nothing will limit you from bringing your music where other headphones fear to tread. From bringing your music along for a long paddleboard session to rinsing them under the tap after an intense workout, PUMP is built to withstand heavy exposure to wet conditions, leaving the premium sound components safe inside."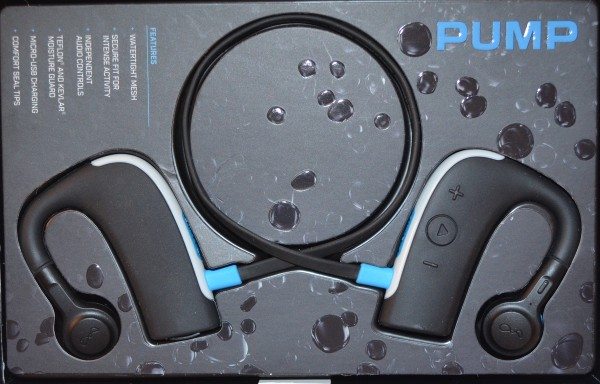 The PUMP headphones have two large, permanently attached hooks that morph into the housing for the battery and all the components for Bluetooth and the like.  They are joined by a cable that's more than long enough to reach around the back of my head.  You'll also see the power button and volume controls on the right earpiece.  The power button is multi-functional.  It turns the unit on, puts the unit into pairing mode, is used for answering calls and other telephony functions, and powers off the headphones.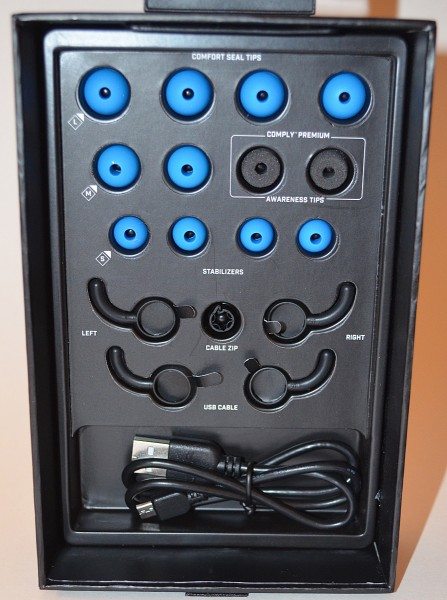 Lift out the tray holding the PUMP earphones, and you'll find ear tips, including a pair of Comply Premium Awareness Tips.  There are also a couple pairs of stabilizers to help hold the earphones in your ears, and a clip to tighten up the fit of the behind-the-head cable.  Most everyone should find a combination of these accessories for a good fit.  Finally, there's a microUSB-to-USB charging cable.  There is no AC charger included with these earphones.

Technical Specs
Play time: Up to 8 hours
Standby time: 2 weeks
Codecs: APTX, AAC
Charge time: 2 hours
Warranty: 12 months
Bluetooth: 3.0
Profiles: A2DP, AVRCP, HFP, HSP
BlueAnt's statement about waterproofness of the PUMP HD Sportsbuds
"The BlueAnt PUMP performs exceptionally well in the toughest training environments. The PUMP is primarily designed for running, cycling and training. It completely blocks sweat, rain, water activities, a water spill in a gym bag and being rinsed-off. PUMP can go up to 1 Meter (3.3 feet) of water for up to 30 mins (IP67). As Bluetooth signals from a music player cannot completely penetrate water, the BlueAnt PUMP reproduces best sound with your head above water. A quick rinse under a cool clean tap, cloth dry and the PUMP is fresh and ready to go wherever and whenever you are. BlueAnt products are covered by a one (1) year limited warranty that assures that the PUMP is free of defects with regular usage including the toughest training environments around sweat, rain, water activities, a water spill in a gym bag and being rinsed-off."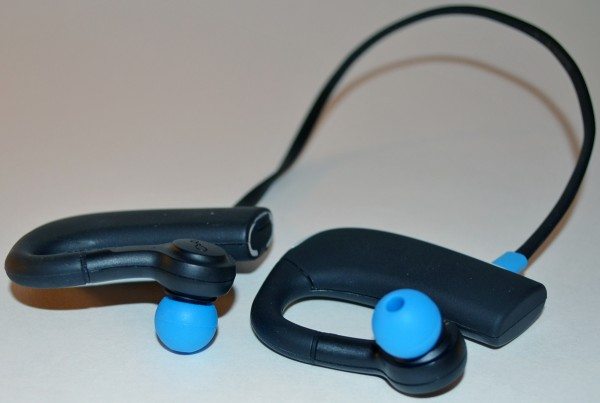 The PUMP HD earphones are available in black (which I received), blue, and a green frost version.  A pair of the mid-sized silicone tips are installed in these images.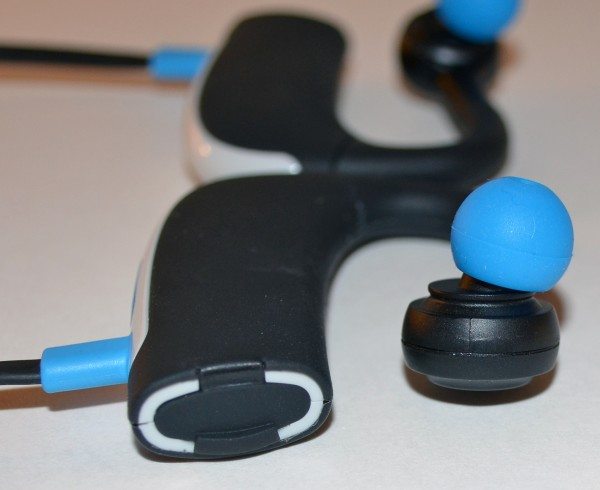 The rubber cover seen in the above image covers the charging port.  This cover must be completely and tightly closed to ensure the waterproofness of these earbuds.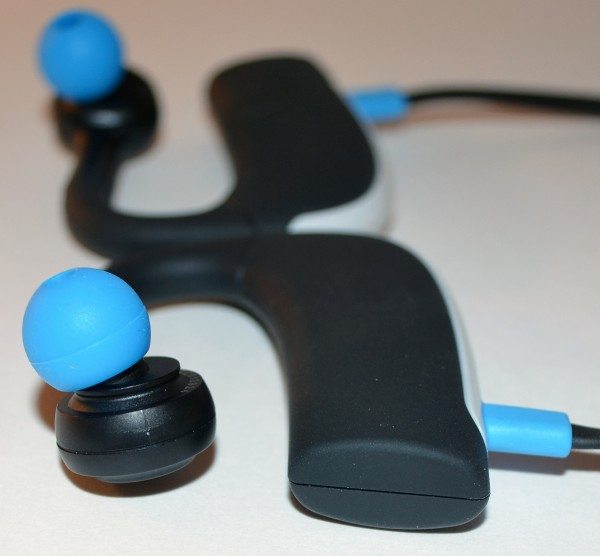 You can see that the ear tips fit into the ear canal at an angle.  It may take a couple of tries to figure out how to seat the ear tips and fit the large hooks over the ears so that the seal is tight for best sound and for stability on your ears.  I found it worked best for me to fit the ear tip in my ear and then "screw" the hook back over my ears.  I wear glasses, and I found that the large hook could be a bit uncomfortable pressing on the ear pieces of my glasses sometimes.  They could also push up on the ear pieces and force my glasses slightly out of position if I fiddled with the earphones.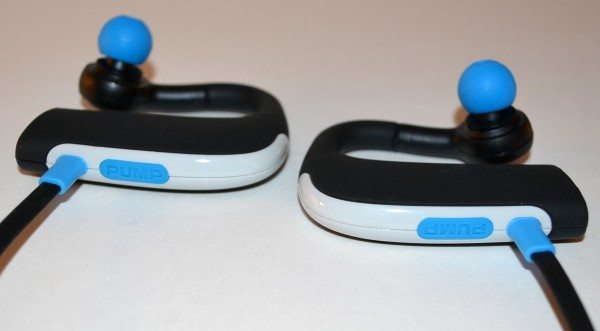 The two PUMP badges here are simply branding, not functional buttons.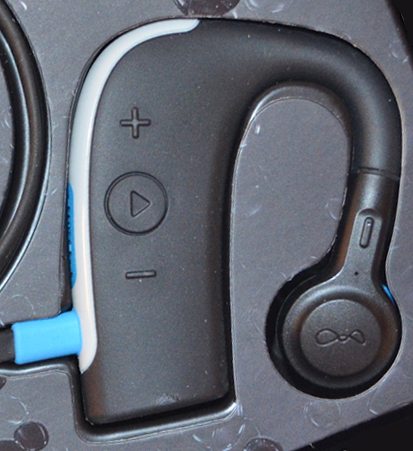 Here's a closeup of the controls.
Let's first talk about playing music before we talk about using the PUMP earphones for Bluetooth calling.  I charged them up before doing anything else, and then I paired the earphones with my iPhone 6 Plus.  I also tried them with my iPad mini with Retina display (for music playback only).  Pairing was easy with each device, and they reconnected easily after having been powered off.  You can pair only one device at a time with the PUMP HDs.
The music I heard from either of my devices sounded very good.   The connection is Bluetooth, but I didn't notice a lot of the "deadened" sound I usually expect from Bluetooth because the PUMPs use aptX for better-sounding wireless streaming.  I listened to some of the music that's most important to me, too – for example, music by Peter Gabriel that I have listened to a lot and care how it sounds when I hear it.  The music through the PUMP HDs sounded good enough that I can enjoy listening to it without thinking about what I'm probably not hearing due to compression.
The volume controls worked to adjust the volume of the music, but I noticed each press resulted in a large jump of the volume slider on my iPhone.  I could also do a long-press to skip songs while I was listening to iTunes Radio.
The Bluetooth connectivity was strong and stable, too.  I have tried Bluetooth devices that would completely lose the connection when I walked from the office to the living room.  The PUMPs stayed connected as I walked all through my house and only started to drop in and out when I got all the way to the front door.  That's a distance of 40 feet from the office, and the path for the Bluetooth signals was obstructed by metal doors, plaster walls, concrete walls, mud-set ceramic tile walls, with who knows what kind of construction and utilities materials required for a 14-storey high-rise building embedded in those walls.
With the ear tips seated well, ambient noise was deadened, but it wasn't completely silenced.  If you're going to be biking or running along busy roads, you need to hear the traffic, which you'll be able to do if you don't crank the volume to 11.
Although these earphones are highly water resistant – so long as the rubber door over the charging port is tightly closed – BlueAnt says they aren't suitable for swimming.  Apparently, Bluetooth signals don't travel well through water, so you couldn't expect a strong, steady signal to your earphones with your head underwater.  BlueAnt says the water resistance makes the PUMPs ideal for use for water sports where your head is above the water or for sports where you'll get sweaty.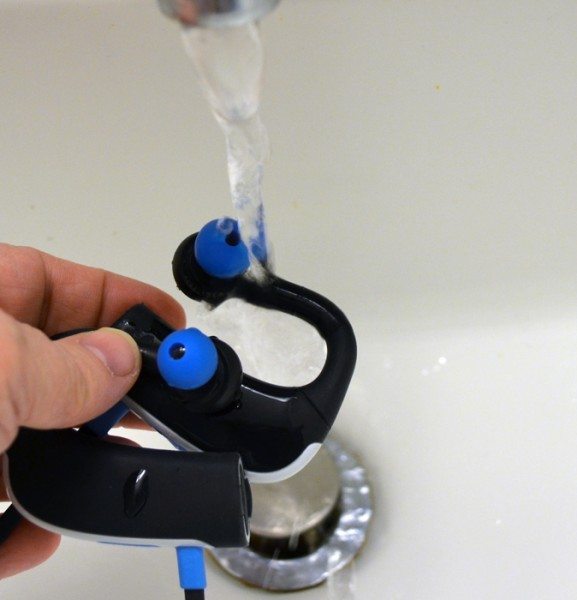 BlueAnt says you can even wash the earbuds after a workout to keep them clean.  I tried rinsing the review pair under running water.  After I dried them off, I found that they worked perfectly.  I then took it a step further by wearing them in the shower.  I had music playing the entire time, and I never heard any dropouts in the music as I showered.  It was a bit difficult to wash my hair with the big hooks around and behind my ears and the cable around the back of my head, but I did it.  After my shower, I dried off the PUMPs, and they continued to work perfectly.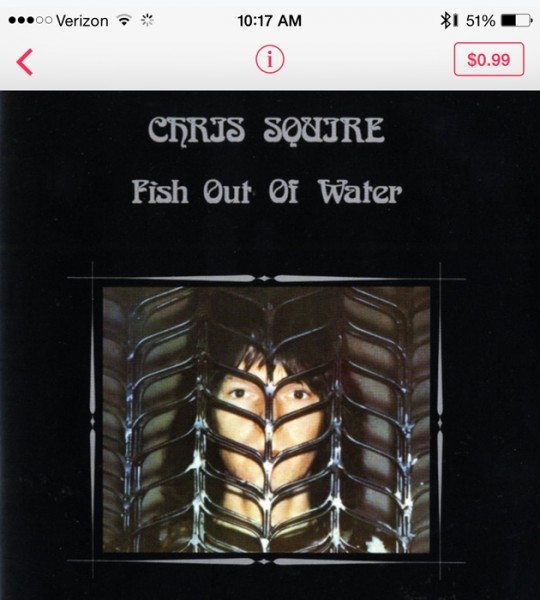 There's nothing on the earphones themselves to indicate battery charge level, but you can see it on your connected device.  The little vertical battery icon to the right of the Bluetooth icon shows the charge in the PUMP headphones.  You won't have to worry about the battery dying right in the middle of a workout if you use this icon as a guide for recharging the PUMPS.
The BlueAnt PUMPs also function as a Bluetooth headset for calls.  BlueAnt has a lot of FAQs about using them in this manner.  They do not support voice commands for answering calls, nor do they announce the caller's identity.  You also cannot redial a number through the PUMPs.  You should be able to answer an incoming call with a single press of the power button, press twice to reject the call, or press once to end an active call.  A double press should activate your phone's voice control functions.  I say "it should" because not all of these features worked when the BlueAnt PUMPs were connected to my iPhone 6 Plus.  I could do a double tap (when no call was active), and Siri would start right up.  Of course, I could hear what Siri was saying through the earphones, but I had to see the iPhone's screen to read her results.  I couldn't use a tap to answer nor end calls and a double tap didn't reject a call.  I had to slide-to-answer on the phone itself, and then I had to use the phone's screen to select BlueAnt as my audio source – every time I got a call.  Of course, I had some warning that a call was coming in when I was listening to music, because the music would go silent shortly before the phone started ringing.  That would give me time to grab the phone and get ready to swipe and select.  I checked the BlueAnt FAQs, and I saw that some phones have to be unlocked before you can initiate their voice command functions.  I tried unlocking the iPhone 6 Plus and asking my husband to call me, but that didn't make it possible for me to answer the call using the button on the BlueAnt earphones.  I don't know if this inability to answer calls is specific to the iPhone 6 or perhaps to iOS 8.
In any event, I could eventually answer a call, and I found that the PUMP HD earphones worked well as a Bluetooth headset.  My caller sounded clear and was easy to understand.  Everyone said I was easy to understand on their end, too.  And when my music had been interrupted to take a call, ending the call caused the music to start playing again.
My husband still has an iPhone 5, so I had him pair the BlueAnt PUMPS with his phone.  When I called him, he was able to answer and end calls by pressing the power button on the earphones.  So it's apparently not iOS 8 that causes the problem.  As a note, both Butch and I utilize lock codes on our phones, and he was able to answer a call whether his phone was in standby or whether it was sitting on the home screen.  He was also able to reject a call using a double press of the earphone's power button.  He could initiate Siri using a double press of the power button, with the phone on standby or with it sitting on the home screen.
I don't have any Android or Windows phones to try them with, so other devices may act completely differently with the PUMPs than my iPhone 6 Plus or Butch's iPhone 5 do.
The BlueAnt PUMP HD Sportsbuds Waterproof Wireless Headphones sound good for listening to music.  They stand up to a lot of water, so you don't need to worry they'll be ruined if you get caught in a rain storm or if you have a particularly sweaty workout.  You can even use them for music while you shower.  They also function well for taking and making phone calls, but you may need to employ some workarounds to answer calls with certain phones.
The BlueAnt PUMP HD Sportsbuds Waterproof Wireless Headphones used in this review were supplied by BlueAnt.  To learn more about the earphones, visit http://blueantpump.com.
Product Information
Price:
$129.99 list price; about $100 at Amazon
Manufacturer:
BlueAnt
Requirements:

A music source or a phone that can be connected via Bluetooth

Pros:

Water resistant to sweat and rain; you can even wash them off
Good for exercising or playing outdoor or indoors
Good sound
A large variety of ear tips and stabilizer hooks allow most everyone to find the correct size for their ears

Cons:

If you're looking for headphones to swim with, these probably aren't for you
Can be uncomfortable for people who wear glasses because of the large pieces that fit behind the ears