The Gadgeteer is supported by readers like you! If you buy something through links on our site, we may earn an affiliate commission. Thank you! Learn more.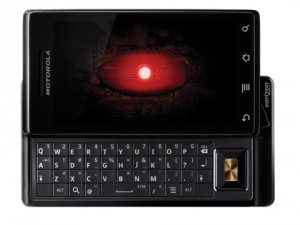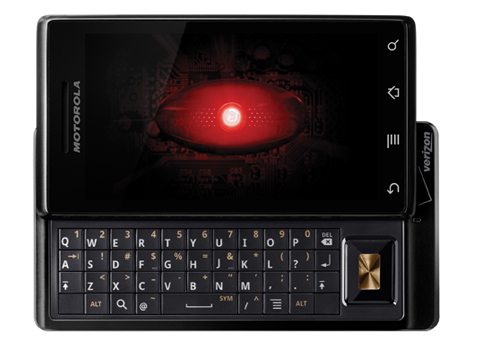 Finally, the review. I have spent just over a week with this app phone, and I have really enjoyed it. I am a current G1 user, so I came to the phone already familiar with the Android OS. It was interesting to talk with a number of folks who are new to Android to get their impressions.
This is going to be a little obsessive and detailed, so settle in. If somehow it is not enough, you can always review the previous posts in this series.
The Hardware
The design of the Droid is very industrial. The lines are very, very straight, the surfaces are hard. The phone is thinner than my G1 and barely thicker than an iPhone. The slider moves smoothly open to display the keyboard.
The Keyboard
News flash: keyboards on phones are a mass of trade-offs, and the Droid is no different. I still don't like it as well as the keyboard on my G1 after a week, but I have grown accustomed to it.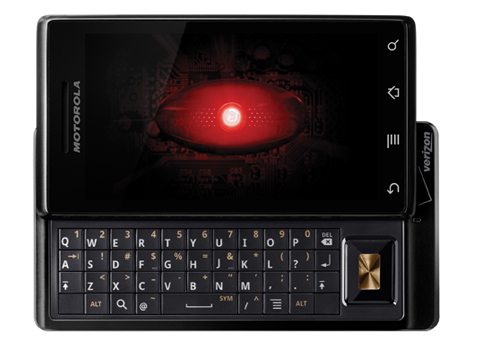 The large 5-way controller to the right of the keyboard limits how wide it can be. It feels narrower than my G1, but in reality they are about the same width. The keys have almost no travel (distance they travel when pressed) and have no separation between them. The G1, with its space between the keys, and more travel, feels bigger, and more responsive. Of course the trade-off to more travel is more width in the device. The biggest detractor of the design for me was the lack of a dedicated number row. This is a big deal for me, especially when typing in passwords with letters and numbers.
Buttons
The phone has four physical buttons, and four dedicated touchscreen buttons. The physical buttons include:
Power button on top right. A little awkward to press at first.
Volume rocker (2 buttons) on upper right.
Camera Shutter on lower right, which becomes upper right in camera position.
The touchscreen buttons are reminiscent of the old Palms before the virtual graffiti areas. Essentially the touch screen extends beyond the regular screen to the four buttons at the bottom.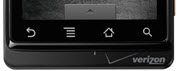 The buttons from left to right are:
I did not like the back button on the left side. I thought it was just my personal preference, but I had another experienced reviewer make the same comment. She observed that is was different from most phones she has looked at (and she has looked at a lot lately). However, let's face it, not something I would not get used to.
A bigger issue for me was the nature of the buttons. No tactile feedback to find them in the dark (although haptic feedback when you touch them and activate the button). Also, they are not always back-lit, so hard to find at night. That is probably a good reason for their unconventional layout, as back is used more than home.
Connections
The Droid comes with a standard headphone jack (here is hoping that becomes a totally non-noteworthy feature in phones) and a micro-USB port for charging and connecting to your PC. It also ships with a USB cable, and a wall plug.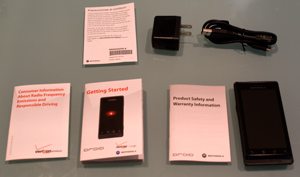 I wish they had designed the wall plug with fold-able prongs, would have made it more portable, but I appreciate the trend towards USB charging. I have WAY to many AC adapters.
Specs
I could replicate a list of specs, but it wouldn't look as nice as the specs page on Motorola's site, so go to their Droid Spec page.
I will highlight the notables:
3.7″ WVGA (480 x 854 pixels) display
550 Mhz processor (2nd fastest Android device out there right now, fastest is 600)
5 MP camera with dual LED flash
First Android 2.0 (Eclair)
16 GB of memory
Memory is expandable by replacing the SD card (supports 32 GB)
That last one is a big deal to me. I love the fact that the Droid (and really all the Android phones I have seen) are easily upgraded by replacing an SD card.
Google Navigation
A lot has been made about this feature. In fact Garmin and Tom Tom took a hit in the stock market the day this was announced. You know how features can be over-hyped and not meet expectation? Well this is definitely not one of those cases. I won't repeat all the information in the navigation post I have already provided, but I want to add some information from further testing.
In the comments I was asked how things worked when you were navigating and received a call. I finally had an opportunity to be a passenger on a reasonably long car ride to test it. After receiving a call you can put it on speaker phone and return to the navigation screen. In fact, during the call you will continue to get turn-by-turn directions visually and audibly. You can mute the audio directions. It worked fine.
Exchange Support
Out of the box, this phone will sync to an Exchange server to get you mail, calendar and contacts. Your mail appears in the e-mail application (which is separate from the Gmail application). In addition your calendar appears in a separate app called Corporate Calendar. You contacts, however, are synced with the contacts on your phone.
I really wish my exchange calendar events appeared in my regular calendar application. I really want an integrated calendar view. This is one of the pleasant surprises on the Eris which is not on Eclair, but uses the Sense UI Exchange features to show them together. I can see why some may want to maintain separate calendars, but I think they need the option.
An integrated email view would be nice, but less of an issue for me. If I want to integrate POP3/IMAP in Gmail I can do that by adding the account in Gmail rather than the phone, and I like separating the Exchange mail. Of course others may prefer something different.
Android 2.0 does not sync your Exchange notes or tasks. There was quite a discussion about this on the Day 1: Verizon's Droid and Account Maintenance post. I was surprised that notes was such an important feature to folks. The bad news is that this is not supported out of the box. The good news is that there is a vibrant Android development market. Here are a couple options (supplied by a Verizon resource):
Touchdown by Nitrodesk. It provides task and global address lookup. I did not get an opportunity to try it out.
Moonrug Mobile provides notes access. I made the time to try this out on the Droid, since there were a few folks who thought this was very important, and it worked fine I will try to make the time to post a review.
These are not out-of-the-box solutions, nor are they free ($9.99 for Touchdown and $23 for Moonrug Mobile) but does show you that the market for Android is healthy.
Outlook ≠ Exchange
Another issue that popped up was syncing with outlook. Android does not sync with your PC to get to the Exchange data, it syncs wireless with the Exchange server. My post Android: Living on a Cloud goes into some of the philosophy around this, but again, the third-party market comes to the rescue. There are a couple solutions that are available now, or shortly:
CompanionLink is a $39.95 tool that uses the Google cloud to sync from your desktop Outlook to your Android phone.
The Missing Sync for Android is currently in pre-release beta. Mark/Space has been providing supplemental sync tools for a while, and though I have never used one, I have always heard great things, and even recommended them to others that were very happy with the results.
If anyone knows of any other recommendations, add it in the comments and I will add it to this list.
I do want to add that the Droid Eris actually comes with the software to sync your Contacts and Calendar in Outlook on your PC to the phone. This is an advantage for the Eris if you have Outlook, but are not using Exchange. I hope to have an Eris review next week. You can see my preliminary comparison in the post Droid Eris vs. Droid.
Facebook Integration
This feature came as a really pleasant surprise. You log into your Facebook account, and it provides the option to sync your contacts with the Facebook information. You actually have two great options. You can pull in ALL your Facebook contacts, or just have it sync the Facebook contact that match contacts on your phone. It also updates the thumbnails of your contacts with their Facebook avatars.
Multi-Touch
Multi-touch is a topic much talked about. If you are unfamiliar, the best example is the 2-finger spread to zoom in and pinch to zoom out. The hardware of the Droid supports this, and there are apps you can download that use it, but Android 2.0 in the US does not have it enabled. The Motorola Milestone (Europe version of droid) lists multi-touch as a feature.  Speculation is this is due to legal threats by Apple. Remember when the bad guys in the 1984 Apple commercial represented the other guys, rather than Apple? Interesting note, the Sense UI DOES support mutli-touch, so it will work with the Eris.
Conclusion
This is a very strong phone. With the dazzling display and incorporation of Android 2.0 it has to be considered the flagship Android device. It is sorely tempting me (a long-term happy T-Mobile customer) to pay the early termination fees and jump ship.
However, you will definitely want to look at the Droid Eris as well. I don't think I could declare a clear winner, it depends on your needs and preferences.
Product Information
Price:
$199.99 w/ 2 year contract $149.99 w/ 2 year contract for existing customer
Manufacturer:
Verizon
Pros:

Stunning display
Physical Keyboard
Fast Processor
First Android 2.0 Phone
Built-in Exchange Access and Integration
Facebook Integration
First phone with Google Navigation
5 MP Camera with twin LED Flash
Accessible Battery
16 GB storage
Storage user-expandable to 32 GB
Supports Multi-touch in hardware, and is used by some Market apps

Cons:

Camera not good in low-light
Does not sync Exchange Notes/Tasks without 3rd party app
Does not sync with Outlook desktop
Exchange Mail and Calendar not integrated with Gmail and Calendar
Multi-touch not supported in standard apps