We use affiliate links. If you buy something through the links on this page, we may earn a commission at no cost to you. Learn more.
One of the big news items surrounding Eclair and the Droid is the vastly improved navigation. I tried this out yesterday with some simple trips. Since this is something you will most likely use in a car, I was also interested in the Car Home icon. This is a nice streamlined menu that appears to be designed to access features while in the car.
The navigation provides turn by turn directions with a synthesized voice. All in all it is not a bad synthesizer. You can also use voice search to look for destinations.
Car Home
The Car Home screen displays large icons to access Voice Search, Navigation, View Map, Contacts, Search and a button to return to the Home screen.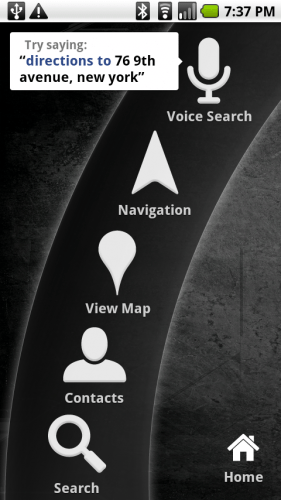 It even provides different suggestions on how to use the voice search. My first try was "Navigate to Habenero's in Cincinnati". After processing the voice command, it shows you what it thought it heard: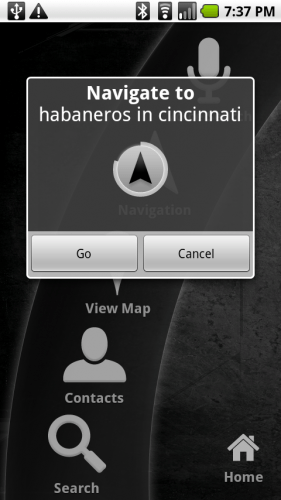 After a few moments to search it provides a list of choices: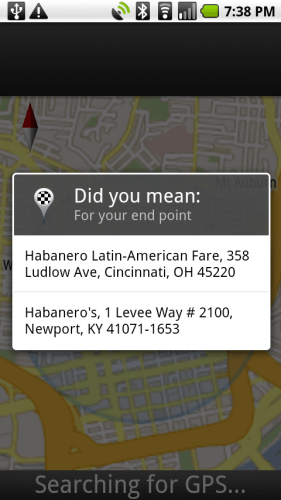 After you tap on the one you want, it starts to load the directions, and indicates time and mileage: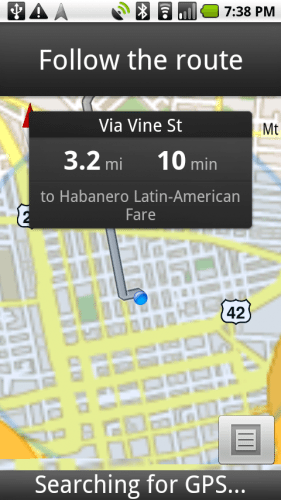 Once it completes the route, it displays the beginning of the trip: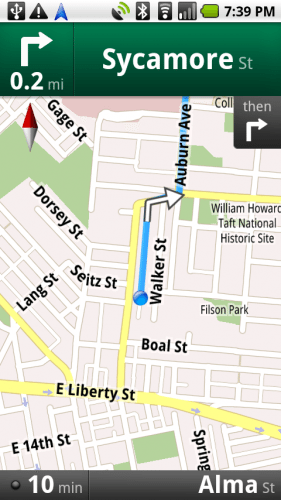 You can see the entire route with real-time traffic data from Google maps: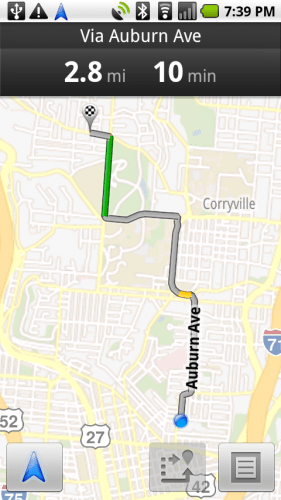 This is definitely a gee-whiz kind of feature. But it is not perfect. Voice recognition is not 100%. I tried another one with "Navigate to Fincher's Barbecue in Macon, GA". I got "Pincher's bbq", "Pictures bbq" and many other iterations. Some didn't even get close enough for reasonable suggestions. Here is what a suggestion list looks like: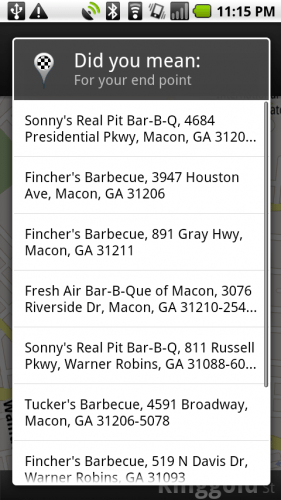 After selecting the destination, I chose Route information, to see the map zoomed to the appropriate level, here is the 550 mile view: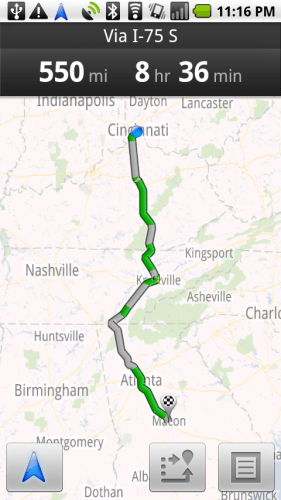 There is even an alternate route button that looks for similar routes with their associated mileage and estimated time: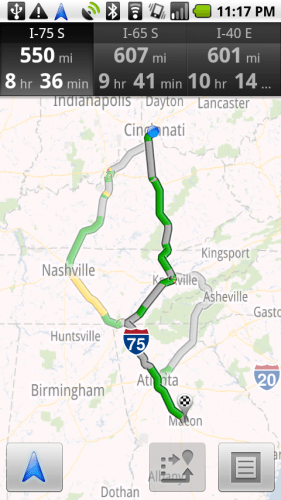 Notice again you see real-time traffic data. here is how the in-route graphic appears: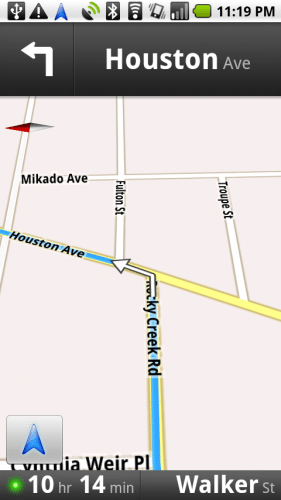 By the way, if you want really good Barbecue, I've just given you the directions…
The end of the standalone GPS?
Maybe. Garmin and TomTom got beat up in the stock market yesterday. It is really hard to beat this combination:
Free
Always current maps
Real-time traffic data
Easy search for local attractions, gas, and food with current information (My Garmin has sent me to long closed restaurants)
However, it does have it's weak points:
Screen size
Voice quality (recorded versus synthesized)
Data access
Let me explain the last. We used my G1 on a recent trip. The problem I ran into was T-Mobile reception. From Columbia, SC to Perry, GA there are some huge dead spots. I could get a great GPS lock that would show me where I was, only it showed me on an empty blue grid since it could not update the maps. Once I learned that, I simply zoomed the route while I had data connectivity, and made sure I did not scroll when I did not.
A nice fix would be for the navigation to load in all the maps for the route, so I don't need to sweat the connectivity. Every network has holes, I assume Verizon has far fewer, but it is still annoying.
This is a fantastic feature for Android. It is hard to argue with free. I would expect the voice recognition to get better, but it is not a deal breaker, since you always have the option of typing in the search.
*Update*
In the comments, Tamara asked a good question. What happens when you get a call and you are navigating? So I tested it out. If you are in navigation mode, listening to your turn-by-turn directions, you will see the call, and have the option to answer. For the duration of the call Navigation will continue in the background, but you will get no notices of turns until you end the call. So don't stay on the phone during that complicated series of directions. Once the call is ended you return to the navigation screen at your current location.