We use affiliate links. If you buy something through the links on this page, we may earn a commission at no cost to you. Learn more.
After spending a day with the new Droid phone I have to say I am very impressed. Turns out I was one of 4 fortunate folks in Cincinnati who get to try this new phone out in preparation for a Gadget Happy Hour tomorrow night. They have asked us to Twitter with the Hash tag #droiddoescincy, so you can see the tweets under that hashtag. Verizon is also making a larger push with the hashtag #droiddoes (though that seems to get sidelined by others periodically).
I am going to continue with some more first impressions here on this site. I promise to put together a final review more in the tradition of The Gadgeteer when I am done playing.
The Intuitiveness of it All
I've found the device to be very intuitive. Then again, I am an experienced Android user. One of the nice things about this experience is we have a number of folks checking out the phone simultaneously. One of the folks I know is Michelle Lentz. She is an experienced gadget user, and writes for bub.blicio.us. She has had some exposure to Android, but most recently has been an iPhone user. You can see her take on it with her post Droid First Impressions.
We have chatted throughout the day, and I found it interesting some of things she stumbled up on. Interesting, because she knows her stuff. The first thing she missed was how to copy files to the phone. On a lot of phones, you plug it into the USB and it pops up on your desktop. Not on the Android. It does not automatically mount the drive. I actually consider this a feature (and no I am not trying to be funny). I don't always like things popping up on my desktop. With Android you need to tell it to mount from the notification window by tapping USB connected: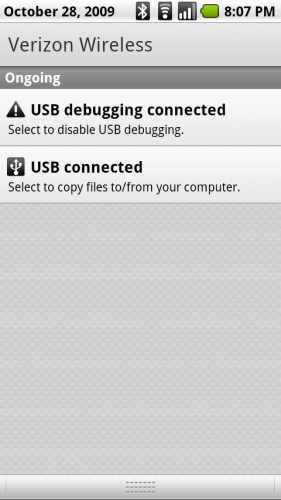 Michelle's experience makes me wonder if there shouldn't be an option to tell it to automatically mount the phone. I would not use it personally, but I could see why it might be other's preference.
By the way, the USB debugging connected notification is there because I need to use tools in the SDK to get these screen caps. Hey gadget makers, make it easier to take screen captures, it will help folks like us pimp your products. I think that was a really nice change to the iPhone/Touch OS to simplify screen captures.
The second issue she asked me about was how to delete accounts in the e-mail application. Again, she's sharp, so she figured it out before I got back to her, but it's one of those insider OS features that is easy to overlook. When you look at the e-mail screen you see all your accounts, and I have opened the menu so you can see the options there: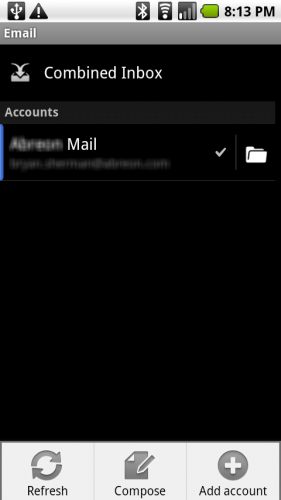 This is my Exchange mailbox (blurred out a little). Notice I can Refresh, Compose or Add another account. No delete. As someone who has used Android for a while, I figured it would be a long-press, and this is what I got: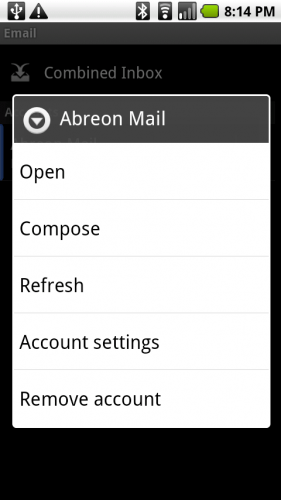 And there is your Remove account. Not overly intuitive, though she did figure it out. Seems like they could easily add a remove here, though perhaps they don't want to make it too easy for folks to accidentally delete their account.
Account Management
This has been a dream. I already mentioned how easy it was to connect my gmail account and get my gmail and contacts. But you would expect that. I also mentioned the Facebook connection. Well, this afternoon I connected to my company's Exchange server, it is very simple. You can easily manage how it syncs under Settings, Accounts & Sync: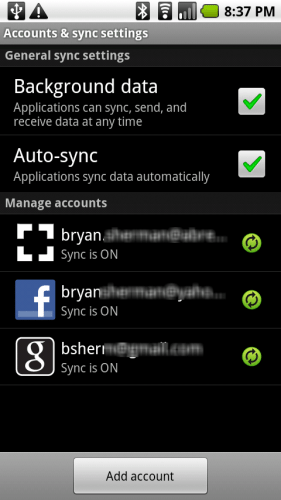 Here you see a listing for my Exchange account, Facebook and gmail. I can further customize how the Exchange account syncs by tapping on it: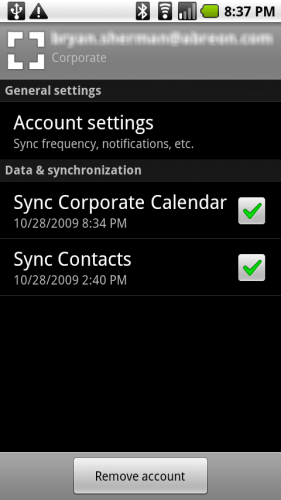 By syncing contacts, it adds the contacts in my Outlook contact list to my gmail contacts. The calendar is synced to my Corporate Calendar application. I don't see a way to make these events appear on my main calendar, but I can set notifications in this application, and view my agenda for my work calendar by itself. It works just like the regular calendar application. Here is a look at some of the applications, you can see the Corporate Calendar icon right under the Calender icon here: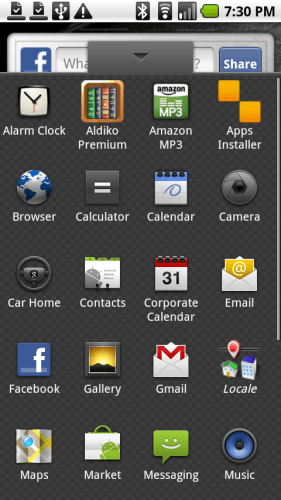 Well, I have more to share, but this is getting long, so stay tuned for more tomorrow. Next up: the Navigation Map and Car Home…