We use affiliate links. If you buy something through the links on this page, we may earn a commission at no cost to you. Learn more.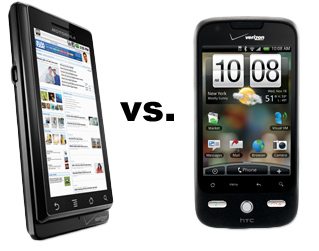 Tomorrow marks the launch of Verizon's first two Android phones. I have spent over a week with the Droid, but have only had the Eris for a couple of days. Since Verizon decided to call their first Android phone the Droid, and add that name to all successive Android phones, I will be referring to the Motorola Droid as simply Droid, and the Droid Eris as simply Eris.
I am still wrapping up the full review of the Droid, and want to spend a little more time with the Eris before finishing that review, so I will not have both reviews in time for tomorrow's launch. Now I doubt you all are on the edge of your seat waiting for my final reviews, but if you are anything like me, you like all the data you can get. So with the caveat that I have not spent much time with the Eris, I want to give you information on which of these two excellent phones are best for you. I will not be declaring a best, because that is just silly, it depends on your specific wants and desires.
So we are going to start with the basics. You like Android, you want to get a new phone, and you are on Verizon, or don't mind switching.
Why You Should Buy a Droid
You want the biggest, highest resolution screen. The display on the Droid is simply stunning. It is 3.7″ WVGA (480 x 854 pixels).
You want the fastest processor. The Droid comes with a 550 MHz processor versus Eris' 528 MHz processor. Using Linpack for Android the Droid scores 4.507 Mflops/second versus Eris' 2.315. But this only rates the floating point computing power. Part of the improvement could be a better interpreter in Eclair. I include results from Benchmark by softweg at the bottom of this post. I was surprised how poorly the Droid scored on graphics performance, though that could be because of the higher resolution screen.
You want an Android 2.0 (Eclair) device. Droid ships with Eclair, but HTC is working on updating the Sense UI for Eclair, and will should release an update. Verizon has announced that an update for the Eris to Eclair is coming in 2010.
You want the most memory. I actually used a widget called Internal Memory Widget. It displays how much memory (i.e. RAM) you are using and how much is available. The Droid shows 261 MB available, and the Eris 159 MB. But the G1 (or at least my G1 on Donut) only has 74 MB, so 159 is a big step up.
You want the most storage. The Droid comes with a 16 GB SD card, while the Eris has only an 8 GB card. But, it's an SD card, you can upgrade it later if you need to.
You want a physical keyboard. Eris does not have a physical keyboard, but it's not like any mobile phone's keyboard is touch-typing ready. This Droid's seems a step down form the G1 (though that could still be because I have used the G1 for a year).
EDIT (how did I forget this?):
You want turn by turn navigation. Droid has the very cool new turn by turn navigation from google, but whenever HTC upgrades their Sense UI it will should as well.
Why you Should Buy an Eris
Size matters to you. This is the smallest, sleekest Android phone on the market. It seems even smaller because of its tapered corners, but the Droid is not exactly huge.
It is a sexy, sexy phone. Sorry, cannot find a better explanation. I love the lines, I love the rubberized exterior, I love the Sense UI. But, if you like a more industrial design, the Droid is more in your line.
You want the Sense UI. It's only available on HTC phones, and it is a great interface. But it is built on top of Android, so with every new release of Android you  need to wait for the Sense UI to be updated to the new OS.
You want a better low-light camera. I will definitely test it more, but the Eris phone seems to handle low light much better than the droid, even at the same MP. This really showed up in Shop Savvy. But, this is your phone. You can buy a separate camera.
You love widgets. The Sense UI has 7 screens to the Home view. This compares to 3 for the droid. In addition, there are a number of HTC widgets that are just fabulous, including ones to display contacts, mail and messages.
You want to save $100. The Eris is going to be $99 versus $199 for the Droid. But, this is a 2-year contract, that works out to a little over $4 a month so you don't want to be penny-wise, pound-foolish.
You want your Exchange calendar events to appear on the same calendar as the rest. On Eclair, Exchange calendar events show up in the Corporate Calendar app, not the main calendar. Eris places them in a unified calendar, color-coded. But, it's not always bad to separate your work and personal calendars.
You like a physical Call and End button. I miss the call and end button on the Droid. I am just used to tapping call to bring up my phone and contacts list, and the end button to hang up. But, that is a preference thing, you may not care.
You like your Home button on the left. For some reason the Droid chose to swap the back and home buttons. I found this very annoying, and goes against other Droid phones, and even other phones on the market. But, it's not like you will be switching phones constantly, you will get used to it.
Conclusion
These are two really strong phones. I thought this was going to break down to choosing a power phone versus choosing a lite version. The Eris really holds its own against the Droid making it a difficult choice. Not really a bad thing.
You should also know that there are rumors that Verizon may release 1 or 2 more Android devices by the end of the year. I have no inside knowledge, no Verizon rep or PR person told me this, but you can see the rumors out there. But, how many times have folks known Apple was releasing a tablet? There is always going to be something better coming out, at some point you need to buy.
Good luck deciding between these two excellent phones. I don't think you can really go wrong with either.
Graphics
Eris
Droid
Total graphics score
113.90
16.92
Draw opacity bitmap
(MPixels per sec)
56.26
5.05
Draw transparent bitmap
(MPixels per sec)
13.40
5.30
CPU Whetstone
Total CPU score
166.45
410.22
MWIPS DP (MWIPS(DP))
11.66
31.31
MWIPS SP (MWIPS(SP))
12.93
30.91
MFLOPS DP (MFLOPS(DP))
2.28
3.73
MFLOPS SP (MFLOPS(SP))
3.05
4.89
VAX MIPS DP (VAX
MIPS(DP))
7.85
22.15
VAX MIPS SP (VAX
MIPS(SP))
8.47
20.99
Memory
Total memory score
149.34
285.99
Copy memory (Mb/sec)
135.70
259.88
Filesystem
Total file system score
36.25
70.36
Creating 1000 empty
files (sec)
8.74
6.26
Deleting 1000 empty
files (sec)
3.25
4.47
Write 1M into file
(M/sec)
1.51
2.66
Read 1M from file
(sM/sec)
71.43
138.89
SD card perfomance
Creating 250 empty files
(sec)
10.05
13.41
Deleting 250 empty files
(sec)
15.65
11.05
Write 1M into file
(M/sec)
3.31
12.12
Read 1M from file
(sM/sec)
55.56
129.87