We use affiliate links. If you buy something through the links on this page, we may earn a commission at no cost to you. Learn more.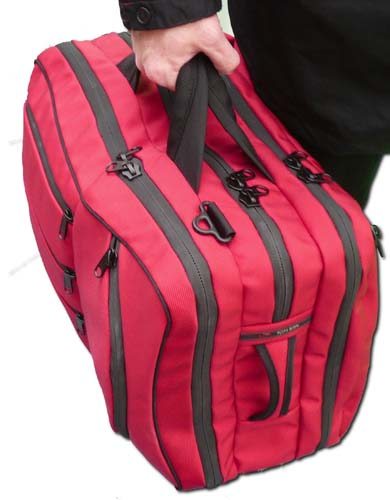 Before I kick off, full disclosure; I'm a fan! A fan of Tom Bihn and nearly everything that comes out of their Seattle factory. I bought my first Tom Bihn bag in 2002, an Empire Builder, and shortly after bought the Brain Bag. These were painfully expensive at the time, but when I eventually sold them I got a re-sale price that I'd never get from lesser bags. So the total cost was not so bad. Also, the functionality; the features and benefits; and the incredible build-quality loaded into every case made the expense worthwhile.
Introduction
Over the years since I've had a succession of Tom Bihn cases and accessories. Not because the old ones wear out, but I'm intrigued by the company's approach to design, and am keen to sample what they make. Tom Bihn's cases are quirky and uncompromising. Quirky in that they tend not to follow fashion, often bucking fashion completely. Uncompromising in that they seem to rarely design and build to a price. They offer a lot in terms of user benefits, but you have to pay for it. So I'm a fan, but not because of some arbitrary devotion to a brand or style, but because I'm interested in good luggage design, and these guys always deliver this.
To write a decent review takes quite a lot of testing, and time and effort in the writing. There is a reward though, and that is the sense that one's comments inform the design of new products. I'm not sure if that actually was the case here, but Tom Bihn's new Tri-Star seemed to be pretty much what I'd been asking for in a travel bag. I've gone through loads of carry-on travel bags over the years: Tom Bihn's Aeronaut and Brain Bag, the Red Oxx Air Boss, several generations of Spire's Meta, North Face duffles of various sizes … and so on. All were good, but none completely addressed the evolving specification I was building for the ideal travel bag. The Tri-Star takes a huge leap in the right direction. By way of a preview of how impressed I am with the Tri-Star, I should say that I have already sold most of my existing travel bags on eBay. The Tri-Star is not perfect for me, but comes very close.
Testing environment
I like to test luggage properly, so that means travelling with it, and stress-testing it. As a lecturer in higher education, the best time for me to do this is the summer of academic conferences.  The Tri-Star, arrived late August and so I had just a couple of trips left on which I could test out the new case in anger. I've just returned from the second of these. Both trips were for three nights and four days away and involved short-haul air travel.
Unpacking
Ordinarily I would begin a review by describing the technical and aesthetic aspects of a case before getting into some comment on its use. However, having recently returned from a trip I thought I would unpack and photograph the process, commenting as I go.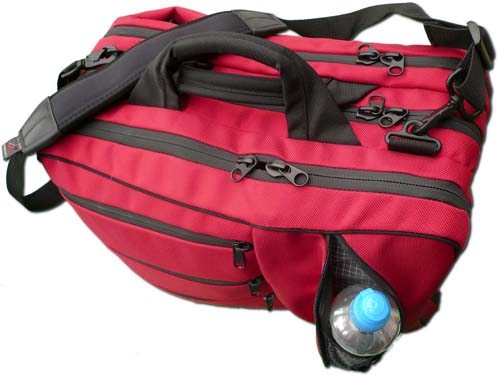 So first up you see the Tri-Star all zipped up with about 13 kg of gear. My trips required that I have a suit, and business clothing for each day. I would also need more casual gear for the evenings. Also in there is my MacBook Pro and associated teaching/presentation gear, gadgets, paperwork etc.
In the flat rear compartment we have a large, shallow area that is designed for stowing clothing.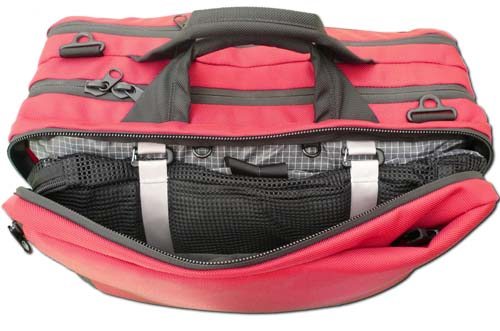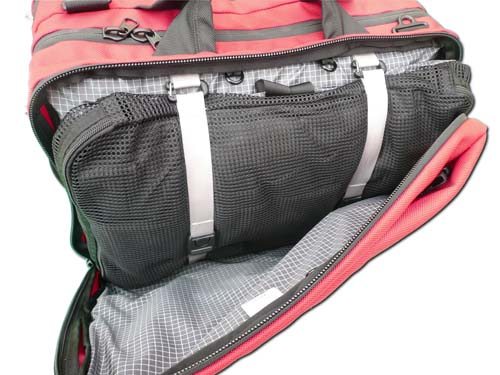 There are a pair of tie down straps in there, but little else intrudes into this space. The tie-down straps are removable.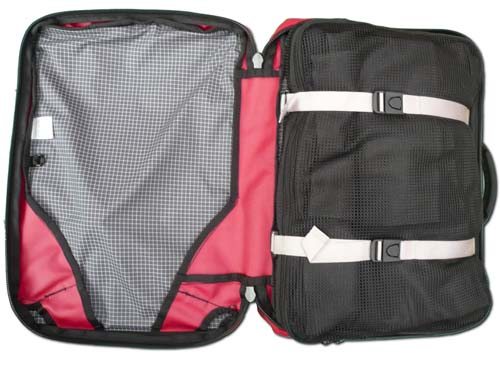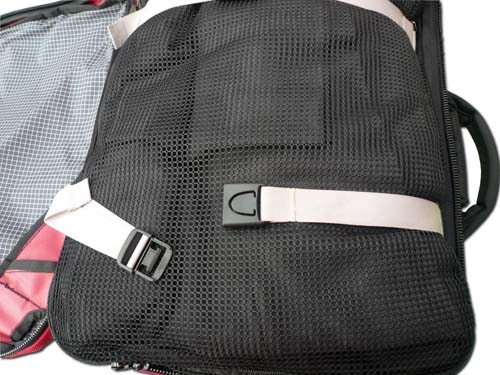 I put my suit in this space, and in turn this was constrained in the large Tri-Star parking cube. The packing cubes are not included in the cost of the TriStar, but as these are all designed as a kind of system, it makes sense to get them. Further, they are not too expensive; this one is $18. I should say that the suit is a dedicated travel suit made by Rohan. An ordinary suit might suffer in this area as it would become compressed by the weight of the pack pushing against one's back. Hang up the Rohan suit overnight however, and the creases drop out fairly easily.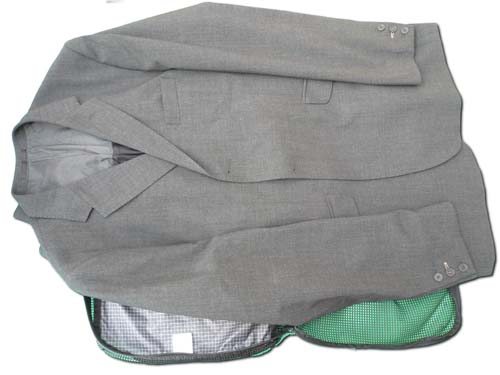 In the front we have two packing cubes. Again, these are extra cost; $16 and $15 for the medium and small respectively, but are custom made to fit perfectly in the front compartment. They make the Tri-Star so much easier to pack and use, that I think their purchase is a no-brainer.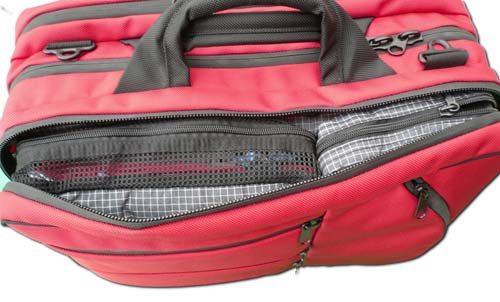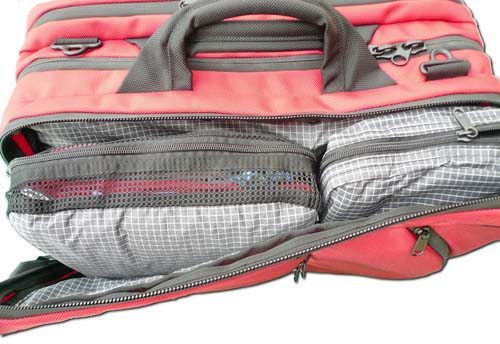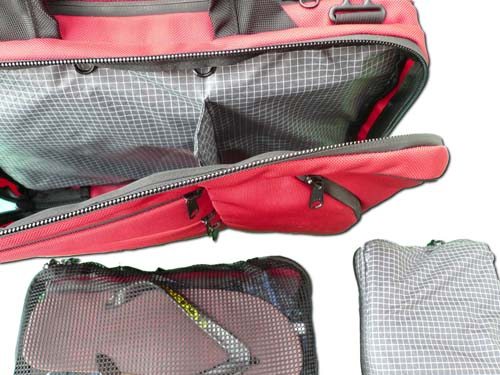 In the pictures above. the smaller of the two cubes contains a pair of size 10 1/2 shoes, with socks and underwear tucked into these. The medium-sized parking cube contains three shirts, three T-shirts, flipflops, a pair of shorts and a couple of ties. (There are more pictures of these further on in the review.) Clearly, you cannot jam your clothing into these packing cubes willy-nilly. Even on a return trip, everything has to be packed just so.
Opening up the central gear compartment we have Tom Bihn's Brain Cell laptop cell which contains my 15″ MacBook Pro, a horizontal Freudian Slip and several small gear cubes and organizer pockets. Some of these gear cubes as you can see are secured to the case by little nylon Key Straps.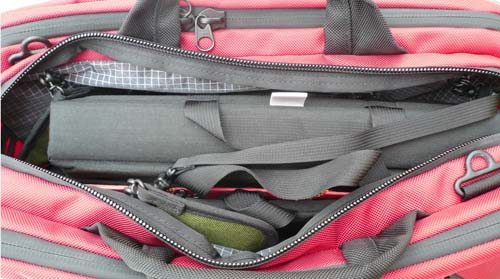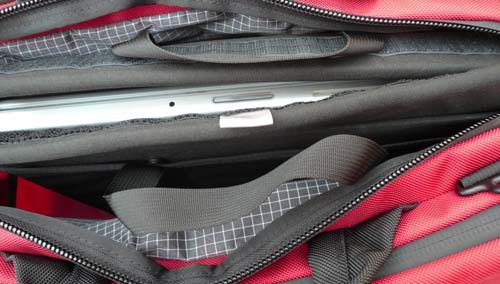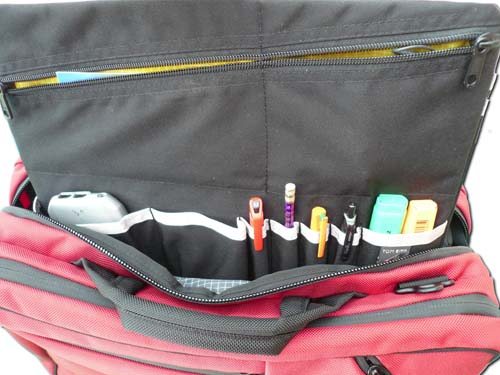 Here are the contents of the gear compartment laid out on the table. The Organizer Pockets at the bottom left have the long Key Straps still attached. These things are really handy for rescuing stuff from the depths of the Tristar: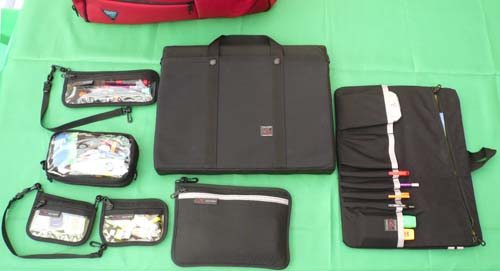 In the slip pockets on the front of the case are some more organizer pockets, travel paperwork, a paperback etc.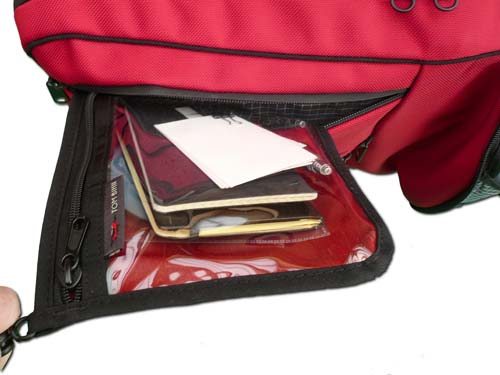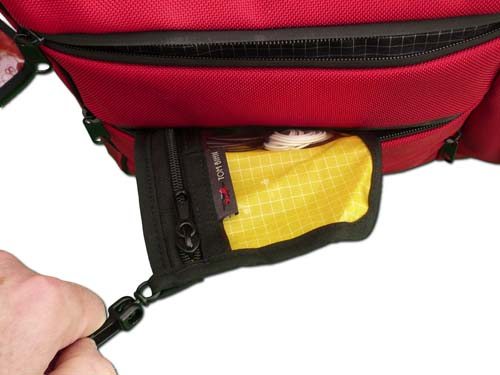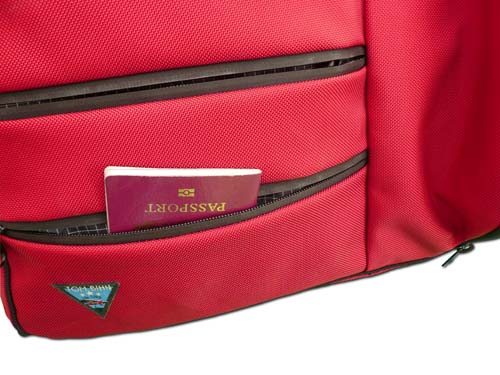 At the front of the bag is also a neat holder for a water bottle, you can also see one of the grab handles in this pic.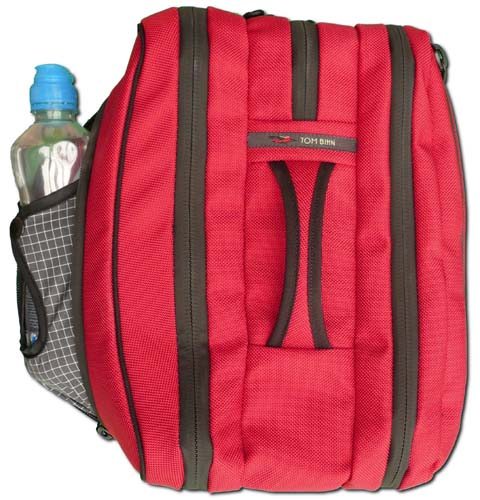 So this is what I lived with for three days and four nights away at two conferences. In addition there was obviously the clothing I was wearing; running shoes, jeans, belt, T-shirt and a overcoat.
In use – carrying the Tri-Star
Carrying this lot in the Tri-Star was easy. Mostly, I used the carrying handles or the shoulder strap, the latter being Tom Bihn's "absolute shoulder strap." I've reviewed the Absolute Shoulder Strap several times previously for the Gadgeteer, so I won't re-d0 that, suffice to say its staggeringly comfortable even with heavy loads.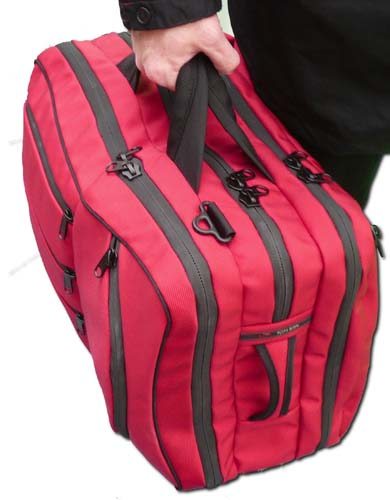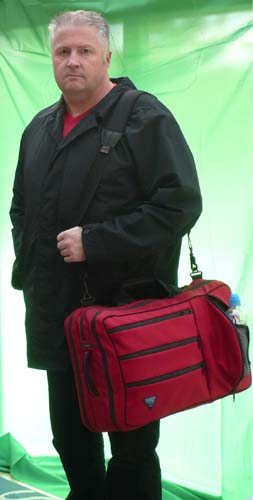 Now and then I carried the TriStar on my back using the built-in harness. This was pretty comfortable, though clearly this comfort is dependent upon the nature of the items in the rear compartment. There is also a fair chance that such items will be creased if you carry the Tri-Star on the back.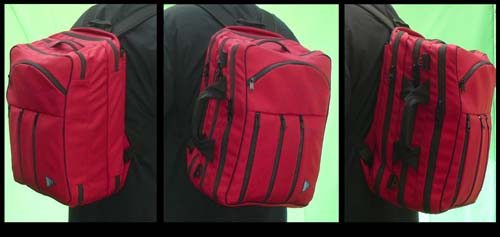 I gather that Tom Bihn designed this case to address the more restrictive carry on luggage rules that we have in Europe. So it is a quite a bit smaller (33 l.) than the aeronaut (45l.) I reviewed previously. Fully loaded like it appears in the picture it fits perfectly into the luggage size testers at check-in desks. Being about 3″ shorter than the aeronaut it was a lot easier to fit into overhead baggage compartments, especially those on small commuter jets.
Another aspect of the Tri-Star is that it actually looks like a large pilot's briefcase, and so does not appear out of place if you take the whole thing to a business meeting. Actually, the black or grey version of the case would look a lot better in such contexts, but more on that later.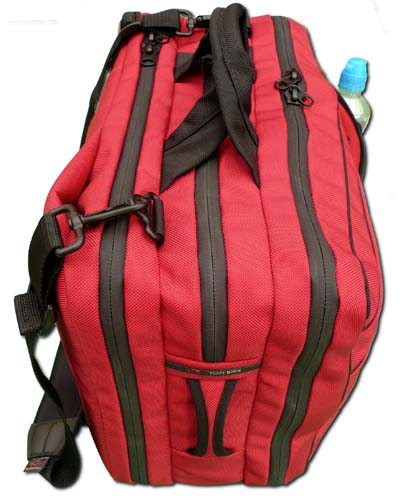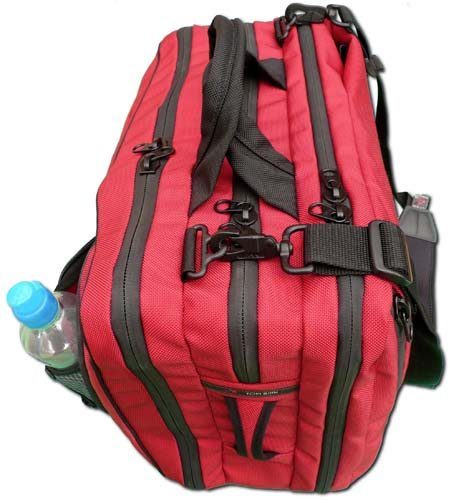 For the conference presentations this is exactly what I ended up doing – taking the whole TriStar sans clothing and packing cubes. In place of the packing cubes I would lug around handouts etc.
Features
My TriStar is in a bright scarlet ballistic nylon that is used on many of Tom Bihn's other bags. It also comes in steel-grey, black and indigo. With hindsight I wish I'd got the grey or black version on the case. The scarlet fabric looks fabulous when new, but already its picking up the grime. The dirt does not show up in these pictures, but its there. My red Aeronaut was a dirt magnet too, and while it would clean up nicely in the washing machine, I'd rather not have to wash it so often.
Build quality is superb, no pulled seams, no frayed edges where fabric is cut but not sealed. The zip fasteners are big, beefy and waterproof. The lining, is Tom Bihn's signature grey chequered Dynema fabric. Most of the webbing straps are black, with the exception of the tiedown straps in the rear compartment which are grey. The steel-grey and indigo versions come with an extremely loud yellow version of this liner material called "solar." Check out the Tom Bihn website for pics of these different colour variations.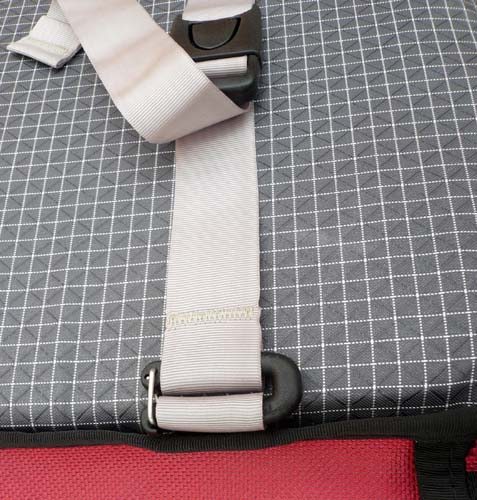 The main carry handle is a padded item in two parts. It works pretty well, though if you have small hands it can be a little tiring to carry as you cannot lock your hands around it.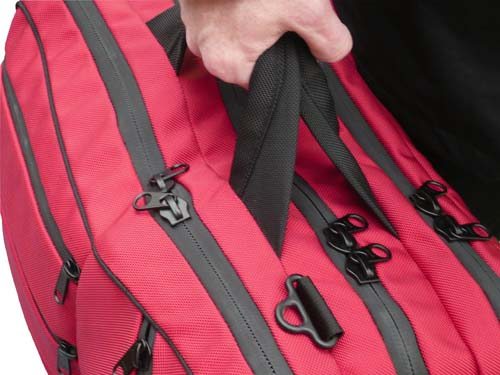 No Bulging!
In the front compartment, is a zipped divider.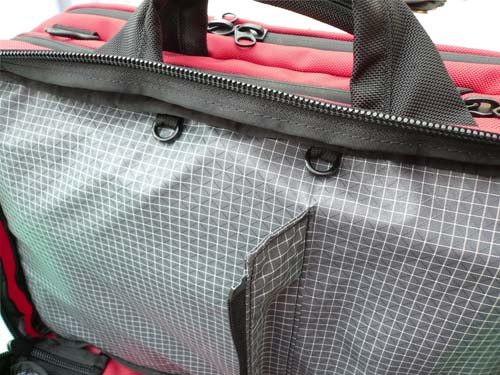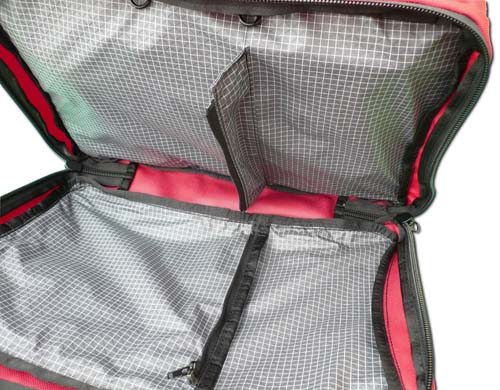 The divider serves to provide compartments for the small and medium packing cubes, or if unzipped allows one to use a large parking cube. The main benefit of this divider however, is to prevent the side wall of the case from ballooning out when the bag is full. I used to have the much-hyped Red Oxx Air Boss travel bag, and its a real pain in this regard; a neat cuboid turns into a soggy balloon after a couple of hours use. So, this is a really nice feature of the Tri-Star design and it works very, very well. I think its in the wrong place though. Where it is currently located it means that one locates shoes directly under the water-bottle. If the divider were located such that the small cube was on the left, and the medium cube on the right, then beneath the water bottle would be something that was more likely to "give" than a pair of shoes, and the water bottle would not jut out so much. Better still, Tom Bihn could add an additional divider so that one could locate the cubes either side.
Also in these last two pics you can see the small D rings designed for securing key straps, organizer pouches etc. There are lots of these d-rings dotted around the interior of the TriStar.
The flat zipped pockets on the front of the case provide access to different height pockets; the rear being the deepest obviously.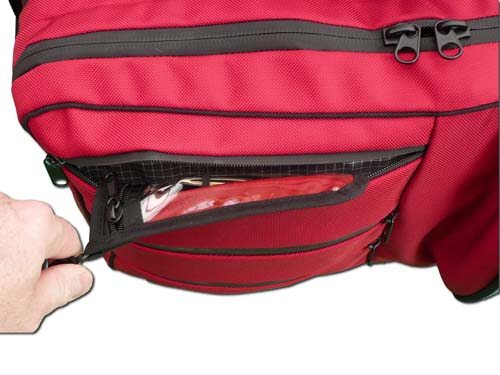 The curved zipper hides the pocket for a water bottle, and inside this is a clipped pocket made of Dynema to hold the bottle itself. By the way, the pic below shows a cord zipper pull attached. I had a pack of these from Tom Bihn, but eventually took them off as they made the bag look a bit fussy.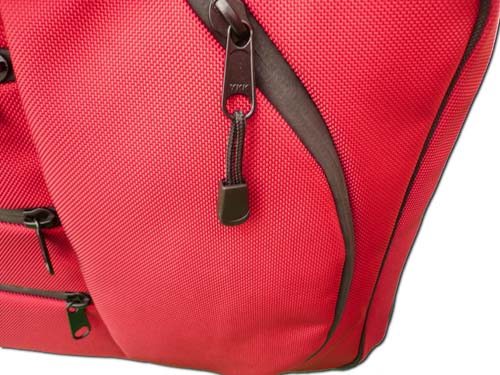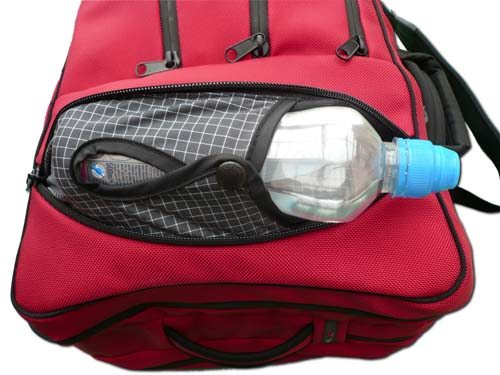 At either end of the case we have grab handles which are ideal for pulling the case from overhead lockers.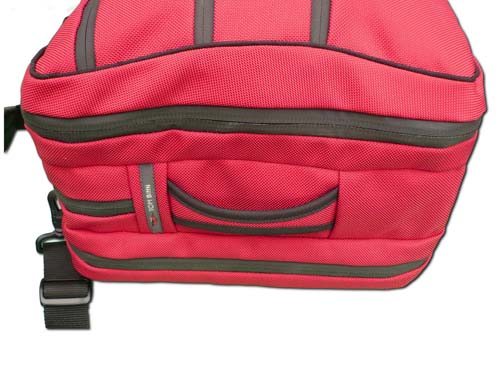 Tucked between the back and the liner is the svelte but very comfortable harness. This has more than enough padding for the weight that you would carry in the Tri-Star. It also comes with a neat chest strap which can slide to different heights / chest positions.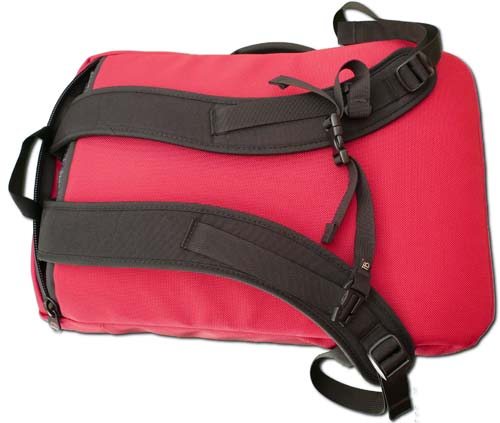 In the pic below the harness is partially hidden, waiting to be zipped away. Just down at the bottom left is a small handle which I found handy for hanging the Tri-Star, though it does rub on your neck a bit when carrying on the back.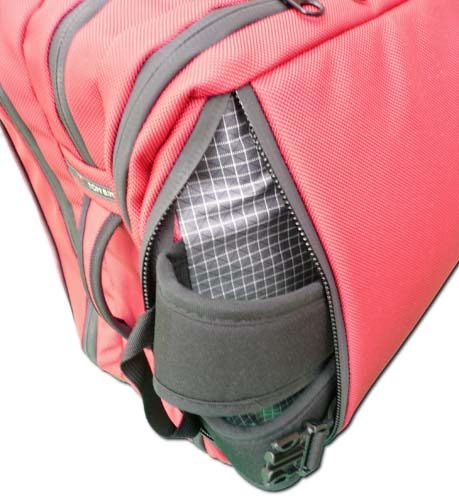 The harness is anchored to the lower corners of the case via some clips. These hide away when not in use: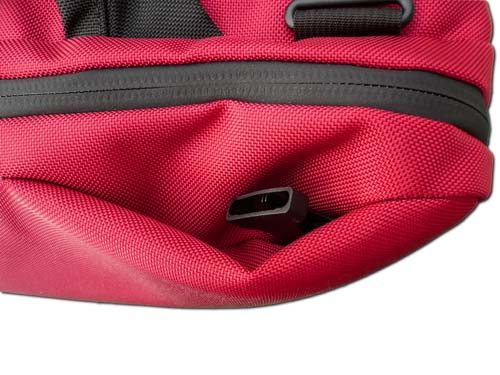 The Brain Cell is attached to the gear compartment with a couple of bayonet clips: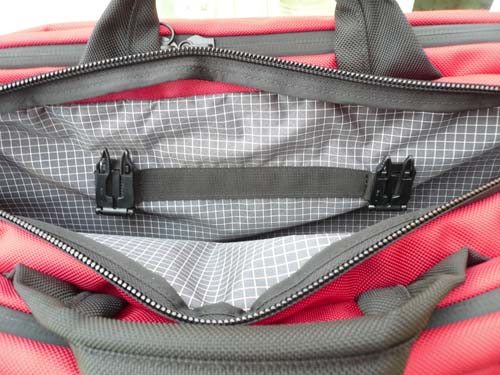 Tri-Star Physical Specifications:
External dimensions: 19″ x 13″ x 8″ / 480 x 330 x 205mm
Weight: 3.4 lbs / 1.55 kg
Volume: 33 l. (2000 cu. in.)
Accessories – Packing Cubes
We have an insane number of packing cubes in our house. These things make packing so much easier. To fully exploit the Tri-Star, they are essential I think. Tom Bihn make a range ofsizes to suit their different bags. These UK size 10.5 shoes "just" fit inside the small Tri-Star cube.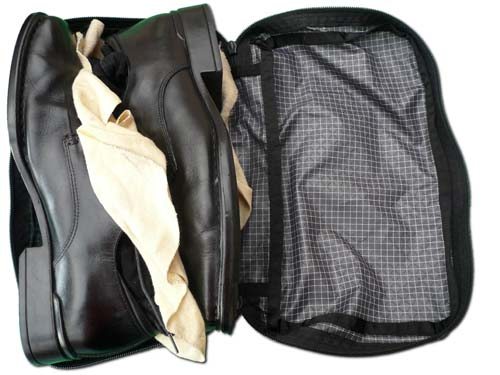 The medium size Tri-Star cube is ideal for shirts and t-shirts: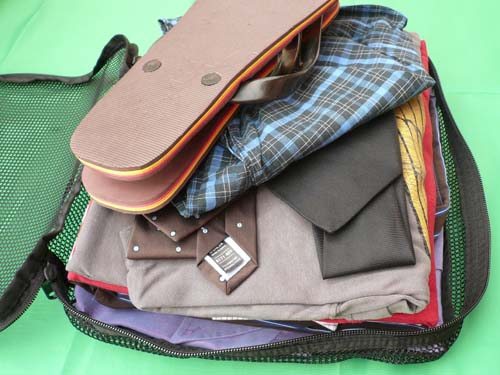 Finally, the large size is great for suits and trousers. I think Tom Bihn now have a version of this large cube which converts into a daypack. Nice.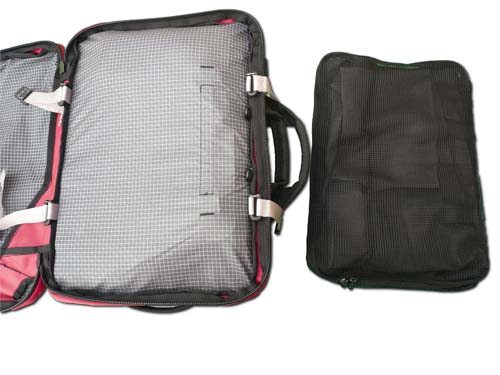 The packing cubes are very light in weight, even the large size. They come in mesh or opaque fabric.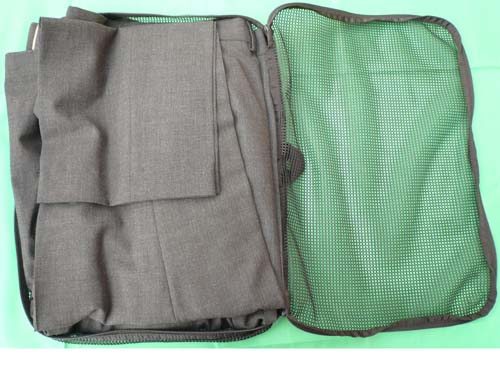 The Tri-Star packing cube dimensions are:
Small: 12.8 x 7.4 x 2.3″ (325 x 188 x 60mm)
Medium: 12.8 x 11.3 x 2.3″ (325 x 288 x 60mm)
Large: 18.7 x 12.8 x 2.3″ (475 x 325 x 60mm)
Accessories – Horizontal Brain Cell
The Brain Cell is essential if you are going to carry a laptop in the Tri-Star. The Brain Cell is probably the best laptop cell out there, its tough and lightweight. I've reviewed the Brain Cell a couple of times for the Gadgeteer so will not repeat these. Please go here if you are interested in the detail.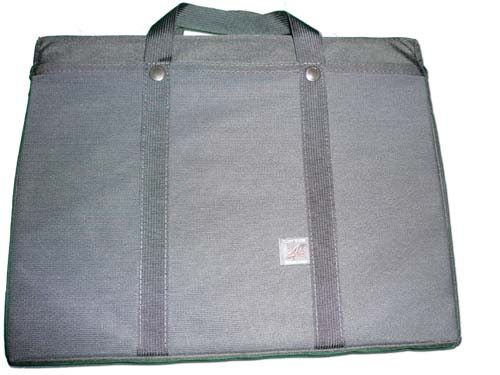 Accessories – Horizontal Freudian Slip
The Horizontal Freudian Slip is a panel of organiser pockets that fits into the Tri-Star. On one side are some pen holders, slip-pockets and lined zippered pockets: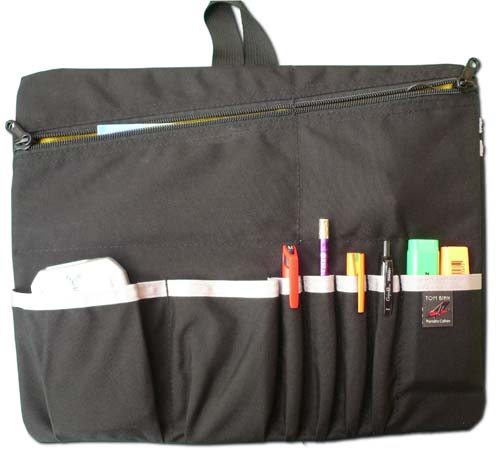 On the reverse are some large slip-pockets for documents and writing pads: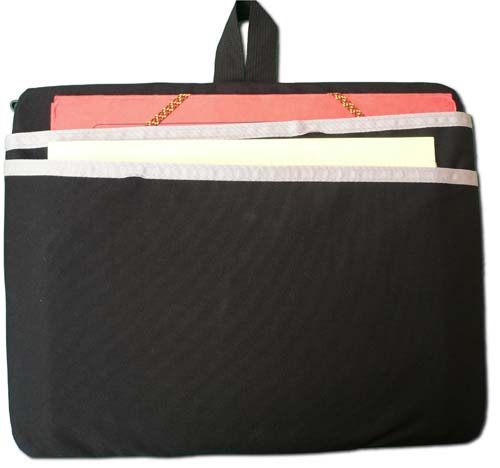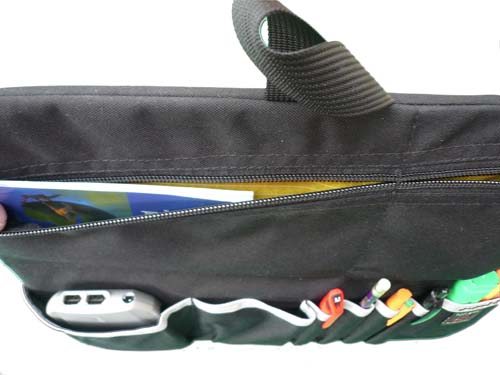 The zippered pockets are lined with that very loud yellow "solar" fabric I mentioned earlier. Nothing's going to get lost in there! The Freudian Slip is one of those items that you didn't know you had a need for until you get out and play with it. Its really handy of you tend to work when flying – a lot of your otherwise, hard-to-find stuff, comes easy to hand. You can hang the Freudian Slip on the seat-back in front of you.
Accessories – Organizer Pouches and Wallets
I've got a load of Tom Bihn's organizer pouches and wallets already, but I love these things, and one can never have too many I think. The design of the clear Organizer Pouches has been refined a little since I last reviewed them for the gadgeteer. The range of colours and sizes has increased, and the clear part now seems to be of a softer, more pliable material (it says .020″ clear urethane on Tom Bihn's site).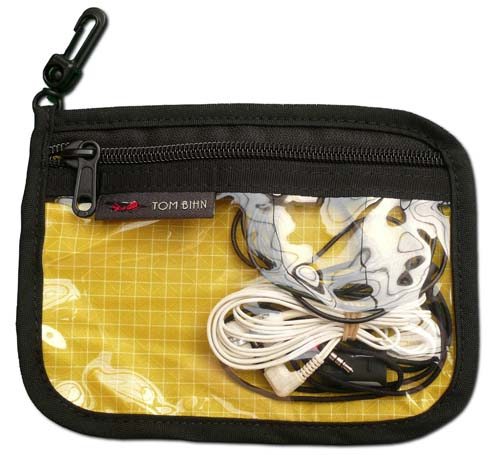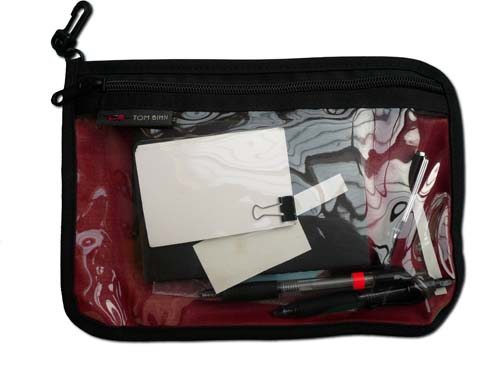 Tom Bihn also now do a mini version with ultra-suede dividers. I used this for SD cards, but I might buy another soon – to take my work ID card, some credit cards, cash etc, and fix this permanently to my car keys. Just below this is a mini standard pocket which was ideal for USB adapters. In case anyone is wondering at all this dayglo, I find it helps prevent me leaving stuff in hotels. If something small but important falls under the bed, I can spot it easily.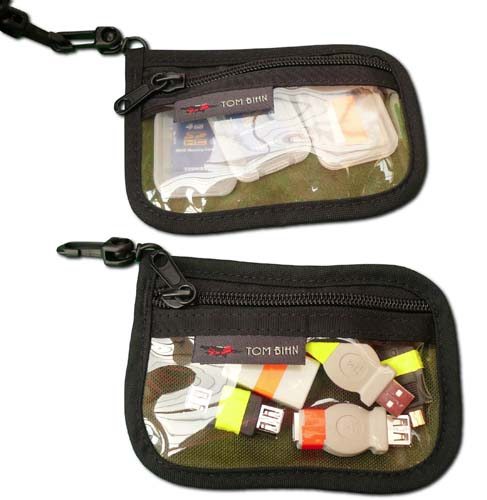 Here is the pen / pencil wallet: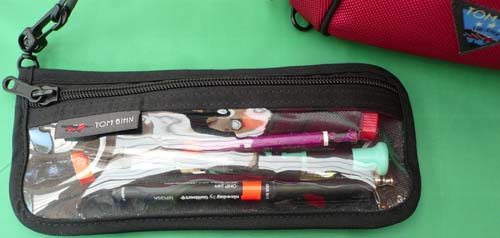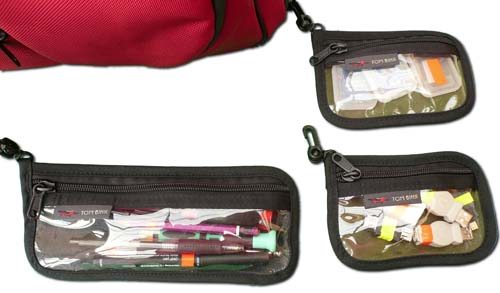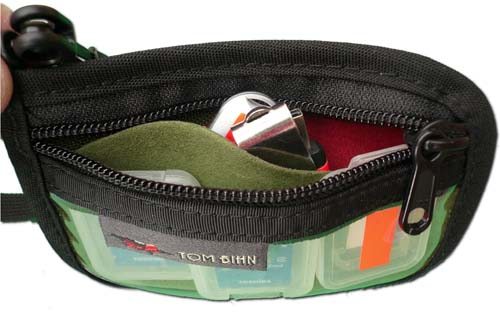 Accessories – Key Straps
Here you can see a couple of the long key straps attached to pouches. These are great for retrieving stuff from the depths of a large case, but also prevent you from loosing items under aircraft seats etc.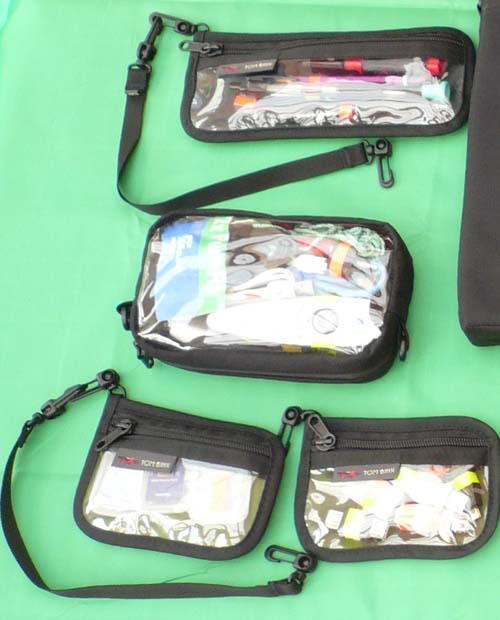 Accessories – Absolute Shoulder Strap
I've had a couple of these, and they are awesome. The most comfortable strap ever. The wide section is made of neoprene, and besides being non-slip, it acts as a suspension device for your bag. It really does create an illusion that the bag weighs less. If you want a bit more comment on the Absolute Shoulder Strap please have a look at my Empire Builder review.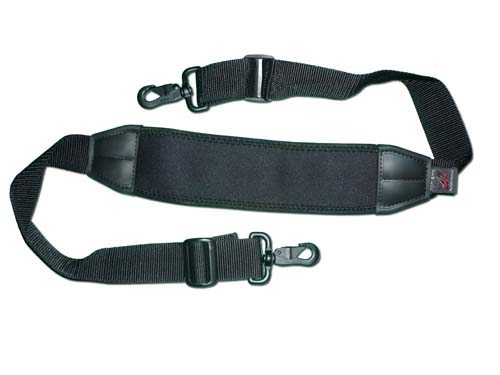 Accessories – 3D Clear Organizer Cube
The 3D Clear Organizer Cube was a new item that I had not tried before, and its very effectuve. An obvious use would be for toiletries. I use it mainly for presenting gear – bits of cabling and connectors, Keyspan Remote … that kind of thing. With the two sides being clear its really easy to find stuff. Even with the clear urethane its also pretty tough.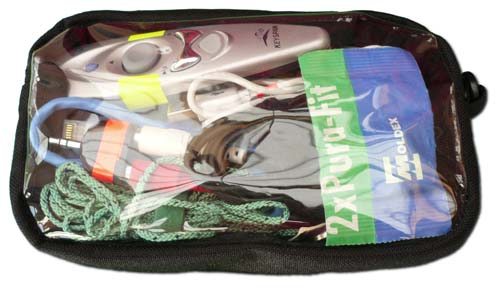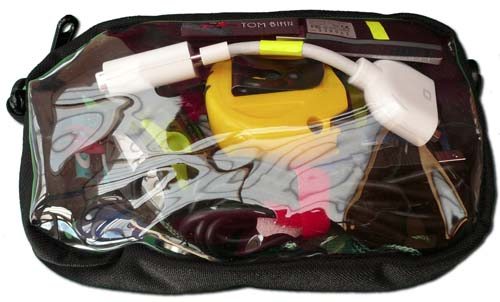 This pic below shows the 3D cube up alongside the pen/ pencil organiser pocket.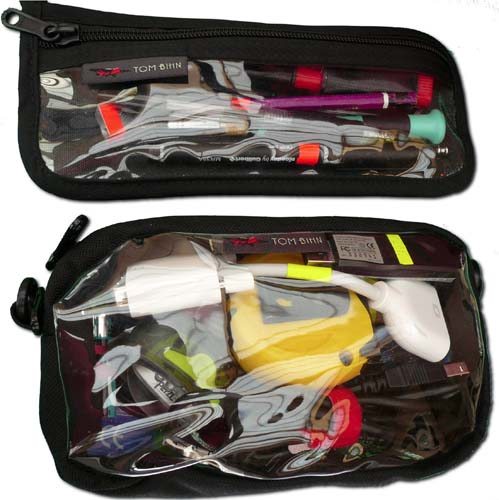 Conclusion
The Tri-Star is not marketed as part of a system, but its clearly just that. At the very least I think its worth adding the three packing cubes, the Brain Cell and an Absolute Shoulder Strap. With that lot and shipping you are not going to get much change from $400. So is it worth it? For me, the answer is overwhelmingly yes. I think good design … disappears. By that I mean, travelling with the Tri-Star does not give me super hero powers, or street cred', or style. Rather, it means no headaches or problems in the luggage department. It just works. Lesser bags always have one feature or another that gets in the way. The only minor problem with the Tri-Star was that "sticky-out" water bottle holder (which Tom Bihn could easily fix I think) and the "dirt-magnet" red fabric. The latter could have been fixed by me choosing black or grey. The Tri-Star is so close to my perfect travel bag that it hurts every time I think I could have ordered a grey or black one.
If you are feeling really flush, you could also add in a pile of 3D Cubes, Organizer pockets and the Freudian Slip. These are not essential, and the selection reviewed here pushes the total price up to about $500, but they really do make the whole system work well. If you can't stretch to the $240 Tri-Star, then try a few of the Organizer Pockets – they are staggeringly useful. Everyone should get one as a Holiday present!
So, the Tri-Star and its associated accessories are not cheap. However, they do the job beautifully. Nice work Tom Bihn.
Product Information – Tri-Star
Price:
$240.00
Manufacturer:
Tom Bihn
Retailer:
Tom Bihn
Pros:

Structured, but not "hard" travel bag.
Sensible size for European travel / commuter airlines
Superb organisation of packed items: clothing and laptop.
Subjective I know, but I think it looks great.

Cons:

Expensive, though good value
Position of section divider
Mine's not grey / black 🙁
Product Information – Packing Cubes
Price:
$15 – $18
Manufacturer:
Tom Bihn
Retailer:
Tom Bihn
Pros:

Custom made for the Tri-Star, but can use anywhere.
Very light

Cons:

Can cause marital stress – your other half will fight you for them come vacation time.
Product Information – Organizer Pockets and Cubes
Price:
$6 – $18
Manufacturer:
Tom Bihn
Retailer:
Tom Bihn
Pros:

A huge range of sizes, styles and colours
Tough as anything

Cons:
Product Information – Horizontal Freudian Slip
| | |
| --- | --- |
| Price: | $35 |
| Manufacturer: | Tom Bihn |
| Retailer: | Tom Bihn |
| Pros: | Clever but simple organisation tool |
| Cons: | |