We use affiliate links. If you buy something through the links on this page, we may earn a commission at no cost to you. Learn more.
Introduction
Last October I received a pile of cases and accessories from Tom Bihn. Over the years I'd reviewed several Tom Bihn products, all bought with my own hard earned cash – no review samples. Tom Bihn's products are very good value I think, but a little expensive. When reviewing a case that represents days of toil in your day job, even the most tolerant of reviewers is likely to be a little more harsh. Tom Bihn's stuff has always come out shining – not perfect, but always well worth the money.
The two main items in my box of goodies from Seattle were the Empire Builder laptop case and the sublime "Aeronaut" carry-on bag. However, being a sad little luggage fetishist, what excited me most were the accessories. Tom Bihn sent a range of organizer pouches, and packing cubes. Though not essential, the packing cubes and pouches make traveling with the Aeronaut a whole lot easier; so this review looks at both Aeronaut, pouches and cubes as one system.
I had four trips coming up where I thought I would test the Tom Bihn luggage. First up, a business trip from the UK to Chicago, and after that another to New York. Both would be four-night stays, traveling with carry-on luggage only, but for the New York trip I had to move on directly to a two-night conference in Nice. After that would be two back-to-back trips; first ten days in Hong Kong, then just over two weeks in South India.
For the trips I generally flew business or premium economy class on the long-haul legs, but coach on the shorter legs. This pattern imposes particular constraints on carry-on luggage. Long haul business is pretty relaxed about the size and weight of carry-on bags, but the budget carriers (BMI especially) seem to take every opportunity to charge you for stuff. If a budget carrier charges for checked luggage, this seems to be an incentive for check in clerks to ensure you check something! So, weight and bulk would be important!
I decided to take the Aeronaut on the business trips, with my Macbook Pro tucked into its Brain Cell, in turn stuffed into the Aeronaut. I would need a suit, but packing the suit jacket would wreck this. So, this would be carried, but all the other business clothing would be packed into the cubes within the Aeronaut.
The Aeronaut
The Aeronaut is a carry-on bag. Having had my luggage lost twice on business trips I go carry-on whenever possible. It takes a little thought and discipline, but its the way to travel for shorter trips.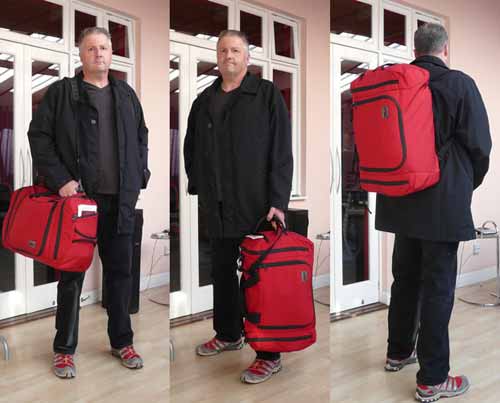 My review sample was in a beautiful 1050 red ballistic nylon with black detailing.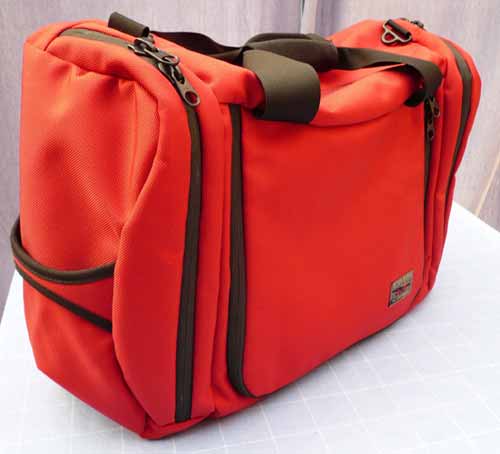 The interior fabric is a very nice checkered material which appears in much of Tom Bihn's gear. It is described as "200 denier nylon with a Dyneema (like Spectra) ripstop fabric" on their website. Besides being used as a liner for the Aeronaut as well as several other Tom Bihn cases, it is also the main constituent of their packing cubes.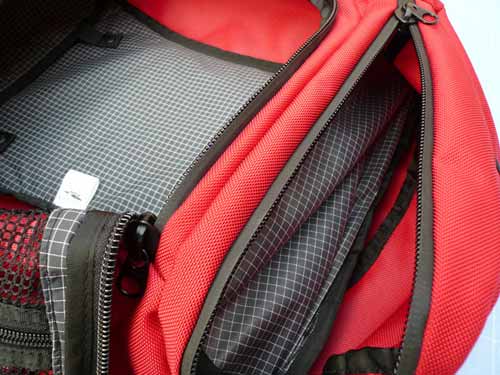 I've never seen the pattern on other brands so I guess it was commissioned for Tom Bihn. In practice its a lightweight and flexible but tough nylon fabric which looks great – charcoal grey with silvery ripstop checkers. The Aeronaut is 56 x 35 x 23 cm / 22″ x 14″ x 9" and sans shoulder strap my sample weighed 1.24 kg / 2.73 lbs.
Like Tom Bihn's other cases the Aeronaut has lots of "organic" curves. Its designed for human beings rather than just to optimize a production process. The front panel has its main compartment accessible via a large u-shaped zipper.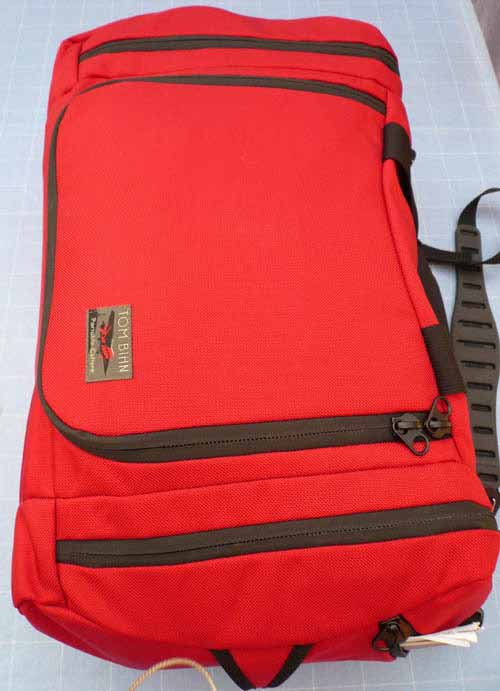 On each end are two smaller compartments accessed by zippers going from the base around over the top.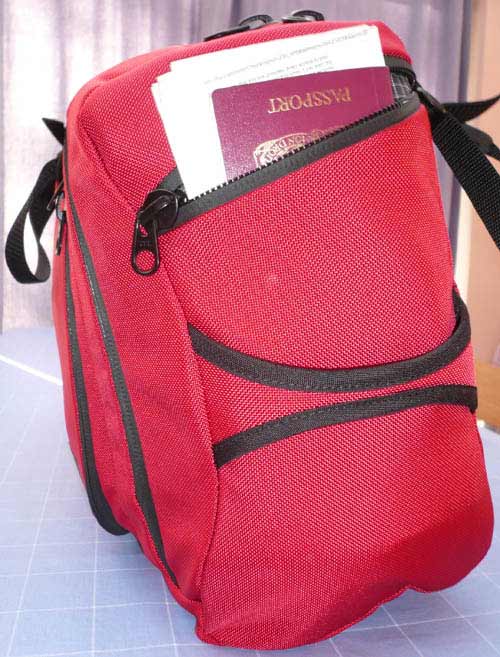 One end (the end that would be uppermost if your were carrying it vertically) has a diagonal zipper over a smaller pocket. In here is a key lanyard.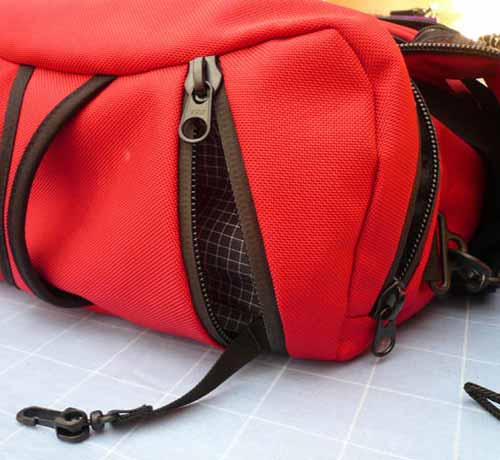 The Aeronaut has several carrying options. The main grab-handle is constructed from 2" webbing pulled together with a lightly padded grip. At each end is a handle designed for pulling the bag out of luggage racks. This last is red ballistic with black edging and is also useful for carrying the Aeronaut vertically (For example in crowded queues like O'Hare security!).
The optional "Terra Grip" shoulder strap clips to a couple of black metal d-rings. The Terra Grip has a rubbery pad which is very comfortable and sticks to your shoulder quite well. Its not rubber, but is apparently made of UV-stable "soy-based soft-touch polymer." It works pretty well, though the grippy pad can ruck up a suit jacket. I tried the aeronaut with both the Terra Grip and the Absolute Shoulder Strap (Empire Builder review>>). The more you are going to carry, the more I think you should consider the latter. Tom Bihn recommend the Absolute Strap for loads much above 7 kg (16 lbs) and I would agree. The Absolute Shoulder strap also has the advantage of one slippy side and one grippy side. The Terra Grip is $18 and must be purchased separately to the Aeronaut.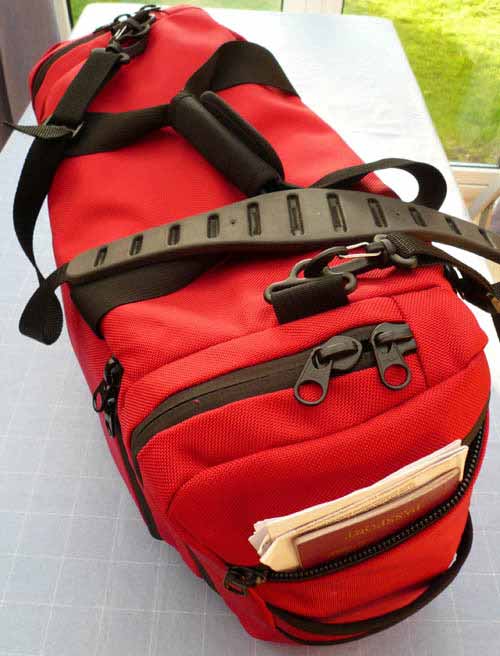 Finally there is a fully padded harness which zips away into the back of the case.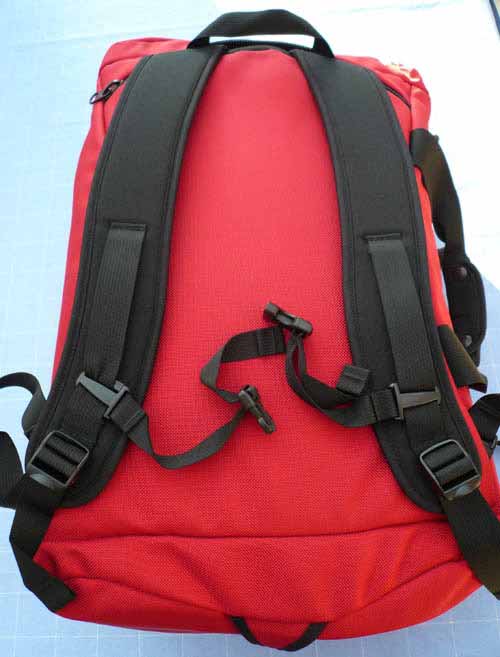 When the harness is stowed, the back of the Aeronaut is really smooth. Even the "receivers" for the harness straps retreat neatly into a pair of recesses.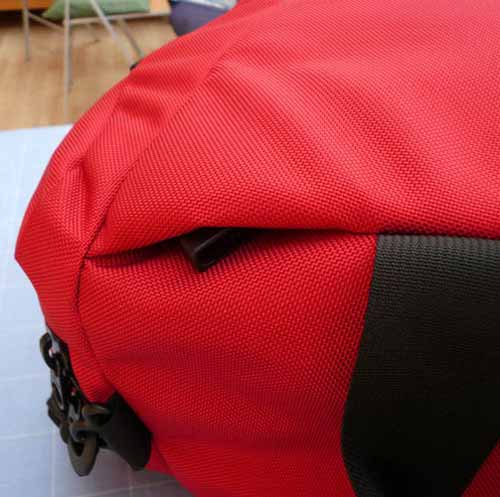 Under the main flap is a zippered mesh pocket. Also in the main compartment is a means of modifying the bias of interior space to either the main compartment or the end compartments.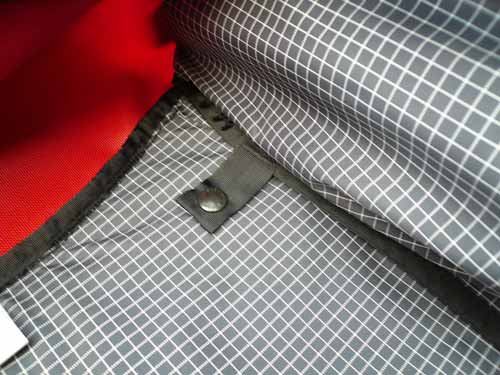 It took me a while to figure this out, but by popping the studs inside the main compartment you can allow the walls of this area to "relax" into the end pocket space. Do the studs up and you get the end pockets back. A neat way to get a bit of flexibility.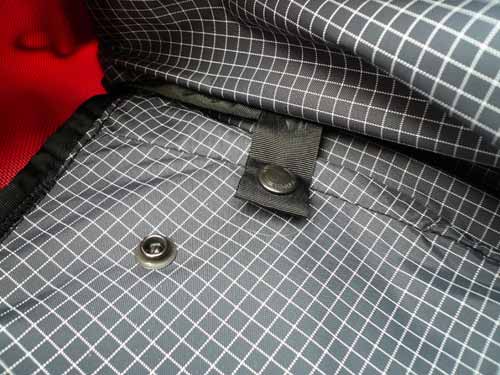 The zippers are splash-proof YKK #10 Coil zippers and all the metal hardware is black steel. The Tom Bihn logo is on the main flap; "portable culture."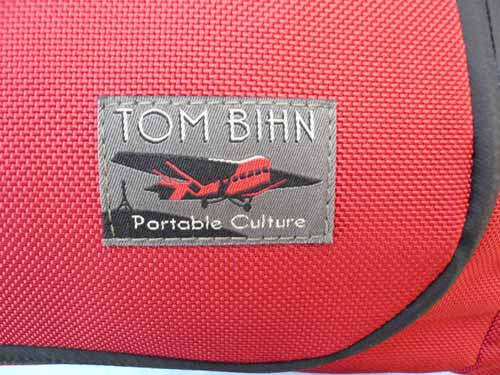 The packing cubes
Packing cubes are nothing new. I'd bought a few small ones of various brands for corralling cables and accessories, but had never tried the larger kind for clothing, shoes etc. The Tom Bihn packing cubes are made from the same attractive charcoal grey and silver-checked material that lines the Aeronaut. Each cube uses No. 5 YKK zippers, and some also include polyester mesh panels. The cubes have a loop of webbing to aid removal from cases etc, and each has the blue version of Tom Bihn's new logo. The cubes are very light, around 75 grammes on average, and the material is soft and flexible but still built to Tom Bihn's usual "bullet proof" standards. The flexibility is important, when you are not using the cubes its nice to be able to fold them up tight and compact. I have some Eagle Creek packing cubes and these are more rigid.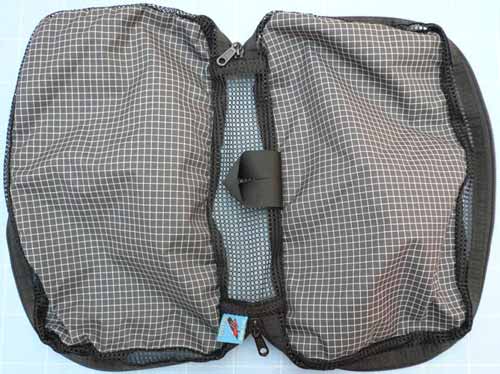 One is sometimes required to empty a case for inspection. Its much easier to do this, and more to the point, easier to re-pack it with cubes rather than a loose pile of stuff. On my India trip I was rarely in the same hotel for more than a night and so it was hardly worth unpacking everything. I also had to secure stuff in my main bag whenever I left the room. Again, packing cubes make access when "living out of the case" so much easier.
Aeronaut end pocket – fabric / fabric $15
Smart business shoes look a bit naff with travel clothing; jeans, zip-offs etc.. So I usually pack these in a supermarket carrier bag. No longer. I now have this nice opaque packing cube which I am dedicating to shoes (else the polish and dirt rub off on clothes).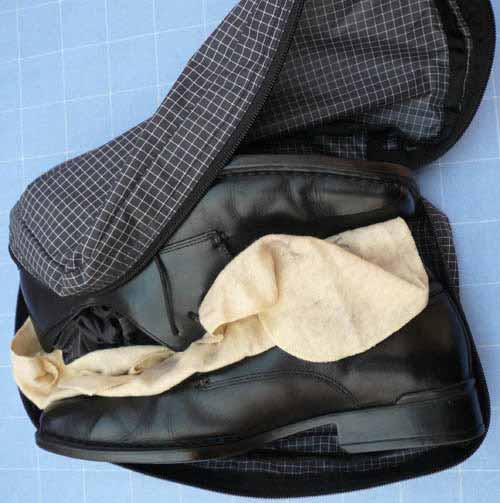 I don't want the shoes to rub on each other, so they are separated by a shoe cloth. Tucked inside the shoes are some socks and underpants. (My shoes are US mens size 11.) Its 34.5 x 20 x 8 cm / 13.6" x 8" x 3"
Aeronaut end pockets – mesh / fabric $15
When you reach up to remove something from your carry on, you don't want your manky underwear spilling out for viewing by your fellow passengers. This said, you want to identify what's in there. These packing cubes have mesh sides and / or edges to allow you to see the contents without opening.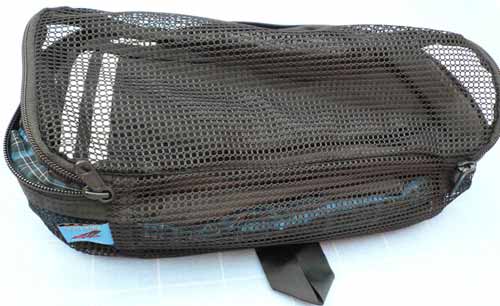 The mesh also allows damp items to breath a little, for example, stuff that comes back from the hotel laundry not perfectly dry. Again these cubes are about 34.5 x 20 x 8 cm / 13.6" x 8" x 3".
Convertible packing cube $15
This one is pretty cool. The cube has d-rings at either end and a diagonal zip picket on one face. Obviously its a plain packing cube most of the time but converts into small shoulder bag by simply clipping the strap from your main bag into the d-rings.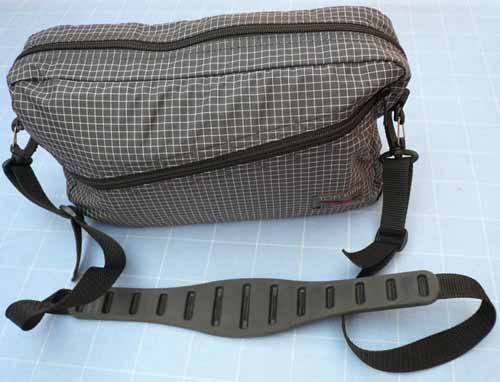 I used this on some trips to carry my swimming kit around. It was also pretty handy for the beach or for shopping and for pulling together all the organizer pouches (see below). Its size is 34.5 x 20 x 8 cm / 13.6" x 8" x 3"; the same as the other Aeronaut cubes.
Clear Quarter Packing Cube $20
I used this double-sided cube for medical kit and washing kit on the long vacation trips, and on the business trips it served as a gadget case. Its 20 x 17 x 8 cm (7.8″ x 6.7″ x 3.1″) and weighs a tad more than the other cubes at 125 g / 4.4 oz.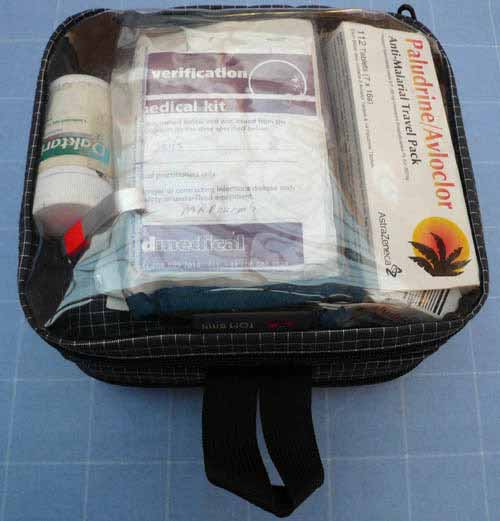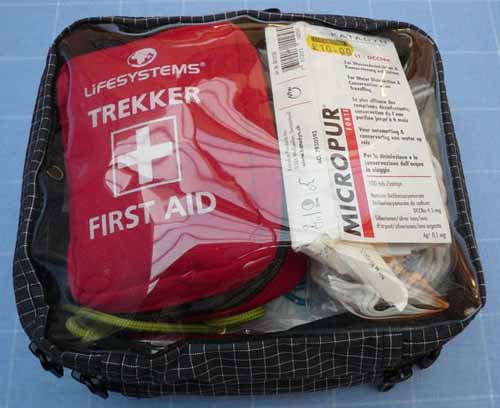 Large Packing Cube $18
On all trips the large packing cube was used to store folded shirts and trousers. As long as its reasonably full (about five shirts) the cube does a fine job maintaining your clothes in a reasonable state of press.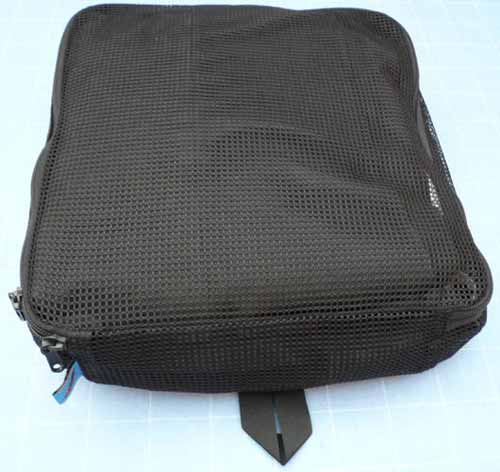 On the business trips I wrapped my trousers around the shirts.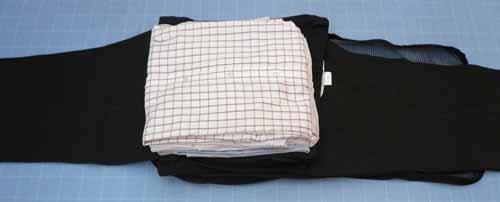 These emerged at the end of each trip just fine – no pressing needed. The large cube is 34.5 x 34.5 x 10 cm / 13.6" x 13.6" x 4" and 105 g / 3.7 oz.
Passport Pouch $10
On the vacation trips I used the passport pouch to carry my room key, passport, cash and cards on those party nights where I could not trust myself to look after a wallet.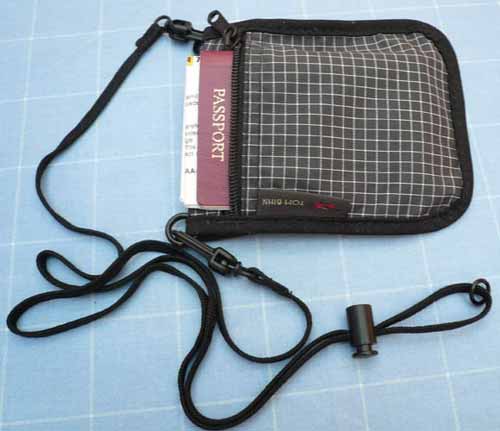 I also use it daily at the gym to hold my car and locker keys, some change and my gym membership card. Its 13 cm x 16 cm / 5" x 6".
Organizer Pouches
Tom Bihn make a range of organizer pouches. They come in plain cordura or Dyneema ripstop in clear and padded forms. The cordura color range is large (about 11 colors I think), and you can check it out on the Tom Bihn website. This said, you do not get to choose your colors, you can just indicate a preference when ordering. The clear form has the front panel in clear plastic, a plastic zip (with plastic slider) across the top and a small plastic snap-hook for clipping to d-rings on and in larger bags, key lanyards … etc. The padded pouches have light padding – its not too bulky but just right for protecting and organizing power adapters, portable disk drives, a pda etc. All pouches come in three sizes: mini, small, and medium. They measure as follows: mini; 14.5 x 10 cm (5.7″ x 3.9″); small; 18 x 12.5 cm (7″ x 5″); and medium; 26 x 18 cm (10.3″ x 7″). The price for the cordura pouches is: mini ($5.00), small ($7.00), and medium ($9.00). For clear pouches its: mini ($6.00), small ($8.00), and medium ($10.00). Padded comes at: mini ($7.00), small ($9.00), and medium ($11.00). I was sent a selection of padded and clear pouches.
Mini Clear Organizer Pouch $6
This blue backed pouch was an obvious container for my earbuds. I have two sets in here, plus some adapters. The black set are my motorcycling earbuds and are custom made for my ears. These were staggeringly expensive and so I'm glad of; a) a bright colored case, and; b) a snap-hook to fix them into larger bags.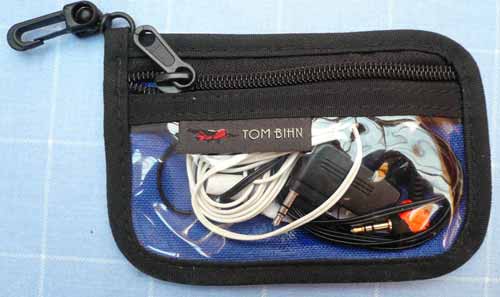 Small Clear Organizer Pouch $8
This one is perfect for flip-chart pens, OHP pens etc.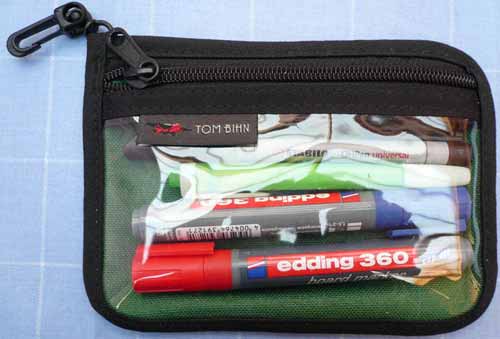 Small Padded organizer Pouch $9
I have a pair of Sony in-ear noise reducing headphones. These are small, dark, expensive and easy to misplace. This small padded pouch provides the buds with an ideal home.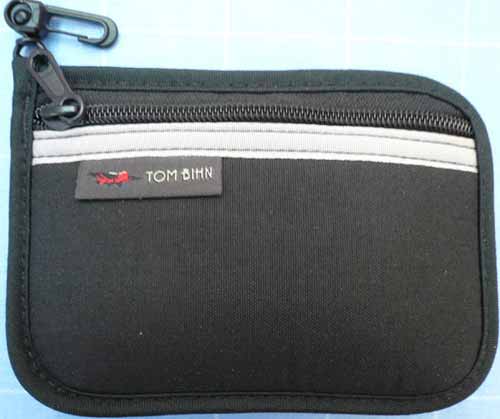 Medium Padded Organizer Pouch $11
Last, but perhaps most useful of all has been this medium padded pouch. I use this for my Macbook Pro power adapter (this is the smaller, 85W adapter by the way)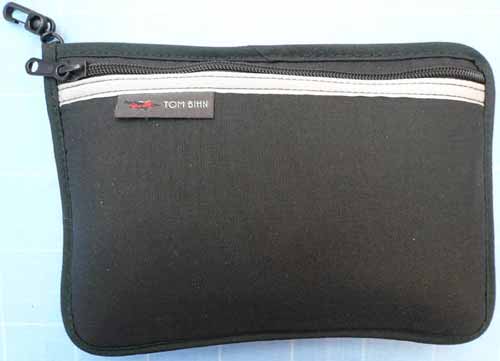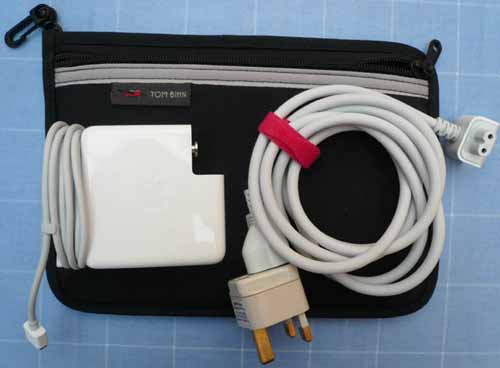 The system in use
Here you can see the contents for the business trip spread all over the bed.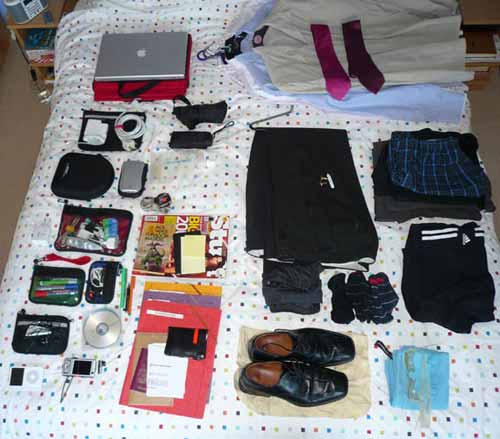 The next view is the same stuff partially wrapped into the packing cubes.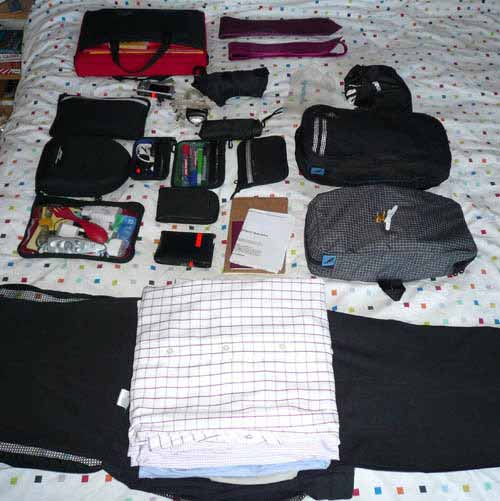 Then we have it all ready to go in the main case. The organizer pouches are on the middle left, stacked in the convertible packing cube.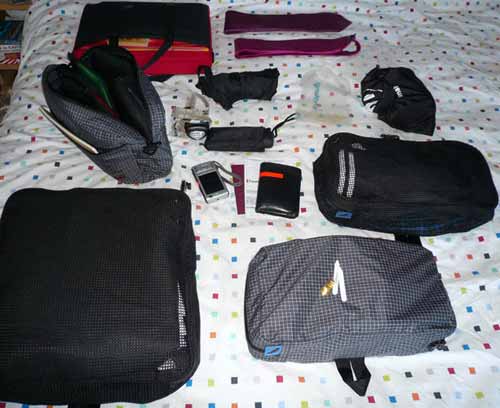 Finally some views of it all going into the Aeronaut.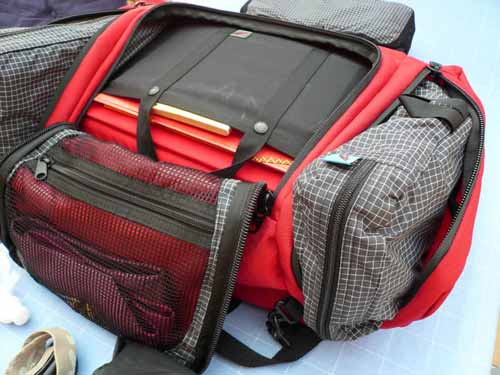 I also tried to squeeze in my Macbook Pro and some other gadgets. These in turn are protected and organized by the Tom Bihn Brain Cell and organizer pouches, the latter being tidied up by the convertible packing cube (see below).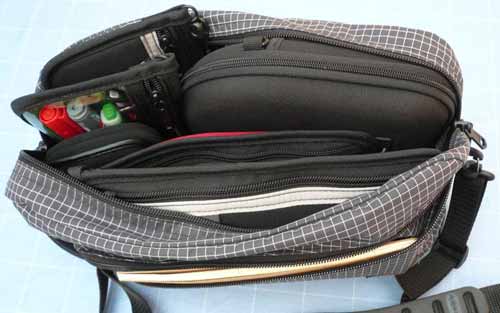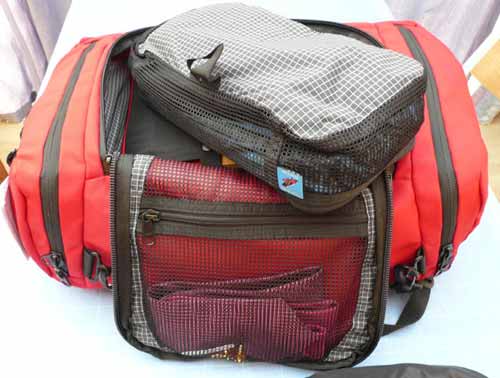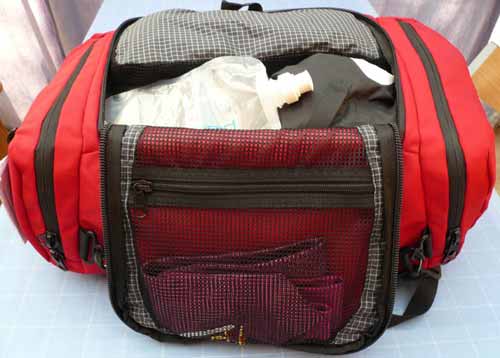 The last shot shows everything in, with the flap about to be zipped up. This whole lot weighs 13.5 kg / 30 lbs and a complete listing of the contents is in the box below (the numbered items in my master list). The pics at the start of the review show me holding the Aeronaut in this state – fully loaded.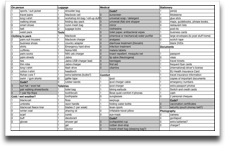 Click on thumbnail to see full size image
On the shoulder and in the hand its surprisingly comfortable. With the "Absolute Shoulder Strap" (see Empire Builder review) its more comfortable still! With the harness deployed and on the back its perfect for those long treks between transfer gates. I'm 6'2". If you are vertically challenged try the "breve" version of the Aeronaut – its the same size bag but with straps modified for people under about 5'8".
Packing the Aeronaut with the help of the cubes is very easy. Everything just slides in there; nice and neat. I don't know why it took me so long to get into packing cubes – life changing! Most of the time I carry it using the shoulder strap. To reduce my "footprint" in crowds I might carry it vertically using the lug-handles. These last make it very easy to remove from racks.
Comfortable or no, the perceptive will have noticed that problematic figure of 13.5 kg all up weight. This is about 3 kg more than many budget airlines will tolerate for carry-on luggage. There is a solution for the uber-geek but for the complete story you will have to wait until we post the review of my Koyono "Black Coat Classic." The Black Coat is what I'm wearing in the opening pics of this review – this baby has 14 compartments to secret away all sorts of junk! Just think of the potential – slip those organizer pouches away onto your person and suddenly your carry on bag is 3 kg lighter!
Any problems with the Aeronaut?
One thing I found odd was the orientation of the main zipper. I found it a little frustrating when I had to remove the laptop for security checks, especially when I had to do so while waiting in a queue. I wrote to Tom Bihn to ask about the logic behind the main flap orientation. Tom explained that with early prototypes of the Aeronaut, when he came into a hotel room and flung the bag onto the bed, it would typically end up with the handle (top edge) nearest him. After unzipping the main compartment, Tom wanted the flap – the unzipped hatch closure – flip back towards him, so that the zippered mesh pocket in the flap was handy. If the closure to faced 180 degrees from its current orientation, the hatch would flip away and the pocket would be far less convenient. This all makes sense; the Aeronaut is not really a laptop case and it was not designed to address my predicament. This said, with carry-on rules as they are, many travelers are stuck with one bag and the laptop has to be – at least for security checks – tucked away somewhere. I could imagine a modification that would deal with this though – another zipper running longwise on the top panel perhaps an inch or so from the back edge, plus some webbing to anchor the bayonet clips of a Brain Cell inside the case. In this way the Brain Cell could just hang there behind the packing cubes, accessible from the outside via the new top zip if needed. However, if this is done the Aeronaut starts to become more like Tom Bihn's new "Western Flyer" case. Perhaps I want the case to be too many things.
On the shoulder the bag looks far less bulky than bags of equivalent volume. Before the Aeronaut my carry-on was a RedOxx "Air Boss." The Air Boss was a nice case, but it would flex so that the contents made the case bulge out, and look very big and heavy. By contrast the Aeronaut flexes – unless its brim-full as in these pics – so that it sort of, wraps around you. Its hard to describe but this has the effect of making the bag look smaller.
I was worried that the red ballistic fabric would be a dirt magnet, but it still looks pretty clean after six trips. I did get a dirty smudge on the bottom of the bag, but this cleaned up fairly easily with some washing-up liquid and a nailbrush. This said, if I was forced to check the Aeronaut then it might not fare so well. What would be handy would be some sort of lightweight spray cover, perhaps in a lurid color that I could wrap around the bag. Ideally this could be locked shut. Not so much for real security, but to provide evidence of tampering. If I was really worried about the case getting dirty I'd probably buy the black or grey versions.
Summary
Overall then, as you probably gather I like this suite of gear. Its so easy to criticize luggage on the basis of "its not the way I would design it." Often I read reviews that are positional statements about the reviewer's design philosophy. I'm not going to go there. Its really hard to fault this kit from Tom Bihn. I list some items as "cons" to be consistent with the format of other Gadgeteer reviews, but really these are minor suggestions for improvement. The Aeronaut is a very nice looking, elegantly simple and very practical bag. It does what its designed to do very, very well. Add in some packing cubes and organizer pouches and you have a great system for one-bag travel. The cubes are by no means the only ones out there in the marketplace, but they are some of the most lightweight and strong, and pretty to boot. The organizer pouches are straightforward, they do the job well, at a very keen price. Overall, beautiful work Tom Bihn. Well done.
Aeronaut Price: $175
Packing cubes: From $10 to $20
Organizer pouches: From $5 to $11
Product Information
Price:
Manufacturer:
Tom Bihn
Retailer:
Tom Bihn
Pros:

(Aeronaut):
Sleek, elegant and "organic-looking"
Check-in clerk friendly
Lots of carrying options
Extremely well made
(Packing Cubes):
Flexible / squashable
Good value
Extremely well made
Pretty
(Organizer pouches):
Broad range of designs, shapes and colors
Very good value
Extremely well made

Cons:

(Aeronaut):
Red fabric potential dirt magnet
Placement of main zipper makes it hard to get laptop out in queues
Expensive (but good value)
(Packing Cubes):
None
(Organizer pouches):
Can't choose colors