We use affiliate links. If you buy something through the links on this page, we may earn a commission at no cost to you. Learn more.
I work with Julie, and one afternoon we were talking about various iPod accessories. She's never used anything
from the iLuv line of iPod accessories, so I volunteered to write a review. This is a review of the iLuv i177BLK.
This clock is also available in white.
I've had my 60GB iPod Photo for around five years. The battery is showing a little wear, and the built-in alarm clock
feature doesn't work at all (mystery!), but it's going strong. I like to refer to my iPod as my "$500 alarm clock" – for
the last two years, it has almost exclusively lived in my iLuv i177. I got my iLuv as a Christmas
present in 2006 from my ex, who had an iHome H5. Mike liked his iHome all right, but it didn't come with a remote and
it wasn't all that aesthetically pleasing to look at. He saw the iLuv at Fry's for $89.99 and decided it would make
a good present for his awesome girlfriend. Luckily for him, iLuv my iLuv.
…come on. You have to have seen that horrible, horrible pun coming from five miles away. Anyhow.
Action Shots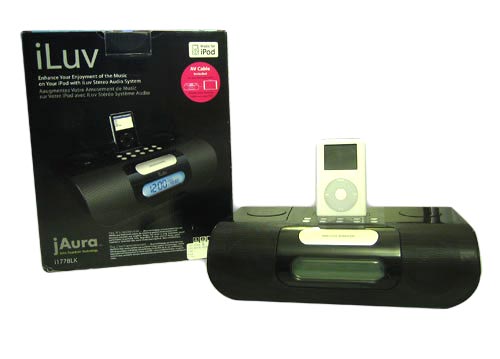 Package contents:
The radio itself
Standard brick-style power transformer
Small IR remote control
AM antenna and accompanying stand
A/V cable
Dock adapters for different sizes of iPods
When my iLuv was
shipped, the new, thinner 30GB iPod Videos had just been released, so a dock adapter was not included. Instead, the
friendly iLuv people included a set of rubber pads to convert the 20GB 4G/Photo adapter for a 30GB iPod Video. The
adapters are extremely easy to swap, if you happen to use multiple iPods with one of these clocks.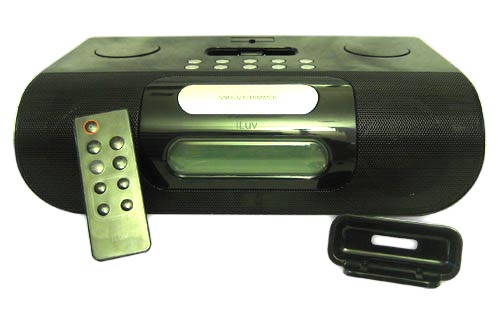 The iLuv with the 40GB/60GB 4G iPod adapter and the compact remote control.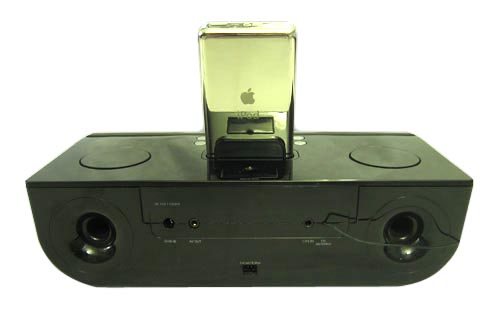 The rear of the iLuv has four ports and a built-in FM antenna. To the left of the FM antenna is a 3.5mm input jack
to connect non-iPod audio players. To the far left of this, you'll find the male plug for the power adapter, and a
3.5mm jack for the included A/V cable. Unfortunately, as my iLuv is a little more than a year old, I have no idea
where my own A/V cable currently is hiding. I can, however, tell you that it has three male RCA plugs on one end
and a male 3.5mm plug on the other. If you have a TV near your iLuv, you can also use it as a dock with an iPod Photo
or Video. Yay! At the bottom center of the back is the two-prong plug for the included external AM antenna.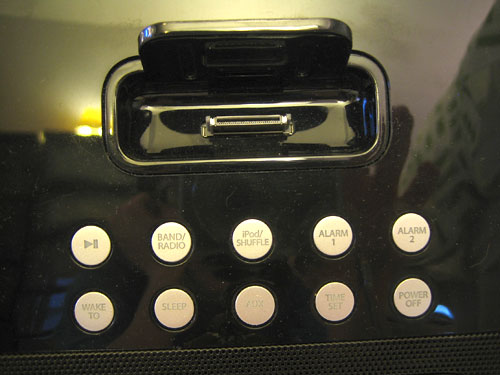 The iLuv's buttons are well-organized and easy to hit. I've found them easier to press than the slightly recessed
rectangular buttons of the iHome H5. The buttons glow orange when the iLuv is turned on. The gianormous
Snooze/Dimmer button is positioned directly below the main button set and is large enough that it's impossible to miss
on those mornings when you really, really feel like calling in "sick" to work.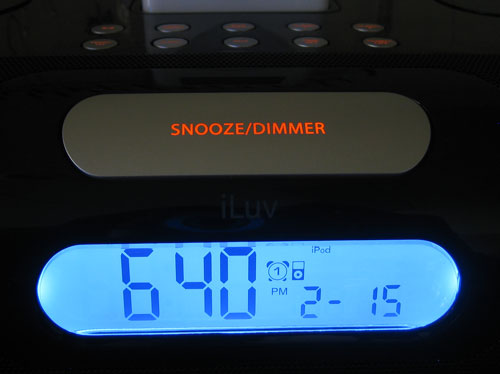 Speaking of dimmers…the iLuv has the same backlight-dimming feature of the iHome H5. You can select between three
levels of backlight brightness for both the LCD and the buttons, or turn off the LCD and button backlights entirely.
The display has some helpful information at your fingertips:
What alarm(s) are set, if any…as well as what audio option you've selected (iPod, radio, or buzzer).
What's turned on at the moment.
The time! (along with a PM indicator)
The date. You can also set the year when you set the date and time, although it doesn't display.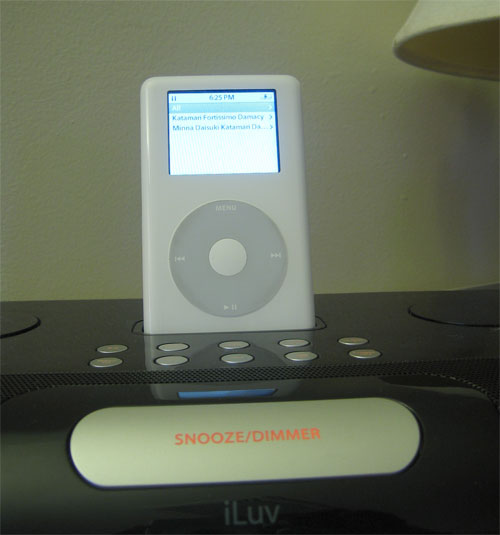 I was fortunate enough to catch an iLuv in the wild. This one was found peacefully contemplating the finer points
of the Katamari Damacy soundtracks.
Enough! What does this thing DO?
The iLuv is equipped with some handy features:
First generation iPod Shuffle support. There's a USB port behind the dock connector on the top surface of the iLuv.
Unfortunately, I don't own a 1G shuffle – mine is a second generation clip style one, and I can confirm that it
doesn't work with the iLuv, either as an alarm or just to play music.
Two alarms. I find this extremely handy. Since I'm not interested in waking up at 6:45 on the weekend, I can
leave Alarm 1 set to that time and set Alarm 2 to whatever suits me at the moment. You know, like…noon.
Sleep. This acts like the sleep feature on any alarm clock, allowing you to fall asleep to music. My theory is
that I should be able to set my iPod's built-in alarm to start a playlist when the iLuv's alarm goes off, but since my
own iPod's alarm clock doesn't work, I can't test this. Theoretically, though, it should work – which would allow you
to fall asleep to Mozart and awaken to Motörhead.

Set the time, date, and alarms very easily. Unlike the iHome, the iLuv's clock set button is very easy to access.
Setting the time and date (or an alarm) is very easy, as you just spin the righthand dial until you hit the time or date
you want.

Specific alarm volumes. The iLuv allows you to set a volume for an alarm, in single increments from 1 to 40. I
tend to keep it turned all the way to 40, but I'm going deaf from all that rock and roll I listen to on my iPod. I do,
however, find this to be a nice touch, since waking up at a set time on the weekend isn't that important (and
therefore doesn't require full-blast music to convince me to get out of bed).
Backup alarm. If you fall into bed at 2:00 in the morning and forget to dock your iPod, never fear – the iLuv
is here to save the day! An extremely annoying buzzer will go off in place of the iPod. I personally prefer to wake up
to the melodical sounds of Dragonforce or Quarashi or something, but that's just me.
Backup battery. Like the H5, the iLuv has a 9-volt backup battery to retain the date and time information in
the event that you lose power – or you just want to unplug and move it. Unlike the iHome, however, the alarm will not
go off if power is cut to the iLuv.
Aux input. While you can't use the aux audio input as an alarm clock, it's a nice feature, especially if the
iLuv is the only stereo in your bedroom.
Remote control. As previously mentioned, my ex's iHome H5 didn't come with a remote, so that was a welcome
addition with the iLuv. I'm really partial to turning off the alarm clock from under the covers. There is one caveat
about the remote, though – it uses IR (as opposed to RF) technology, and its field of vision appears to be pretty small.
I've found that I have to point the remote almost directly at the thing to get it to register. My iLuv sits on a chest of
drawers in my bedroom, and angling the remote up toward the iLuv (from, say, in bed) doesn't really work – I have to hold
it up in the air. It's not a dealbreaker, but it was a little annoying to get used to.
Sound quality on the iLuv is surprisingly good. I listen to a wide range of music, from girlpop to really bass-heavy music,
like The Beastie Boys and Quarashi. The iLuv handles most music quite well, although extremely low-frequencey bass lines tend
to get fuzzed out by the small speakers. However, for a system with no separate subwoofer, the iLuv performs admirably.
Having been able to compare it directly to the iHome H2, I personally find the iLuv's sound quality to be superior.
Unlike the H5, the dock adapters for the iLuv have a fairly high support extension along the back, making it impossible to
knock an iPod backwards off the dock connector – my cat accidentally did this to Mike's H5, and it did something to the dock
connector. We started hearing slightly distorted sound unless the iPod was positioned just so…this isn't a risk with the iLuv,
which is good for a $90 alarm clock. I do wish that the remote control had a wider field of vision, but that's really my only
complaint.
Overall, I am extremely happy with my iLuv i177. It sounds great, and it looks great – I was never partial to the iHome H5's
hard-edged boxy design. The smooth curves and circles of the iLuv are just much more visually attractive. I use my iLuv every
morning, and I have yet to regret getting it.
Product Information
Price:
79.99
Manufacturer:
iLuv
Requirements:
Pros:

Sound quality
Appearance
Dual alarms
Aux input
Big snooze button

Cons:

No second-gen shuffle support
Poor field of vision for IR remote
Price