We use affiliate links. If you buy something through the links on this page, we may earn a commission at no cost to you. Learn more.
We live in a world were the Internet and phone access is necessary for our business and personal lives. Most of us take the access we have for granted. When traveling, I cannot find a Hotspot everywhere. Most people are using 3G networks now that provide that much needed access. But, there are still a few places in our world where getting access to the internet is hard or even impossible. I have wondered about how
one would manage to get a connection in Iraq or Bosnia, or in the middle of Africa? Enter BGAN.
BGAN is short for Broadband Global Area Network, and it works thru the
Inmarsat Satellite network. Today I will be reviewing the Thrane Explorer 500 Portable Sat Terminal.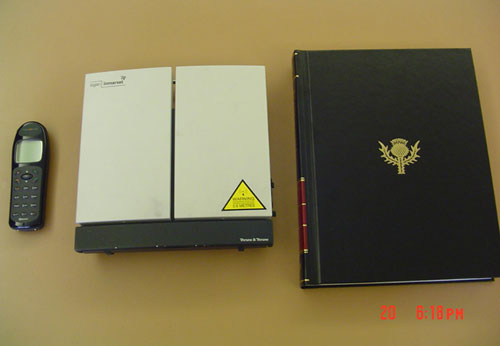 The Explorer 500 is a small, lightweight device that includes all the necessary hardware built right in. The antenna, modem, battery, and electronics are all integrated into a small package. How small,
you ask? 8.6 x 8.5 x 2.1 inches, with a weight of around 3 lbs. A little bigger then a hardback book, this unit is designed for people on the go, that need a
high speed (Broadband) connection to the internet. That might include field reporters, IT techs,
military personal, and emergency rescue/relief teams, to name a few.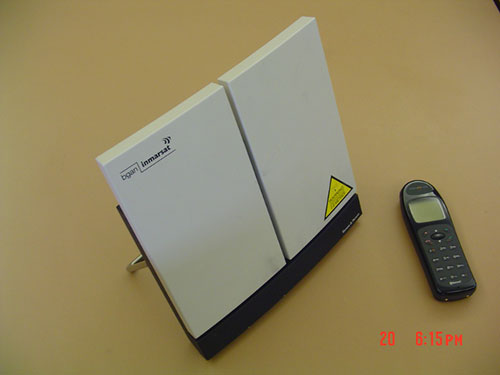 I contacted a few companies that sell and rent these satellite terminals, and was contacted by Jennifer Davidson
of Satwest, Albuquerque, New Mexico. She was nice enough to send a loaner unit out to me for review. She provided all the connectors and power supplies you could think of. Thanks Jennifer & Satwest!!
Hardware Specs
Data rate:
Rx 464kbps /
Tx 448kbps
Streaming IP
(guaranteed bandwidth): 32, 64, 128kbps
Weight (incl. battery): 1.4kg/3.1lbs
Size: H: 21.8cm/8.6inches x
W: 21.7cm/8.5inches x
D: 5.2cm/2.1inches
LCD display: Graphical high resolution,
Back lit,
2 x 16 characters in text mode
User interface: Four navigation keys and power button
Battery: Lithium ion (rechargeable)
Stand-by time: 36h, 0°C to +55°C/+32°F to +131°F
Standard call: 3h, 0°C to +55°C/+32°F to +131°F
Premium voice call: 1h30m, 0°C to +55°C/+32°F to +131°F
Rx time, max.: 3h30m @ 128kbps,
0°C to +55°C/+32°F to +131°F
Recharge time:
Robustness: 0.5 m/1.64 ft drop on concrete
(operational, 95% survival)
Water & dust: IP-54 (dust and spray proof in all directions)
LAN Interface:
Connector type: RJ-45, MDI-X
Bluetooth Interface:
Version: 1.2
Standard: Power Class 1
Antenna: Integrated in transceiver unit
Max. coverage
Outdoor: 100m/328ft
Max. devices connected: 7 handsets , 1 PC, etc.
Profiles supported: Cordless handset, serial port, service
discovery application, dial-up networking,
LAN access
Frequencies: 2400.0, 2483.5MHz
Meets or exceeds current and proposed
Inmarsat specifications for operation on the
Inmarsat Broadband Global Area Network (BGAN).
Applications
Remote access- high-speed access to your corporate network, enabling access to company and customer information.
Internet- access the internet at speeds up to 464kbps.
Email- send and receive email via the internet or email applications.
Telephony- make phone calls via a peripheral handset at the same time as accessing data applications.
Streaming- select guaranteed quality of service up to 128kbps on demand, eg. for video, audio.
File transfer- send and receive large files.
Store and forward- save and send files eg. video.
The unit I'm reviewing is capable of both voice and data, and has all the ports you can think of. It has USB,
LAN, RJ-11, and Bluetooth. It also has an external antenna jack, and 12 volt power out for accessories.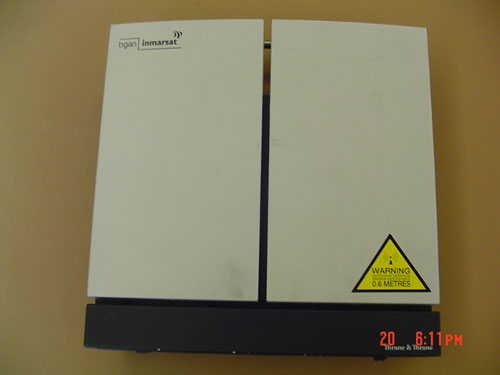 The front of the unit is the antenna face and has warning stickers on it because
of the microwave transmissions. Keep your fingers off the front of the
unit/antenna!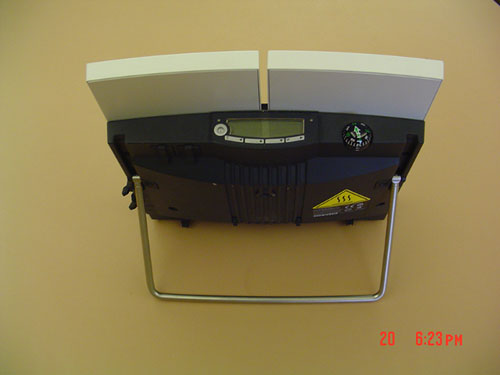 The back/top of the unit has the Control panel, and compass for aiming the unit, and external antenna/power ports.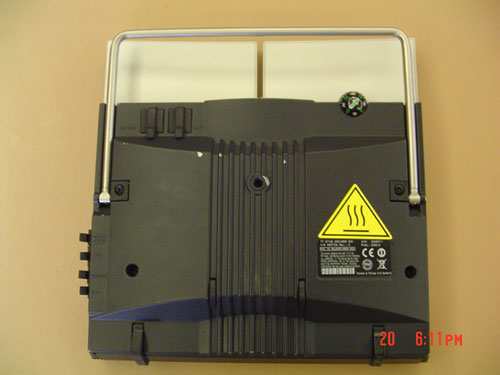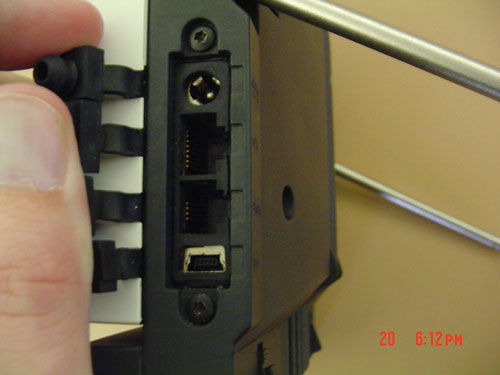 The left side/bottom has the connection ports. The bottom is the battery mount and port for
SIM card. The SIM card is the same as a cell phone card but activates the terminal for the Inmarsat network. The unit has an integrated tripod mount, for easy pointing. The unit is designed to work with 110 volt/12 volt power supplies.
I started out by following the instructions and going thru the GPS setup. It was a snap to get a
GPS lock. The display has easy to follow instructions, and uses intuitive menus for all settings. Once I had the
GPS lock, all I had to do, was point the terminal around until the sound buzzer increased in pitch and the display showed that the signal strength was over 49 dbz.
Then pressing the connect/ok button connects the terminal with the satellite. Total time from start to working connection- 2 minutes. The software that is included, is called Launchpad.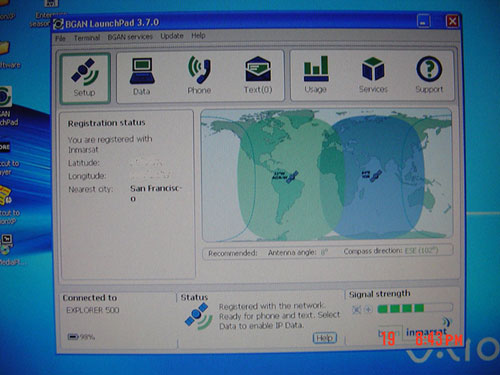 Launchpad works with Windows 2000/XP, and is a easy to install. I don't know that it will work with Vista
though. The Launchpad software allows you to control the terminal settings thru your laptop, and change connection
types from voice to data, etc. Launchpad shows you your location, current signal strength, and battery level of the terminal. I decided to try out the
Bluetooth connection, and it works great. The unit has an optional Bluetooth handset for voice calls and allows you control of the terminal as well. Using the RJ-11 port you can plug-in a regular analog phone and make a call thru the satellite network. This unit is very versatile!
Calling out works just like a regular phone call and the quality is better
then a Cell phone. You can even surf and make phone calls at the same time.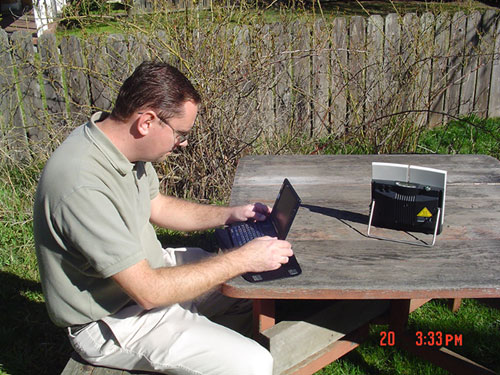 The unit is also sturdy and rugged. It has a alloy casing and is IP 54 certified. That means you can leave it out in the rain, or a dust storm, and you will still have a broadband connection. It will take a 0.5 meter drop on to concrete. There are many options including semi-permanent outdoor mounts, and different antennas.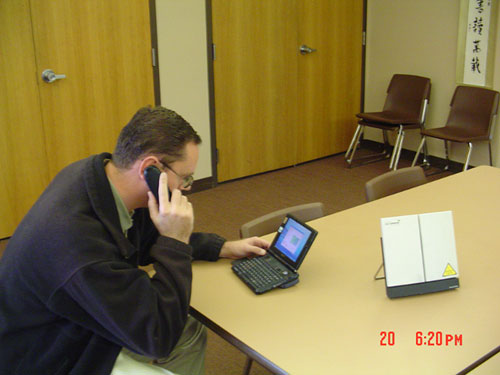 You can use the unit indoors as well. It just needs to be next to a window in
order for the GPS to get a lock on the satellite.
Now onto the costs-
The costs are like have a fancy Cell phone, to the 5th power!! The Explorer 500 terminal retails for about $2,800.00 US. That is just for the terminal and battery/power supply. That is higher then the average person will pay for this kind of access. The service is pricey as well. These service costs are average and do vary.
BGAN service costs with 1 year contract
STANDARD SERVICE:

Basic Telephone BGAN to Fixed (Landline) $0.99 Per Minute
Background IP $6.50 Per MB

SMS Text Messaging $0.50 Per message
Streaming Data 32Kbs $3.25 Per Minute
Streaming Data 64Kbs $6.00 Per Minute
Streaming Data 128Kbs $11.50 Per Minute

Streaming Data 256Kbs $19.95 Per Minute
MONTHLY PLANS
Included Data Transfer and Phone Minutes Monthly Service Fee
Heavy Usage Plan
(Multi-User) 2 Gigabytes per month,
300 free phone minutes then $0.99 per min. $5,800
High Usage Plan
(Single Person High Usage) 750 MB per month,
200 free phone minutes, then $0.99 per min. $2,800
Medium Usage Plan
(Single Person Low Usage) 100 MB per month,
30 free phone minutes, then $0.99 per min.
$459
Light Usage Plan
20 MB per month,
Phone charges are .99 per minute $130
Anytime Plan
Call for Data Usage Costs,
Phone charges are .99 per minute,
$57 + Usage
Here are a few estimates of what it will cost to transmit information with this service (Note: all prices in US dollars, using typical per-megabyte rates but not including the monthly fee):
A 500-word text-only email (5KB): ~ $0.03
A simple webpage (25KB): ~ $0.15
A two-page Word document: ~ $0.27
2-page text-only word doc (44KB) attached to a text-only e-mail with 260 words (1,669 characters): ~ $0.38
A photo taken with a three mega-pixel digital camera: ~ $3.20
Assuming 100 emails per week with an average email 10 kilobytes/e-mail, roughly the size of a text-only email of about 800 words (note that this is an assumed total of emails, sent and received), 100 emails @ 10 kilobytes = 1 megabyte (Mb) per week. Translating that kind of traffic into $$$, about $6.25/week OR $25/month beyond the monthly service fee.
This unit is really amazing. I'm very happy with its performance, and usefulness. It's light enough to take anywhere and easy to use. I'd recommend this to anyone who needs dependable Internet/Voice/Streaming access anywhere they travel, worldwide. The flipside is that the unit is beyond most people's budgets, unless your company is covering your expense account.
Product Information
Price:
2800.0
Manufacturer:
Thrane & Thrane
Pros:

Small and light weight
Easy to setup and use
Great connection options anywhere on the planet
High speed streaming access
Good battery life

Cons:

High unit cost
High service costs
Limited warranty options