We use affiliate links. If you buy something through the links on this page, we may earn a commission at no cost to you. Learn more.
Introduction
Back in 2002 I wrote my first ever gear review for The Gadgeteer. I reviewed the Tom Bihn Empire Builder after buying it as protection for my Titanium G4 Powerbook. I was really happy with the case, and still am.
Anyone looking for a product review prior to buying will, I imagine not be much interested in a "compare and contrast" review of two versions separated by some five years. However, the buyer may be interested the "back-story" as evidence perhaps of a company's commitment to product development and improvement. I therefore, on occasion will refer to the original Empire Builder to show how things have changed for the better.
Test environment
Tom Bihn sent me a pile of stuff for review back in October. This was fortunate. I had changed jobs earlier that year. I used to be a lecturer at a University, and now am a management consultant. October 07 through until mid-January 08 would see me traveling a great deal, mostly outside my home base in the UK. The trips were a mix of short and long haul for conferences and client workshops, and two long-haul vacations. The new cases would be handy for the trips. On each trip the Empire Builder would obviously be used for walking with the laptop, but also would need to survive a rain-shower, protect said laptop in the event of a drop, pass scrutiny at a UK check-in desk and serve as a mobile office. The Empire Builder, and all the other gear in this crop of reviews was thus tested properly on real trips.
What I would carry
Five years ago I used to carry a lot more stuff on business trips than today. Airlines never seemed to bother weighing carry-on bags and brief-cases. I could load up my gear bag with all sorts of garbage to while away the time on flights. Now the environment is different. For flights outbound from the UK we had, until this month very strict regulations on the number of, and size / weight of carry-on baggage. Some budget airlines would only allow one carry-on item and it had to be less than 7.5kg! Though the more common limit is about 10kg. These regulations may well return, so such constraints will inform this review. Another change is personal. I travel so frequently now that my packing cannot be a random dump of "just in case" stuff. The approach is too time-consuming. Instead, I now have a master business travel pack list as a spreadsheet. Being a "sad git" I've included weights in this. All I need do is modify the number of shirts etc. according to length of stay, tick the relevant boxes and "Numbers" would do the rest – a pack list with total weights.
For the purposes of this review though, I'll talk about a fairly typical scenario; traveling by air to an overnight hotel stay, for a client meeting the next day with a flight home that evening. The Empire Builder is not really designed as an overnight bag, but to use it as such is an interesting stress test I think.
The gear I would take on this business trip is included the picture below: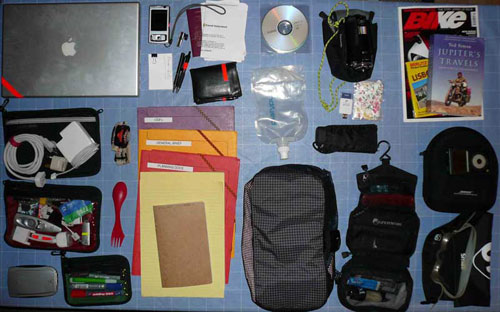 Besides the Macbook Pro, its cables and power adapters I usually carry some presentation hardware: video and audio cables, Keyspan Remote, spare batteries for the remote, Flip and OHP pens. I'm paranoid about backup; I have stuff on memory cards, burn DVDs of important materials (usually presentations / videos), have a clone of my hard drive on an external Firewire drive.
Entertainment comes in the form of my iPod, Bose Quiet Comfort Headphones, magazine, sometimes a book, and my swimming kit in a dry-bag. My Nokia N95 and accessories is in there too; a USB charger cable, a Jabra Bluetooth ear bug, and a USB charger cable for same. Other stuff includes tickets, passport, cell phone, earplugs, a head-torch with batteries, pens, a notepad and paperwork, files etc.
I sometimes have time for a little tourism, so my camera is in its case and it sits alongside a SDHC card adapter. I might also take a guidebook.
Clothing for the overnight is a coolmax t-shirt and cotton boxers (for sleeping and lounging), and fresh shirt, socks and underwear for the next day. My toilet bag is fairly minimalist for overnights as hotels provide most of what you need: its just got toothbrush and small toothpaste, floss, razor handle and blades, shave oil, comb, gel and some Savlon.
Other odds and sods: a lexan spork, a folding water bottle and an umbrella.
All this stuff is corralled with some organizer pouches also sent to me by Tom Bihn. These are reviewed separately. The total weight of this gear and the case itself is 10.5 kg / 23lbs. So here we are around the weight limit for domestic flights out of the UK. This said, even fully loaded like this the bag does not "look" too big or heavy. Only those budget airlines that charge for checked baggage would make you check it – any excuse to make a bit extra off the traveler!
Appearance and function
My requirement of any laptop case is that it should look OK with a suit, but not look too boring. Another requirement is that the bag should not look like a big, heavy rucksack – check-in clerks where then less likely to weigh it. The final requirement was that the bag fit easily in overhead lockers and under-seat spaces on aircraft. First time around I ordered the Empire Builder in conservative black, but this time asked for the red/black option. Its fine with a suit, and looks like most laptop briefcases but with perhaps some more curves – its more "organic-looking I think.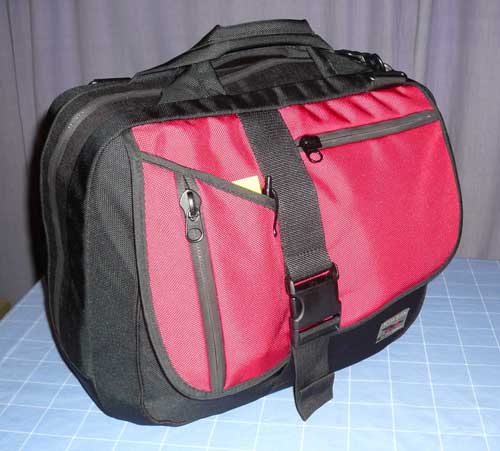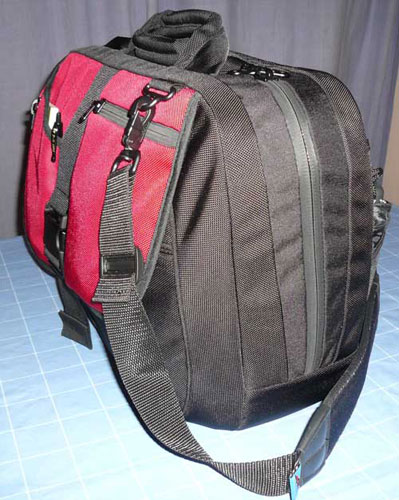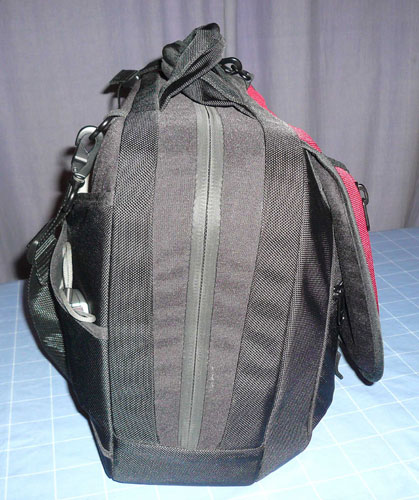 The Empire Builder is made out of 1050 denier ballistic nylon and 500 denier Cordura®. The main flap is red ballistic, and the remainder is black apart from the grey interior and some silver detailing around pockets. It also comes in several other colour combinations and these can be viewed on Tom Bihn's website. Zip-pulls and other metal hardware is now coloured black. The black finish seems pretty robust and has not chipped yet. Its 18.25″ x 12.75″ x 7″ (465 x 325 x 180mm) so its length has increased a little over the original. Including the 15″ Macbook Pro Brain Cell laptop protector and Absolute Shoulder Strap weighs just under 5lbs (2.3kg) empty.
On the outside of the front flap of the Empire Builder are two zipped pockets, and one angled and unzipped pocket for tickets etc.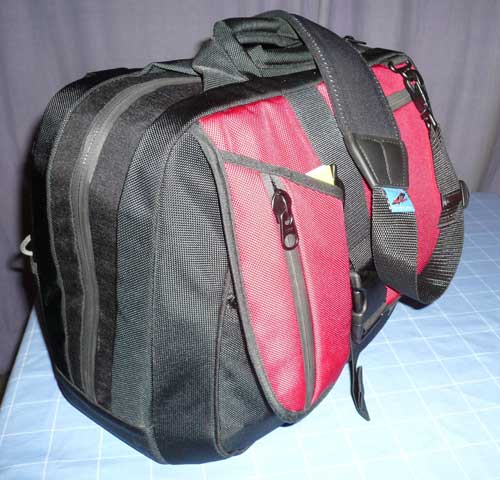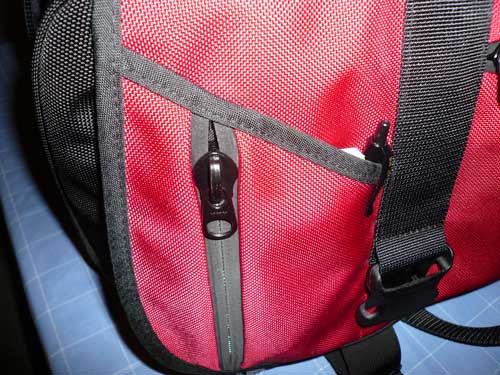 The flap is secured by a big clip-buckle fixed at the top but adjustable on the lower side. One improvement on the original is that the case now features #10 YKK Uretech® splash-proof zippers for the main compartment and exterior pockets. During one trip I managed to get the red panel dirty when I brushed against a filthy taxicab. To clean the nylon I just ran it under the tap and scrubbed with a nail brush and some soap. When I rinsed it off I turned the tap on full-blast. The zips did not leak; pretty good, and a bit better than "splash-proof!" The red panel cleaned up just fine too.
A big zipper allows access to the main compartment. When opened the "bellows" design allows one to view the contents easily, while still retaining structure.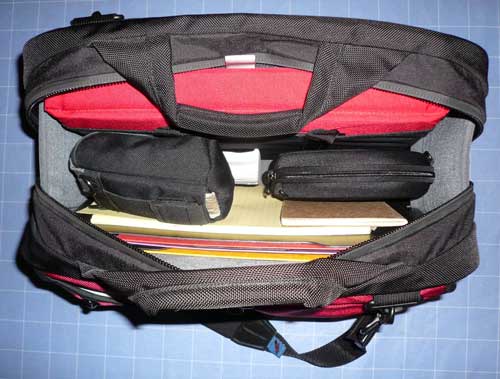 Inside the main compartment is the removable laptop cell; the "Brain Cell." The Brain Cell used to be attached by pop-studs, but now Tom Bihn use plastic bayonet clips. These are a little tricky to handle, but way better than pop-studs. They secure the Brain Cell very well; it is not going to fall out.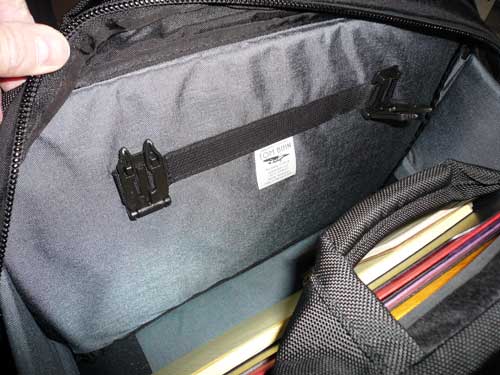 Next to the Brain Cell are three rigid dividers for protecting and separating paperwork; a nice mobile file cabinet. On the back is a compartment for magazines or a newspaper and a new feature, a "roll-aboard" slot that allows you to secure the case onto the handle of a roller-type case.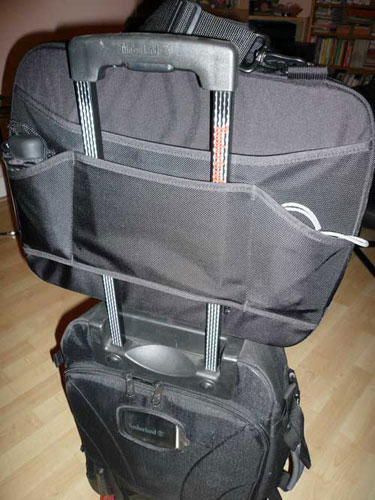 The slot zips shut at the bottom so its a pocket when you're not using it to fit on roller luggage. Either side of this slot are two small pockets for tickets, cell-phone umbrella etc..
Under the main flap is a large zipped pocket and behind this a large open pocket / void with some sub-pockets for bits and pieces. In the original this open pocket was cut as a horizontal "slash," the new version is crescent shaped, and I guess this stops items in the end most sub-pockets from being exposed … to weather, preying hands etc..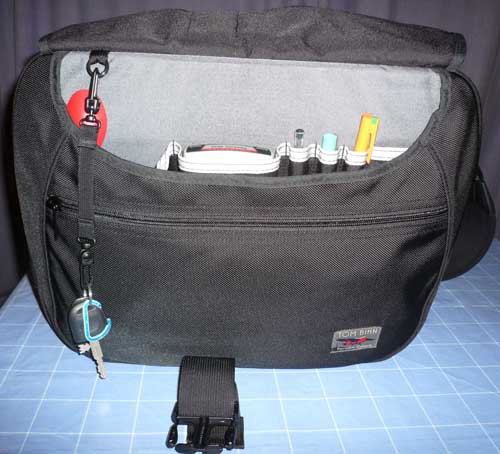 Also in there is a detachable key lanyard that clips to a d-ring (The old version was fixed in place.) Towards the bottom right of this area is the Tom Bihn logo. This now looks fab; the original was so ugly I cut it off.
The "Absolute Shoulder Strap" has a rubberized shoulder pad and is adjustable at both ends so that the position of the pad can be changed. This strap has what Tom Bihn calls a "control-stretch system" Its a neoprene pad with a stretch backing to make bags feel, so Tom Bihn claims "50% lighter and 100% more comfortable."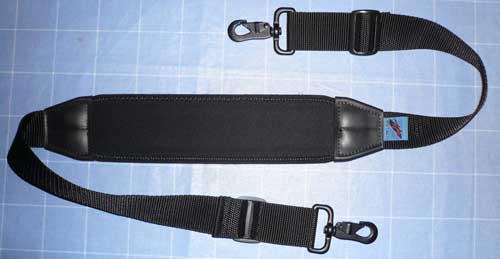 The Brain Cell is a small bag by itself and has its own carry handles and D-rings for attaching the shoulder strap. There is also a large stretch-mesh pocket that could hold a magazine or two, or a power adaptor.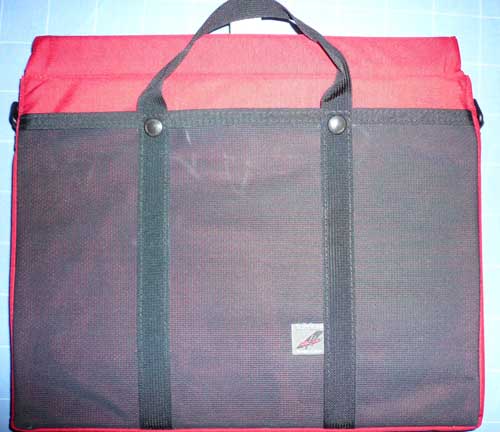 The Brain Cell looks, at first glance just like a rugged padded cell. However, closer inspection reveals a lining that is soft and stretchy and acts as a suspension cradle for the PowerBook. The cradle hangs inside a more rigid "box" made from foam padding and hard plastic, the whole lot being covered in Cordura.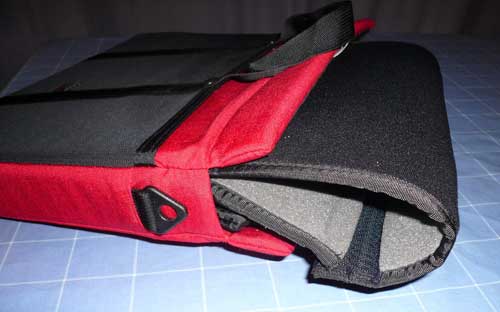 Since I wrote that first review I've looked at loads of laptop "cells." The Brain Cell has to be one of the best constructed out there. Its composite structure provides excellent protection from vertical drops, and horizontal "dings." The latter often coming from sharper objects in the same bag. The Macbook Pro fits perfectly into the cell and is secured with a long run of Velcro. In turn the Brain Cell clips into the Empire Builder with the bayonet clips mentioned previously.
Both the Brain Cell (available in different sizes for different laptops) and the shoulder strap must be purchased separately to the Empire Builder.
Assessment
Build quality is superb. Tom Bihn is operating at the "premium" end of the laptop case market. I said of the original "This bag is very tough and should last a long, long time." Well check out pictures of the original. After five years of hard use it looks like new. (All I did before taking the picture was to throw it in the washing machine with a few towels.)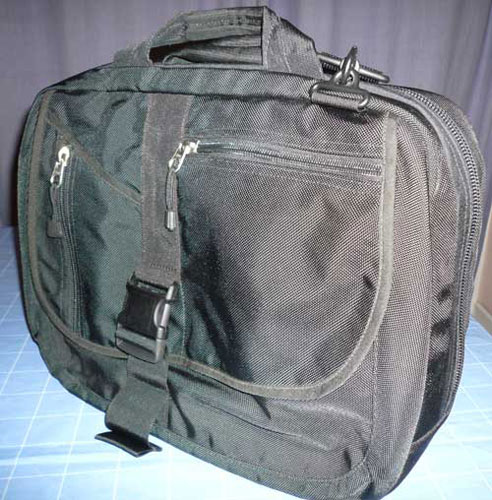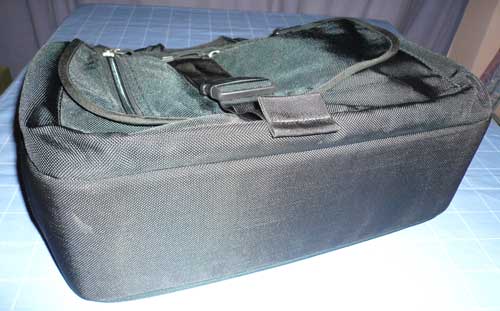 One of the things that annoys me about luggage is pulled seams, and frayed edges where fabric is cut but not sealed. This is especially problematic around zippers, where the bits of stray fabric get stuck, or pull; worsening the problem. The original Empire Builder shows none of this. Not a scrap of stray fabric in sight. Past performance is no guarantee of future success, but the condition of my original bag is pretty compelling evidence of sound build quality.
The YKK zips run very smoothly and everything is very neatly stitched together. The curves and the subtle detailing must be expensive in terms of waste fabric, and sewing time, but the result is a case for humans rather than something designed for cheap, high-volume manufacture.
In addition to the Brain Cell there is also thick padding on the walls of the main bag. This latter feature, besides offering further protection also helps to give the bag a more structured look than the more "floppy" messenger bags.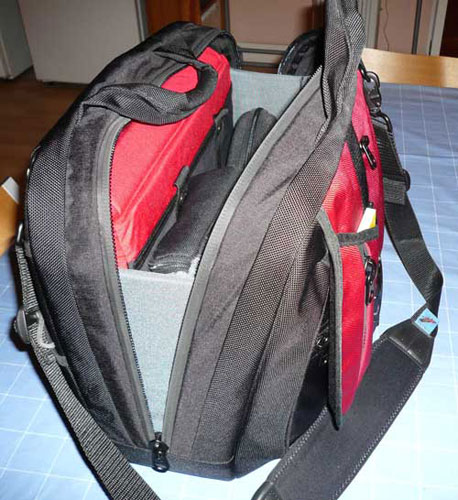 The Empire builder accommodates all my stuff comfortably. It is a bit heavy with all this gear, but that is a problem with me, not the bag. Remember, the Empire Builder not really an overnight bag. Take out the overnight kit and perhaps the camera and my test load is a little more realistic.
The removable rigid dividers do a great job of protecting documents. Three are supplied with the empire builder but you can order more if you like. The magazines are in the back pocket and the N95 is in the right hand rear slot (next to the roll-aboard slot). Wallet, tickets passport etc are in the pockets on the outside of the front flap. Passport, tickets boarding pass etc are in the unzipped pocket for easy access while boarding aircraft, and when I've finished with these they slip into the vertically zipped pocket for security.
Amongst the stuff that Tom Bihn sent me were some packing cubes. One of these controls my clothing. The swimming kit is in a dry-bag.
Under the flap we have some items in the small pockets and the rest just chucked into the two "voids."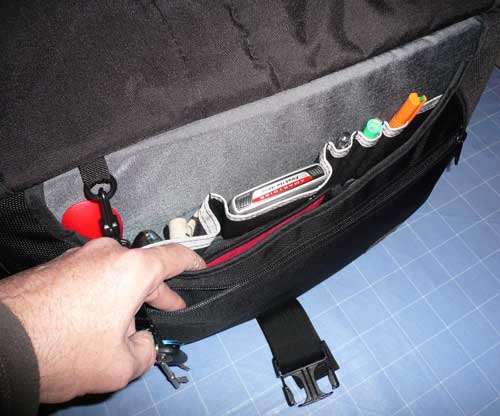 Here is what it looks like on my shoulder: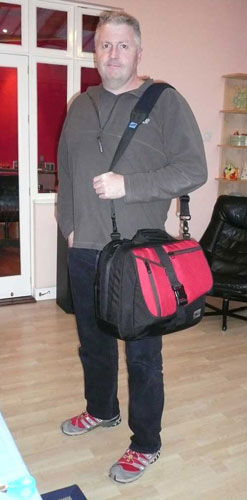 I'm 6″2″ I think this bag might look a bit odd if you are of small stature. If you wanted something smaller an alternative from Tom Bihn is the Zephyr; like a baby Empire Builder.
As I said in the initial review, while I wanted a reasonably conservative exterior look, I really want loud fabrics on the inside. This would look cheery, and also allow me to find stuff that gets lost the dark black Cordura voids. However, having tried a few bags with loud interiors I now realize why manufacturers avoid this. It adds extra weight for one thing (an extra layer of fabric) and also gets very grubby in an area that is difficult to clean. One bag I had with a yellow interior looked pretty sad after a while mainly because of the ink marks left by ball-pens. My solution to this problem was to wrap small bits of "Day-Glo" tape around bits I was likely to loose. This has the added benefit of allowing things to show up under hotel beds. The original Empire Builder was pitch-black in the interior, but this new version incorporates a nice compromise. The interior of the main compartments and under the front flap is silvery grey. The scheme works really well at providing a bit of contrast against which small stuff (like USB phone cables) can show up. Critically however, a stray ballpoint pen mark doesn't look too bad. Well-done Tom Bihn!
With the original design, when the bag was full of all my junk the grab handles were a little uncomfortable. The handles were forced apart, and this tends in turn to force the fingers and thumb apart. I recommended putting a piece of something to wrap around these handles and hold them together. This would have been fiddly, but would save the hands. The design of the handles has now changed subtly. The padding and sticking is arranged slightly different and the whole thing is a lot more comfortable to hold. I'm at a loss to think what Tom Bihn has changed here exactly, but it all works just fine.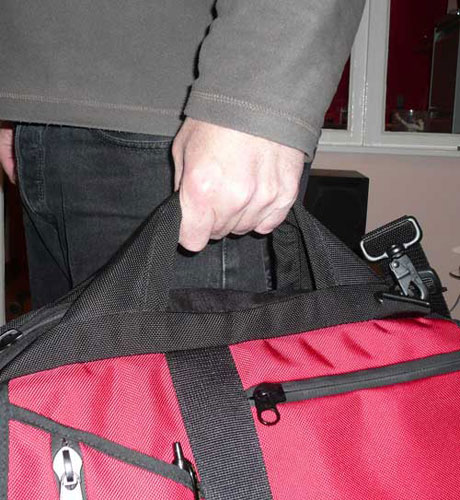 What about that: "50% lighter and 100% more comfortable." Well actually yes, it works! The "bouncy" neoprene pad does a fine job of conning your shoulder into thinking that 24lbs is 12! The original shoulder strap tended to ruck up the shoulders of a suit. Another feature of the Absolute Shoulder strap is that it has one grippy side and one slippy side. The latter is great if you are wearing a suit; it prevents the suit shoulders from getting messed-up. The grippy side is great if you want to keep the bag secure while running for that flight.
Any problems with the new Empire Builder? Not a lot:
Not a huge deal, but the bag can fall over when the computer is removed, especially if you have heavy stuff under the main flap.
As I said of the original, some features of the Empire Builder are not so accessible for lefties. I'm assuming here that if you were right handed, then like me you would carry this bag on the left shoulder, leaving the right hand free. If you are a lefty then the bag sits on the right shoulder with that ticket pocket, and the key lanyard round towards your back and not so easy to access.
It is still heavy!
Conclusion
The bottom line: its better, way better. A good product has been made into a great one by a company that listens, and seems to be serious about both design, and build quality. What did I say before? "The new Empire Builder is expensive but extremely well-made. I really like it. The bag has got loads of space and is as tough as they come. It looks great and at the end of the day, does exactly what I want it to do." I say that again. There are inevitable trade-offs in making gear like this. Quality does not come cheap, and toughness and robustness usually imply increased weight, or the use of exotic and expensive materials. I think Tom Bihn has managed these trade-offs very well in a case that is a little expensive, but still very good value.
Price: $150.00 for the Empire Builder
$60.00 for the Brain Cell
$25.00 for the Absolute Shoulder strap
Total: $235.00
(P.S. if you import one of these to the UK you will have to pay about $90.00 worth of charges: VAT, Import duty, admin charges to the carrier … etc.. With 2008 exchange rates the price of the bag is not so bad for us Brits. Best thing to do is wait until you are in the US, then have one sent to your hotel.)