We use affiliate links. If you buy something through the links on this page, we may earn a commission at no cost to you. Learn more.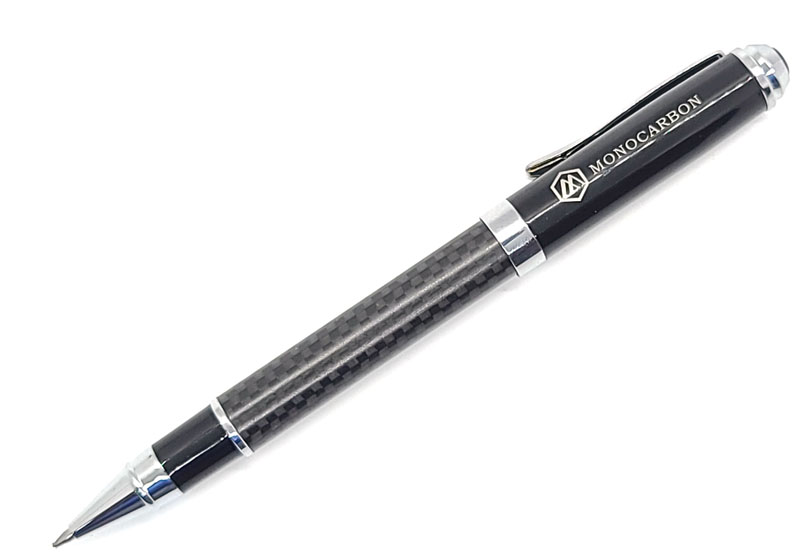 REVIEW – Sometimes, you need to make a statement.  People use several things to make those statements.  Designer clothing, swiss watches, and other statement pieces that set a tone or expectation.  One that is used heavily in business is the pen. When you're inking that multi-million dollar contract, you don't want to whip out the plastic pen you swiped from the server last night at Texas Roadhouse.  No, you need something that looks good and writes smoothly.  You can spend hundreds of dollars on quality writing instruments to get that wow factor but Monocarbon doesn't think you have to.  Let's check out their carbon fiber rollerball pen.
What is it?
This is a refillable rollerball pen with a body cast in genuine carbon fiber.
What's in the box?
Monocarbon prides themselves in their packaging as well as their products and this is no exception.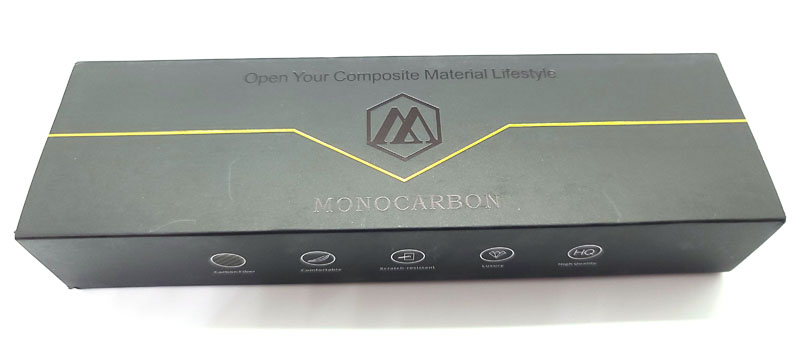 The box has a matte finish with gold accents and black-on-black labeling.  It looks classy.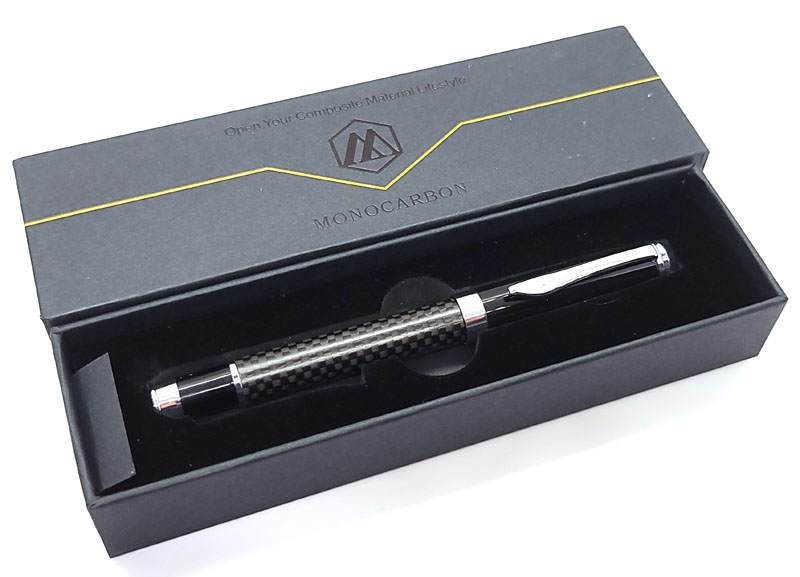 The carbon fiber rollerball pen is nicely presented and cradled in soft-touch foam. Under the foam, you'll find a thin box containing six ink refills.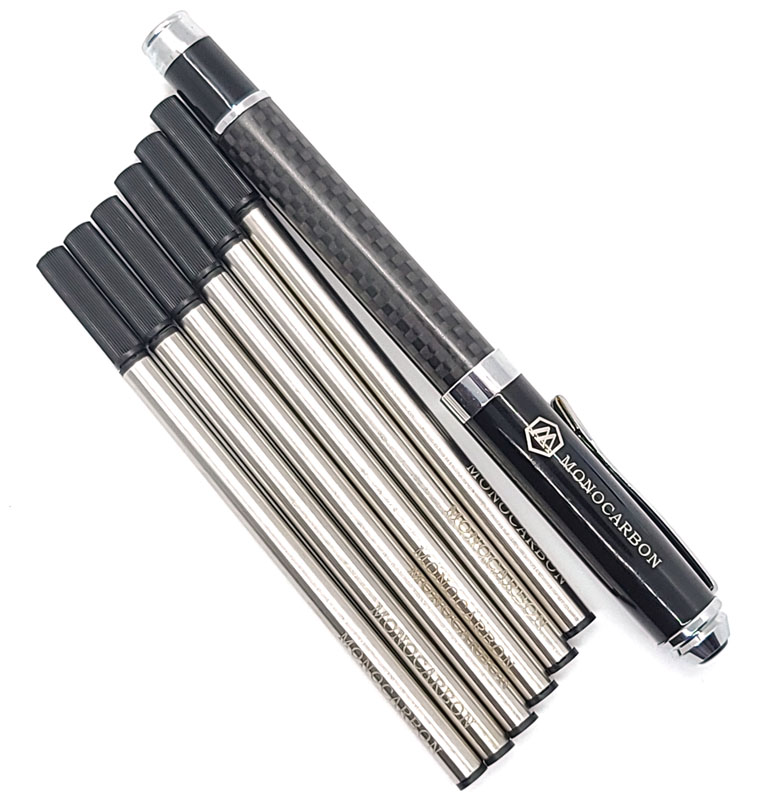 The carbon fiber rollerball pen with cap and ink cartridge installed
Six replacement ink cartridges
Hardware specs
Dimensions: 7.09″ x 2.13″ x 1.18″
Weight: 4.8oz
Construction: Carbon fiber body, enameled copper cap, chromed accents on both
Design and features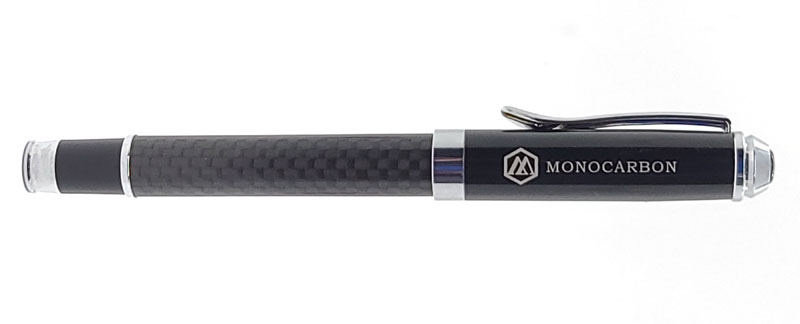 If you've seen a capped pen, then you'll understand this design.  The cap snaps over the point with a satisfying click.  It also snaps just as nicely on the other end.
Never miss one of our posts again. Sent MON, WED, and FRI with the latest gadget reviews and news!
The cap itself is covered in a black enamel finish with a silver-colored clip and accents. The Monocarbon logo is screened on the cap in silver.  The end of the cap is finished with an enamel decorative button.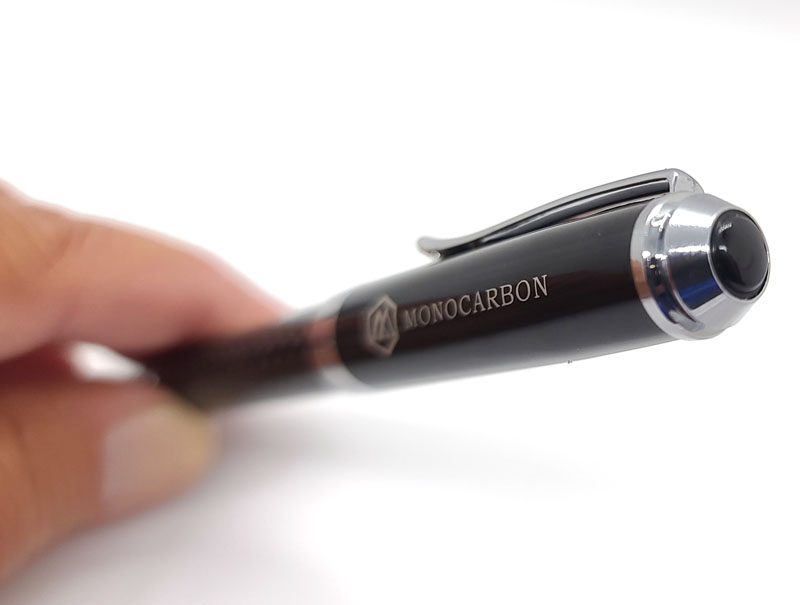 The body of the carbon fiber rollerball pen looks terrific, with its carbon fiber finish.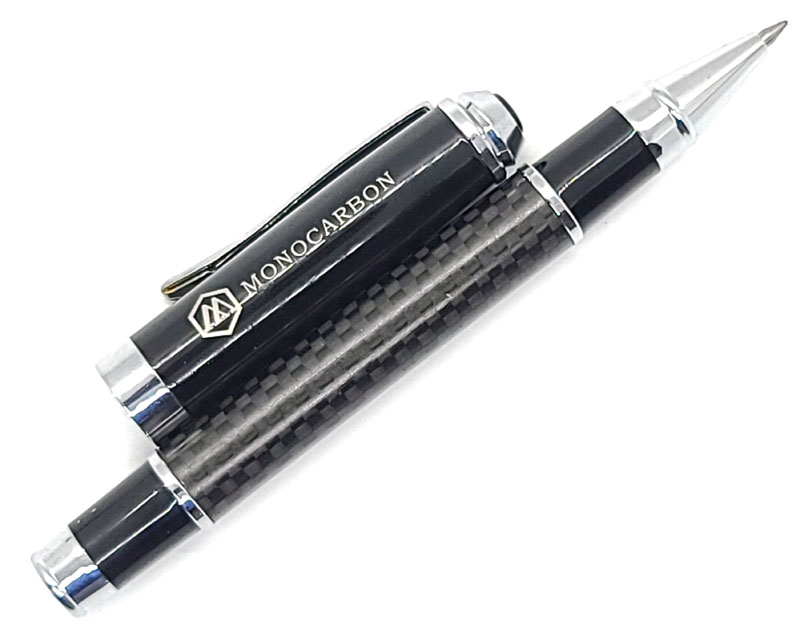 I wish the cap was also carbon fiber, but the black cap compliments the carbon fiber body nicely.
The tip unscrews so you can access and change the ink cartridge as needed.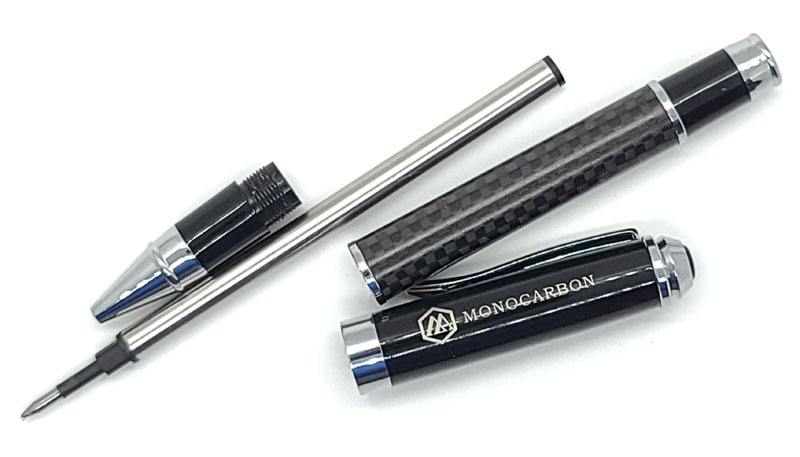 Setup
The cartridge was already installed.  There was a glue-like ball covering the very end of the tip to prevent ink drying, and that has to be removed before you write.
Performance
This is a nice carbon fiber rollerball pen.  It glides smoothly over the paper and writes without any skips or blobs. The ink dries immediately, preventing smudges, especially good for lefties.
The pen, with its cap installed on the back, fits nicely in my hand.  The weight feels substantial, but not heavy. It is well-balanced and has the look of a much more expensive pen.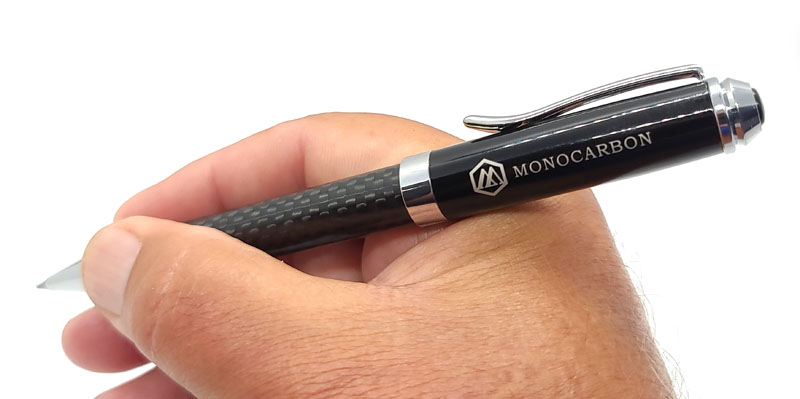 Monocarbon thoughtfully includes six extra refills with the pen.  That's a lot of writing.  But, when they all are done, Monocarbon offers a six-pack of refills on their website.
What I like
Great looks at a great price
Solid construction
Writes well
Six included refills mean you can write – a lot
What I'd change
Final thoughts
Not everyone has the budget for a carbon fiber rollerball pen that costs into the three or four-digit range.  If you want to have that high-dollar look at a more reasonable price, this pen offers great-looking carbon fiber construction for not much scratch.  The nice packaging also makes this a great gift for that up-and-comer in your life that needs that first statement piece.
Price: $29.90 (with 1 cartridge); $39.90 (with 6 refills as tested); $15.90 (six refills)
Where to buy: Monocarbon – pen; pen+6 refills; 6 additional refills
Also available at Amazon for $39.99 (pen + 6 refills)
Source: The sample of this product was provided by Monocarbon.