We use affiliate links. If you buy something through the links on this page, we may earn a commission at no cost to you. Learn more.
Over a year and a half ago in December 2004, the much anticipated Treo 650 smartphone arrived on the market. This first model was a CDMA version from Sprint, but several months later a GSM version and then a version from Verizon also became available. Since its release, the 650 has become the most popular smartphone (combination PDA / mobile phone) device on the market. Time has not stood still for Palm. Their latest smartphone is the 700p. Should 650 owners pony up to buy this upgraded model, or should they keep their cash and wait for something with more revolutionary features, instead of evolutionary?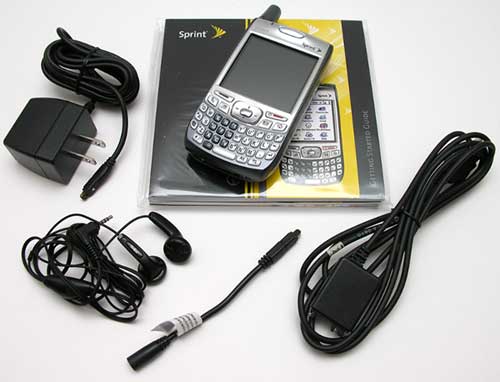 Hardware Specs
Operating System: Palm OS 5.4.9 (Garnet)
Memory: 128MB (60MB user accessible) non-volatile
Processor: Intel® XScale™ 312MHz processor
Display: 320 x 320 color TFT touchscreen display 16-bit color displays displays up to 65,536 colors
Carrier compatibility: CDMA 800/1900MHz digital dual-band, CDMA2000 EvDO network-backwards compatible with 1xRTT and IS95 networks
Wireless: Bluetooth® 1.2 wireless support
Camera: 1.3 megapixels with 1280×1024 resolution, video capture with 352 x 288 resolution and audio
Audio: 2.5mm headset jack is stereo headset compatible-requires a stereo headset adapter, sold separately, for use with standard stereo headphones
Expansion slot: Support for MultiMediaCard, SD & SDIO cards
Battery: 1800 mAh removable, rechargeable lithium-ion battery, Talk time: up to 4.5 hours, Standby time: up to 300 hours
Power: AC adapter (108-132 VAC/60Hz)
Size: 2.3″ W x 4.4″ H (excluding antenna) x 0.9″ D (58mm W x 113mm H x 23mm D)
Weight: 6.4 ounces / 180 grams
Package Contents
Palm 700p
Li-ion battery
AC travel charger
Stereo headset
USB sync cable
Software installation CD
Read this first poster
Getting started packet
Hardware Design
I've been a Treo 650 (GSM) user for over a year now, so I don't think it will be much of a surprise that this review is going to be really heavy on 650 vs 700p comparisons. The overall design of the 700p, is almost identical to the 650. There are just small subtle changes that a quick glance would probably overlook.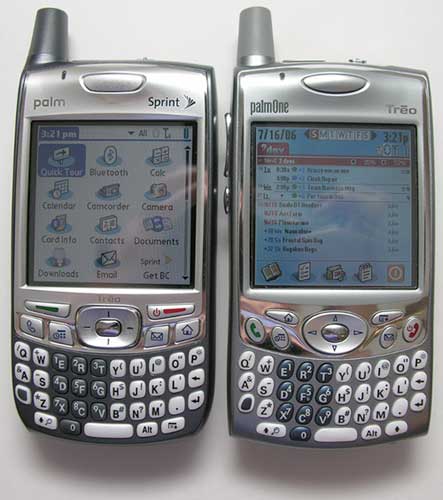 Left to Right: Treo 700p, Treo 650
The main differences that stick out when you compare the two smartphones, are the 700p's more rounded bottom edge, squarish nav button, and new application button layout. Size and weight are the same, and for the most part, cases for the 650 will most likely fit the 700.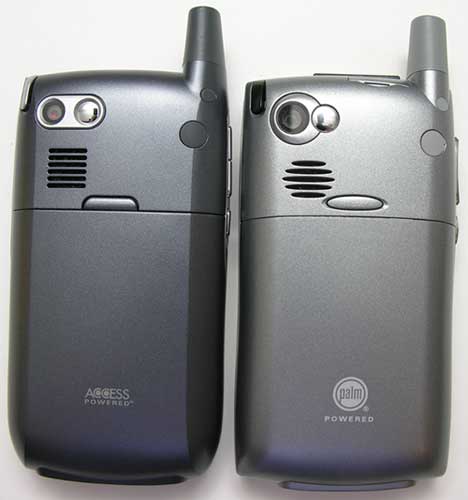 Left to Right: Treo 700p, Treo 650
If you take a look at the back side of both devices, you will again see that they are quite similar. It would have been nice to include a small hole in the shell for reset switch access.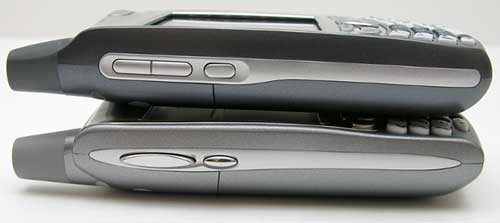 Top to Bottom: Treo 700p, Treo 650
Here we notice a redesign of the Volume up/down buttons. Instead of one large rocker type switch on the 650, there are now two separate buttons to adjust the sound level.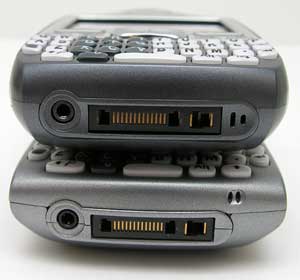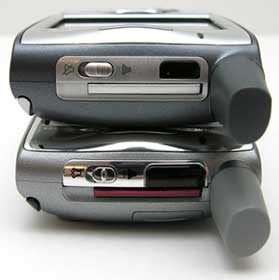 Top to Bottom: Treo 700p, Treo 650
The location of the microphone has changed a little on the 700p, as has the size of the IR port located on the top edge of the phone.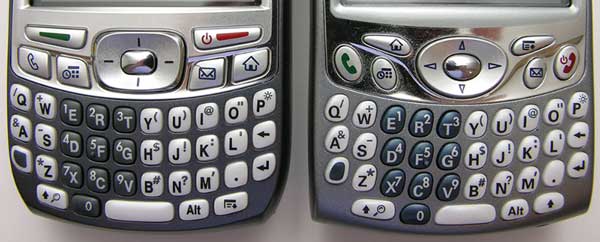 Left to Right: Treo 700p, Treo 650
Of all the physical changes, I would say that the changes with the keyboard are the most significant. The new squarish shape of the navigation button and keys are not a big deal, but the keyboard layout definitely is. At least it is for someone that is already very acquainted with the 650 keyboard. If you look closely, you will see that the Power/Call End and Call Send buttons have both changed in shape and location. The Menu button has taken the place of the right Shift button, and the Application Home button has moved from the left side of the keyboard to the right side. There's also a new Phone button that launches you directly into the built in dialer application.
Do I like the new layout / design? Right now I would say that I don't like it all that well. The keys feel a bit cramped and I find myself pressing the Menu button when I really wanted the Shift button instead. That said, I'm sure after a couple of weeks, my brain would rewire itself, the new layout would seem natural.
Let's take a more detailed look just at the 700p.
Front
Nothing new and exciting here folks. Not that the 700p needed to be redesigned from the ground up right? I mean the Treo hasn't become the most popular smartphone due to a shoddy design. But it's human nature to be a bit disappointed that this new version has changed so little.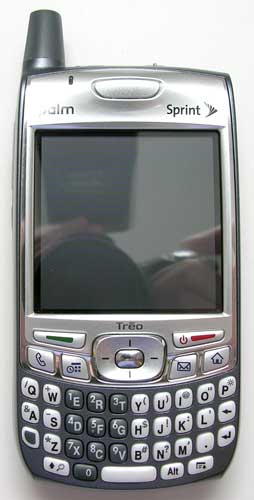 In hand the plastic casing feels solid and didn't yield too many creaks and cracks when I performed the Gadgeteer squeeze test. Mostly the keyboard seemed a bit more squeaky than what I'm used to with my 650.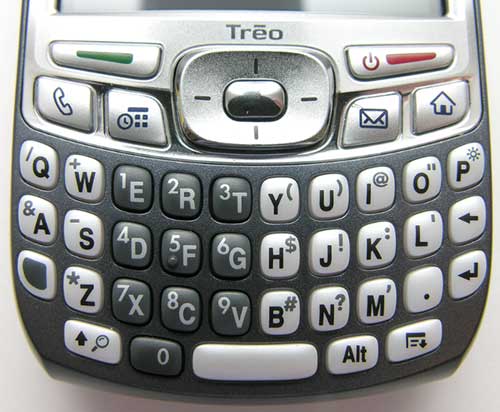 The keyboard has good tactile feedback and is backlit. Each key has 3 different key assignments. Lower and Uppercase letters and then an additional number or symbol.
Left Side

Located on the left side are the Volume adjustment buttons and side key. These buttons are flatter and smaller than the same buttons on the Treo 650. I think they are a bit more difficult to press.
Back
The backside of the 700p has the camera, self portrait mirror, stylus silo, speaker and battery cover.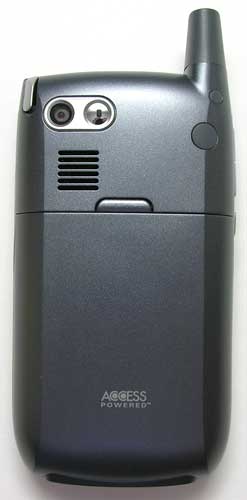 The 700p has "sharper" corners than the 650. This actually makes the phone feel slightly smaller in hand.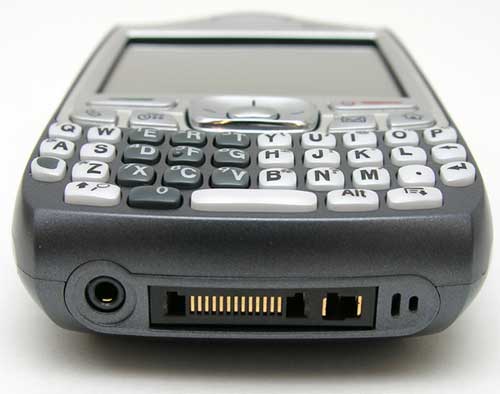 Luckily, the charge / sync port is the same as the 650, so if you do plan to upgrade, your old accessories will be compatible with this new phone. Unluckily, the earphone jack is the same lame 2.5mm instead of the standard 3.5mm size that 99.9% of earphones use. Yes, I know that this size jack has been used because that is the size used for most wired handsfree headsets. But the Treo has Bluetooth, get a wireless headset instead :o)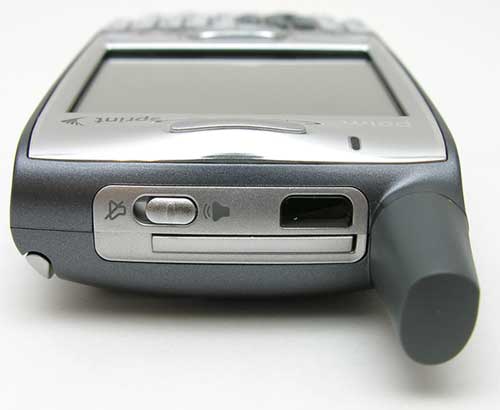 One nice little feature that the 700p has that the 650 doesn't, is that now when you switch the speaker to mute, you'll feel a little physical vibration feedback.
Regarding the speaker, the volume through the earpiece seems to be a lot louder on the 700p when compared with the 650. Volume levels for alarms and such remain about the same though. Alarms on the 700p can be set to vibrate in addition to sound.
What about the display? Well, it's the same 2.57in diagonal, 320×320 pixel, 65K color screen that the 650 has. When I compared both side by side at the highest brightness level, I would say that the 700p's display was ever so very slightly brighter. I could only tell a difference when looking at the application lists. The White background was a little brighter. I'm being very picky here. Both displays are crisp and clear and very easy to read except in full sunlight.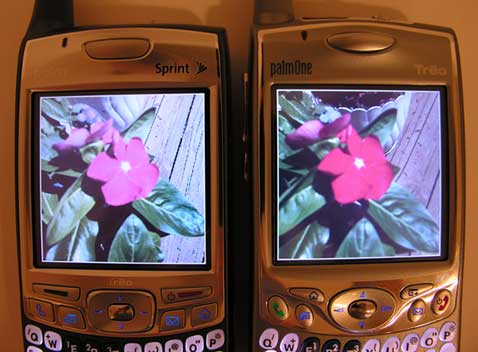 Left to Right: Treo 700p, Treo 650
One main difference with the 700p, is the upgraded built in 1.3mp camera. It has a max resolution of 1280×1024. The 650 only has 640×480. This upgrade is noticeable. Check out the comparison pictures below. Click the thumbnails to view the full-size images.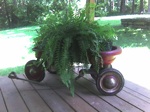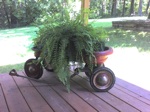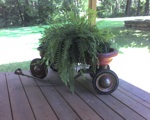 Left to right: Treo 650 (640×480), Treo 700p (640×480), Treo 700p (1280×1024)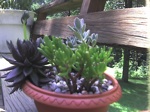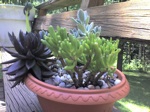 Left to right: Treo 650 (640×480), Treo 700p (640×480)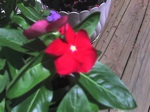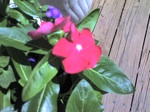 Left to right: Treo 650 (640×480), Treo 700p (640×480)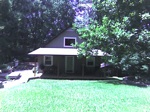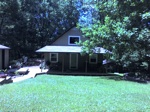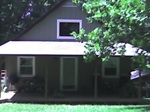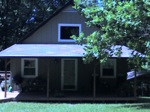 Left to right: Treo 650 (640×480), Treo 700p (640×480), Treo 650 zoom x 2 (640×480), Treo 700p zoom x 2 (640×480)
The 700p still doesn't have a macro mode, so close up shots still look crummy. I don't think the 700p does that well with long distance shots either. The house pictures look pretty blah. The best shots are ones where the subject is 3-5 feet away.
Besides the camera update, the 700p's memory has been increased. Now instead of having just 23mb of user accessible memory, you'll have 60mb. This is a very nice increase for those of you that like to install lots of 3rd party applications. The processor remains the same though, so you won't notice any differences in overall speed of the device. Personally, I've never had a gripe with the 650 when it comes to system performance.
Battery size remains the same between the 650 and 700p as well. Both use a 1800mAh lithium-ion rechargeable battery.
Bluetooth has been updated from 1.1 to 1.2. No A2DP profile though, so no listening to your MP3s via Bluetooth headphones. I don't know what the upgrade from 1.1 to 1.2 really gives you. However, it is important to note that DUN (dial up networking) is now supported without 3rd party apps like PDAnet.
My tests on both phones with several headsets seemed to yield the same results. Bluetooth via a Treo works best when the headset and handset are within very close proximity.
Another upgrade for the 700p is EVDO or EV-DO (Evolution-Data Optimized). EVDO is a wireless broadband data standard supported by Verizon and Sprint. It's only available in some areas of the country. Of course, it's not available where I live (Columbus, Indiana). Even though the following tests really don't mean anything because I'm comparing a Treo 650 on Cingular with a Treo 700p on Sprint, here you go anyway…
Using the built in Blazer browser on both handhelds, I visited http://dslreports.com/mspeed. Here are the results of the speed tests.
| | | | |
| --- | --- | --- | --- |
| | Kbit/Sec | Latency | Download Time |
| 700p 200k (Sprint) | 79kbs | 1.882s | 21.304s |
| 650 200k (Cingular) | 99kbs | 2.654s | 18.8s |
| 700p 600k (Sprint) | 106kbs | 1.73s | 46.367s |
| 650 600k (Cingular) | 114kbs | 2.845s | 44.358s |
As far as the hardware goes, I can't complain THAT much about the 700p. Of course, there are things I really wish had been included with this new model. Features like compatibility with Palm's SD WiFi card, A2DP Bluetooth protocol, and better Bluetooth range. But I can actually live without these things…
Now let's take a look at the software bundle for the 700p.
Software
Installed in ROM

No significant changes to:
Bluetooth Manager, Calculator, Calendar, Card info, Contacts, HotSync Manager, Memos, Phone, QuickTour, Tasks, World Clock, Messaging, Versamail, Camcorder, Camera
Blazer Web Browser v4.5 – Upgraded version now supports streaming media (WMA, ASF, WMV and MP3)
Documents To Go version 8.0 – View and edit Microsoft Office documents including Word, Excel. Also view Powerpoint and PDF files. This is a great app!
Pictures and Videos application has some interface updates: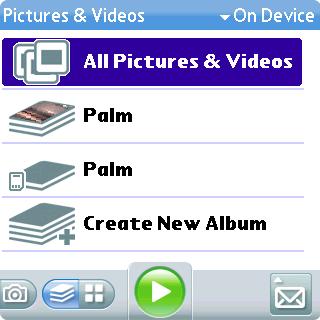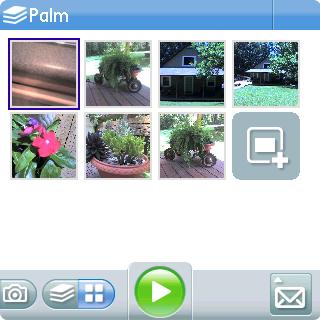 MyTreo – Userguide and news download (via Hotsync or wireless) application: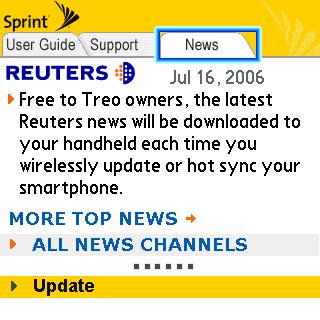 PocketTunes – Replaces Realplayer as MP3 player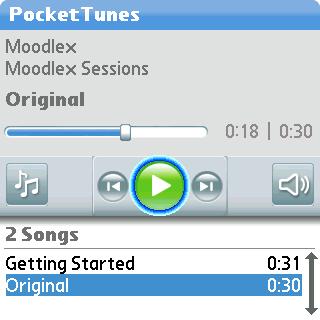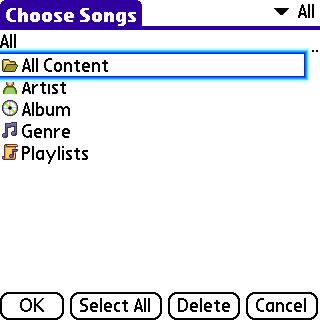 Voice Memo – Voice recorder application. This application is used to record voice memos, voice emails and ringtones: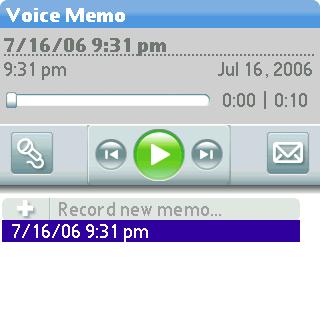 On Demand – Cool wireless portal application from Handmark for news, entertainment and information, weather, etc. I think this is my favorite new application!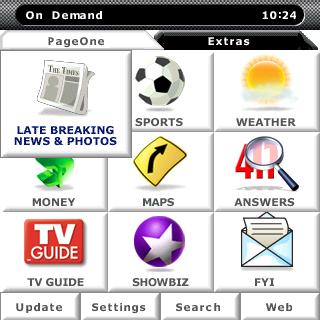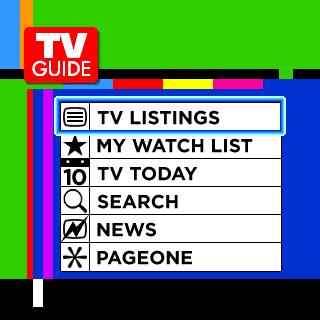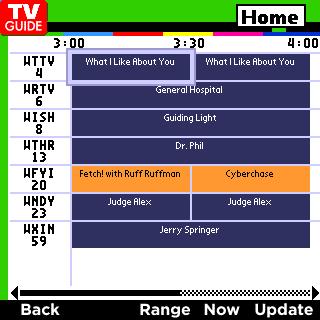 Check out what's on TV tonight.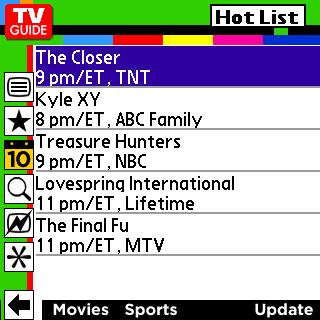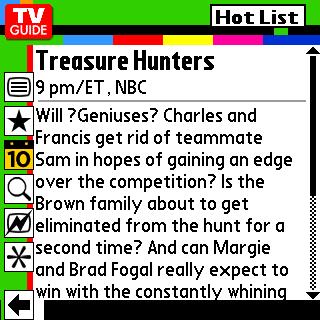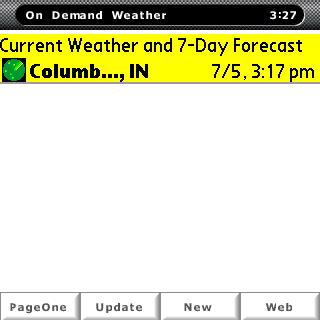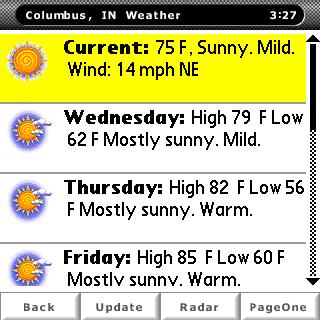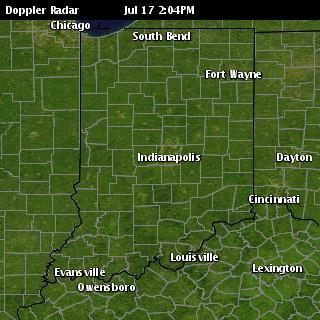 Weather info with forcast and radar.
SprintTV – Watch video on your Sprint Treo 700p.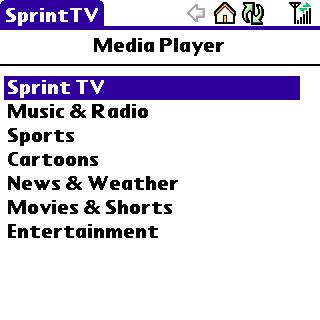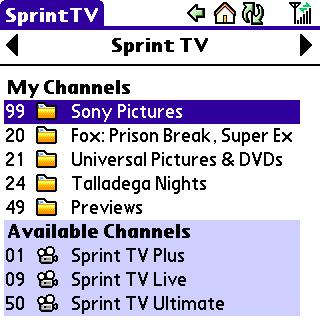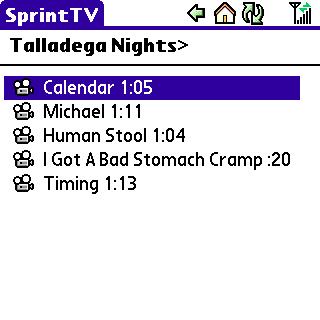 I goofed around a little with this application, but I don't think I have a EVDO connection in my area.
Sprint Software Store – Convenient way to spend money ;o) Cool though.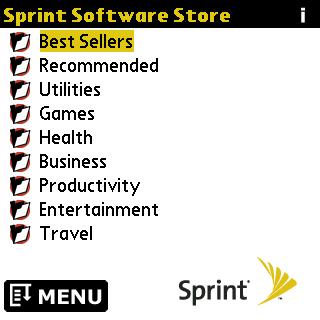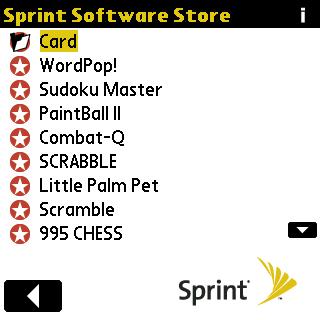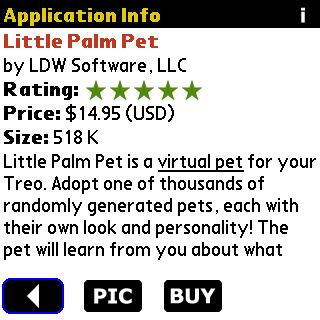 Software on CD-rom

Audible – Audio book software
Bejeweled – Tile game
Documents To Go (for your desktop) – Sync changes to/from MS Office documents with handheld
eReader – eBook reader
Palm Files
Remote File Access
Solitaire – Card game
Traffic for Treo smartphones
Treo Voice Dialing
So, do I think the Palm Treo 700p is a smartphone worthy of your hard earned cash? My answer is maybe. If you have already have a perfectly good Treo 650, I would say the upgrade doesn't give you enough oomph to justify trading up. This is especially true for me as I'm on the Cingular network and so far there isn't a GSM version of the 700p available. But for those of you that have yet to try a Treo smartphone, I would not hesitate to recommend the 700p. It's an easy to use phone with a great feature set, tons of accessories, even more software and a large established community base.
PHONE
CARRIER

PRICE
AFTER REBATE
 

Palm Treo 700p


$449

$299



$379

$279