We use affiliate links. If you buy something through the links on this page, we may earn a commission at no cost to you. Learn more.

Friday, as I was in the midst of writing the day's
review, Alison from Astraware sent me a pre-release copy
of the Pocket PC version of Broken Sword: Shadow
of the Templar's, which earned her the new nickname of "the
evil one". Why? Because it took a supreme act
of will power to finish the review I was writing before I started
playing the game! Alison had mentioned that it was coming several
months ago, and she knew I was eagerly awaiting it…I think she
purposely chose a review day to send it. Alison is a true
temptress, and she accepted that nickname a little too eagerly, if
you ask me! But I digress…
So today, after many (too many!) hours spent doing
little else (much to the consternation of Steve & Sarah), I
finished the game.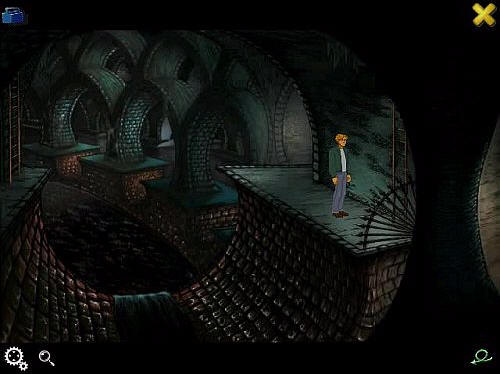 According to the Astraware site, "Originally created for PC and
PlayStation, and now available for Windows Mobile®, Broken
Sword is the story of George Stobbart, an American tourist
on vacation in Europe, who becomes embroiled in a terrifying
conspiracy when he witnesses the theft of an ancient manuscript and
the assassination of its owner. The manuscript, created in the 14th
century by the order of the Knights Templar, points to where
their legendary power has been hidden for over six hundred years.
Befriending a photojournalist, Nico Collard, the two find
themselves on a global trail that ultimately reveals a deadly
secret that will change their lives forever."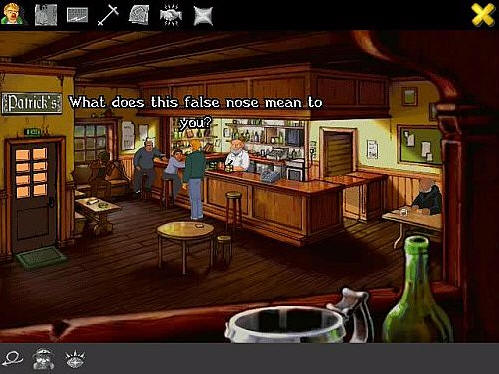 So here is the deal: I am not supposed to review the
game, as they don't want reviews posted until the 31st…oh, but I
am so tempted.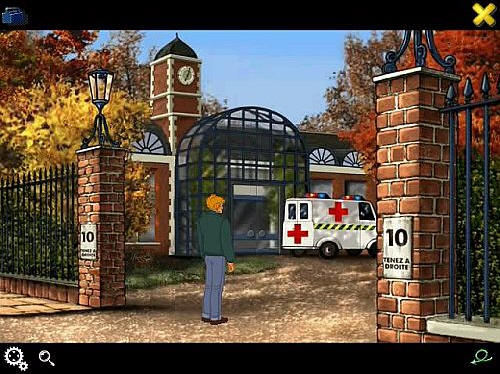 All I will say is that if you want to totally loose a
week's worth of evenings, or almost an entire weekend, you
must take advantage of the $10 off pre-order discount.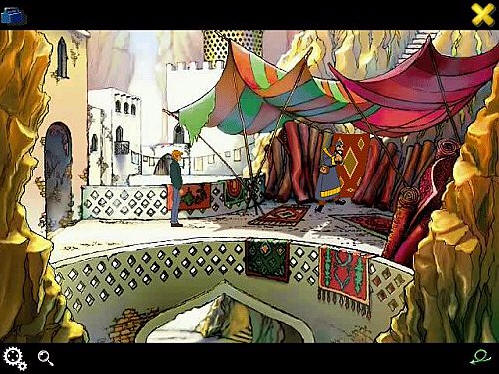 According to Alison, "Broken Sword is available to pre-order now
from the Astraware website with a special pre-order price of $19.95
– a $10 saving on the regular price of $29.95. More info and
pre-order link at: http://www.astraware.com/preview/brokensword1/index.php"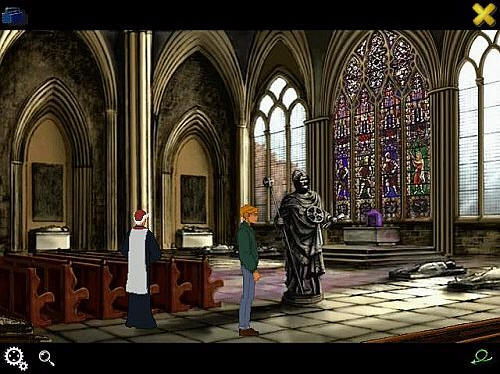 The VGA graphics on my JasJar were absolutely gorgeous, as you
can see by the VGA screen shots sprinkled throughout this diary entry. I realize
that Broken Sword was originally a PC game, but I had never played
it. This micro-version is evidently extremely faithful to
the original, because I was able to get unstuck more than once by
peeking at a PC game walk-through published on the web.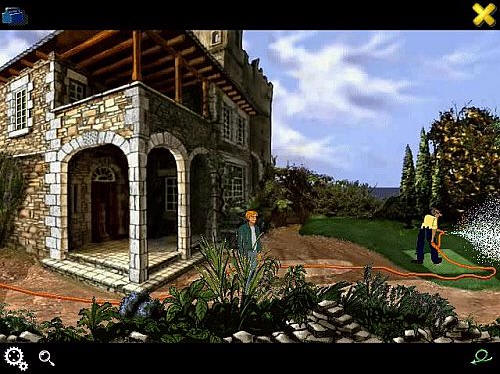 This game is huge – weighing in at 110MB; nope, that
wasn't a typo! Not only does it have printed captions, it also has
great music and spoken words in fabulously engaging voices. The
game will play perfectly when run from a memory card, so its size
is no problem.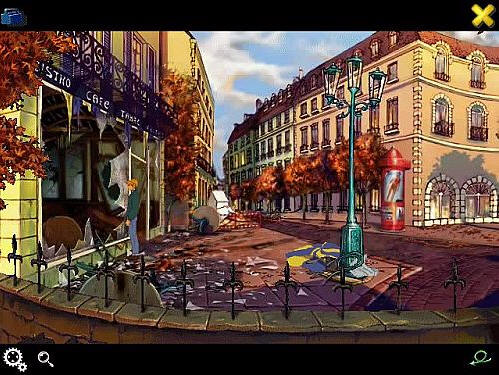 I guess I had better stop talking about it because I am
gravitating dangerously close to a "review", but I can't
help it! I absolutely loved the game and wish there was
another similar one I could start on…although that would probably
provoke a riot in my house. ;0)
This game is worth the money – and the $10 pre-order savings
makes it even more attractive! Get the game and then tell me what
you think about it; if it doesn't kill almost every bit of your
free time until you are done, then I will be shocked!