We use affiliate links. If you buy something through the links on this page, we may earn a commission at no cost to you. Learn more.
Who would have guessed that last year's Palm equivalent to the mini-van – the Zire, would morph into this year's two door sport coupe? Everything pointed to the Zire remaining Palm's bargain PDA. But wow, things sure have changed. Now, the Zire 71 (who comes up with these model numbers anyway?) is poised to become Palm's multimedia workhorse. And at the sweet price of $299, it just might become a real favorite. Let's take a closer look.
Hardware Specifications:
Processor: Texas Instruments 144Mhz OMAP310 (ARM)
processor
Operating System: Palm OS software v5.2.1
Memory: 16MB RAM (13MB actual storage capacity)
Display: 16-Bit Transflective TFT color LCD 65,000+ colors, 320×320 Pixel
Interface: HotSync USB cradle, Infrared
Expansion: SD / MMC card slot, Universal connector
Built in camera: 640 x 480 Resolution
Audio: 3.5mm stereo headphone jack, mono speaker
Power: AC Adapter 120VAC, 60Hz
Battery: Rechargeable lithium polymer 900mAh battery
Dimensions and Weight: 4.5 x 2.9 x 0.67 in. / 5.3 oz.
I've got to tell you, that when I first saw this new PDA, I immediately
thought of my Sony CLIÉ T615C. It has the same basic shape as the original Zire,
but the new blue/silver color scheme looks very Sony-like. Unlike the T615C, the
Zire 71 does not have a metal body. Although the back shell looks metallic, it
is in fact chrome colored plastic. A smudgy, fingerprint magnet chrome colored
plastic at that… I wish the whole case was blue. I hate really fingerprints.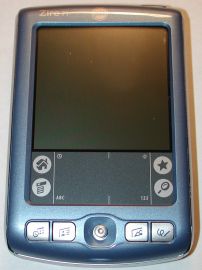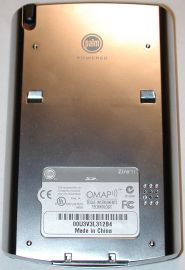 Besides that gripe, the Zire is a sturdy little PDA. It doesn't creak, crack or
flex when squeezed. However, the plastic that makes up the casing does feel
somewhat slippery as it is very smooth. It does have a nice heft to it, and due
to the rounded back, it is comfortable in hand.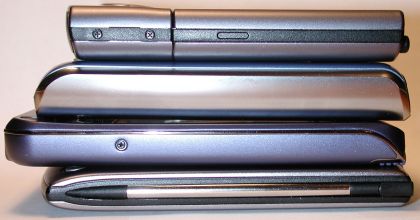 Top to bottom: Tungsten | T, Zire 71, Sony CLIÉ T615C, Palm m505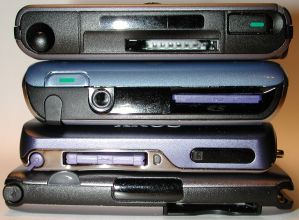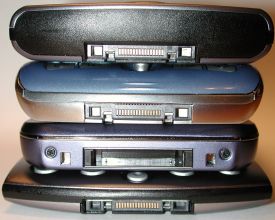 Top to bottom: Tungsten | T, Zire 71, Sony CLIÉ T615C, Palm
m505
On the front of the Zire are four application buttons and a 5 way navigation
stick. The application buttons are flat squarish buttons that are a nice size
and easy to press. They also have great tactile feedback when pressed. From left
to right, the buttons are mapped to the Datebook, Address book, Photos and
Notepad applications. Of course, you can remap these buttons to the applications
of your choice if you so desire.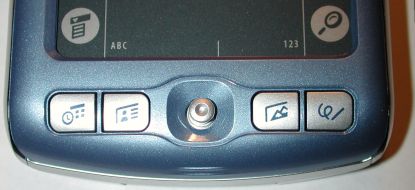 Between the application buttons is the 5 way navigation stick. This is a small
grey plastic spring loaded joystick that is recessed into the case. It can be
maneuvered up/down/left/right and pressed in to SELECT. Pressing it when the
Zire is powered off, will power the PDA on and will display the current time for
3-4 seconds before powering off again. Although this new style button is easy
enough to use, I personally would have rather had the
Tungsten | T style nav pad
used instead. This button doesn't feel as natural to use during game play.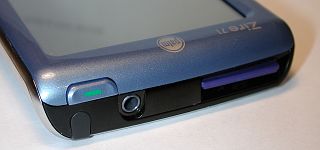 The power button, earphone jack, SD slot and IR port are located on the top of
the unit. The power button is easier to activate than the one on my Tungsten |
T. Next to the power button is the earphone jack. Audio through this standard
sized jack is really good using the RealOne MP3 player application (included on
CD). I found the volume levels to be more than adequate. I comfortably listened
to music with the volume set at about 33%.
The IR port beaming strength seemed pretty much on par with other Palm
devices that I've reviewed lately. I was able to successfully beam and receive
an address from a maximum of about 4 feet.
On the back of the PDA is the stylus silo, future accessory attachment points
and the speaker. The stylus is a typical plastic Palm toothpick. Blah… Too bad
it isn't the pop up type that the Tungsten uses. :o(
The speaker which is located on the back, has a good sound. I think it
sounds a little clearer and more distinct than my Tungsten | T, while remaining
at about the same volume level. The Tungsten has the speaker on the front, while
the Zire has it on the back. While holding both units, the Tungsten seemed
louder. But, when I left both units side by side on a table and went into
another room, the Zire tended to sound louder when playing various alarms.
Either way, the Zire should be able to double as an alarm clock when set at the
highest volume setting, and while in close proximity to your ears.
On the bottom of the Zire is your standard Universal connector which allows you
to use this new PDA with your other cables and cradles. A slightly redesigned
cradle comes with the Zire. It looks like the standard one used for awhile now,
but it is a bit lighter weight and the AC adapter plugs directly into it,
instead of into the USB connector. It's still heavy enough to remain on the desk
when removing the PDA.
Now we come to the display, which has to be the best display I've yet to see on
a Palm device! It is bright, has vivid colors and is almost painfully crisp. I
LOVE IT! A PDA's display has always been of paramount importance to me. After
using the Zire for less than 1 day, I'm ready to pitch my Tungsten | T out the
window in favor of this one solely based on the display. I really like it that
much! The 71 uses a transflective display similar to the HP1910, which is the
first such display for a Palm device (Palm as in the company, not the OS). It is
just gorgeous. Hey, did I mention how great it looks? The display is also
comfortable to write on with a stylus. It isn't overly spongy. It is actually
quite rigid and smooth as glass.
The pictures below really do not do any justice to this display. I took these
pictures without a flash, and haven't retouched them. The Tungsten | T has its
brightness set to max, while the Zire is set at 50%. These pictures flatter the
Tungsten, but trust me when I tell you, the Zire's display is a billion times
better!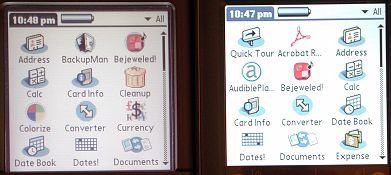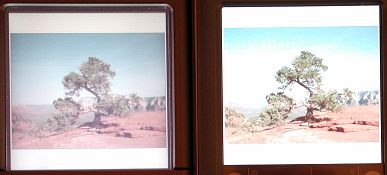 Left to right: Tungsten | T, Zire 71
In my opinion, there is one disappointing aspect to the display though… the
Zire 71 is marketed as a multimedia PDA, but it lacks a full sized display
(virtual graffiti area) like the Sony CLIÉ NR, NX and NZ series PDAs. Why is
that? You can't tell me that Palm hasn't figured out how to do it… 320 x 320
just isn't big enough for comfortable image viewing and is definitely too small
for watching movies.
When your PDA has a nice display, it's only natural to want to view images on
it. Luckily, the Zire has a simple photo viewing application built into ROM.
Even better is the fact that it has an actual CAMERA built into the PDA! You
might be asking, "where's the camera, I don't see a camera"… That's because
it's a stealth camera that James Bond himself would be proud to use. Hidden
between the front and back of the PDA, is the lens. To expose it, you slide the
front of the PDA up. When this is done, the lens is exposed and points out
behind the display. The display then becomes your viewfinder, while a shutter
button is exposed above the hotsync connector. Sliding the camera opened and
closed does take two hands, and is made more difficult than it needs to be, due
to the slippery case. The design is a good one though, as having the ability to totally
protect the lens when not in use is a big advantage over the camera design that
the Sony CLIÉ uses.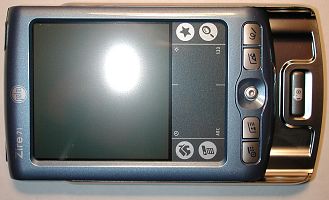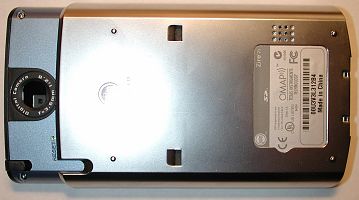 Pictures taken with the camera can be a set to a minimum resolution of 160 x
120 pixels, or as high as the max resolution of 640 x 480. The picture quality
is on par with the old Kodak PalmPix cameras,
or the Sony NR-70V. The idea here is that
you'll always have a camera with you for all those often missed photo
opportunities.


Image snapped with the camera at 640 x 480
What about system performance and battery life?  I think the Zire is
actually a bit snappier than the Tungsten | T. I have no hard facts to base this
on, but it just feels that way to me. Battery life appears to be as good or
maybe even a little better than the Tungsten | T. I haven't had a chance to do
any real tests yet…
As far as my overall impressions on the hardware, I am very happy with this
new offering. The PDA is solid, comfortable to use, and nice looking. The
speaker quality through headphones is great, and the screen is drool worthy.
That said, if I could change this Zire, I would get rid of the chrome back half
of the case and replace it with something less fingerprint prone, and less
slippery. I would also get rid of the static graffiti area and maybe ditch the
joystick nav pad in favor of the Tungsten | T version. Other than that, I'm very
happy with this PDA.
In addition to the significant hardware changes, the Zire 71 brings with it
some little software changes too. It runs Palm OS 5.2.1, and includes the
following applications in ROM:
Address Book, Calculator, Card Info, Date Book, Expense, HotSync, Memo Pad, Note Pad, Preferences, To Do List, World Clock, Palm Photos,
and Graffiti 2
Everything in that list should look pretty familiar to you if you are
familiar with Palm OS. The last two are new though… Palm Photo is the
application that interfaces with the built in camera. With it, you can snap pix
quickly and easily. It also allows you to view your pictures in a slide show or
one at a time on the Palm itself. When in camera mode, you have the ability
change the resolution, change the brightness level, and change the save location
(handheld or SD card).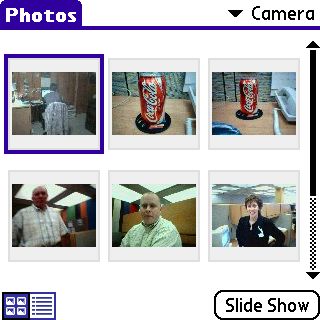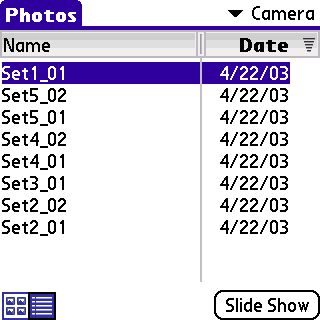 When you sync with your desktop, the pictures are automatically copied to
your hard drive and can be viewed and edited through the new desktop
application. You can even set up photo albums, and fix red eye with this
application.
The Graffiti 2 application is the solution to the Xerox lawsuit. This new
version gives you the functionality of Jot. You can have full screen writing
with echoed characters. Very nice!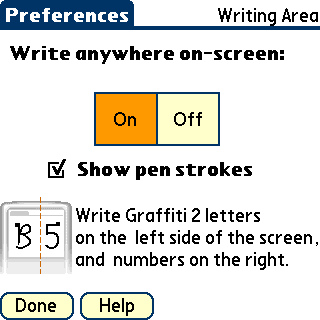 Some other small changes that I've noticed are with the Preferences
application. It is more user friendly and now includes a color theme chooser!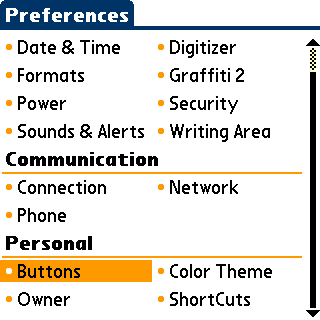 Things that remain unchanged are the lack of a file manager for SD cards,
backup manager and the archaic 4k memo pad record size limit. I guess these
problems will be fixed on OS 6 <sigh> Palm needs to really talk to the folks at
Bits n' Bolts Software!
For your desktop, you get Palm Desktop 4.1, which includes Palm Photos (Windows only), Expense (Windows only)
and Note Pad. Also included is the new Palm Quick Install (Windows only), for installation of applications, files and
multimedia content. This new install application has been updated to allow you
to drag ZIP files to it. It will open the ZIP and pull out the necessary .PRC
and .PDB files for installation. It also knows to automatically copy an .MP3
file to the SD card instead of the PDA's RAM.
New PDA owners always look forward to the software bundles included with
their new toy. The one included with the Zire is especially nice. Here's what
you get:
Audible Player for audio books (Windows only) — Enables listening to Audible
format audio books and other content. I love Audible! Listening to books when
I'm driving too and from work is a lot of fun. The audio quality on the samples
provided are really good too!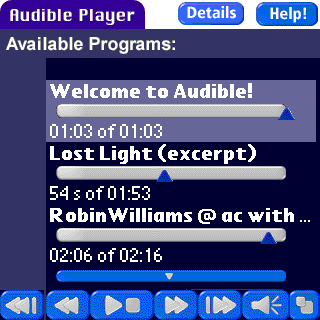 Kinoma Player for video – Allows users to watch high-quality digital media on
their Palm handhelds. The only problem is that you have to convert the video to
a special format other than AVI, or MPEG. Also, watching clips and/or movies
just isn't super wondy on such a small display. If the Zire could be full screen
with a landscape mode, I'd change my mind. As is, video on the Palm is still
just a novelty that remains pretty blocky and jerky. If you want real video
capability, get a Pocket PC.
Palm Reader for eBooks – Popular eBook reading application that offers users the latest in best-selling books from
today's premier publishing houses. This is one of my must have applications. I
read at least a couple chapters every day using this application.
RealOne Arcade for games (Windows only) – Enables easy download of Palm
handheld games and desktop games.
RealOne Mobile Player for MP3s (NOTE: Expansion card required, sold
separately. Desktop is Windows only.) – MP3 playing software with playlists.
This player has really good sound, but I think I still prefer
Pocket Tunes.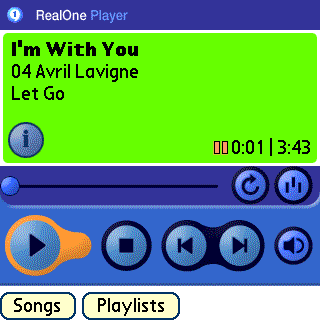 Solitaire – Classic card game with nice graphics.
Adobe Acrobat Reader for Palm OS – Enables users to view PDF documents
transferred from a desktop computer to a Palm handheld.
Infinity Softworks powerOne Personal calculator – Advanced expandable and
customizable calculator.
Phone Link Updater (NOTE: Windows only. Internet download required.) – Allows
you to download the latest phone drivers so that you can use your PDA with a
mobile phone.
Telephony/SMS – Enables users to connect their Palm handheld to a GSM-enabled
compatible mobile phone. Users can send and receive SMS messages via their
handhelds when used with a compatible GSM mobile phone. (NOTE: Remote email/SMS
access requires an Internet Service Provider account.)
VersaMail™ 2.5 (NOTE: Desktop is Windows only.) – Powerful email application
that will work with up to 8 separate accounts.
As far as the software goes, I really can't complain (except for the lack of
a file and backup manager). All the freebies are great, and everything just
works simply and quickly as you would expect.
I'm really very pleased with the Zire 71. I am confused as to why Palm
decided to turn the Zire line into something spizzy instead of sticking with the
plain Jane style as it was originally. I can't help but wonder why a Tungsten |
T with a better screen and a camera wasn't released instead. But I guess that's
not for us to know. Do I recommend this PDA? You better believe it! The screen
alone (in my opinion) makes it a contender for anyone that likes to read e-books
on their PDA. Your eyes will thank you. Add in the camera and snappy
performance, and you've got yourself a great little PDA.
Price: $299
Pros:
FANTASTIC display
Built-in camera
Snappy performance
Cons:
Slippery case
All the new desktop software appears to only support Windows PCs and not Macs
File manager and backup manager software not included

Product Information
Price:
299.0
Manufacturer:
Palm
Pros:

FANTASTIC display
Built-in camera
Snappy performance

Cons:

Slippery case
All the new desktop software appears to only support Windows PCs and not Macs
File manager and backup manager software not included