We use affiliate links. If you buy something through the links on this page, we may earn a commission at no cost to you. Learn more.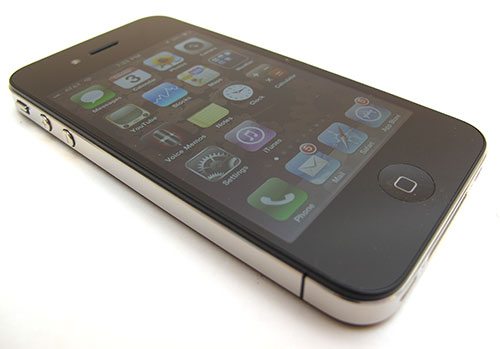 I've been using the Apple iPhone 4 since the day it was released. I ended up buying one without a contract since mine isn't up for renewal till March of 2011. It was a pricey gadget purchase at over $500. Of course that never stopped me before 😉 But let's see if I'm still happy with my purchase after 45 days of living with this smartphone.
Hardware Specifications
Operating System: iOS 4
Memory: 16GB or 32GB versions available
Display: 3.5-inch (diagonal) widescreen Multi-Touch retina display, 960-by-640-pixel resolution at 326 ppi, 800:1 contrast ratio (typical)
Wireless: UMTS/HSDPA/HSUPA (850, 900, 1900, 2100 MHz)
GSM/EDGE (850, 900, 1800, 1900 MHz)
802.11b/g/n Wi-Fi (802.11n 2.4GHz only)
Bluetooth 2.1 + EDR wireless technology
Digital Camera: 5.0MP, Video recording, HD (720p) up to 30 frames per second with audio
Battery: Rechargeable lithium-ion, Talk time: up to 7 hours on 3G, up to 14 hours on 2G, standby time: up to 300 hours
Internet use: up to 6 hours on 3G, up to 10 hours on Wi-Fi
Video playback: Up to 10 hours
Audio playback: Up to 40 hours
Size: 4.5 x 2.31 x 0.37 in (115.2 x 58.6 x 9.3 mm)
Weight: 4.8 ounces (137 grams)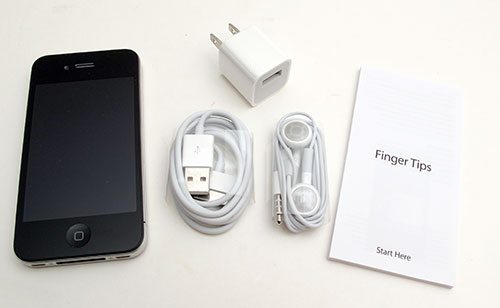 Package Contents
iPhone 4
Apple Earphones with Remote and Mic
Dock Connector to USB Cable
USB Power Adapter
Documentation
Hardware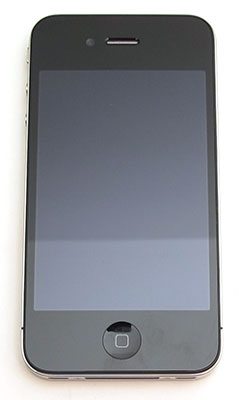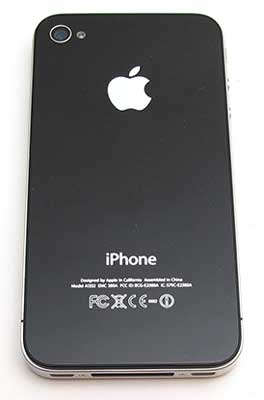 I really like the updated physical design of the iPhone 4. It's thinner and sexier in my opinion. I really like the way the display and back surface go from edge to edge without a bezel for dirt and dust to collect. This phone feels like it has been carved out of a solid block of glass. I love the feel of it in my hand. It's really solid and easily passes the gadgeteer squeeze test. This baby doesn't flex, creak or crack when I squeeze it and there are no rattles when I shake it.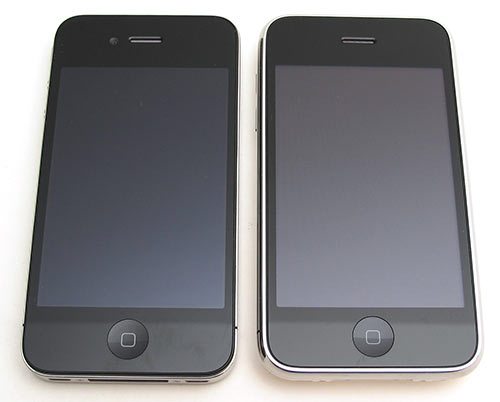 Here it is next to my iPhone 3GS. You can't tell much of a size difference looking at them from above…

But from the side, the difference is very noticeable. The iPhone 4 now has a stainless steel band around the sides. This band is the antenna of the phone. I'm not going to go into the whole deal with the antenna problems with this phone. I'm sure everyone is sick of hearing about this issue by now anyway. I'll just say that I've been using my phone without a case and have not had one dropped call in the 45 days that I've been using the phone. That's not to say that everything is peaches and cream with my call quality though. I've been an AT&T customer for years and my call quality has pretty much sucked for all of those years. It's not unusual to have clicks and the occasional outside call that bleeds in.  The number of bars go up and down for no apparent reason. I've had this with any and all GSM phones that I've ever used. Phones will go back and forth from 1 bar, to full bars and all bars in between, while sitting in the exact same spot. So go figure.

On the left side of the phone, you'll find the mute switch and volume buttons. I like the individual volume buttons and find them easier to operate than the rocker switch that the previous iPhone versions used. The buttons are raised and have good tactile feedback, making them very easy to find and press with your thumb while in a call.

The right side is the new location for the SIM card slot. Good old Apple decided to go with a micro SIM card, which means that you'll (I'll) need an adapter if I wish to use the same SIM in a different GSM phone. Grrrrr. I still haven't ordered an adapter.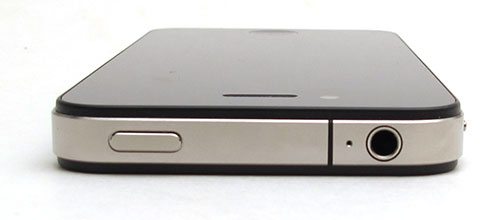 Along the top edge, you'll find the on/off wake/sleep button, 2nd microphone and headphone jack.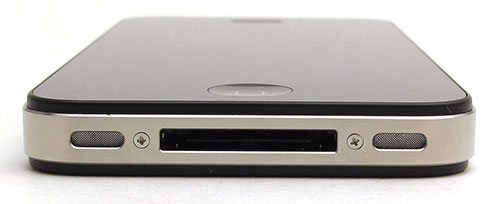 The bottom edge has the main microphone along with the dock connector and speaker.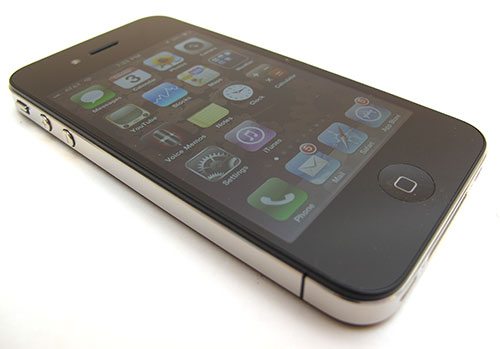 The front of the phone has the familiar home button, speaker and a front facing VGA camera that can be used for the built in FaceTime application, as well as for self-portraits.
The previous iPhone had a great display, but the new iPhone 4's retina display is just plain gorgeous. It's true, you can't see the individual pixels at all. Screen sensitivity remains the same. It's still easy to scroll, pinch and zoom using your fingers. The iPhone remains my favorite finger friendly display.
FYI: the display is still difficult to see in direct sunlight…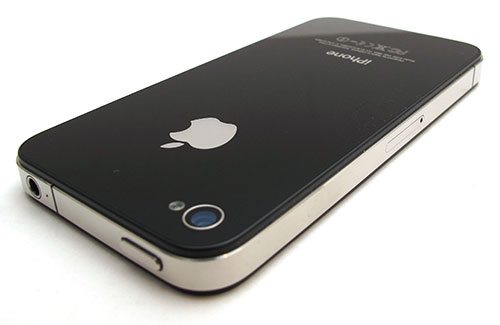 One the back you'll see the 5MP camera lens and the new LED flash next to it.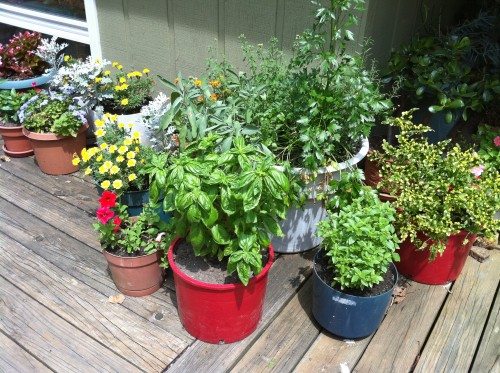 Here are a couple sample pictures taken with the iPhone 4. You can click them to see the original sized image. I'm pretty happy with the image quality of this phone. The colors are vivid and the images are sharp. I've always been pretty impressed with the cameras in iPhones, so I don't notice much difference except for more pixels.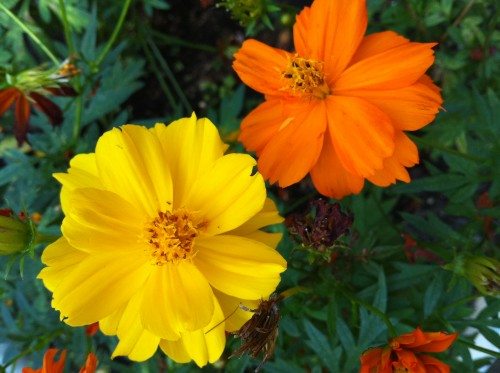 The iPhone still does great with macro shots. That's one of my main criteria for a mobile phone camera and the iPhone passes the test.
It also does a pretty decent job of capturing video. My Flip UltraHD video camera doesn't get used anymore because the iPhone 4 does such a good job. The only thing to keep in mind though is that even though the specs say that it will record at 720p, if you upload to Youtube via your iPhone or email the video file to yourself, it will compresses it first. The resulting 568 x 320 resolution video looks pretty bad (see first video sample below). If you want the uncompressed video off your iPhone, you can import the video into iPhoto (on a Mac), or use a free iPhone app like Pixelpipe to transfer the files. Check out the samples below.
Video exported from iPhone directly to YouTube
Video imported into iPhoto on Mac from iPhone, then uploaded to YouTube
Video imported into iPhoto on Mac from iPhone, then uploaded to YouTube
So, we have a new form factor / case style, a better display and a better camera (actually dual cameras). You might be wondering how the phone performs as an actual phone and how well the battery lasts.
Call-wise, I don't really notice anything different than my iPhone 3GS. I can make calls and receive calls. Call volume is fine. Call quality will depend entirely on how good AT&T is in your area. Although the coverage is good here in Columbus, Indiana. Call quality isn't the best. I don't blame the iPhone for this though. As I mentioned earlier, I've had the same issues with all GSM phones I've used with this carrier. I thought things might improve when we recently received 3G coverage, but nope… it's still the same. In other words, it's crappy. Although I don't experience dropped calls, I often problems with clicking and bad audio quality.
Another thing that annoys me is that I can have full bars and not be able to check the temperature with the weather app or my stocks with the stock app. It will just sit there and spin and spin and spin. It's pretty embarrassing when I'm out to lunch with someone new and want to show them something cool with my phone and the data connection just doesn't work. 🙁
As far as system performance, the iPhone 4 is very snappy. Apps load almost instantly. I have no complaints at all as far as that is concerned. I also have no real complaints about battery life. I tend to charge the phone every other day and that works fine for me. My typical daily usage ranges from 10 or so text messages a day, 1-2 calls, 1hr of ebook reading with Stanza, a few minutes of app store browsing and / or app updating and a few minutes use here and there of various apps.
So I pretty much love the hardware minus AT&T's special sauce. Now let's talk a little bit about software.
Software
The two main new software features on the iPhone 4, which are also included in the iOS 4 update that you can also put on your iPhone 3G and 3GS (not all new features are available on the 3G), are folders and multitasking.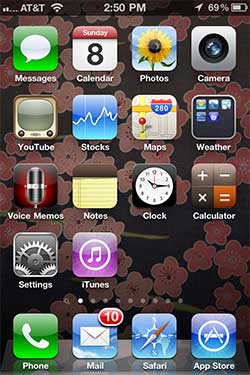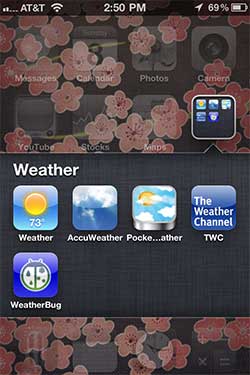 Organizing your apps into folders is really easy to do. Just hold your finger down on an icon and then drag it on top of another icon to create a new folder with those two icons inside it. Each folder can have a maximum of 12 icons. The folder will be named automatically depending on the category of the programs, but you can rename it to whatever you wish.
I like this new feature, but I do wish that there was the ability to change the folder icon. As it is, it shows a teeny tiny icon view of several of the apps that it holds.
I should also mention that you can't drag a folder into a folder…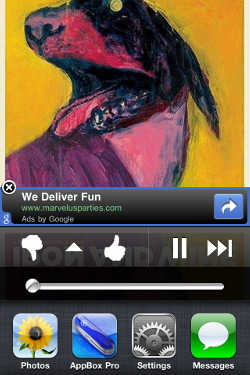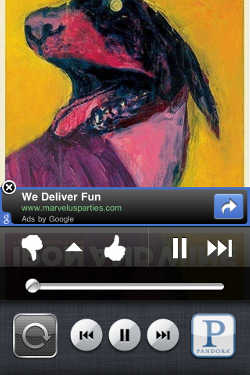 Multitasking is a feature that iPhone users have been begging for since the original iPhone was first released 3 years ago. Apple has finally given it to us – sorta. It should really be called task switching. And it's important to realize that not all apps are multitaskable (yes, I just made up a new word). Check the App Store or the developer's webpage to verify the application supports multitasking.
To switch between apps, you just double press the Home button. When you do, you'll see your recently opened apps at the bottom. This strip of icons scrolls left to right. If you scroll all the way to the left, you may see some special options depending on the app you have open. For example, if Pandora or the iPod app is running, you'll see play controls.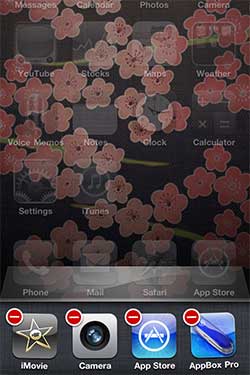 If you want to close an app, you just hold your finger down on the icon till you see the minus symbol. From there, you can just tap the icons to close them. Unfortunately, there isn't a Close All open apps feature.
Other new OS features include:
Unified inbox – Allows you to see messages from all your accounts in a unified inbox, organize messages by threads, open attachments in third-party apps, and more.
ibooks – eBook reader and book store app.
Home screen wallpaper – Change the background wallpaper on your Home screen.
Conclusion
It's probably not going to be a surprise that I have a love / hate relationship with the iPhone 4. I've enjoyed using the iPhone since I purchased the original one. I love the display, the camera and of course, the wide variety of quality applications. That said, I am not a fan of AT&T's call quality and data quality issues in my area. It really annoys me that for the last year,  I paid extra for 3G capability when it wasn't even available in my town. Then when we finally did get it, the experience has been pretty blah. I am not going to blame the iPhone for these problems though because I think it's more of a local carrier issue. But at the same time, it has introduced frustration into the equation and in some ways I regret that I spent so much for this phone.
At the end of the day, I will happily recommend iPhone 4 as a capable and fun to use phone – IF the AT&T coverage in your area is good. If it's not so great, you'll have to put up with the same issues I've dealt with for years. I guess it says something positive about the iPhone that I have lived with the problems because I've enjoyed the phone so much.
Now it's your turn. For those of you that purchased the iPhone 4 for the first time, or as an upgrade, are you still happy with your purchase after 45+ days?
Product Information
Price:
$199 - $299 with contract$599 - $699 without contract
Manufacturer:
Apple
Pros:

Gorgeous display
Thinner case
5MP camera with LED flash

Cons:

Can't turn off video compression before sending to Youtube or Email
Multitasking feature is really task switching