Program Requirements:
Desktop:
Windows 95/98 or NT 4.0 (NT 4.0 users Service Pack 5
recommended)
The onHand PC from Matsucom is a computer
/ PDA that you wear on your wrist like a watch.
Hardware Specs:
16bit-CPU MN10200
128kB-SRAM/2MB-Flash Memory
102×64 pixel LCD display
Internal speaker
Powered by 2 CR2025 lithium batteries
weight .155 lbs
The onHand PC comes in two color styles. Clear and black. The plastic casing is
quite sturdy and solid. I noticed no flexing or creaking when I would squeeze
the sides of the unit. The size of the unit (not including the band) is
approximately 2″ x 2.25″. Overall the onHand PC looked/felt pretty
large and bulky on my wrist. I have small wrists though… I had to use the last
hole in the wristband in order to get it tight enough so it wouldn't slip around
on my arm. The only way I could get the OnHand to be comfortable for me was to
put it over the cuff of my shirt sleeve on my wrist. The wristband which is made
of flexible rubber can be difficult to adjust and I found that getting the watch
off once I got it on was like wrestling an alligator. I think a Velcro wristband
would be easier to use. The onHand is also noticeably heavier than a typical
wristwatch. I kept wishing I could somehow just attach the onHand to my belt
instead of my wrist. Usually I don't feel self conscience wearing or using
gadgets but I did feel a bit geeky using the onHand. I think this was mainly
because it is so large and is more masculine looking that I liked. I'm sure it
would look much better on a guy.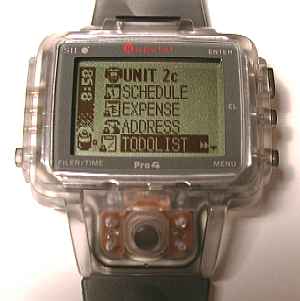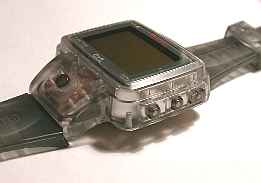 The first thing you notice about the onHand PC is the large LCD display. The
viewable screen size is approximately 1.1″ x 0.75″. The screen
resolution is 102 by 64 pixels or approximately 5 lines of 20 characters in the
normal font. I would compare the clarity of the display to that of the original
PalmPilots. It has the same black letters on a greenish gray background. For dim
lighting conditions, there is a backlight that works really well. You have the
option to set the light to stay on from 1-10 seconds or to be manual (only on
while you hold in the backlight button).
Directly below the screen is the joystick. This little stick allows you to
easily navigate screens and menus in 4 directions using your thumb. Navigating
this way is relatively quick and easy. The onHand PC interface reminds me of a
Windows Explorer type browser. You can navigate in and out of folders. Even
entering data using it isn't all that horrible. It seems much quicker than
entering data on a REX PDA for example.
Above the screen is the IR port. You can beam information to/from other people
that have the onHand PC. I wasn't able to test this feature. It would be
terrific if you could beam info to/from a PalmPilot or WindowsCE PDA.
On the left side of the unit there is one button that will bring up the filer or
display the time if you hold it in. Above it are three spring loaded connections
for the serial docking station (I'll talk more about it later in the review). On
the right side of the unit there are three buttons. From top to bottom, there is
the Enter button, Backlight button and Menu button. All of the buttons are the
same size except the Enter button which is twice as large as the others. All of
the buttons are easy to press.
The underside of the onHand PC has a metal base with the battery compartment. To
open the compartment, you need a coin. The unit uses two standard watch-sized
CR2025 Lithium batteries. They will last approximately three 3 months with power
management turned on. You can choose from several power settings. Auto Off will
turn the unit off after a 10sec – 10mins interval that you set. Always On will
keep the unit on all the time. Auto Timer will let you set a time period when
the unit is on during the day. With this last setting, you can set it so that
the onHand is always powered on from 7am – 5pm for example. Battery life will be
considerably shorter if the power management is left off and the watch operates
at full power, even at night. The onHand will alert you when the batteries are
low. When the unit powers off, it only takes a split second to turn it back on
again. Touching any button or the joystick will turn it back on. It would be
nice if the time would be displayed even with the unit was powered off. I found
it a little annoying to have to touch a button just to see what time it was.
The onHand is water resistant but not waterproof. You probably wouldn't want to
submerge it.
The onHand PC comes with a small serial docking station for syncing data to a
desktop PC. The dock is plastic and holds the onHand via a spring loaded lever.
Getting the unit in and out of the dock is quick and easy. The docking station
requires the use of a COM port and has a max speed of 38,400 bps for
transferring data to the desktop PC.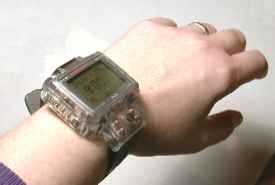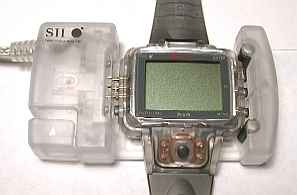 The onHand PC comes with nice PC Desktop software. The Desktop Applications
Software includes the onHand desktop PC versions of the address book, scheduler,
memo, to-do list, and expense tracker. The Desktop Applications Software also
includes the file manager, control panel and synchronization software for the
onHand PC. Plus, the Desktop Application Software comes with several bonuses
like an image converter, world time editor and alarm sound editor.

The only bad thing I found about the desktop software was that in order to
run the programs, you had to put the onHand in the docking station. It actually
has to read the data off the onHand PC…  I could be wrong but it almost
seems like it doesn't save a copy of the data on your Desktop PC but just looks
at the data on the onHand.
The address book application is pretty simple. It displays the entries
alphabetically. It will let you enter the following information: Name,
Telephone1, Job title, Company, Telephone2, Fax, Cell phone, Pager, Email1,
Email2, Address, and Memo. There is also a public/private toggle that you can
set. Entering a person's info on the onHand can be tedious / time consuming
using the joystick so it's quicker  to enter them via your desktop
software. The desktop syncing software is compatible with the following software
products:
Microsoft Outlook 97/98/2000
Microsoft Schedule 7.0a and 7.5
Symantec ACT! 3.0, 4.0, and 2000
Lotus Organizer 97GS, 98 and 5.0
Goldmine 2.5, 3.0, 3.2, 4.0 and 5.0
3Com Palm Desktop 2.0 and 3.0
The onHand comes standard with 2 megabytes of Flash Memory. Storage capacity
will vary depending on the size of each PIM (personal information management)
record and any additional user-installed software downloaded into the onHand.
onHand PCs with the standard applications can store approximately 13,000 records
of 111 character (average address record consisting of the name, address and two
phone numbers).
The Scheduler application can display a monthly calendar that has little dots
beside the days when something is scheduled. An entry can have the following
information: title, date, time, place, memo, and alarm. This is a very simple
application and does not allow you to enter repeating alarms on the device. You
can however make entries repeating by editing them with the desktop software.



Alarms can be set in the clock apps. You can set 4 different alarms in the clock
applications. They can be set to go off daily or weekly. You can choose from
several alarm sounds/songs including Fur Elise, Silent Night, Wedding March,
Chimes etc. My unit had 19 different tunes that you could choose from. The alarm
volume is pretty loud. Plenty loud enough to alert you when you're wearing the
onHand PC.
The To-Do application is quite basic. You can enter an item that has a checkbox
that you check when the item is complete. You can also assign a priority to each
entry.
The Expense application lets you track your monthly spending. You can enter
expenses and assign them to groups such as private or business. You can also
associate a type with each entry like "airfare",
"breakfast", etc. You can view the total monthly expense total or see
each day's dollar entries.
What about games? Of course there are games for the onHand also. There were
several games installed on my demo unit. One was called Tomato and was a
variation of Tetris. Another was called Snowboard and consisted of navigating a
little guy down a mountainside. Yet another game was a variation of Reversi. The
games are simple but fun and made the onHand seem like a Gameboy on my wrist.
Other apps that were included on the PDA are an image viewer that would even let
you zoom in. Several different clocks including a world clock. There are also a
growing list third party games and programs that you can find to install on your
onHand PC. Everything from Pong games to divers watches and astrology programs.
The overall speed of the onHand is pretty snappy. The only thing you have to
wait on is the loading of applications. This usually takes about 3-5 seconds.
Only one application can be running at a time so every time you want to run
something else (Address book, Date book, or a game), it unloads the currently
running program and then starts the new one. It would be nice if more than one
program could be running at once so that you could quickly switch between them.
But, this isn't a big deal.
Software developers can download the onHand PC Software Development Kit (SDK)
for free. The SDK is also available on the CD-ROM that ships with the onHand PC
or it can be downloaded from the main onHand PC website.
I really enjoyed playing with and using the onHand PC. I don't think I would use it
as my full time PDA though because it just wasn't comfortable on my wrist and
isn't as powerful as the Palm V which I've come to rely on. The onHand would be
great for someone that needs a very simple address book,  scheduling, and
to-do programs and does not want a larger handheld device but one which they can
wear. I would compare the onHand with a REX PDA. If you like the REX and wish
you could wear it, then the onHand might be a good alternative for you. The
onHand PC makes a great fun watch but for PIM functions I don't think the
applications have enough features yet. If you want a more powerful address book
and date book, and don't need to wear the PDA then I would say spend your money
on a Handspring Visor or Palm Organizer.

Price: $279
Pros:
Wearable.
Has basic PDA applications built in.
Comes with an SDK (Software Developers Kit).
Cons:
Large for a wrist watch.
Main PIM apps are very basic.
Some of our links in posts like this one are affiliate links, which means that we may receive a small commission on purchases at no cost to you.