We use affiliate links. If you buy something through the links on this page, we may earn a commission at no cost to you. Learn more.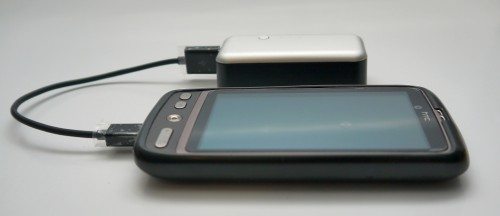 We rely so much on our smartphones these days, not just for phone calls but also for the information and access that they supply.  Bigger screens are nice, but it's always a compromise between screen size, weight and battery life.  What do you do when you're not near a power point all day (or multiple days) and really need your phone to stay charged?  Just Mobile's Gum backup battery is a portable solution for charging on the go.
Packaging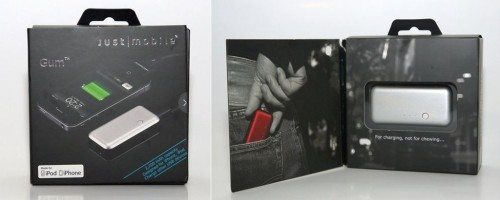 The unit comes in nice and neat cardboard packaging in a "booklet" style box.
Contents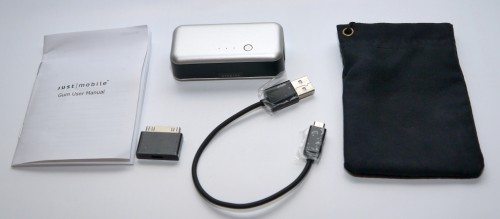 Inside the box, an instruction manual (in multiple languages), the Gum itself, a micro-USB cable , an Apple dock connector adapter, and a soft carry bag (as well as couple of Just Mobile stickers and product catalog).
The top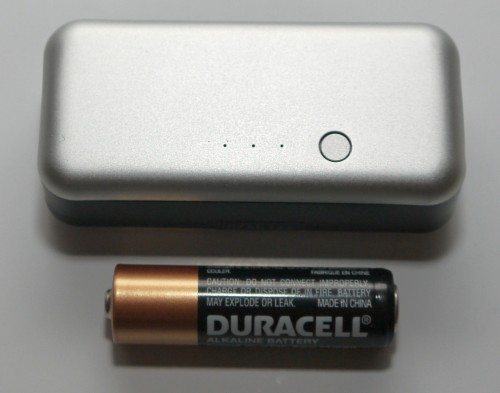 It's a pretty small little unit only 7.73 x 3.64 x 2.28 cm (2.9 x 1.36 x 0.9 in), just a bit bigger than a pack of gum – hence the name. If you enlarge the packaging picture you'll see that their slogan is "For charging, not for chewing…" 🙂
It's a sleek-looking unit with brushed aluminium top and bottom with a black plastic layer in between, and it's very reminiscent of, and dare I say it, many Apple products. If you told me it was made by Apple, I certainly wouldn't be surprised. For the even more fashion conscious amongst you, it's also available in red or black. 🙂
Stored in the approximately 73 gram (2.56 ounce) unit is a 2,200 mAh Lithium Ion battery pack. On the top is a single on/off button and three LEDs which indicate its charge and charging state.
Unlike some cheaper portable battery solutions, the Gum is Apple-certified for  iPhone and iPod, and also ROHS compliant, both things that are nice to know and are indicative of the quality of the product.
The bottom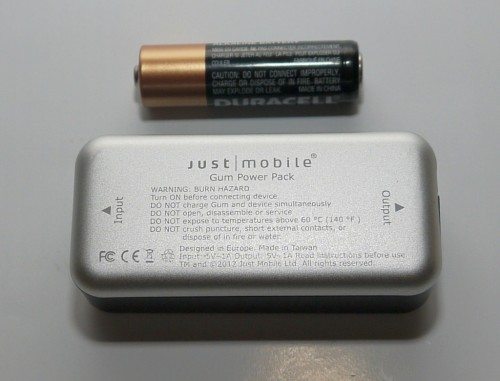 There's not much on the bottom, just a few warnings and instructions and pointers to which port is for output and input. Because of the aluminium finish, I'm not sure how durable the housing is from scratches (just like iPods and iPhones), and I'll most likely add some Sugru feet to protect it. It's nice that they throw in the little bag to protect it while it's rattling around in your gadget bag.The bag itself actually has two compartments in it and I'm assuming that one's for the cable and one for the Gum itself, but is this a sign that they're concerned about scratching ? 🙂
Input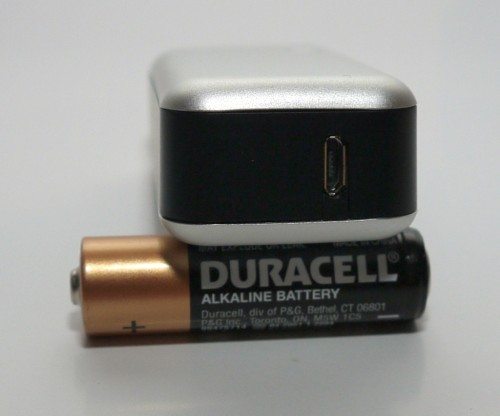 On one side is a micro-USB for charging the unit which, using a standard 5V 1A AC adapter, takes around 3 hours. It's worth noting that there's no power pass-through feature, so you can't charge the Gum and your device at the same time; you'll have to have the Gum juiced up beforehand.
Output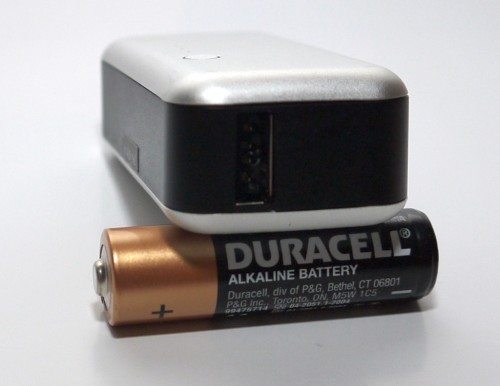 On the other side is a standard USB socket. This is much more useful than having some sort of proprietary connector on it as it can then be used with whatever USB cable you want. So using the appropriate cable I can use this to charge my devices with mini-USB, micro-USB , Apple or proprietary connectors (like my Jawbone II cable). The port puts out 5V 1A, so it should easily charge most USB-chargeable devices.
The supplied cable can be used in one direction to charge the battery and then turned around and used to charge your micro-USB or Apple dock (with adapter) device.
Test rig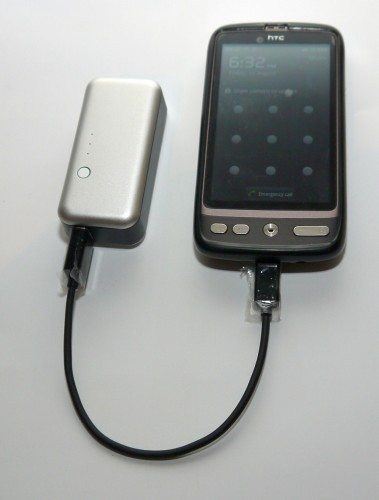 I haven't got a fancy new phone (I'm trying to resist temptation to purchase a Google Nexus at the moment 🙂 ), so I'm testing on my 2-year-old HTC Desire.  The phone's got a 3.7″ AMOLED screen and comes standard with a 3.7V 1400mAh battery. The standard AC charger that comes with it is 5V 1A output.
Recharge 1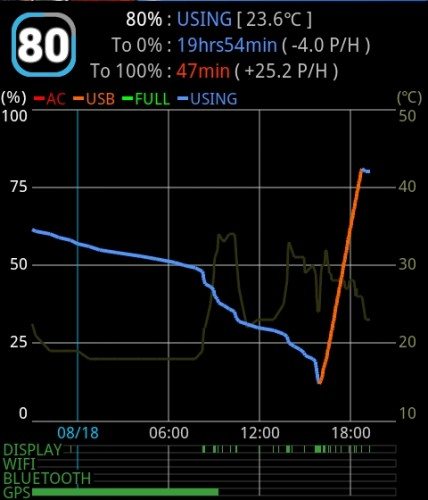 My phone was down to around 12% at 4pm, so I attached the Gum, which I'd fully charged with an AC adapter (5V 1A) the night before. While charging, the LEDs flash; the number of LEDs indicate how much battery life is left in the Gum.  You can see that the phone has charged about 3 hours, but the Gum died at around 80% charge, so really only  a 68% gain. The phone wasn't used at all over the charging time, just glanced at to see how the recharge was going. The low recharge capacity could be for two reasons: my Desire's battery is getting a bit old, or  the Gum's internal battery actually needs to be conditioned. Time to test further………
Recharge 2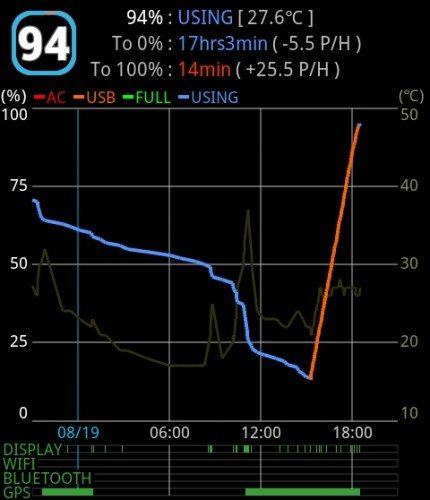 That looks better, from 13% to 95% in 3 hours, still not the full 100% though.  Looks like cycling/calibrating the pack is making a difference. It's currently charging again 🙂
Recharge X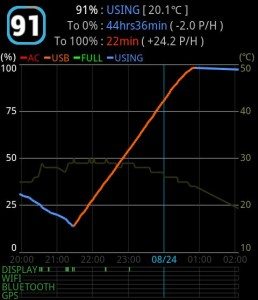 So here's the graph now after using the Gum over the last couple of weeks or so. The Gum's been cycled from full to discharged everyday.  You can see that it now charges my phone from 15% to (almost?) 100% 🙂
So once you get your Gum  remember you need to cycle the battery a few times before you'll get its full potential.  Something to keep in mind so you won't be disappointed when you first receive and use it. 🙂
Charge time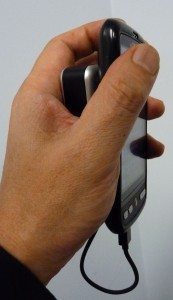 On their website they state that Gum will recharge an iPhone up to 90% in one hour, but you can see from the graphs above that it's taking around 3 hours to charge my phone. For me it's not an issue as I'm happy  to unplug the phone when I want to use it if it's charging  and then re-plug it in when I'm finished. The other nice thing is that the Gum is actually so small and light that I can still even use my phone with the Gum held on the back while using one-handed.
All my test were done with my phone turned on and active. If I really wanted to speed up recharge time I could have turned my phone off, but then of course you wouldn't be able to use it or make or take phone calls at the same time 🙂
Other tests
Just for completeness I re-charged a number of other devices using the Gum. My Jawbone II went from flat to full in  approximately 40 minutes with no drop in battery power on the indicators. I've also used the Gum to recharged my X-Mini Kai, Kindle, and my Go-Pro HD2 .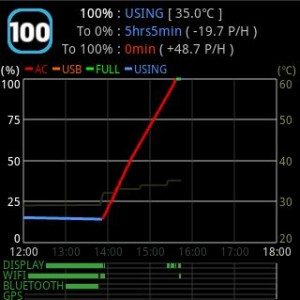 For interest, here's the charge graph from my much newer LG Optimus Spirit, my Android phone that's not used as a phone but as an MP3 player, GPS for geotagging, geocaching and car. Its 3.7V, 1540mAh battery went from 15% to 100% in around an hour and a half.  So be aware that the recharge time you require will depend on the device and it's battery's condition.
Other matters
It's worth noting that the Gum doesn't turn itself off once your device is full, a function that is available on some backup batteries. So if you set your device to charge overnight and it doesn't flatten the Gum, you do need to remember to turn it off in the morning.
It will be interesting to see how long the Gum holds its charge for if it's not used, I mean it's no good if it's flat when you actually have to use it. The user manual does advise that for best performance the unit should be discharged and recharged once every two months.
Conclusion
The Gum is more expensive than some  of the external batteries of about the same capacity out there however it's very well designed, looks good and is well constructed. The Apple and ROHS certification gives an additional  level of comfort in regards to the  quality of the components used in manufacture, something than can be a bit unknown in some of the cheaper chargers, especially those Asian "Yum Cha" ones. 🙂
Because of the USB port the Gum isn't constrained to being used just with your phone or a particular brand of phone, as stated above I've also used this on my MP3 player, GoPro HD2, Kindle, X-Mini Kai and my Jawbone just by changing cables. This makes it a very versatile external charger.
If you've got small USB charged devices (Max 5V 1A) that may need re-charging when you're out in the field then the Gum is a great little backup device to carry around in your gadget bag. It's small size and weight means it's not an inconvenience to have on you, even in your trouser or jacket pocket should you so desire. You never know when you might just need that extra boost of juice 🙂
Product Information
Price:
$49.95
Manufacturer:
Just Mobile
Requirements:

USB Port or AC Charger (5V 1A) to charge the Gum

Pros:

-Small and lightweight
-Well made
-Quality components
-Aesthetically pleasing
Enough juice to charge your phone from flat to full

Cons:

-Not sure about the durability of the aluminium finish
-No power pass through mode
-Needs some feet