We use affiliate links. If you buy something through the links on this page, we may earn a commission at no cost to you. Learn more.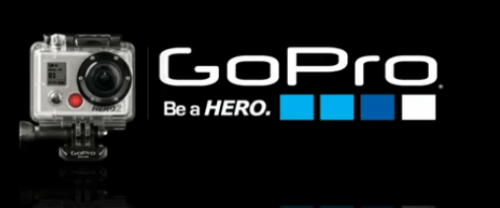 I've reviewed the Drift HD and the Swann Freestyle HD action cameras (see related links), and while I haven't been able to give you any extreme sports footage, hopefully the reviews have been useful to those considering a POV camera.  The GoPro range of POV cameras have become the de facto standard by which most other cameras of this genre have been measured. I was lucky enough to be sent their latest release, the HD HERO2 Outdoor Edition camera, from their Professional line.  Their slogan for the HD HERO2 is "2X More Powerful in Every Way", and while I don't have an older generation to measure this against, will the GoPro come out as the POV camera to have ?
The GoPro HERO2 HD comes in 3 different flavours to cater for different markets; Outdoor, Surf, and Motor Sports.  While the camera and housing remains the same, the mounting accessories you get with the kit differ to suit that sport.  GoPro sent me the Outdoor Edition, probably the most relevant for the sort of activities that I'll be using this sort of camera for.
What's in the box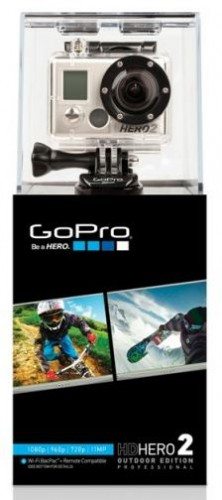 The GoPro camera comes in a neat hard plastic display box on the top.  In the bottom comes the accessories in two smaller boxes. Note that once you remove the two stickers holding the plastic display lid on, you can't easily put it back on again (yeah small and picky, I know)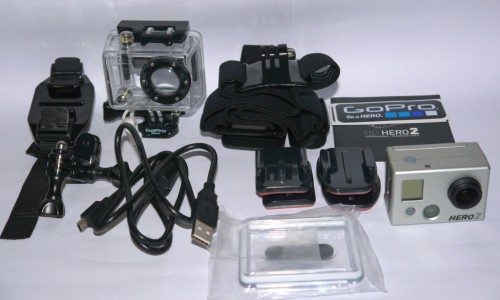 As mentioned above there's three versions of the HERO2. The Outdoor edition comes with:
1 11MP HD HERO2 Camera
1 Waterproof Housing (197′ / 60m)
1 HD Skeleton Backdoor
1 Rechargeable Li-ion Battery
1 USB Cable
1 Vented Helmet Strap
1 Head Strap
2 Curved Surface Adhesive Mounts
2 Flat Surface Adhesive Mounts
1 Three-Way Pivot Arm
Assorted Mounting Hardware
Instruction Manual (English and French)
Stickers (everyone loves free stickers 🙂 )
 Size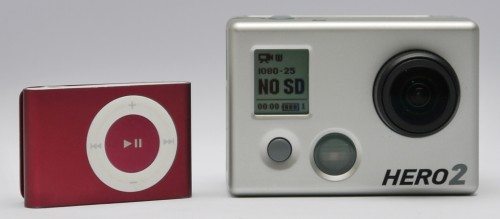 Pictured here with an iPod Shuffle 2G for size comparison, the GoPro is pretty small, measuring in at1.6" x 2.4" x 1.2" (42mm x 60mm x 30mm)  and weighing in  at 27.2 ounces. On the front of the units is the power on/off/option button, an activity LED, a small LCD that gives displays your settings, and a lens.  The lens is a fixed-focus f/2.8 in front of a 1 /2.3" CMOS image sensor.  On the bottom, there's an activity light; there's 4 of these all together so that you can have multiple views of when you're actually recording.  You can either have all 4 or only 2 (back and front) activities lights active. One thing that's missing to me is a standard 1/4″ tripod mount on the bottom.  Sometimes when the weather's good I'd like to use the naked camera on  a tripod to do, say, time-lapse.
Controls and ports
Never miss one of our posts again. Sent MON, WED, and FRI with the latest gadget reviews and news!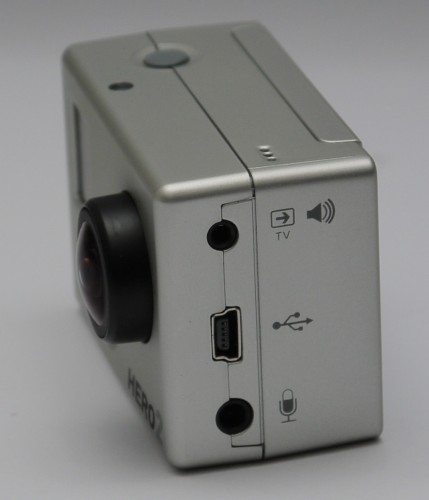 On the left hand side, we have an AV out port, a miniUSB port for charging and data transfer, and a stereo 3.5mm jack.  Again I'm going to be picky and wonder why they couldn't replace the miniUSB port with a microUSB connector, a much more common connector these days.  On the top is a microphone.  You can see from the picture above the dome-shaped lens, which is left a bit "exposed".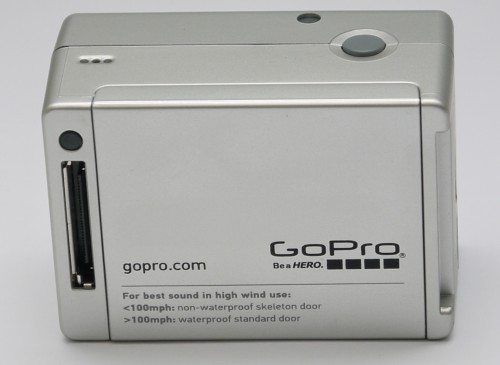 There's not much on the back: just an activity light, a HERO BUS  port for connecting optional accessories, and the battery compartment.  The camera uses a 3.7V 1100mAH battery that GoPro states should last up to 2.5 hours.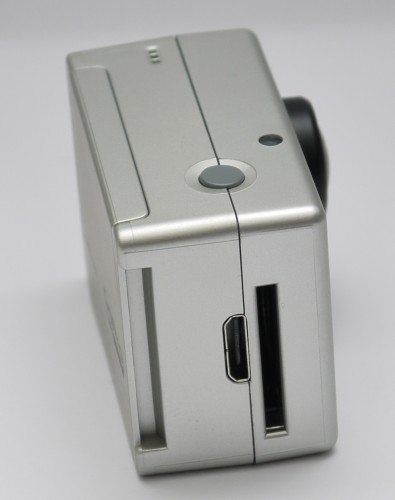 On the right hand side, you'll find a mini HDMI connector and an SD card slot.  The one neat thing about having an SD card slot is that I can use my Eye-Fi card in the GoPro, which reduces the amount of plugging in or SD card insertion and removal needed, or I can even backup my photos or videos directly to my Android Tablet while "on location". Be aware that the Eye-Fi will suck more battery juice, and I haven't yet done any extensive testing on how bad the extra power draw effects camera battery life or how badly the waterproof  housing will affect the range of the Eye-Fi .  On the top are another activity light and the shutter/select button.
Menu Settings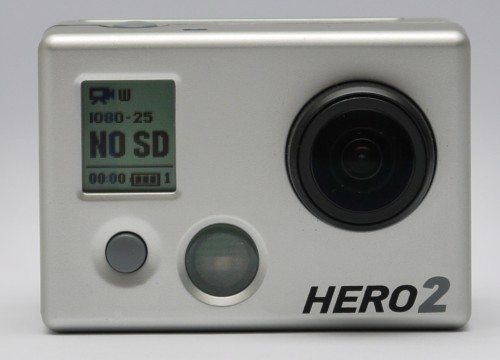 The LCD on the camera allows you to see and set menu options and there's only two buttons that allow you to move around and select options.  Above you can see the camera's set to video mode, resolution is 1080P @ 25 fps, there's no SD card in the camera, and the battery is full.    The front power/option button turns on the camera and can be used to cycle through the modes and menu options.  The top shutter/select button is used to select an option.  The system is pretty straight forward, and anyone who's played around with monitors will have no issues working it out – though it can be a bit "long-winded" to cycle through and select some of the more embedded options given you've only got two buttons.

Above are three examples of the screen:
Video Mode, 1080p wide, 25 fps, 1 video recorded, 1 hour and 1 minute of video left, battery full, using the internal battery
Photo mode, 11MP wide, 15 shots on the camera, space for 1093 more photos, full battery, using the internal battery
Menu for choosing video mode, the front option button will toggle down the menu while the top select button will set that option.
Video
Resolutions
1080p: 16:9 1920×1080, 30FPS narrow, medium, wide*
960p: 4:3 1280×960, 48FPS + 30FPS wide*
720p: 16:9  1280×720, 60FPS + 30FPS wide*
WVGA: 16:9 848×480, 120FPS + 60FPS wide*
The GoPro HD HERO2 covers a lot of different options for resolution for both video and still shots  .The higher frame rates are great for slow motion, and the 120FPS on the WVGA can give you super slow motion. Video is filmed in H.264 codec, .mp4 File format. Each different resolution has it's own advantages and disadvantages in terms of vertical and horizontal view, field of view, and ultimately, the end file size.
Stills
5 MP Medium, 5 MP wide, 8MP Medium, 11MP wide*
Timelapse .5, 1, 2, 5, 10, 30, 60 secs
10 photo burst mode
10 second self timer
*FOV narrow=90° medium=127° wide=170°
Other options worth mentioning are the ability to record upside down for when you have to mount the camera in unusual positions or locations  and a spot meter mode for glarey scenarios.
Waterproof Housing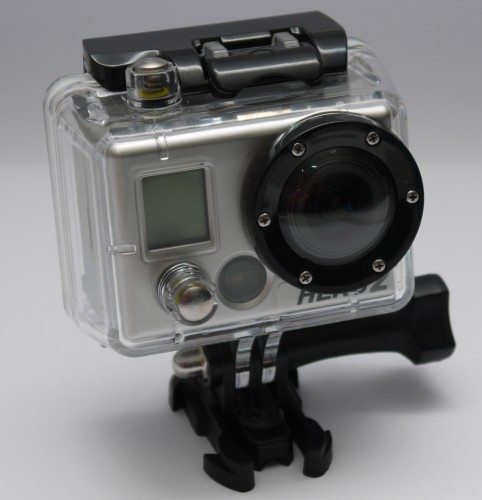 The waterproof housing is rated to 60m and has two buttons so that all the functions are accessible within the housing.  A removable lens cover means that if the most exposed part gets scratched, it can easily be replaced rather than having to replace the entire housing. It's worth noting that the lens is curved. It does leave the lens a bit "exposed" to damage, however the curved lens assists in "shedding" water or mud when the camera is used where it is  being splashed or sprayed. This is great when using the camera above water; however, it leads to blurred video when used underwater.  Because the lens is replaceable, there are a number of third-party options to change the lens to a flat lens for underwater use, and because of the nature of the lens assembly, it can all be done by the end-user.   Seems a bit strange that a company would release a product that boasts 60m waterproof and yet the lens they supply leads to blurred pictures and they don't offer an OEM alternative.  Edit – GoPro has released a flat lense dive housing.
Adding a third party lense option can also allow you to run filters like a circular polariser, on your Hero2.
There's no tripod mount on the waterproof housing, though an additional accessory will allow you to mount it.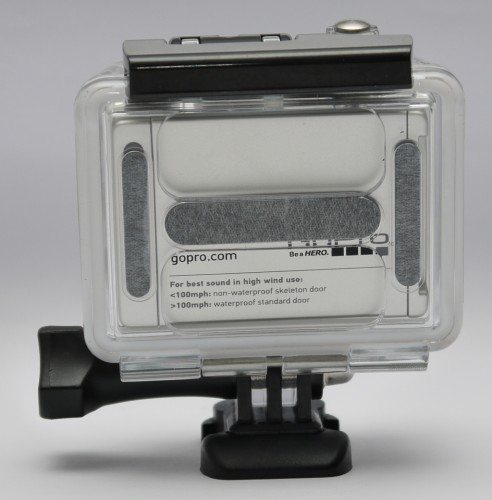 The housing comes with two different backs. The full back completely waterproofs the camera to 60m, the disadvantage being that because the camera is enclosed, the microphones won't work as well. For "milder" conditions where full waterproofing isn't required, a skeleton back allows for better heat disbursement and better sound recording. You can see on the back that they even give you recommendations for which back to use based on your speed.
Mounting System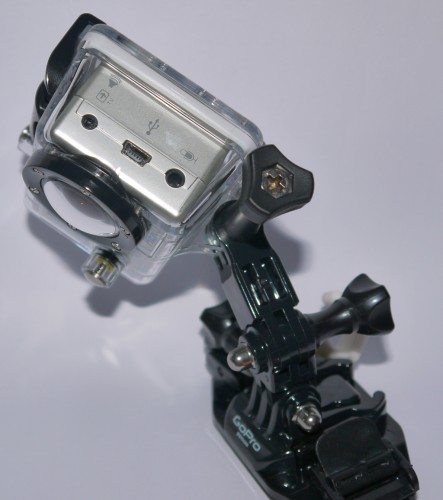 Harking back to my childhood days of Meccano sets, using the rods and screws supplied, you can set the camera into all sorts of strange angles.  Additional joiners and mountings are available from both GoPro and third-party suppliers.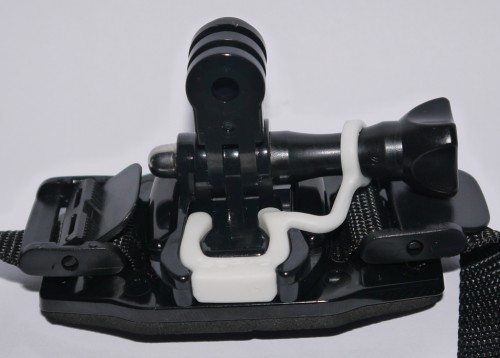 One thing that might save some people a bit of time is if I explain the mysterious white rubber thing that comes supplied with the accessories.  This is used to secure the mounting clip to the mounting bracket, not only to stop it coming loose, but also to reduce the amount of movement in the bracket.
Photos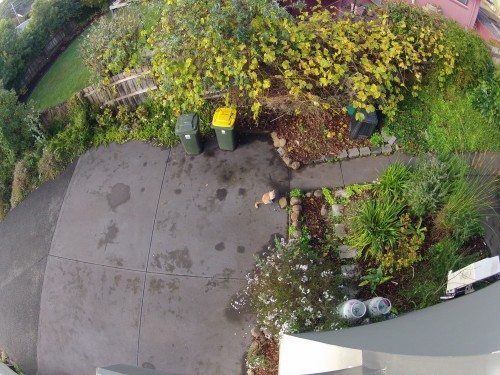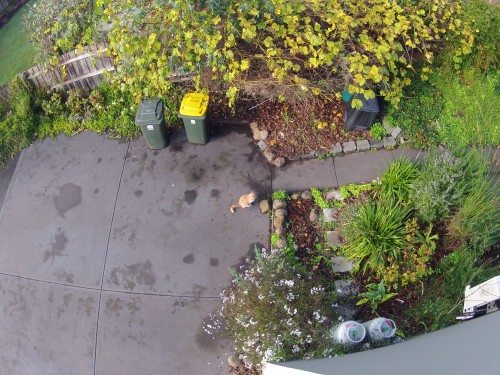 Here are two pictures taken in two of the different Field of View modes (click to get them in their full resolution) . In both pictures, the colours are nice and vibrant and clear. You can see that the medium FOV gives less vignetting, so worth keeping in mind if you want "straighter" pictures. 🙂 While the photo quality won't match a "standard" P&S camera (heck, I suspect even the iPhone 4S will give a "better" photo ), you won't get the nice wide angles without having to add some sort of attachment (which will most likely degrade your picture).
It's worth noting that as standard the Hero2 HD doesn't have any sort of viewfinder to help you frame your pictures or video.  While the wide angle lense means that it's not overly important, if you want to frame something exactly in the middle it's a bit hit and miss, especially given the off centre lense.
Time Lapse

Taken in 11MP mode at 2 second bursts, 931 images stitched with Images to Video at 10fps. Reduced to SD in Moviemaker to take it down from 1.24GB to 33MB. The camera handles the extreme and changing brightness extremely well. If you look closely, you'll see the dog, the cat, and the kid 🙂
Video Quality

Taken at 960 Wide at 25fps, the video presented is clear and crisp. The camera handles the dark to light transition extremely well with no excessive white blow out. If I had to criticise, the colours are quite vibrant – maybe too vibrant.
Low Light Quality

For such a small sensor, the GoPro handles low light extremely well. While there is some noise, the video is still quite clear and crisp, and the video quality doesn't change substantially when going from the dark to light.
Accessories

GoPro produces a large number of accessories to go with their camera lines.  There are all sorts of mounts for different uses, different housings, and harnesses.  They also have 3 currently available premium accessories:
LCD BacPac – gives you the ability to be able to frame your pictures and also play back photos and videos immediately as well as providing an easier menu interface
Battery BacPac – doubles the battery life
3D System – using 2 Hero2s you can produce 3D pictures
Two things about the LCD and Battery BacPacs is that GoPro also includes the extra housing backs to allow you to use these accessories up to 60m.  They include the skeleton backs as well.  The down side is that you can't stack the Battery BacPac and the LCD BacPac; it's either one or the other.
Also soon to be released is a Wi-Fi Bacpac and Remote. This will allow you to remotely control multiple cameras via the supplied remote or with a smartphone or tablet.  You also have the ability to live preview on your smartphone or tablet.
One way you can define the popularity of a product is by the amount of third-party accessories available for that product. There are numerous third-party options available on the market for the GoPro – from alternative mounts and lenses to silicon cases and more.
Final Thoughts
Based on my (limited) exposure to other POV cameras, I can see why the GoPro is so popular out there in the market. The wide range of options for resolution for both video and stills means you have a mode for almost any situation.  The picture quality, even in low light, is extremely good for what you'd expect from such a small sensor. GoPro is actively developing firmware and software releases for their units and the additional accessories available from both GoPro and third parties combined with the high level of support from the user community makes this a fantastic little unit.
Even though I won't be using this for extreme sports, I'll be keeping this in my camera bag to compliment my "normal" cameras.  Its size, waterproof abilities, and its wide angle lens make this a great little companion. I've even purchased the LCD panel for the unit so that I can frame my video and photos better.
The GoPro HD HERO2  does come at a higher price than some POV cameras on the market, and you do have to buy accessories that come standard with other cameras, but IMHO you are getting a premium product in terms of hardware, video and still quality and "support".
Move over Spielberg and Cameron….I'ma coming ! 🙂
Product Information
Price:
$299.99
Manufacturer:
GoPro
Retailer:
GoPro ( or various other outlets)
Requirements:
Pros:

Small and flexible
Lots of options for video and still resolution
Clear and bright pictures
Good low light sensitivity (given the size of the sensor)
Lots of accessories from both GoPro and third party vendors
Good user forum support

Cons:

No tripod mount on camera or casing
More expensive than other offerings.
No viewfinder supplied as standard making it a bit hit and miss framing your pictures or video