Product Requirements:
Device:
Palm m100
For all of us that have been waiting for a custom designed Palm m100 case
that shows off this unique PDA's best features, E&B comes to the rescue,
yet again!
The E&B
m100 Slipper is a black Napa leather case that so perfectly fits the Palm
m100 that I have to say, of all the E&B slipper cases I own – and I own
quite a few – this case takes the cake for flawless fit and function.
You will have to remove the plastic flip lid to insert your m100 in this case
– but you won't even miss it.
You'll notice that the front of the case has a special plastic see-through
window sewn into the flip lid; there is also a finger hole so you can trigger
the time/date function.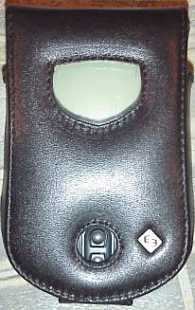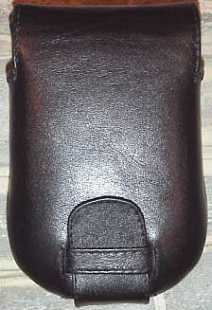 Directly to the right of the finger hole is the discreet & stylish
E&B metal tag.
Black stitching surrounds all of the borders, and it is impeccably done.

Although I usually like it better when there is a single large opening for
the screen and button area – instead of a leather "bar" between the two
–  this
leather strip is so well done that not only does it not detract from the looks
of the case, it also does not interfere with the ease of use for the buttons.
The cutout for the screen is aligned just right, and there is a centered
"dip" at the top for the power button.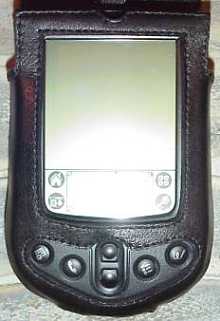 Once inserted, there is no reason to ever remove your PDA from the Slipper:
the stylus is easily accessible when the flip lid is open, as is the infrared
port – you can even hot-sync using the m100's cable with this case.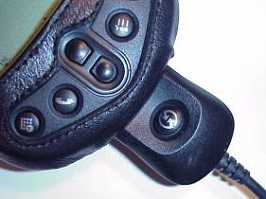 When the tab is closed, the sync-cable insertion point is also protected.
Every curve of the m100 is reproduced here – this is a very form fitting
case. Some thickness is added to the m100, but not too much.
The flip lid is slightly padded, but you'll notice that it has nowhere to
insert an ID or credit card, due to its window & cutout. Not a problem –
E&B has placed a clever pocket behind the m100 that can accommodate a card
or two, and maybe some cash.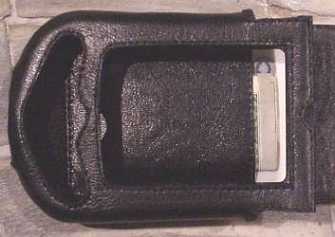 If I had to pick just one feature that I truly like about this case – it
would have to be the use of a tab closure system instead of Velcro. It took me a
couple tries to become proficient at it, but I truly prefer this method!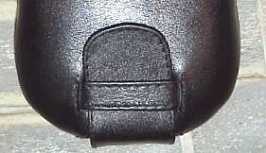 The only con that I can find pertaining to this case, and I mean the ONLY
con, is that you do have to remove your m100 from the Slipper in order to reset
it. It is a minor inconvenience, yet still worth noting.
This is the best case that I have found, so far, for the m100. E&B has
made a winner here – of course, a reset hole would make it absolutely perfect.
Price: $30.95, $33.95 w/clip
Pros:
Custom fit & style
Cutouts perfectly lined up
Retains time/date function when closed
Does not use Velcro
Cons:
Must remove m100 to access reset
button
Support The Gadgeteer
:
We may earn a small affiliate commission from purchases made from buying through links on our site. As an Amazon Associate I earn from qualifying purchases. Learn more.
Product Information
Price:
$30.95
Manufacturer:
EB Cases
Pros:

Custom fit & style
Cutouts perfectly lined up
Retains time/date function when closed
Does not use Velcro

Cons:

Must remove m100 to access reset
button