We use affiliate links. If you buy something through the links on this page, we may earn a commission at no cost to you. Learn more.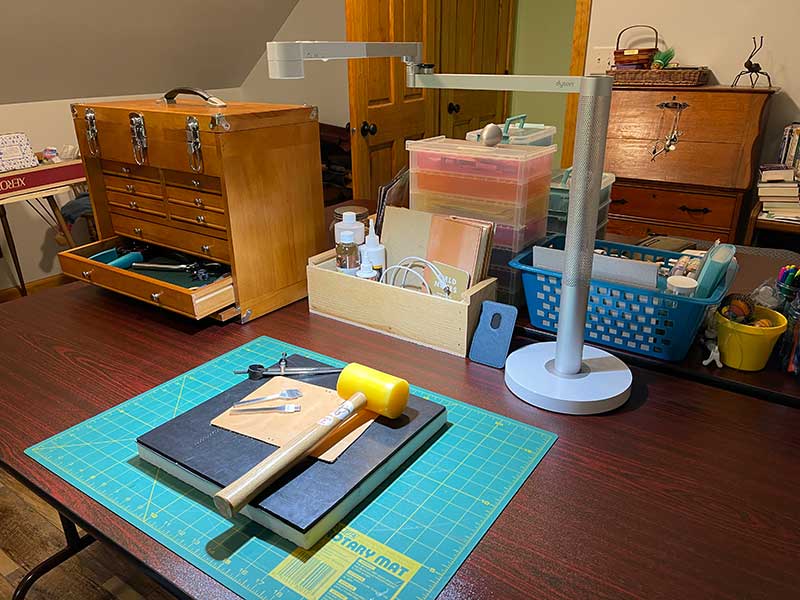 REVIEW – I've been doing a lot of drawing and leathercraft in the last year and if there's one thing that you need to do both of these activities and many more, it is light and lots of it. Light helps me make detailed doodles of crazy characters and light helps me see the holes for the next stitch I need to sew when I'm working on a new leather journal cover. When I saw the Dyson Lightcycle Morph desk lamp, I was impressed by the way it looked and was eager to see if could light up my life. Let's find out if it has.
What is it?
The Lightcycle Morph from Dyson is a unique desk lamp with more than one interesting feature not found in most other traditional desk lamps.
What's in the box?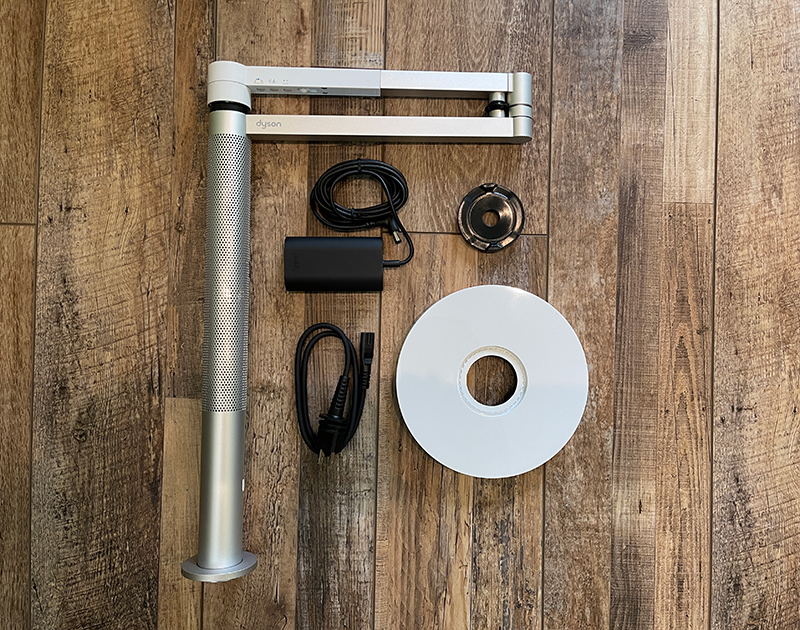 Dyson Lightcycle lamp assembly
Lamp base
Power adapter and cord
Hardware specs
Light source – LED
Lumens – 850lm max
Color Temperature Docked – 1800K – 3400K
Color Temperature Undocked – 2700K – 6500K
Beam Angle – 78 degrees
Dimensions – 20.6 in x 7.8 in, Arm Length – 16.3 in
Assembly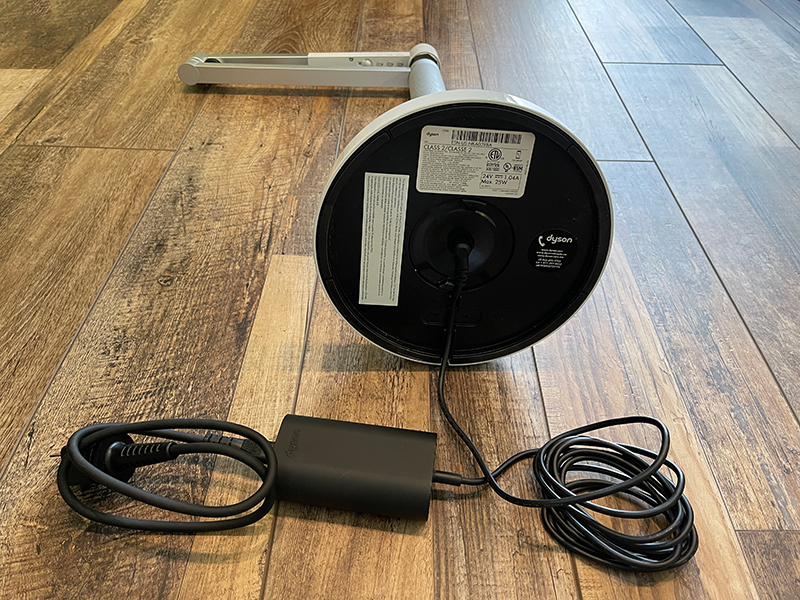 There is some assembly required with the Dyson Lightcycle Morph Desk Lamp, but don't be too concerned because it's easy and the assembly does not require any tools. Basically, all you have to do is screw the main lamp assembly into the lamp base and then plug the included power cord into the bottom of the base and route the cord to the edge of the base. That's it! Easy peasy.
Design and features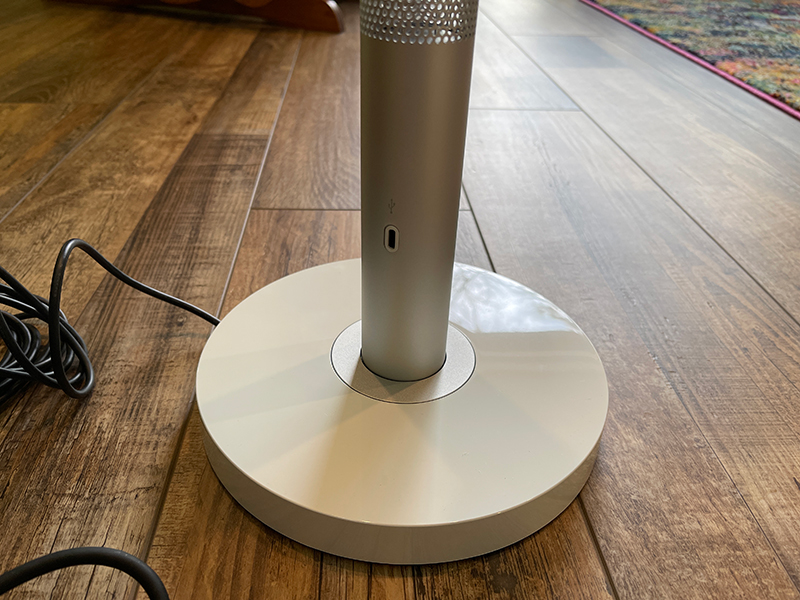 The Dyson Lightcycle Morph Desk Lamp is extremely well made as you would expect from Dyson. In my opinion, Dyson is like the Apple of home appliances. Everything they make looks and feels like a luxury product. The Lightcycle Morph desk lamp is no exception.
First of all, the base is nicely weighted so that it's going to stay where you want it to stay on your desk. It's not going to slide around.
The lamp features a 1.5A – 5V USB-C port on the stem so that you can charge your phone or any other USB-C compatible device without having to look for an adapter and an open wall outlet. Note that it's up to you to supply the USB-C cable for your gadget/device if you wish to use this lamp to charge it.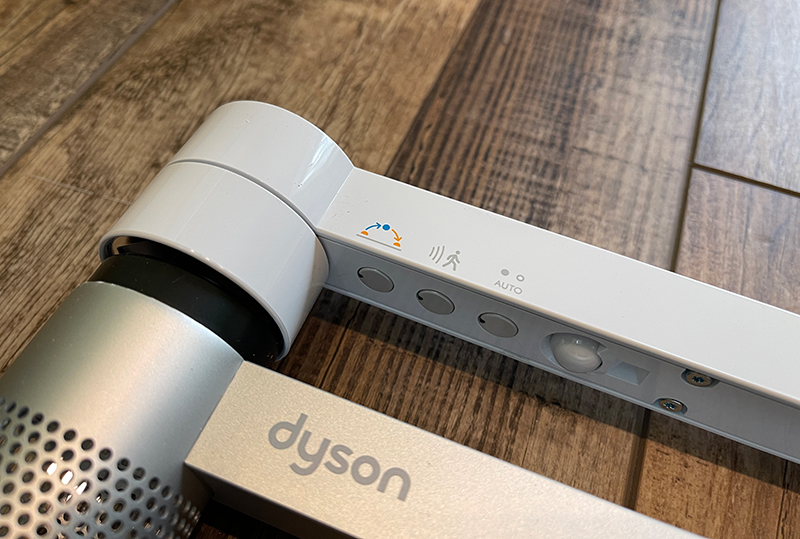 The lamp itself is only about 2 inches across which was concerning when I first saw it, but more about that in a minute.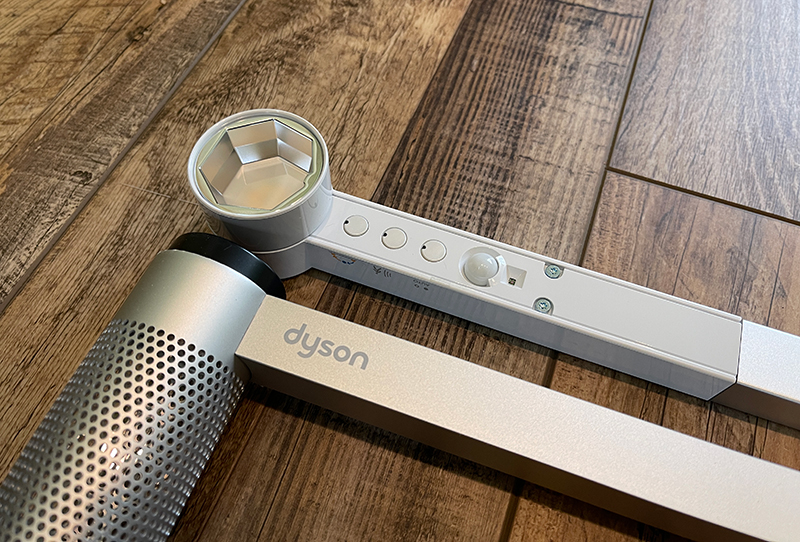 The lamp is controlled with 3 buttons on the underside of the lamp arm. There are buttons for auto color temp, motion detection, and a toggle for auto/manual settings. There's also a motion sensor next to those buttons.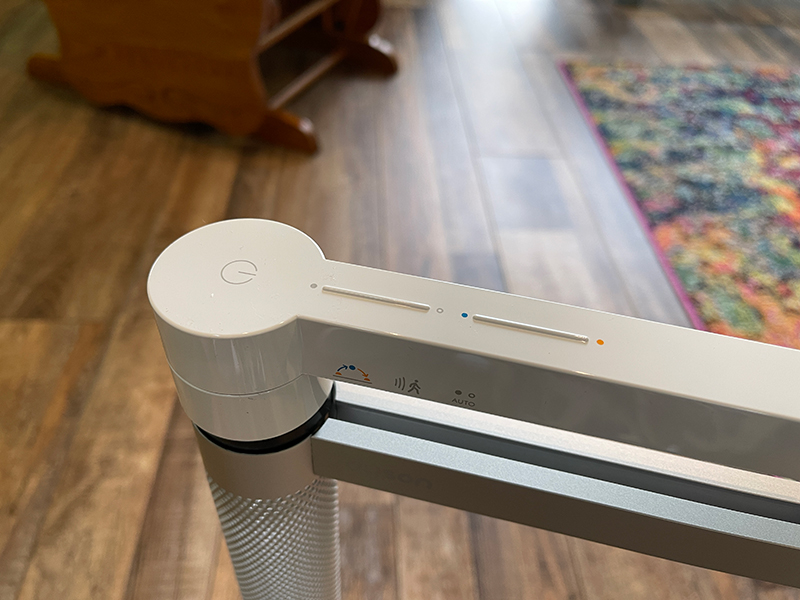 On the top of the lamp arm are three touch buttons. There's the power button, brightness touch slider, and color temperature touch slider.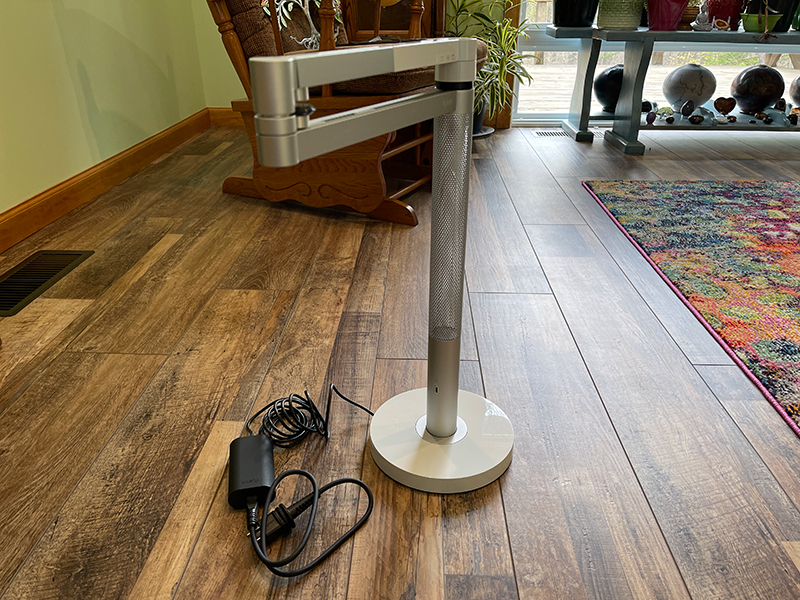 The Dyson Lightcycle Morph Desk Lamp gets its name from the fact that it can be configured in a variety of ways. The image above shows the lamp in the folded position.
But you can unfold the arm to a max length of 16.3 inches.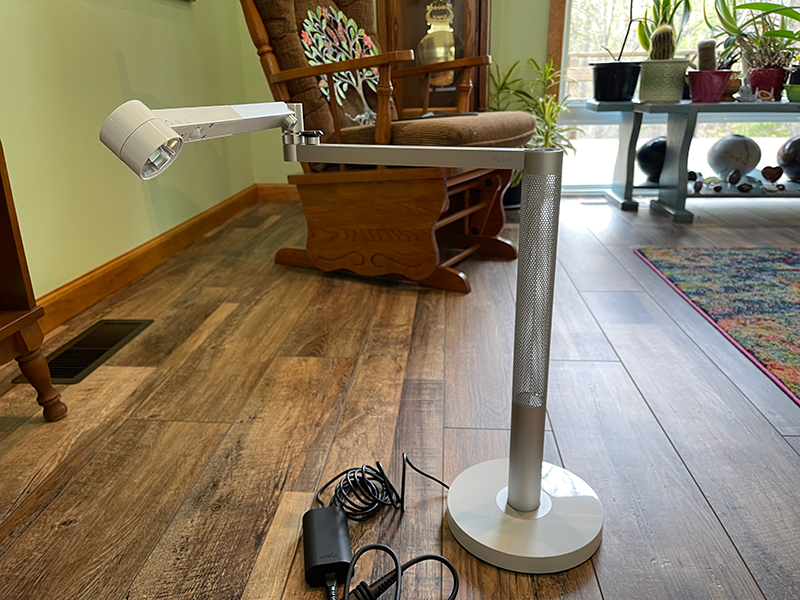 You can also rotate the optical head so that you can direct the light beam exactly where you need it to be.
Let there be light!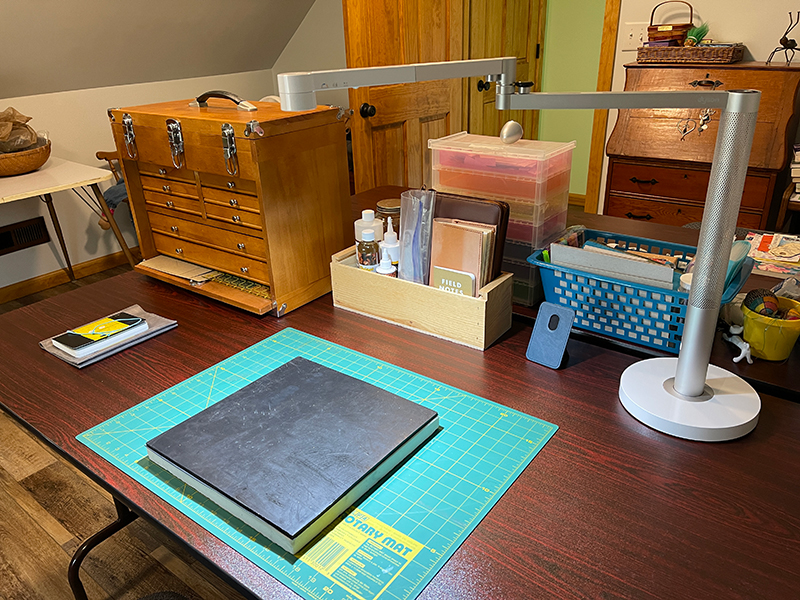 The Dyson Lightcycle Morph is a 4 in 1 lamp. It can be used as a task light, indirect light, focus light, and ambient light. I did most of my testing of this lamp as a task light while working on leathercraft projects.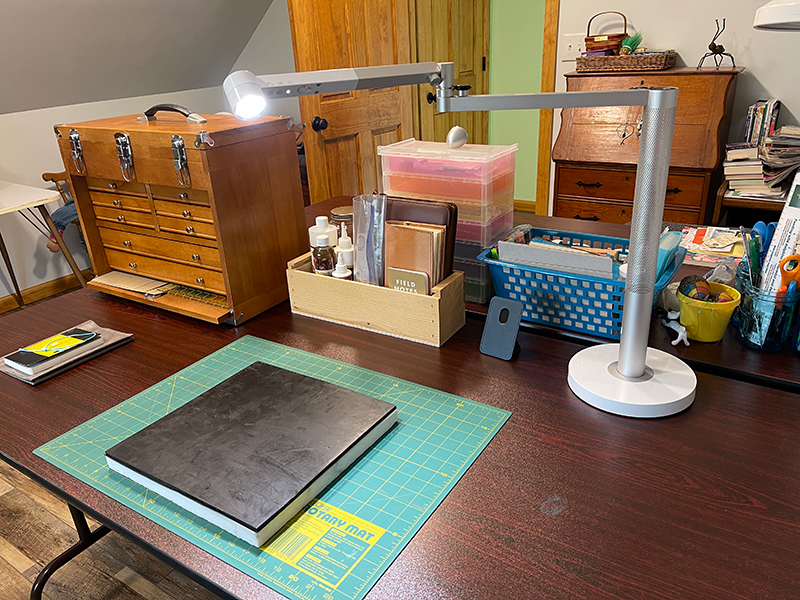 As an indirect light or feature light, you can angle the beam to point up or directly at something you'd like to feature like artwork on a wall.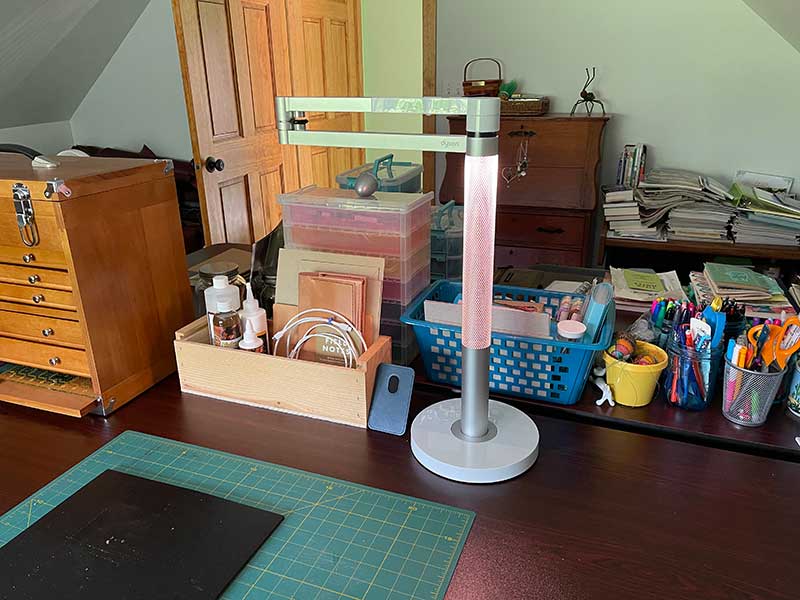 The image above shows the Lightcycle Morph being used as an ambient light with just the lamp's stem glowing. When the lamp is folded into the closed position, it will automatically switch to the ambient mode for 5 minutes before it automatically shuts off. If you have the motion detection feature enabled, the motion sensor will cause the lamp to turn on when it senses motion.
See it in action
Customize the Dyson Lightcycle Morph desk lamp's settings with the Dyson Link app
As I briefly showed in the video above, you can control the LightCycle Morph lamp with the Dyson Link app on your phone. The app uses Bluetooth, so you have to be relatively close to the lamp in order to control it with the app.
The Dyson Link app uses your location settings in order to customize the lamp to reflect the time of day. When set to Synchronised mode, it will automatically change the brightness and color temperature of the light every 60 seconds.
You can also choose from pre-defined modes like Study, Relax, and Precision. There's also an option to create your own setting based on color temperature and brightness.
There are a variety of additional settings that can be customized using the Dyson Link application to maximize the potential of the lamp. It can be set to turn on based on a schedule. There's also an away mode that can be used to make people think that your house is occupied by randomly turning the lamp on and off. You can even customize the light based on your age for optimal eye comfort!
What I like
Unique design
App control allows it to wake you up and more
Almost infinite configuration of the light beam direction
Built-in USB-C port for charging another device
What I'd change
It's very expensive
Even more lumens would be great
Crazy expensive
Did I mention how expensive it is?
Final thoughts
The Dyson Lightcycle Morph task lamp has several features not found with other table lamps like motion detection, app control, scheduling, and automated light temperature and brightness based on the time of day. But first and foremost, it's a lamp. I like that the lamp head can be easily directed towards your subject. It worked well as a task light for my leathercraft hobby. The ability to change the color temperature and brightness with a swipe of the finger was also useful to make the details easier to see on my projects depending on the colors and finishes of the leathers that I use. However, I do wish that the lamp offered max lumens even brighter than 850lm.
As far as the Dyson Link app, I didn't find that I was compelled to use it to change lighting modes. I just used the manual touch controls on the top of the lamp arm. Other than testing the other features available in the app to make sure they worked as advertised, I didn't continue to use these features. I just used the Lightcycle Morph as a simple task light. And an incredibly expensive task lamp at that.
I think the Dyson Lightcycle Morph lamp is well made with interesting and useful features, but the price puts it smack dab into the luxury products category. Would I spend $650 on a lamp? No. I don't have that kind of disposable cash. Should you buy one? If you like the style of this lamp and have the money to burn, I'm not going to judge you. And if you do buy one, make sure you get the floor lamp model too. It's only $849.99!
Price: $649.99
Where to buy: Dyson and Amazon
Source: The sample for this review was provided by Dyson.