We use affiliate links. If you buy something through the links on this page, we may earn a commission at no cost to you. Learn more.
Product Requirements:
Device:
Any touch screen device
The Sensa PDA Minx is a cool little pen/stylus combo that has a couple unique features that make it stand
out from other styli. The Minx is available in either Black or Silver and can be found at
StylusCentral.
In 1985, Boyd Willat, of Day Runner fame, made the decision to create a completely ergonomic writing instrument. Ten years later, in 1995,
the SENSA was introduced. Since then, several different SENSA pens have been created
as well as the new PDA Minx.
The body of this pen is made of an aeronautical alloy which was selected for its weight and balance. The pen weighs
.08 oz (23g) and feels great in your hand.
It has a solid feel that I really like. What I like best is that it doesn't rattle at all.

The Minx is thicker and shorter than a typical pen/stylus combo. It also
doesn't have a clip and as a result, the Minx can just roll off your desk.

One of the unique features of this pen is the grip. A material called Plasmium is used for the section where your fingers actually hold the pen. This material molds itself to your grip and is very comfortable. Personally, I find it MUCH more comfortable than the
Cross Digital
Writer Duo Morph pen with its Morph grip. The Sensa Minx reminds me more of the same material
that was used to make Stretch Arm-Strong dolls. Or for those of you that didn't grow up in the 70's,
it feels like the same stuff that those rubber
squeeze stress balls are made of.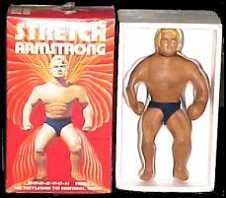 According to the Sensa website, this grip reduces the overall stresses normally incurred through writing by over
50%, and I'd have to agree with them.
It really feels great to write with.
When I first received the Minx, it took me forever to figure out how to
extend the ballpoint pen tip. I twisted, pulled and squeezed with no results. I
finally found that you had to turn the very end (stylus tip end) to extend the
tip. The mechanism is smooth and totally quiet. The tip can be extended using
one hand by holding the pen with your pinky and ring finger, while turning the
top with your thumb and index finger.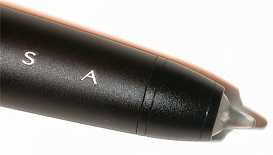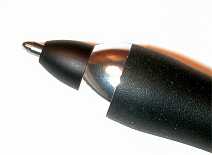 The black ink pen writes very smoothly. And well it should, as it uses the
Fisher Space refill. The ink doesn't skip or glob.
The stylus part of the Minx is made of a high-impact resin – it is actually
almost transparent in color. The tip is quite hard, but it writes smoothly on a
PDA screen. The only thing that I don't like about the stylus tip is that it is
always exposed. There isn't a cap to protect it when it is not in use. I also
found that the barrel of the pen tends to overshadow the stylus tip so that it
is somewhat hard to see what you're writing on the PDA screen. This also might
be because the stylus tip is clear. A solid colored tip might not have this same
problem.
Bottom line, I like the Minx a lot. But, I like it better as a pen than as a
stylus. It works fine as a stylus but I wouldn't want to use it as my only
stylus.
Price: $39.95
Pros:
Comfortable grip
Balanced
Small size
Smooth ink pen
Cons:
Stylus tip exposed
Rolls off your desk
Product Information
Price:
$39.95
Manufacturer:
Sensa
Pros:

Comfortable grip
Balanced
Small size
Smooth ink pen

Cons:

Stylus tip exposed
Rolls off your desk