We use affiliate links. If you buy something through the links on this page, we may earn a commission at no cost to you. Learn more.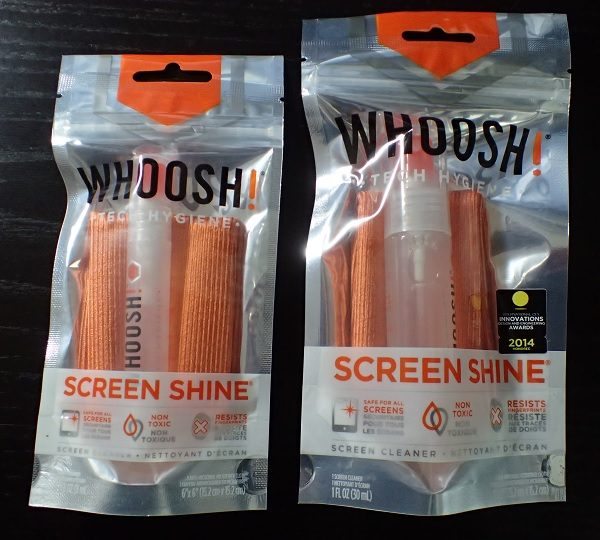 When you look at one of your electronic devices; your smart phone, tablet or computer screen, assuming your glasses are clean enough to judge, do you react with an "ewww, gross!"?  I'm embarrassed to confess that I do.  Judging by the smudge prints on everything I own you'd think I'm channeling my inner sticky-fingered three-year-old.  Minus the adorable factor.
Usually I try to ignore the smudges because cleaning things just isn't fun.  I especially dislike cleaning screens because it's 1) a distraction, 2) difficult and 3) futile.
When a chance to review WHOOSH! Screen Shine came up, it was clearly meant for me. 
WHOOSH! Screen Shine pump spray bottles are available in 3 sizes; the 0.3 ounce "Pocket" size, the 1 ounce "Go" and the 3.4 ounce "Go XL".  An ounce equals about 250 sprays. Each WHOOSH! bottle comes with a 6"x 6" square, bright orange, anti-microbial, microfiber clean cloth and a lime green 2"x 2" instruction sheet.
Even though the instructions are pretty simple, I managed to get it wrong on my first try.  I mean, how hard can cleaning a glass surface be? Spray. Rub. Right?  Wrong.
The instructions say "1. Spray on cloth".  Apparently that matters.  I first sprayed my iPhone. It worked OK but it was not impressively clean or easy. Then I had the bright idea to read the instructions, so I sprayed the cloth then rubbed the iPhone.  That worked much better.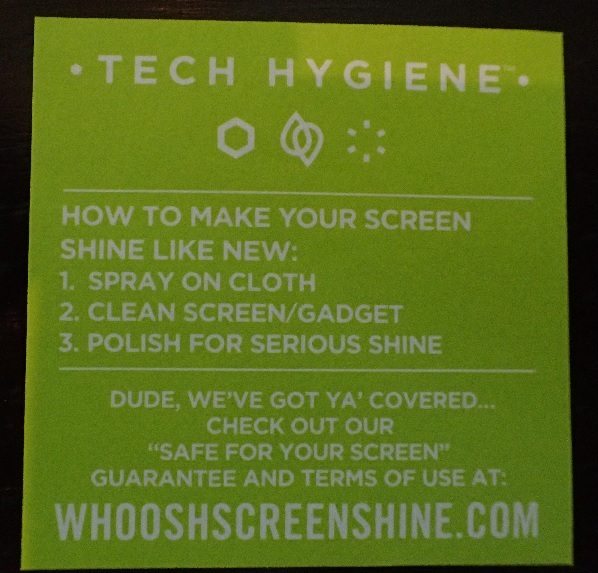 Since then I've sprayed and cleaned everything.  My iPhone, iPad, computer screens, digital camera, glasses and my extra pairs of glasses.  I haven't yet gotten to the car windshield, but I might.

The WHOOSH! people don't say what's in it, but they do say it is non-toxic, ammonia and alcohol free.
Whatever the magic ju-ju juice is, it makes the cleaning process much easier and more effective. The advertising claims it also resists finger prints.  So far, my inner three-year-old hasn't returned to leave her smudgy evidence.
The orange anti-microbial, microfiber clean cloths are outstanding, which is probably an unusual statement for any kind of cleaning cloth.  But obviously some thought went into it.  First off, it's bright orange, so it's easy to find amid the debris on my desk (even before I clean my glasses). Second, it's not that nasty kind of microfiber that sticks like soft sandpaper to rough hands and cuticles. It doesn't grab anything but the smudge. Lastly, it's the right size. The 6"x 6" square is big enough to do the job and no bigger, so it fits in a pocket, a purse, a corner, a car glove box, anywhere.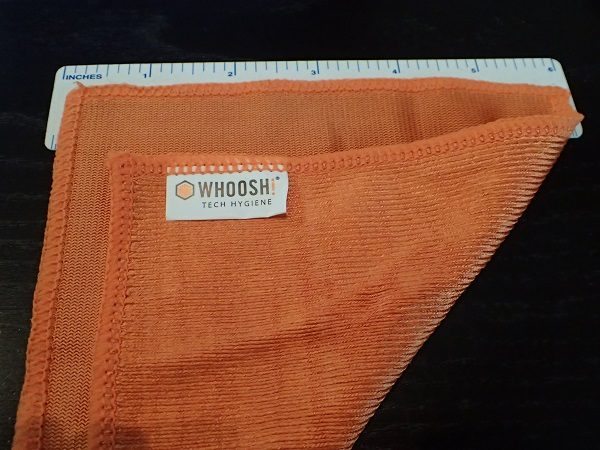 The WHOOSH! Screen Shine is available on Amazon.  The price varies according to size, shipping and Prime membership.  I found the 1 ounce spray and cloth available for very reasonable $5.00, as an add-on item with no shipping for Prime members
I'm giving WHOOSH! Screen Shine two sticky thumbs up!
Source: The samples for this review were provided by WHOOSH! Please visit their site for more info and Amazon to order.