We use affiliate links. If you buy something through the links on this page, we may earn a commission at no cost to you. Learn more.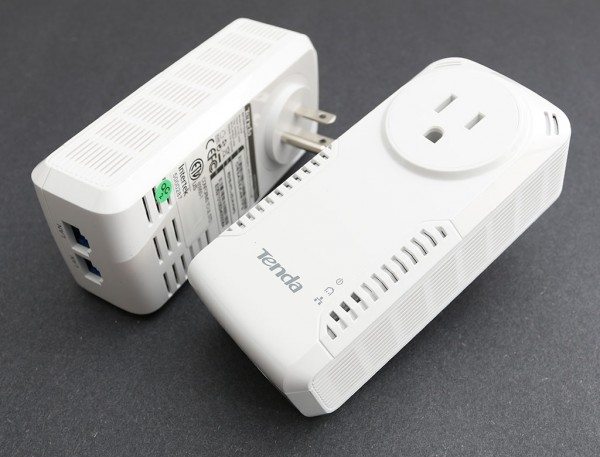 When you want a truly fast network connection, nothing beats a wired connection. The only issue with that is, traditionally, you either have to cut into walls and woodwork, or you have to leave wiring exposed and lying about. There is a third way, however – Power-line Communication.
"Power-line communication (PLC) is a communication protocol that uses electrical wiring to simultaneously carry both data, and Alternating Current (AC) electric power transmission or electric power distribution. It is also known as power-line carrier, power-line digital subscriber line (PDSL), mains communication, power-line telecommunications, or power-line networking (PLN). – Wikipedia"
We were offered a "Starter kit" of devices from Tenda. It contains two of their AP1002P Gigabit Powerline Adapters, and two small Ethernet patch cables. I gave them a test and found them to be something a Gadgeteer might want to integrate into their home or business network. Note: Photos may be tapped or clicked for a larger image.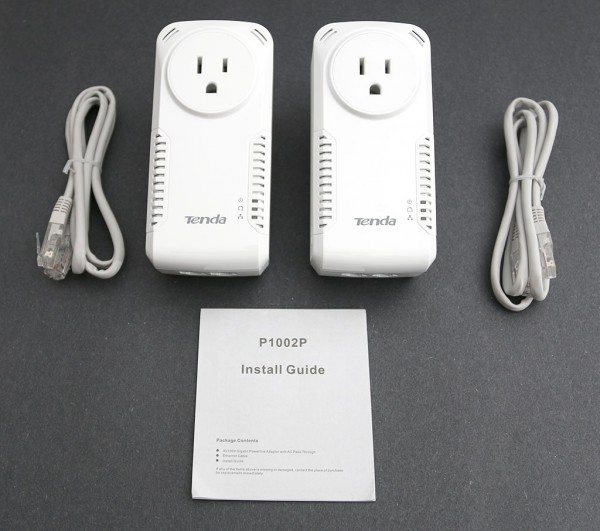 The adapters are plastic boxes that measure about 2″ x 1.5″ x 5″. There is an AC plug extending from one of the larger sides, and a pass-through jack on the opposite face. On the end opposite the plug, there are two LAN ports with 1 GB RJ45 jacks.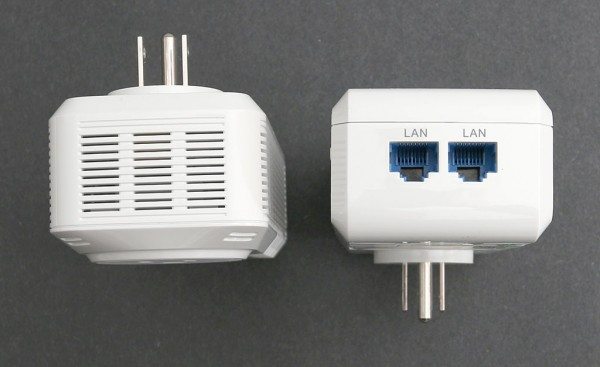 The basics of how they work is that the jacks are joined together by the building wiring and will connect the devices together into a network. As long as one port is connected to your home router, you'll have access to whatever assets the network offers. Where ever you connect the other device in the same building, you'll have two more Ethernet ports. I'd not really thought this was something I was interested in since most of the time, I'm wandering around the house with some wirelessly connected device. But, on occasion, you need to do some dedicated file transfers, and plugging in a network cable is a much faster pipe than wifi, especially on your local network. You're still limited by the meagre water hose your ISP allows for upload and download, but transfers on the network will really fly.
To start, I connected one box to the UPS near my router, and patched it in. From the Tenda, I used a second patch cable to connect my work iMac. I use VPN to connect to our office, and that connection is the main reason for having a network at all. I used this for a few days, just to make sure I wasn't seeing glitches on the network side of things. It's been a few weeks, and nothing at all out of the ordinary has happened.
After a few days, I plugged the other unit into the power outlet in the Family craft room, where my wife and youngest daughter constantly watch movies and listen to streaming media while they sew. I have been known to spend quite a while connected to Netflix from this room as well. I set up an iMac there, and tried a few transfers. While network-only transfers worked nicely, the network streaming performance difference was almost imperceptible. Maybe when Google Fibre arrives here, it will make a difference!


One of the things I was impressed by, however, is that there is no configuration at all. You literally plug the device into power, attach a patch cable to your router, and you've got two drops with the other device, where ever you want them, as long as there is a power outlet there! (I really, really, really want to move my office out on the porch on days like today, when it's in the mid 70s and sunny, with a cool breeze. Don't think I could hide the bird noises over the phone, however, and there's that "secure, private, closed-off space" clause in my contract. But if I wanted to, that weatherproof outlet would allow me to crank up a dedicated workstation with wired Ethernet and a VPN connection right beside my rocker.)
I didn't try it (since I don't have an extra wired hotspot laying around), but I wonder if you could put a router with wifi on the other end of the building? So long as it wasn't also serving as a DHCP server, it should work. This would be great for folks who have heavy ductwork, stone work, or other less-than-ideal materials within the area they would like to add to the network, which usually blocks wireless repeaters. Maybe when I get my shed wired, I'll put a unit out there to test. Meanwhile, I'm still dreaming out here on the porch. "Thanks for (Tweet!) contacting the Help Desk. (Tweet!)"
Source: The sample for this review was provided by Tenda. Please visit their Amazon store page for more info.