We use affiliate links. If you buy something through the links on this page, we may earn a commission at no cost to you. Learn more.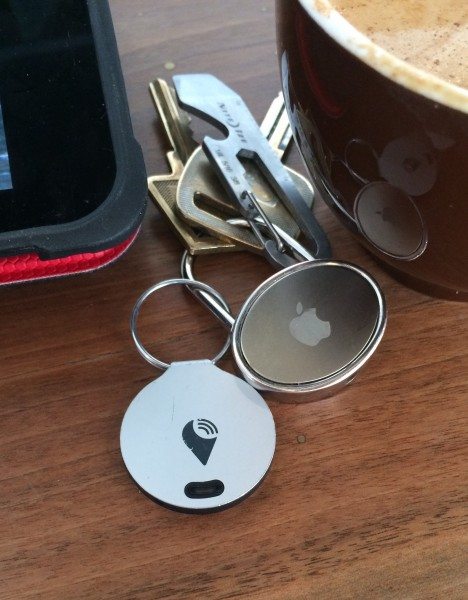 Update 09/15/15
Please do your homework before ordering this product. Read the comments below. It appears that this company is taking money and not shipping the orders.
The Internet of Things (IoT) is all the rage right now. Adding smart tech to an old piece of tech or something non-tech like a set of keys or a piece of luggage, however, can be a problem. Several companies have recently entered small tags that can be stuck on or clipped to one of these items, giving it the smarts to tell its location, or to phone home through an app on your phone. TrackR is one such company, and they have recently added a product to their lineup which offers a two-way connection to your smartphone – the TrackR Bravo. I've been testing it for a few weeks.
Note: Photos may be tapped or clicked for a larger image.
The Bravo itself is a simple unit with a single button. It's slightly larger than a US Quarter Dollar coin at 31mm, but much lighter, as the outer shell is a figure-eight shape of aluminum bent to sandwich a thin disc of plastic, which contains the guts of the unit. There is a small hole in the shell to allow access to the single button, and the battery (a replaceble CR1616 3V coin) swivels out in it's tray from within the plastic disc.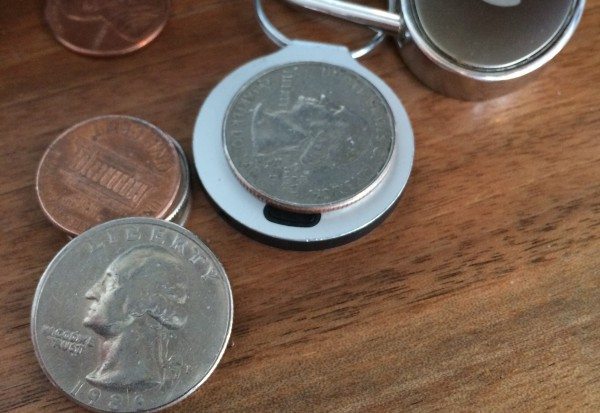 The iOS app is pretty straightforward, but I found it to be erattic in actual use. Like everything else that tries to track a "semi-smart" unit, its success depends somewhat on others using the software and those folks leaving the location services of the app to Always On. I don't know about you, but, nice guy that I am, I'm not going to have this app eating into my battery constantly on the off chance I'm close to someone's lost backpack or keys. This "Network Effect" will determine the success or failure of any devices of this type. If that last location is not within BlueTooth range, someone else has to be running Location Services on that app who is near my Bravo unit to report it's location. I wish my faith in the belevolence of humanity extended this far, but I know how selfish I am with power and bandwidth. (Of course, working mostly from home, I'm not likley to actually help anyone out by being near a lost item, unless the mailman drops his keys while bringing something to the door!) Since I don't normally leave location services on for this app except when I'm using it, my iOS device has to hunt for the last location of the Bravo any time I want to use it.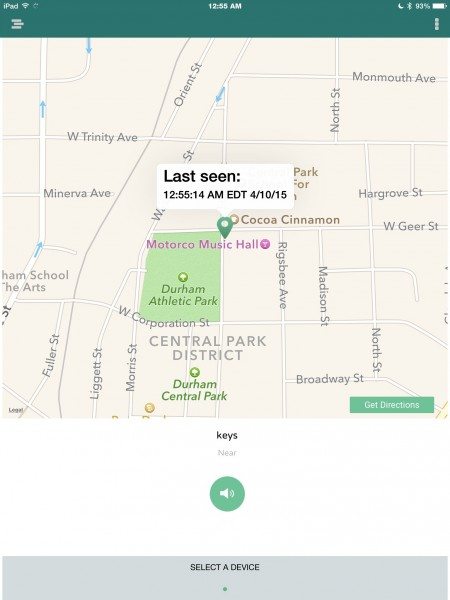 Holding the button down on the TRackR Bravo will signal to the device it is paired with, provided it has Location Services activated. You can also set it so that the TrackR buzzes when it's out of range of your Smart device. (I made the mistake of going out to the mailbox one day during testing without my phone. Suddenly, Jack is jumping up at my pocket, and I realized there was a high-pitched buzz coming from my keys.) This can be turned off within any Wifi network, creating a "Safe Zone" so you can drop your keys on the hall table and not worry that the TrackR is going to go off before you get to the bedroom. There are options for silent mode, as well, so you don't interupt a meeting by moving during a presentation just out of range of your phone that's still on your desk across the hall.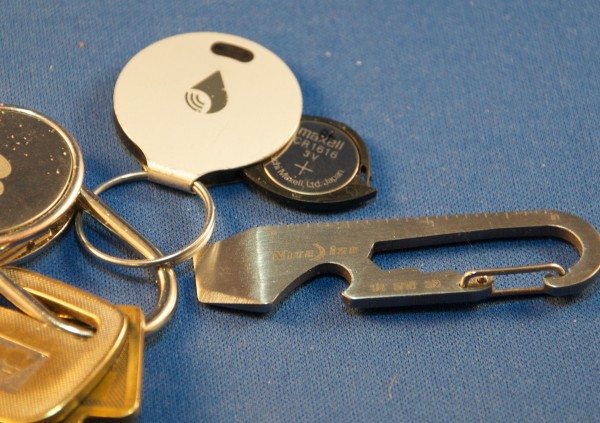 At $30, it's $5 more than it's predecessor and a tad larger, but it gives some good benefits for the added sawbuck. I was sent a Steel test model, but they are also available tinted in Rose Gold, Black, or Powder Blue for an extra $5. There are also cases available for dog collar, a waterproof case for beach or pool use, and a metal ring to attach it to a backpack. I found it a solid performer, within the caveats of the network effect and the battery issue. A solid 3.5 out of five stars.
Update 09/15/15
Please do your homework before ordering this product. Read the comments below. It appears that this company is taking money and not shipping the orders.
Source: The sample for this review was provided by TrackR. Please visit http://thetrackr.com for more info.
Product Information
Price:
$30
Manufacturer:
TrackR
Requirements:

Something to track, internet access

Pros:

Small, light, and easy to understand.
Versatile (can be customized, renamed, placed on almost anything.
Sounds very quickly, from either TrackR or Smart device.

Cons:

Requires network of people using the app.
Using Location consistently lowers battery life.