We use affiliate links. If you buy something through the links on this page, we may earn a commission at no cost to you. Learn more.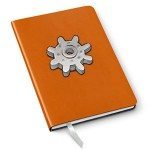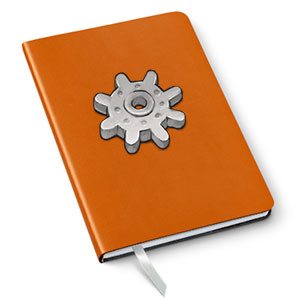 Last week I posted a gadget diary entry with a long overdue update to my EDC (every day carry) gear. That was my before post and today is my after post. I performed an audit by consolidated and simplifying the gear I actually use. Here are the results.
When you carry a medium to large sized messenger bag like I do, it's really easy to accumulate "stuff" to the point were the bag is heavy enough to substitute for exercise equipment. That's what happened to me when my bag weighed in at 7 lb 6.6 ounces. I wasn't even carrying a laptop, so it was time for a gear purging.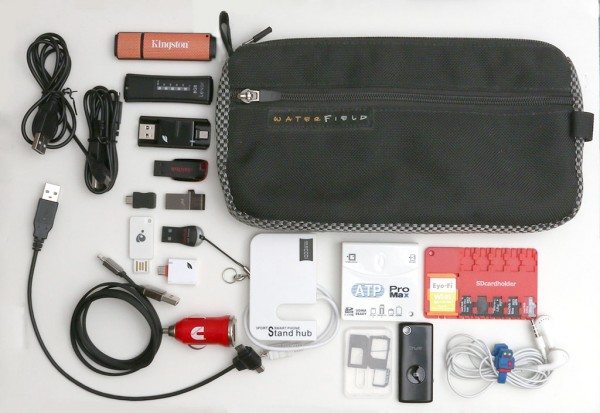 Cables, adapters and flashcards oh my!
Above is a before image of the cables, adapters, USB flashdrives, flash cards, etc that I had crammed into a WaterField large zippered gear pouch. Not pictured is the Altoids tin that I use to hold some of the smaller items pictured here. Many of these items I've not used in months or even years. After choosing the items I really need, I was left with the collection that you see below.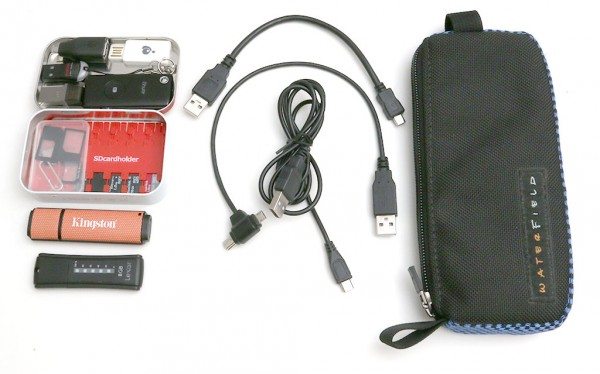 WaterField small zippered gear pouch that holds the following (including the Altoids tin):
3 USB cables: a short micro USB cable that has both mini and micro connectors on one end, another short micro USB cable and a regular length micro USB cable – My thoughts on keeping the third cable is that if I loan it to someone and never see it again, I still have cables that I can use.
Kingston DataTraveler 32gb USB flash drive and Lexar 8GB flash drive – Same reasoning as above. I keep two flash drives in case I loan one out and it doesn't get returned.
Altoids tin that holds:
Keyshair adapter – Let's me use my full sized keyboard and mouse to control my smarphone.
Muku Labs Muku Shuttr remote shutter button for iOS and Android
SDcardholder –  Holds a regular SD card and several microSD cards
Collection of SIM card adapters
Sandisk microSD card reader
OTG adapter
As you can see, I have downsized quite a bit. Now everything fits (barely) in the smaller zippered WaterField pouch. I really need a medium sized pouch because everything fits tightly in the small one. But for now this works and is more compact.
Never miss one of our posts again. Sent MON, WED, and FRI with the latest gadget reviews and news!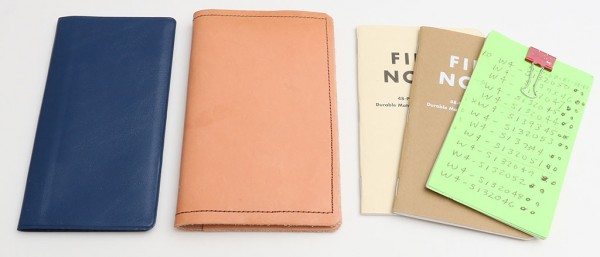 Notebooks
I was carrying a checkbook, homemade leather notebook cover with two Field Notes notebooks, two additional Field Notes and a stack of 3×5 index cards clipped together with a binder clip. Since I almost never write checks anymore, I put the checkbook in a drawer at home. I also copied down the info I use on the 3×5 cards into one of the Field Notes notebooks. I added a 3rd notebook to my home made cover and dropped the other.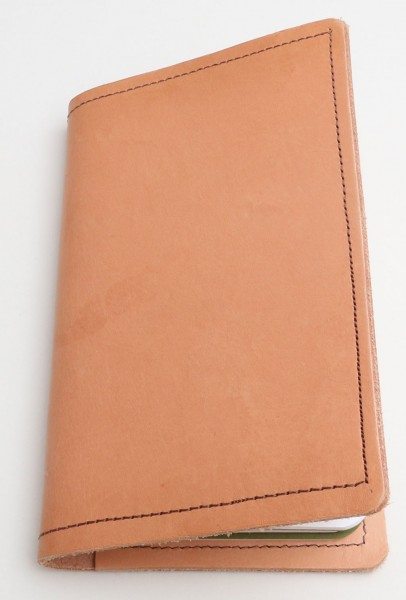 I am left with one notebook cover which holds three Field Notes notebooks. This is perfect because it only requires one slot in my messenger bag.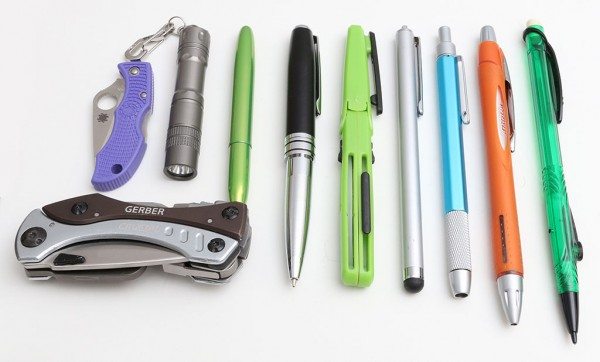 Pens, styluses and tools
Of the three pens, two styluses and pencil, I really only use the Uniball Jetstream pen. The Gerber Crucial multi-tool is nice and compact, but it's a little heavy and I rarely use it. So….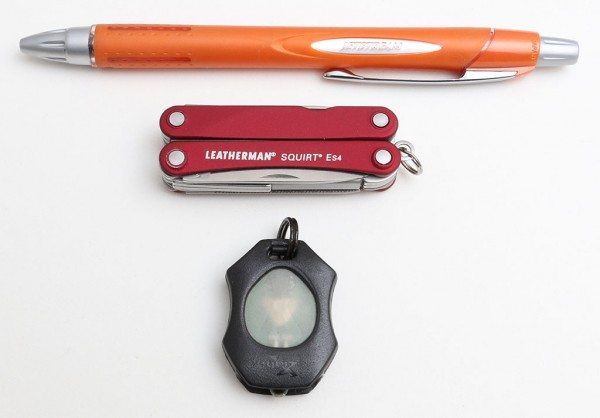 I kept the Uniball pen and swapped the small Huntlight flashlight with a tiny but bright Photon X-Light Micro LED flashlight that has an easy to use click on/off button. I already had the flashlight, but I ended up buying a new smaller multi-tool. I went with the Leatherman Squirt ES4. This tool has pliers, scissors and a knife so it replaced the stand alone scissors, the Gerber Crucial and the Spyderco Ladybug pocket knife. I like the Squirt because it's so small but I'm not sure I'm sold on the knife yet. It probably just needs to be sharpened, because it's not as easy as the Ladybug for helping me peel my oranges.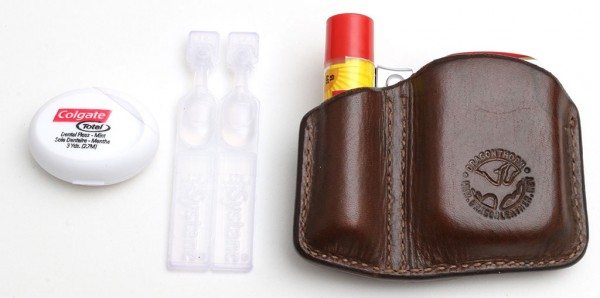 Health items
I don't carry very many health type items, but the ones that I do carry were scattered into different pouches. Time to consolidate…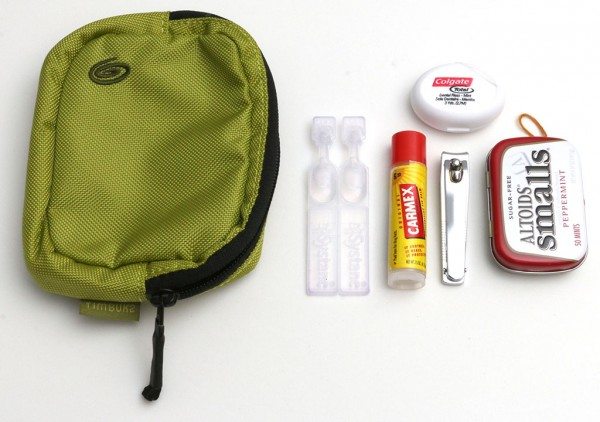 I am now storing everything in one small zippered Timbuk2 Dimebag pouch. This keeps all the items in one place and I like that I can stuff this pouch in a pocket in my messenger bag and easily retrieve it with the long zipper pull.
Other changes
I put the small umbrella that I had been carrying, in my car instead of carrying it in my bag. I also have a second umbrella in a drawer at work so I don't need one in my bag. I also ditched my Apple earbuds and Bose headset for the DUNU Titan 1 earphones which are more comfortable and sound wonderful.
After all these changes, the messenger bag and its contents weigh in at 4 lb 10 ounces. That's close to 3 lbs lighter, and I can really feel the difference! The only other change I'll be making soon-ish is to replace my Nexus 7 2013 tablet with a ultra light laptop. I'd like to keep everything down to 5 lbs, but we'll see how that works out.