We use affiliate links. If you buy something through the links on this page, we may earn a commission at no cost to you. Learn more.
Griffin has a large selection of FM transmitters for iPods and iPhones, but today I want to tell you about their latest iTrip model. It's the iTrip Universal. In addition to iPods / iPhones, this FM transmitter will also work with any audio device that has a standard sized earphone jack.
FM transmitters allow you to broadcast the audio from a device such as an MP3 player, to an FM radio. Typically people use them in their cars, when they don't have an auxiliary audio jack. I fall into that category of car owner… My 2006 Mazda 3 lacked that feature until I installed an AuxMod module on the back of my head unit. I use the AuxMod with a SendStation PocketDock so that I can listen to the music on my iPod through my car's speaker system. This combination sounds great, but for those of you that don't have any other option than to use an FM transmitter, this review is for you.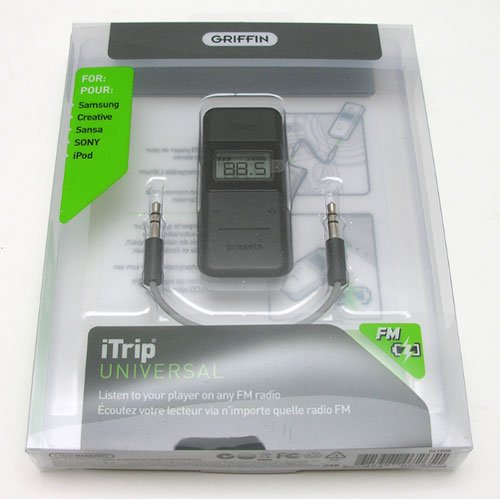 Hardware Specifications
Power: Internal rechargeable lithium-ion battery rated at 180 mAh
Modulation: FM Stereo
Available output RF range: U.S.: 88.1 MHz – 107.9 MHz
Radio Frequency Adjustment Increments: U.S.: 0.2 MHz per step
Operating Range: 10-30 feet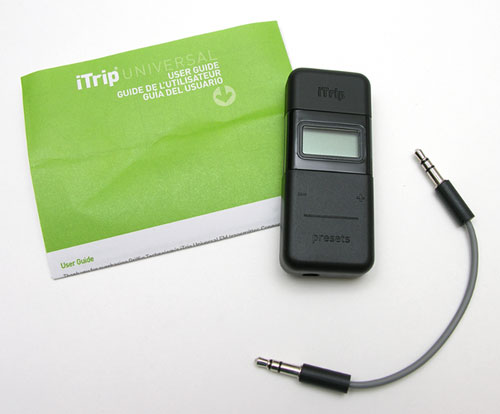 Package Contents
iTrip FM transmitter
3.5mm cable
User guide
My experience reviewing this type of product has brought me to the conclusion that FM transmitters either work great, or don't work worth a hooey. Several factors will combine to determine which experience you will have, including how crowded the FM stations are in your area and how strong their signal is. The location of your car's radio antenna is another piece of the puzzle. When I used to test FM transmitters in my old 1991 GMC Sonoma pickup truck, almost all of them worked great. Now when I test in my Mazda, very few work well. I've found that the ones that plug into a power port / cigarette lighter socket tend to work the best.
Never miss one of our posts again. Sent MON, WED, and FRI with the latest gadget reviews and news!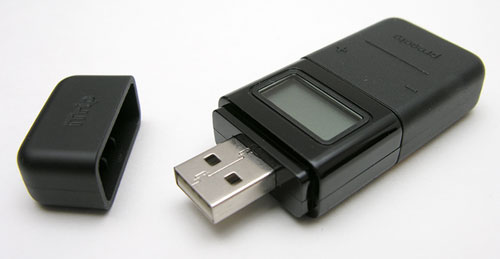 The iTrip runs on batteries. But not AAA's… Instead, it uses a Lithium-ion battery that can be charged via a USB port. Just pull off one end, to reveal the connector.
The iTrip Universal is made of Black plastic and is approximately the size of a lighter.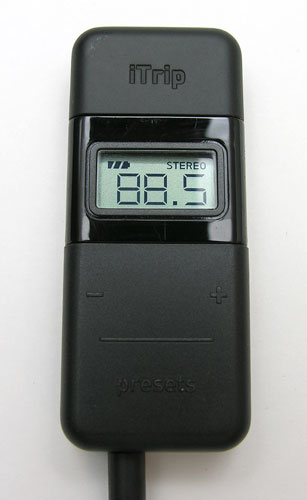 There's a small LCD that has a backlight (it only stays on for a couple of seconds though), that shows the current channel, battery status and stereo / mono sound setting. Below the LCD are three buttons. There is a – and + button that allow you to cycle up and down through FM channels. Pressing both buttons at once will toggle between stereo and mono modes. At the bottom is the Presets button. Double clicking this button will toggle power. Pressing and holding for 2 seconds, will save the current channel as a preset. You can have up to 3 presets.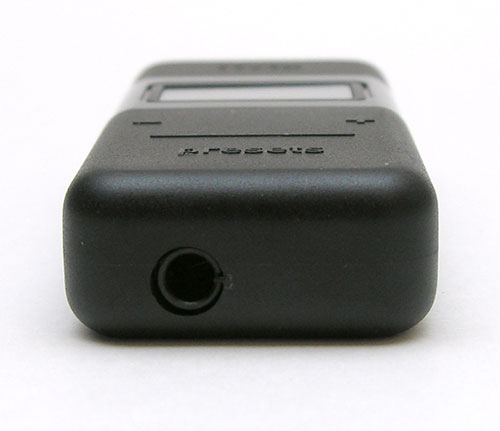 On the bottom of the iTrip is a 3.5mm jack that you plug the included cable.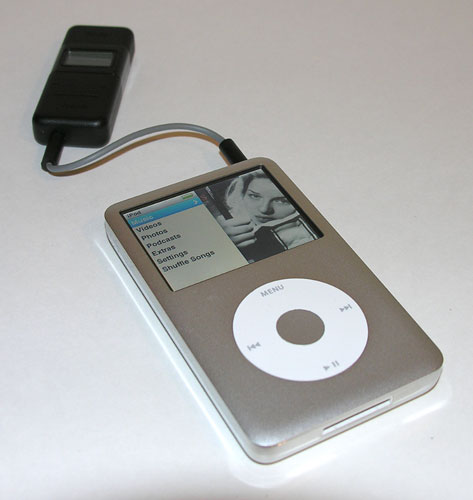 The other end goes into the earphone jack of the audio device you wish to broadcast from. I tested the iTrip with my iPod classic. To use the iTrip, you first have to find a channel on your FM radio that just has static. Depending on your location, that might be very difficult. I live in a small town, but it's still hard to find more than 2 or 3 channels that are clear. Once you find a channel, plug the iTrip into your audio device and press play. This will automatically power on the iTrip. Then you can use the – and + buttons to tune to the same station that you have on your FM radio. When the channels match, you should hear the tunes from your audio device coming out of the FM radio speakers.
Using the iTrip is a snap. I find no fault with operating it. But, at least in my area and in my car, I didn't find the quality of the broadcasted signal to be very good at all. First of all, I had to crank up the volume on both my iPod and car stereo in order to even hear the music. I really don't like doing this, because I often forget that I've done so and when I stop using the FM transmitter and tune to another radio channel, music will blast out of my speakers, scaring the crap out of me ;o) But, if it was just the volume issue, I could deal with it… Unfortunately, for the different channels that I tried, they all had white noise behind the music, making it sound significantly worse than even FM quality. I always use the same channels with the various FM transmitters that I review, so I know that some transmitters are better than others.
I really like Griffin's iTrip Universal for its small size, ease of use and battery recharging feature. But I find it lacks the ability to transmit music clear enough for my liking. Sorry Griffin, but I'm going to pass on this particular transmitter…
Product Information
Price:
39.99
Manufacturer:
Griffin Technology
Pros:

USB rechargeable
Small
3 channel presets

Cons:

Static
Have to turn up the volume on player and radio