We use affiliate links. If you buy something through the links on this page, we may earn a commission at no cost to you. Learn more.
A typical gear list for a road warrior might include a laptop, mobile phone, digital camera, GPS, along with other bits and pieces. But one gadget that you don't usually think of when it comes to everyday gear is a printer. That's not surprising since printers tend to be way too bulky to carry around. Although I recently reviewed a portable photo printer, the Epson PictureMate Dash (PM 260), it seems that portable non-photo printers are a bit of a rarity. That's why I was interested to try the Bluetooth enabled PrintStik from PlanOn with Bluetooth computers and smartphones.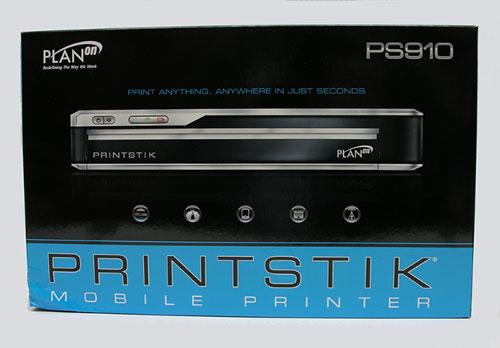 PlanOn is the same company that brought us the tiny DocuPen RC800 color scanner. So, they know their stuff when it comes to portable electronics for the mobile professional.
Hardware Specifications
Printer Size: 1″ x 10.75″ x 1.5″
Weight: 1.5 lb. (.7K g) including paper cartridge
Print Resolution: Approx 200x100dpi, 200x200dpi, 200x400dpi
Print Speed: Up to 3 PPM
Print Method: Direct Thermal
Batterry Type: Lithium Polymer
Pages per Battery Charge: 30- wireless USB- 30>
Charge Time: 180 minutes to full charge
Pages per Paper Cartridge: 20
Connectivity: Bluetooth and USB 2.0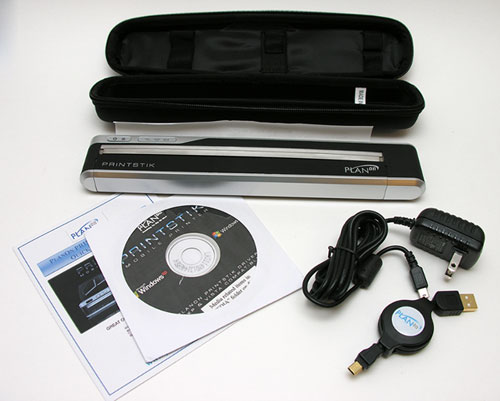 Package Contents
PrintStik
AC adapter/charger
Power cable
1 Cartridge of Paper
Driver CD
User Guide
Carrying Case,Battery

The PrintStik is very compact due to the fact that it is a thermal printer. Thermal printers do not use ink cartridges like ink jet printers. Instead, they use heat to print on special paper.

The body of the printer is made of Silver plastic and rubberized charcoal colored plastic.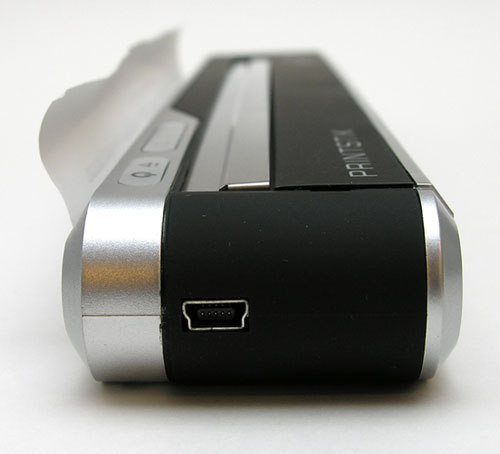 On the Left side is a USB port for connecting to your computer for battery charging and printing, if you don't have a Bluetooth enabled PC.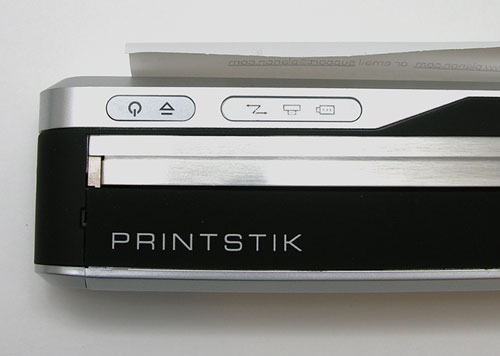 The only buttons on the PrintStik are a power button and paper feed button.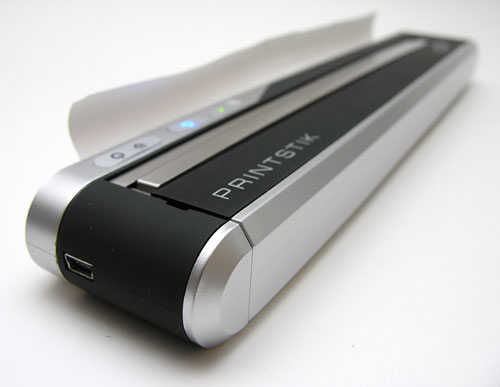 Next to the power and feed buttons are three LEDs for connection, printing activity and battery life.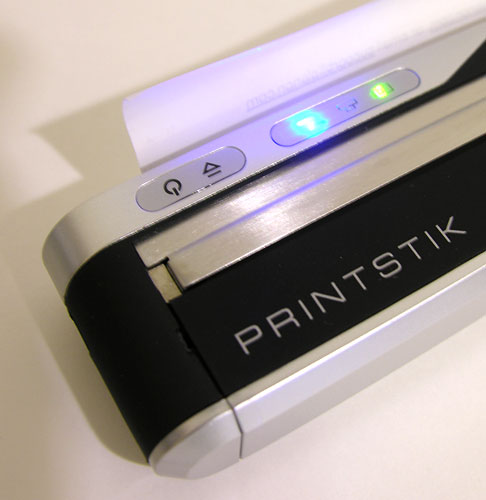 To use the PrintStik, you first have to charge its internal batteries by connecting the included USB adapter or cable to a computer or wall outlet. You also have to install the printer drivers. Now here's where I come to my biggest complaint about this product. Right now it will only work with a Windows PC or a Blackberry smartphone. This makes this printer pretty limited as far as I'm concerned. Mostly, it's just a bit annoying that the PlanOn website and even the packaging for this printer say that it will work with PDAs, smartphones and laptops. It's not until you take a closer look that you learn it will only work with Windows and Blackberries. PlanOn is supposed to be working on drivers for other devices, but it's not clear when they will be available.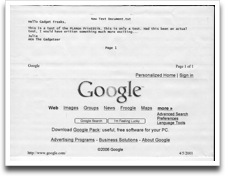 Click thumbnail to see full size image
I don't have a Blackberry device, so I was only able to test with a Windows laptop. I had no issues getting the PrintStik to print via Bluetooth or USB. You can see a sample of the print quality above. You have to remember, this is not an ink jet printer, it's a thermal printer. That said, the print quality seems fine for quick and dirty prints of text files and even simple graphics. Also remember, that thermal paper is thinner than regular paper, so it's easier to rumple and crease.
Printing isn't very speedy with this printer and the noise it produces while it is printing is noticeable enough that you'd not want to use it in a quiet location like a library.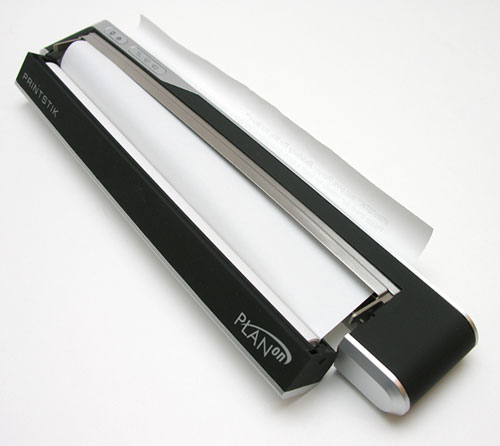 Paper for this printer comes in packages of three cartridges for $24.99. Each cartridge gives you 20 full pages. So, that's 60 pages for $25. I guess that's not totally out of line. Ink for other printers is crazy expensive… But can usually print more than 60 pages per cartridge.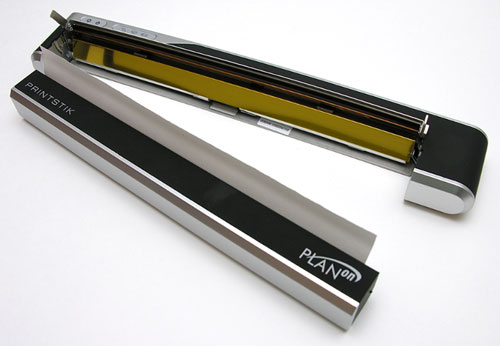 Switching out the cartridges and re-feeding the paper isn't difficult.
The PlanOn PrintStik is very easy to use and I like the portability. I can understand its usefulness for a business person, but for an average Joe, I'm not sure it would see that much use. I can't think of any time in the past that I've needed a printer while I was traveling. Of course, if I had this printer with me, I'd probably find uses for it to justify carrying it around with me. The $300 price tag and the fact that it won't work with Macs and non Blackberry PDAs and smartphones keeps me from recommending this printer at this time. That said, if you are a Windows or Blackberry user, don't mind the price tag and need a very compact printer for your gear bag, this one won't take up much space :o)
Product Information
Price:
299.99
Manufacturer:
Planon
Requirements:

Windows PC with Bluetooth
Blackberry smartphone with Bluetooth

Pros:

Easy to use
Compact
Bluetooth

Cons:

Expensive
Only compatible with Windows PCs and Blackberry smartphones
Noisy