We use affiliate links. If you buy something through the links on this page, we may earn a commission at no cost to you. Learn more.
If you are a frequent traveler that sometimes finds it difficult to relax with the roar of airplane, bus or car engine noise, I have a possible solution for you. It's the PlaneQuiet Platinum active noise reduction headset from Outside The Box. These full-size over the ear headphones provide up to 18 decibels of active noise reduction. Let's check them out…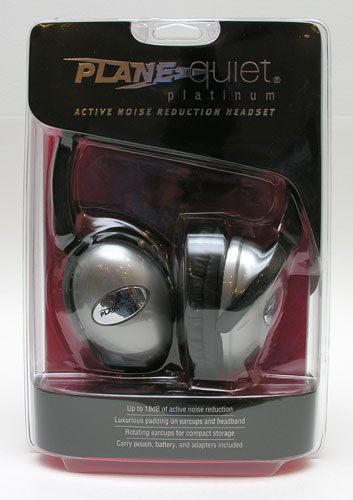 First of all, be aware that this headset comes packaged in a sealed plastic case, that will require the aid of a knife or scissors to open it. If you find them at an airport shop, that might be a problem…
Hardware Specifications
Active noise cancellation: up to 10dB between 150-400Hz
Impedance: 32ohms +/- 10%
Frequency response: 20-20,000Hz
Sensitivity: 112dB +/-3 dB/mW at 1KHz
Speaker element: 40mm; Magnet; Neodymium
Rated power: 40mW
Max power: 100mW
Cord: 1.6m length
Weight: 8oz.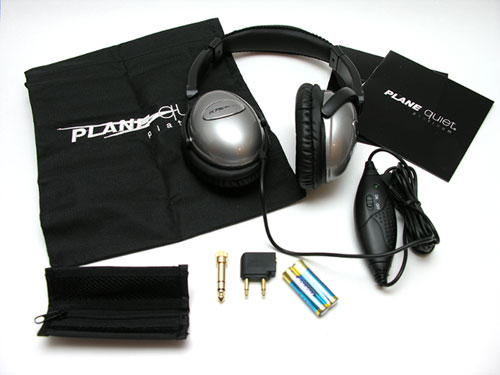 Package Contents
PlaneQuiet headset
Zippered carry pouch
2 AAA batteries
Dual-pin airline adapter
1/8 in to 1/4 in adapter

Last year around this time, I reviewed a similar set of noise reducing headphones from AblePlanet. The Clear Harmony active noise canceling headphones. I liked them well enough except for the $350 price tag… ouch. For that reason, I was interested to see how the much lower priced PlaneQuiet headset would compare.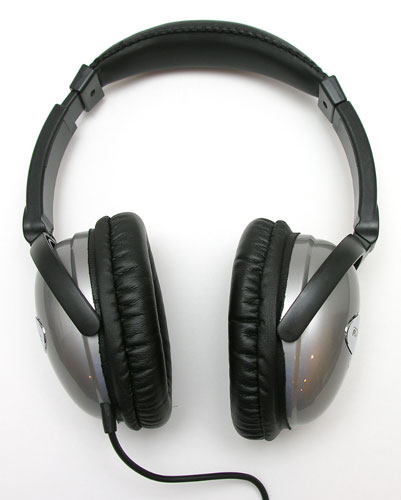 The headset is almost entirely made of plastic. There's just a small strip of metal on each side of the head band. The design is not flashy, which is fine by me. There's just a chrome colored badge on each earphone that has the PlaneQuiet logo on it.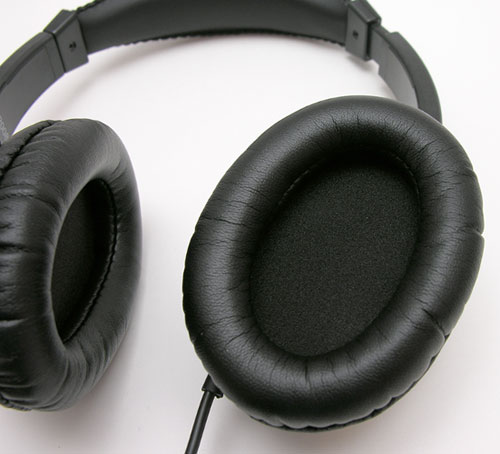 The ear phones have soft padded leather cushions and the head band is also wrapped in padded leather.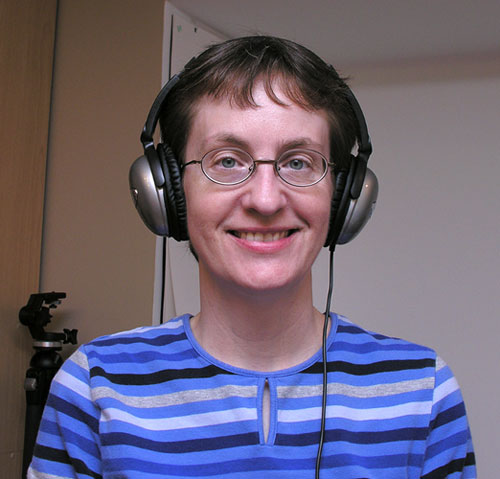 Comfort-wise, I could find no faults with the PlaneQuiet headset. I had no problems wearing them for extended periods of time. They are relatively light weight, don't squeeze the sides of your head and the head band doesn't carve a groove into your skull ;o)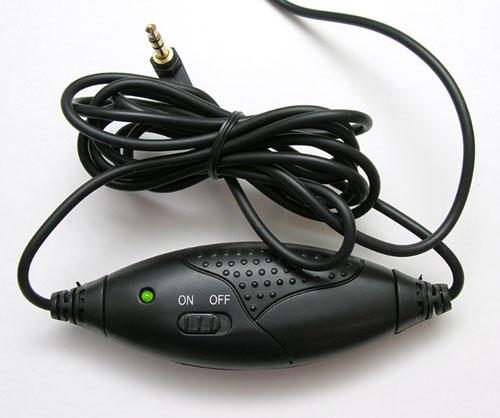 To use this headset, you first install the included AAA batteries into the attached controller. A set of batteries is supposed to last approximately 35hrs. The controller just has a simple On/Off slider switch to activate or deactivate the noise reduction feature. It does not have a volume control; you have to adjust the volume on your audio device.
You can then plug the other end of the cord into your audio player. A dual-pin airline and a 1/4 in adapter are also included. The head phones can be used without even turning on the noise reduction feature. Without this feature turned on, I found the audio quality to be adequate. Bass lines sounded thumpy enough, but for the most part, I think audio is missing some clarity and crispness. To me, music sounds slightly muddy. When you flip on the noise reducing feature, you get a small boost in volume, but it does not improve crispness… at least not to my ears. I did notice that these headphones do not have the loud hissing on the background. But, if you pause your music, while the noise reducing feature is on, you can hear faint white noise. I didn't dislike listening to music through these headphones, but I would guess that a true audiophile (which I am not) would turn their nose up at them.
I wasn't able to test these headphones on a plane, train or bus, so I can't really tell you how well they will block out that level of engine noise. I did test them as a passenger in a car and promptly fell asleep while listening to music through them. I also found that if I have them on while typing on my computer keyboard, I can't hear my key clicks. They even help to muffle (but not eliminate) noise from voices and a TV in another room.
If you've been interested in buying a set of over the ear noise reducing headphones for your next trip, but were deterred due to cost, the PlaneQuiet Platinum active noise reduction headset might be just what you're looking for… as long as you're not too persnickety about audio quality.