We use affiliate links. If you buy something through the links on this page, we may earn a commission at no cost to you. Learn more.
I just wanted to write a quick post to let everyone know how I've been getting along since I installed OSX on my MSI Wind netbook…
So far things are going pretty well. Keep in mind that I'm only using the netbook for the following tasks:
– Surfing various sites using Firefox
– Reading RSS feeds using Firefox and google reader
– Reading / responding to email using my server's web based client (I may go ahead and use Apple mail at some point though)
– Chatting via Adium
– Some review writing tasks using TextMate
– Copying images from SD cards to internal HD
– Cropping and resizing images using GraphicConverter (I really want to find something better though)
– FTPing images to my server using Transmit
– Accessing my iMac using TeamViewer
So far I'm doing / using just a couple of things to help me get the most out of this netbook:
– Syncing my bookmarks using the Foxmarks Firefox plugin
– Using the iFox compact Firefox theme
– Turned off the status bar at the bottom of Firefox
– Set the OSX dock to automatically hide at the bottom of the screen
As you can see, I am not using the Wind for anything extreme. Of course, once I got it, I started thinking of other things I could do with it. One thing I wanted to do but have so far failed at is to use it as a hulu.com viewer while I walk an hour on the treadmill 3 times a week. It fits perfectly in the book slot. While it works just fine viewing the video via WiFi, the built in speakers are not loud enough to hear over the motor on my treadmill.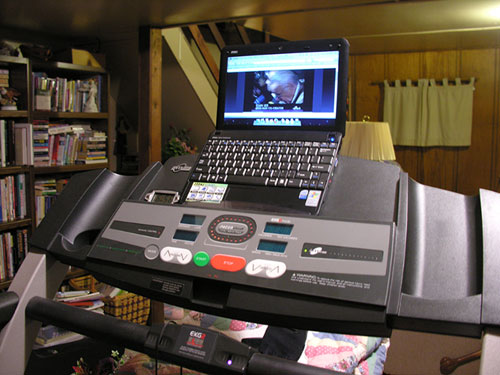 Unfortunately, the OSX install does not support the headphone or microphone jacks. :o( I had even planned to try to control the Wind using the built in voice recognition in OSX because it's pretty near impossible to use the touchpad when you're walking at 4mph. Sadly, I am unable to do that either because the microphone jack is also not supported. Sniff… You can use a USB microphone / headphone, but so far I've not tried to find one.
Another issue that I have is that the battery life with the 3 cell battery is even less under OSX than it was with Windows XP. Instead of getting 1hr and 45 minutes, I'm barely getting 1hr and 30mins per charge. I'm looking forward to getting my hands on a hi-cap battery from Mugen Power at some point.
All in all things are going pretty well. I've even acclimated myself to the keyboard and am not having as many typing mistakes. The real test though will be when I take it with me on my vacation to Florida at the beginning of October… we'll see how things turn out with that trip.