We use affiliate links. If you buy something through the links on this page, we may earn a commission at no cost to you. Learn more.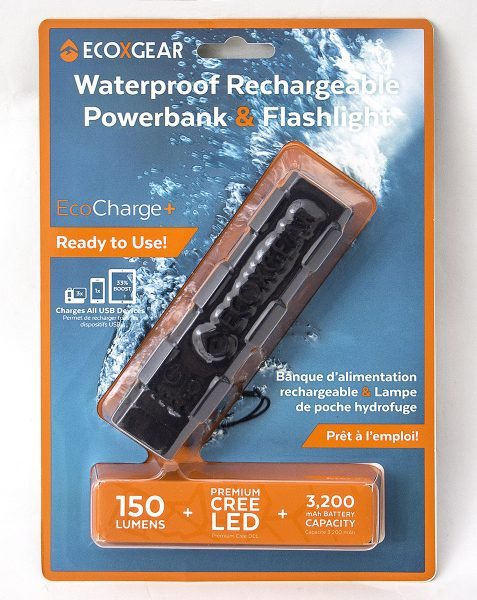 Nowadays, having a portable charger, or power bank, for your cell phone is not only a necessity but it also has to stand up to every day use and abuse. It won't do you any good if your charger breaks from being dropped or if it gets damaged from water or moisture exposure. This is where the EcoCharge+ from ECOXGEAR stands out from many ordinary power Banks.

The EcoCharge+ is a power bank with a rechargeable 3200mAh 3.1volt lithium battery and is designed to be charged around 500 times. It is meant to charge many devices from smart phones to GPS units to action cameras and even bigger devices such as tablets or iPads.The dimensions for it are 1.2″in x 1.3″in x 4.9″in and weighs in at only 4.8 ounces. It is covered with a rubber coating which makes the EcoCharge+ shock resistant and waterproof with an IP67 rating. The rubber coating is beneficial if you ever drop the EcoCharge+ on your floor in your house or even dropped it, let's say, on a wet, rocky surface if you ever brought it with you fishing, hiking or camping. It's nice to know that if it gets knocked around that it is safe. So, if you carry it in your backpack, duffle bag, or purse, you know it will be fine if it gets tossed around.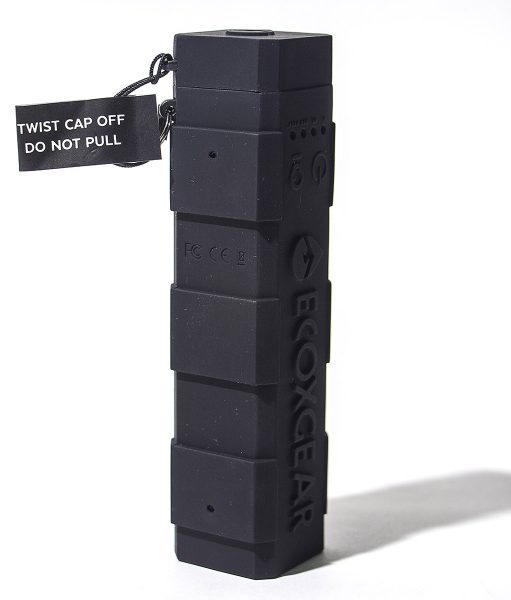 Although it is waterproof, you have to make sure that the cap to the USB ports is twisted on tightly to ensure that it is sealed. If it's not closed properly then it is not waterproof. And a side note, you must twist the cap to take it off and not pull it off.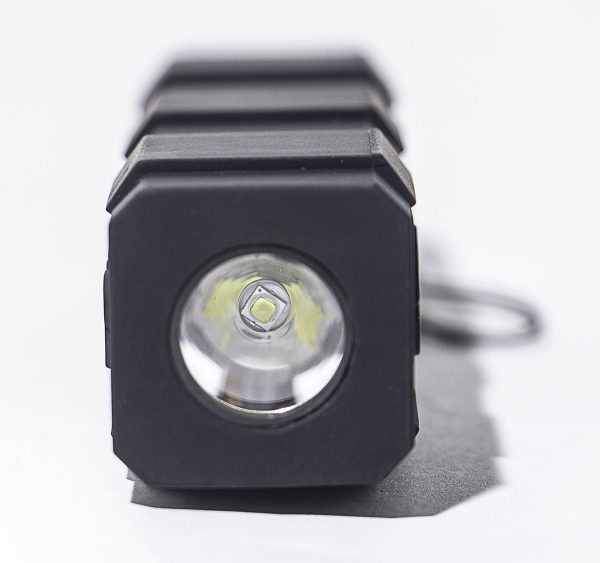 Included on this powerbank is a 150 Lumen flashlight, which makes sense because the EcoCharge+ is closely shaped like a small portable flashlight. There are four settings to the flashlight as you click the Light Bulb icon button on the side of the EcoCharge+. The first click is the Low setting, second click is High, third click is Flash, and a fourth click is an S.O.S strobe.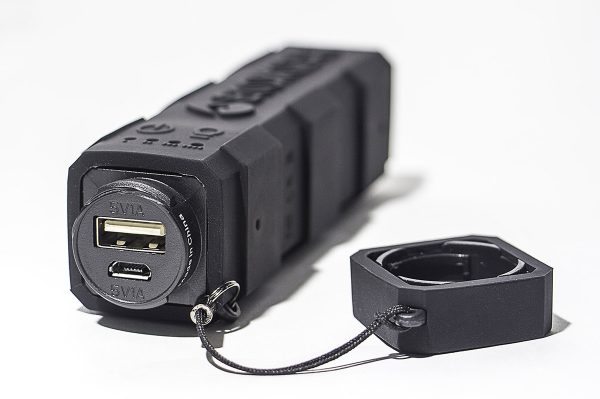 And speaking of buttons, the buttons on the EcoCharge+ are difficult to see. This is due to the extreme black-colored rubber coating which almost camouflage the buttons. I always had to spin the EcoCharge+ around just to find the buttons because I could never tell where the buttons were the first time around. So, if you were caught in the dark and had to use the EcoCharge+ as a flashlight, you would have a very difficult and tedious time locating the LightBulb Power button to turn the flashlight on.
But, on a positive side, you can get 32 hours of use on the Low setting and 8 hours on the High setting.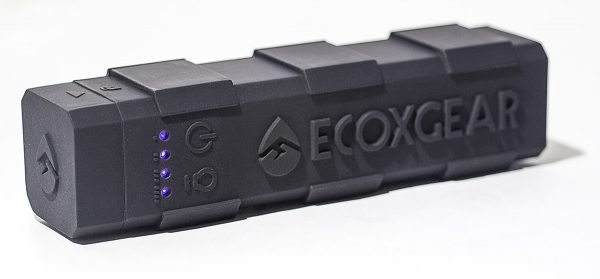 When using the power bank portion of the EcoCharge+ you can monitor the percentage of power remaining from the for LED lights below the Light Bulb and Power buttons. Four lights for a Full charge, three lights for 75%, two lights for 50% and one light for 25% power remaining. The USB charging ports are 5 volts 1.0A for both input and output. However, I would have liked to have seen the output to be the stronger 2.01A for more charging power. Although the EcoCharge+ comes included with a USB cable (appx. 1 foot), there is no adapter plug to go with it. So, if you don't have an adapter, you'll just have to settle on charging it by plugging into a computer or laptop. However, many phone chargers have adapter plugs nowadays, so you may be able to use your phone's adapter plug with the USB cable from the EcoCharge+. Just check the phone's manual first just to be sure.
It takes about 3 hours to fully charge the EcoCharge+. And on a side note, after the EcoCharge+ was completely empty of all the charging power, the flashlight was still able to turn on.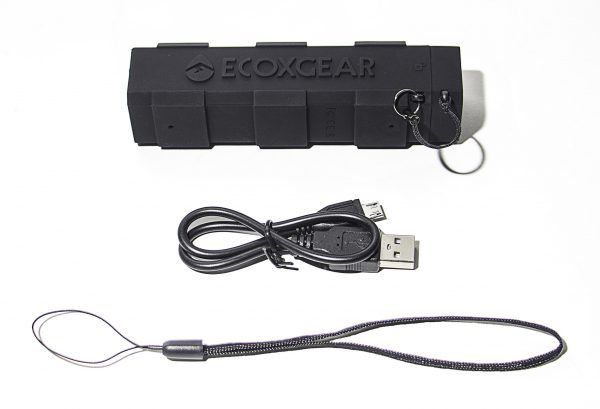 Keep in mind that when you use the EchoCharge+ to charge your device, you need to press the Power button to initiate charging. Unlike the other powerbanks that I use, simply plugging the USB cable into your device isn't enough. With my other powerbanks you just plug in the USB cable and charging starts. Not with the EcoCharge+, you will need to turn it on manually. Several times I had forgotten to turn it on and 10 minutes later I was wondering why my phone's battery charge hadn't increased. Apparently, I just forgot to press the Power button on the EcoCharge+.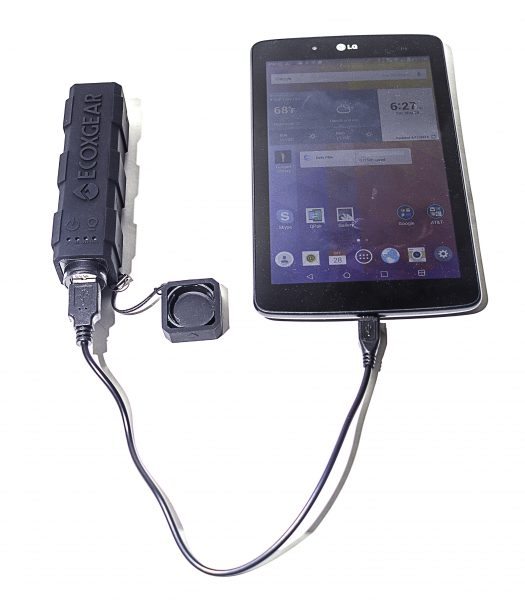 All in all, the EcoCharge+ from ECOXGEAR is a great handy little portable charger, or power bank if you will, that has a few features that many other common chargers don't have. I think the multi-mode flashlight, the waterproofing, and the shockproofing would make this a handy addition for your everyday carry items and it's ideal for taking with you when you go camping, fishing, hiking, and any other activities you can think of. And of course, it's for perfect for anyone who needs a little extra emergency power for their devices with few extra features included.
Source: The sample for this review was provided by ECOXGEAR. Please visit their site for more info and http://amzn.to/29ULSm7Amazon to order.
Product Information
Price:
$19.99
Manufacturer:
ECOXGEAR
Retailer:
Amazon
Pros:

Waterproof.
Shockproof.
Small portable size.
Flashlight still works after charger is empty.
4 Flashlight Modes.
8 Hour flashlight use on High.

Cons:

Hard to see Power buttons.
Only 1.0A charge.
No adapter plug included.
Charge doesn't start until Power button is pressed.