We use affiliate links. If you buy something through the links on this page, we may earn a commission at no cost to you. Learn more.
I recently opened my mailbox to find a package from a company named ABT
(Advanced Bridging Technologies). Opening the box revealed 3 iPod accessories. One specifically for the Apple Nano and two for any iPod with a docking connector. I've had a chance to put each of these products through some good old gadgeteer testing and will share my experiences with you.
iJet for the Apple iPod Nano
This device is an FM transmitter for the iPod Nano. That in itself doesn't sound very exciting does it? Well, the iJet has a bit more going for it than your typical FM transmitter.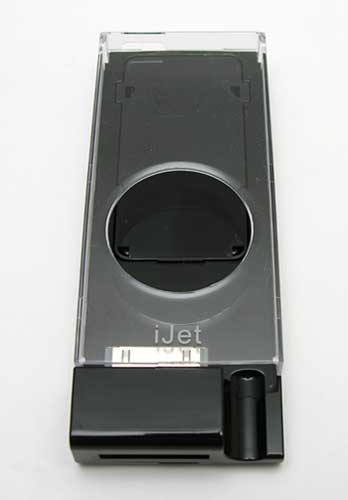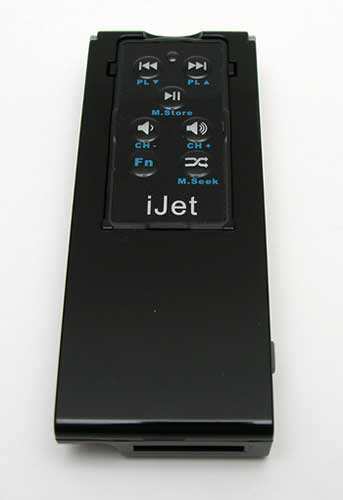 Designed like a sled, the Nano attaches via the bottom docking connector. Then a hinged clear plastic cover snaps down to
protect the entire DAP sans the touch wheel, which is exposed for easy access. There is also a small cutout at the top of
the cover to allow access to the Hold switch. However, I found that the plastic is too thick and the opening too small,
to allow you to actually manipulate the switch.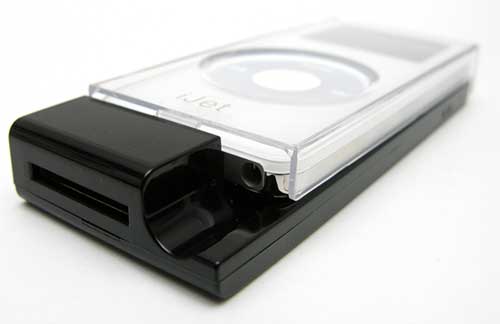 There is also access to the earphone jack, while the Nano is attached.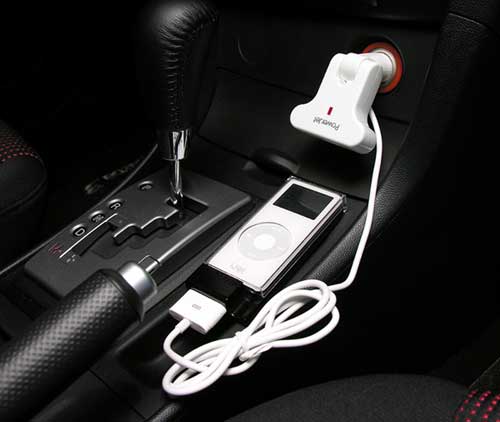 You can also see that there is a pass-through dock connector on the bottom of the iJet. This is a great feature, as it
allows you to plug in an iPod car charger (see the PowerJet review below) when needed. I used this FM transmitter in
conjunction with the PowerJet and found the combo to be a good one. You can also use the pass-through connector to sync with your PC or Mac.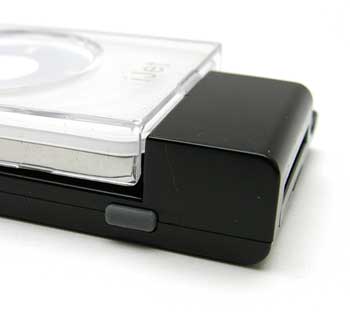 The iJet does not use any batteries. It is powered by the Nano. Setup is not required. It's basically plug and play.
As soon as you plug the Nano into the sled, it will power on the Nano, display the current FM frequency that it will
broadcast on and then start playing the last song it had last been playing. If you need to change to a different FM frequency,
you just press the little Grey rubber button on the left side of the sled. Continuous pressing of this button will allow you to
cycle through the 5 preset frequency settings. Preset 5 is the on/off toggle for the FM transmitter. Holding the Grey button down, will
increase the frequency setting by 2 points. Frequency settings from 87.9 to 107.9 are available.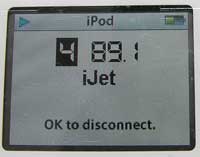 I found this device to be easy to use and the sound quality of this product to be quite good. It was rare for me to hear any static while using the
FM transmitter. Granted, I don't live in a bustling metropolis of radio stations, but even the station I chose to test with, was
not completely silent before I would start the broadcast. The only feature I wish was available, would be to use the touch wheel
to adjust the transmit frequency. Pressing the Grey button continuously does get monotonous.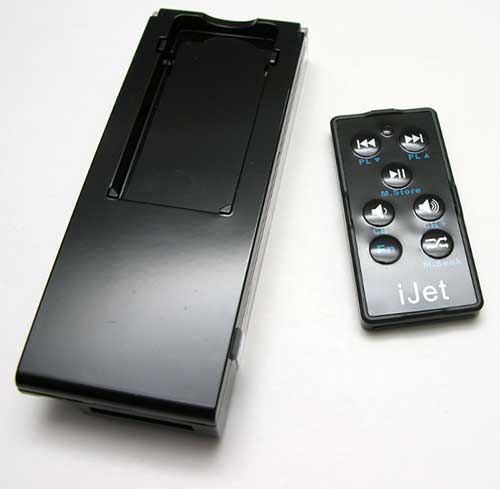 There's one more nugget of iPod goodness packed into this product. Flip it over and you'll see a small removable remote control.
Just pop it out and press the membrane buttons to adjust the volume, change tracks, cycle through playlists, frequency channels,
store frequency channels, and toggle repeat mode. The best part about this little remote, is the fact that it doesn't use IR to
transmit. It uses RF. That means you can put the Nano / iJet combo in a glove box or other location in your car, and still
control it. Range for this control is 150ft. Of course, this depends on what you are transmitting through. Transmitting through
several walls will decrease your range significantly.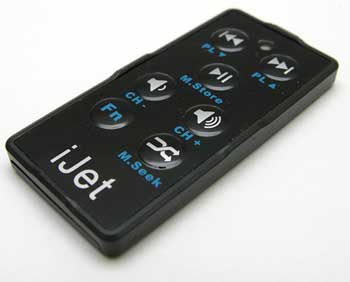 I'm not a big fan of the membrane style buttons and did find that I would sometimes need to double press my desired
command in order for it to 'go through'. But all in all, the remote is a nice feature. I especially like that it snaps into the
back of the device.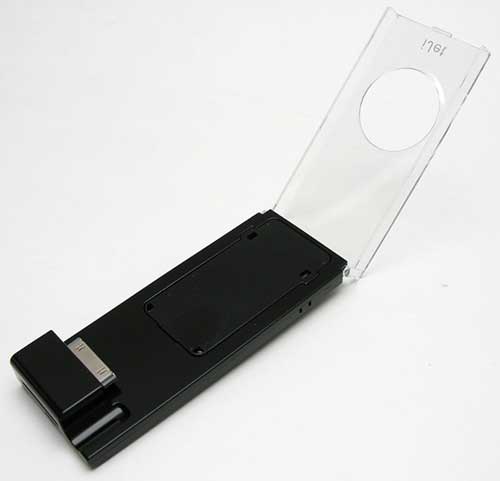 The sled is made of shiny Black plastic. When the Nano is inserted, it does add some extra bulk. That said, the Nano is
so small, that the additional girth will probably not be that noticeable.
Right now, the iJet is my favorite FM transmitter for the Nano. I like that I can just leave it plugged in and still charge / sync
when necessary.
Available for $69.99 at stores like Target, Best Buy, etc.
PowerJet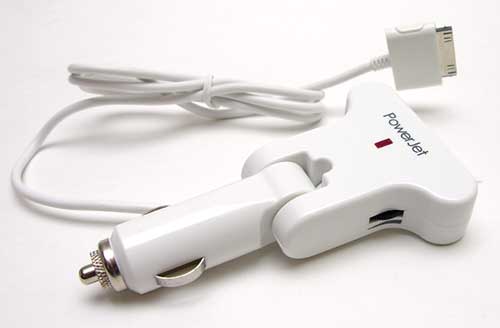 The PowerJet is a car charger (for +12V accessory – cigarette lighter outlets) for any iPod that has a dock connector (3rd generation and forward). It has a 3 foot 30-pin connector cable that extends from the hinge area.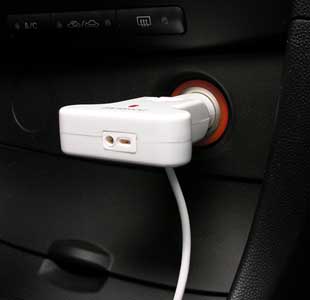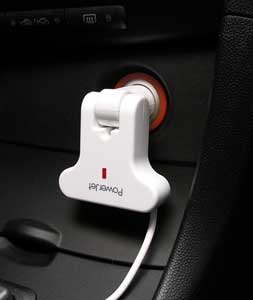 The main body of the charger can swivel to move out of the way of your gear shift.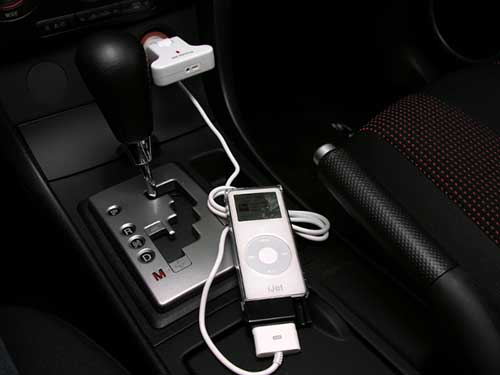 Here you see the PowerJet being used with my Nano and the iJet FM transmitter.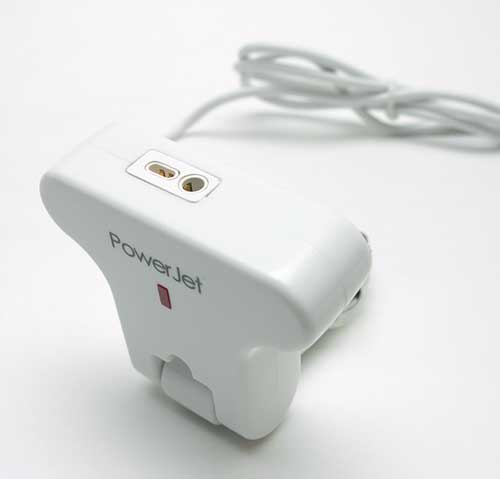 The really unique feature of this charger is the addition of a 9-pin iPod accessory port. With this port, you can plug in accessories such as the iTrip or an RF/IR remote. The kicker is that the newer iPods (Nano and iPod Video) no longer have the 9-pin port. But with this
device, you can use these accessories with your newer iPods. There is also a volume control wheel built into the PowerJet. When used with an accessory such as an FM transmitter, the volume wheel will control sound output.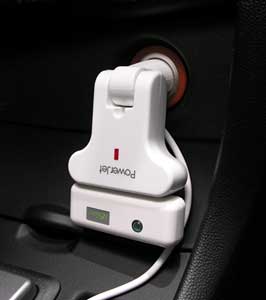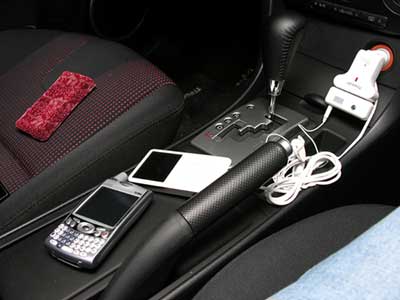 I tested the 9-pin accessory port with the iBlue module and it worked great!
Available for $59.99 at stores like Target, Best Buy, etc.
iJet Wireless Remote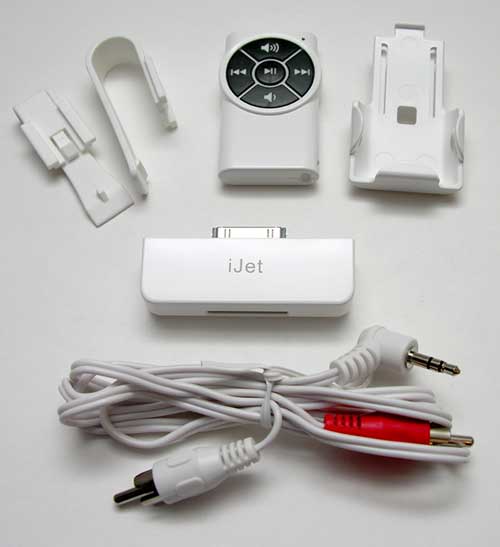 Package Contents
iJet module
Remote
Plastic holster
2 Belt clips
RCA cable for connection to external speakers
Available in black and white, this product is an RF remote that can control your iPod from as far away as 150ft. Of course the range will depend on what type of material the signal has to travel through… walls, etc.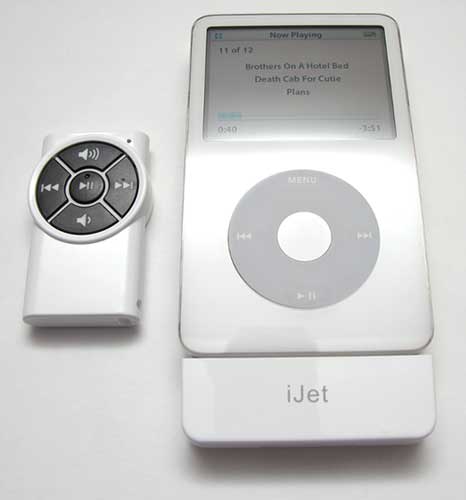 The main module plugs into the iPod's bottom dock connector and is powered by the iPod. No batteries needed, yay!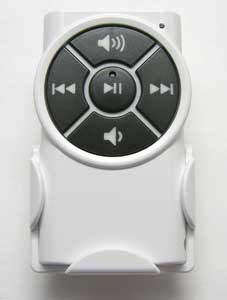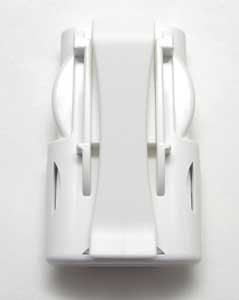 A small handheld remote control (this part does require batteries – 2 CR2025 3V) with REAL buttons, not membrane buttons, is also included along with a plastic holder and 2 different types of clips. The remote has commands to adjust volume, Forward/Rewind track, Play/Pause and Stop playback.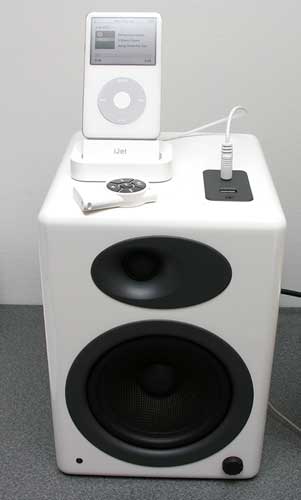 The bottom of the iJet module has a pass-through dock connector built into it, so you can connect to a charger or speaker systems. In the image above you can see that I have the iPod and iJet remote connected to a cradle, which is in turn connected to a pair of Audioengine 5 speakers. I was able to walk around the entire house changing tracks with ease. FYI: the iPod and speakers were in my basement.
I can see how this product would be useful for all sorts of iPod activities. I put it to use by clipping the remote on my treadmill, so I could control my music while I walked. :o)
Available for $39.99 at stores like Target, Best Buy, etc.
All of the iJet products are well made, and have unique features that make them more desirable than similar products of their genre.