We use affiliate links. If you buy something through the links on this page, we may earn a commission at no cost to you. Learn more.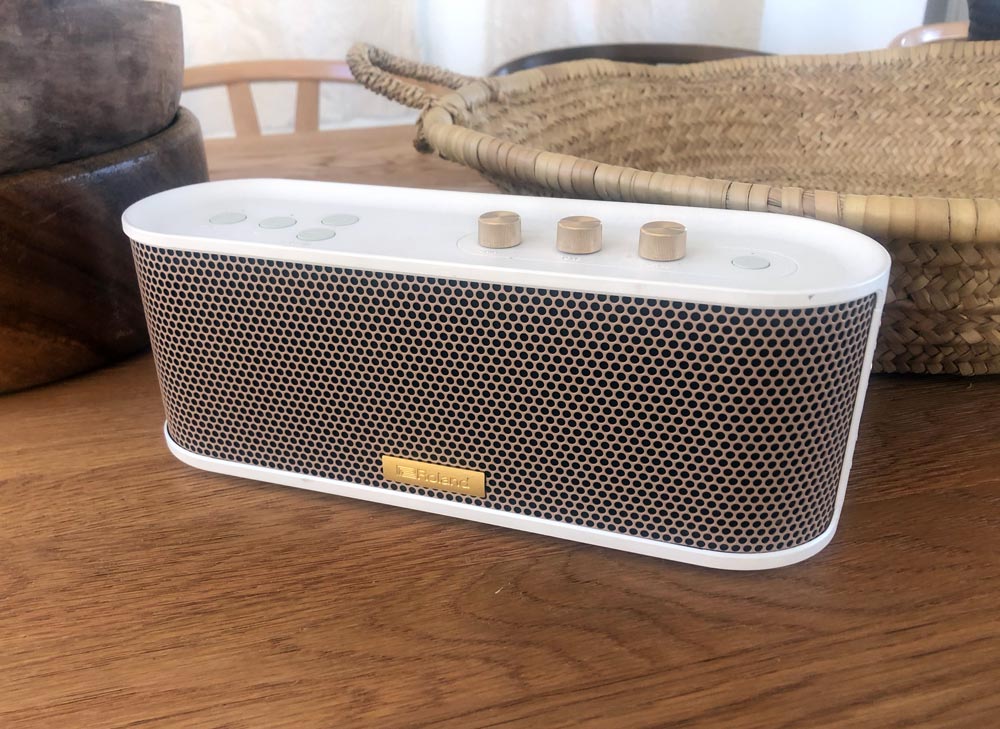 REVIEW – Bluetooth speakers are not hard to find. They come in all shapes and sizes. Guitar amps are also readily available and many now support Bluetooth. Roland's BTM-1 strikes a different balance and pairs a tastefully retro portable Bluetooth speaker with an instrument input that might just be the speaker you didn't know you were looking for.
What is it?
The BTM-1 is first and foremost a Bluetooth Speaker. It has a classic tweed inspired look to it with a creme exterior and a bronze grill that covers almost all of the front and back. The gold analog knobs on the top are the only immediate hint that it might have some guitar superpowers.
What's in the box?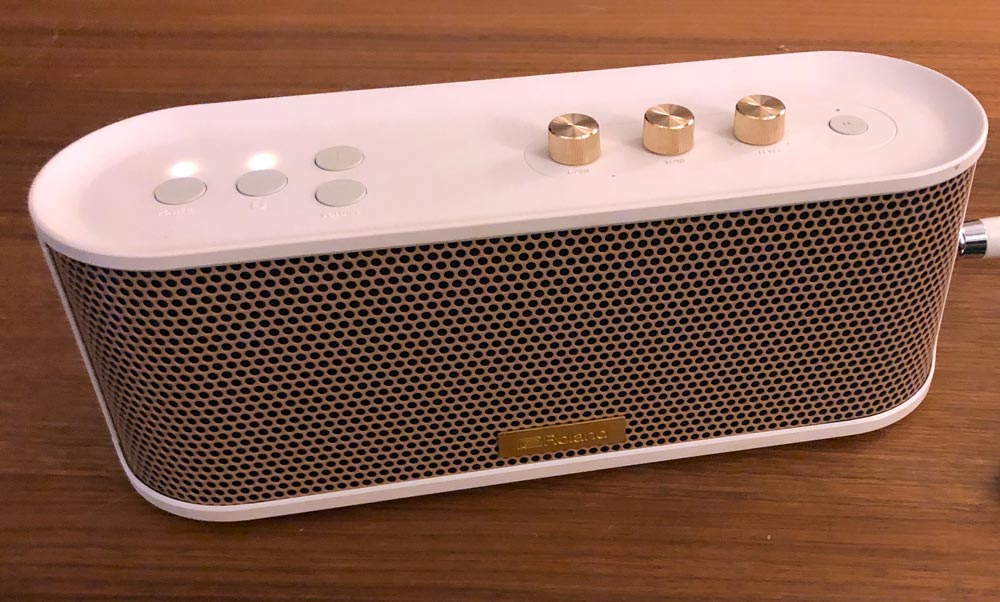 Roland BTM-1 Bluetooth Speaker
Micro-USB charging cable (not shown)
Owners Manual (not shown)
Hardware specs
Rated Power: OUTPUT 4 W + 4 W
Nominal Input Level: INPUT: -10 dBu (1 M ohm) | AUX IN: -10 dBu
Speakers: 15 cm (2 inches) x 2 | Passive radiator x 2
Bluetooth: V 4.0 | Class 2 (Line-of-sight range 10 m/30 ft) | Profiles A2DP, AVRCP | Codec: SBC
Bluetooth Controls: Power button | Bluetooth button | Volume +/- buttons
Guitar Controls: Gain, Tone and Level knobs | FX button = short delay or high/low gain when pressed with volume
Indicators: Power, Bluetooth and FX
Connectors: 1/4″ instrument input, 1/8″ aux input, 1/8″ headphone output, USB Micro-B charge port
Power Supply: Lithium-ion battery, 5v from charge port  (2A max)
Runtime: 6 hours continuous playback on battery streaming audio via Bluetooth
Dimensions: 264mm wide x 78mm deep x 100mm high and ~ 2 lbs.
Design and features
Roland's BTM-1 has a unique visual that stands out from the sea of Bluetooth speaker sameness. It has a pill-shaped footprint with an almost 360º speaker grill that is just interrupted on the two ends.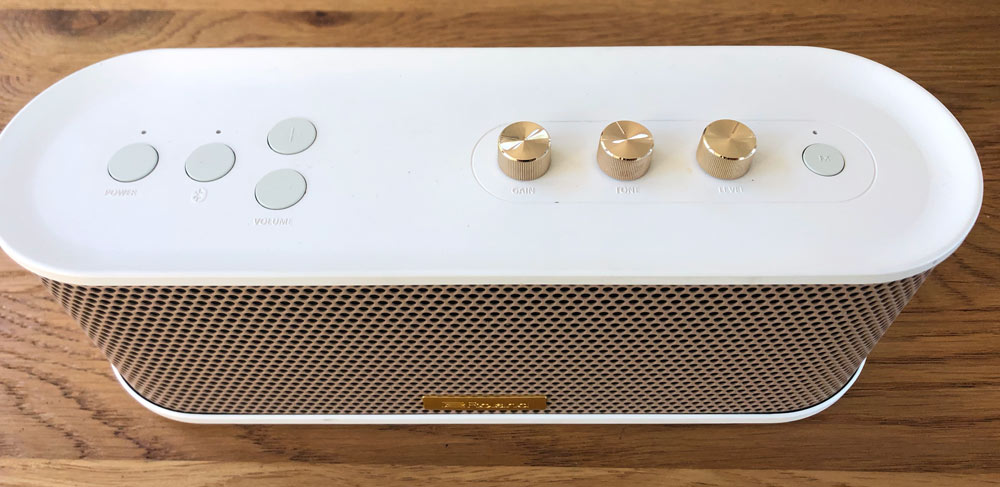 All the Bluetooth specific controls are tackled by flat-top buttons with a nice physical click.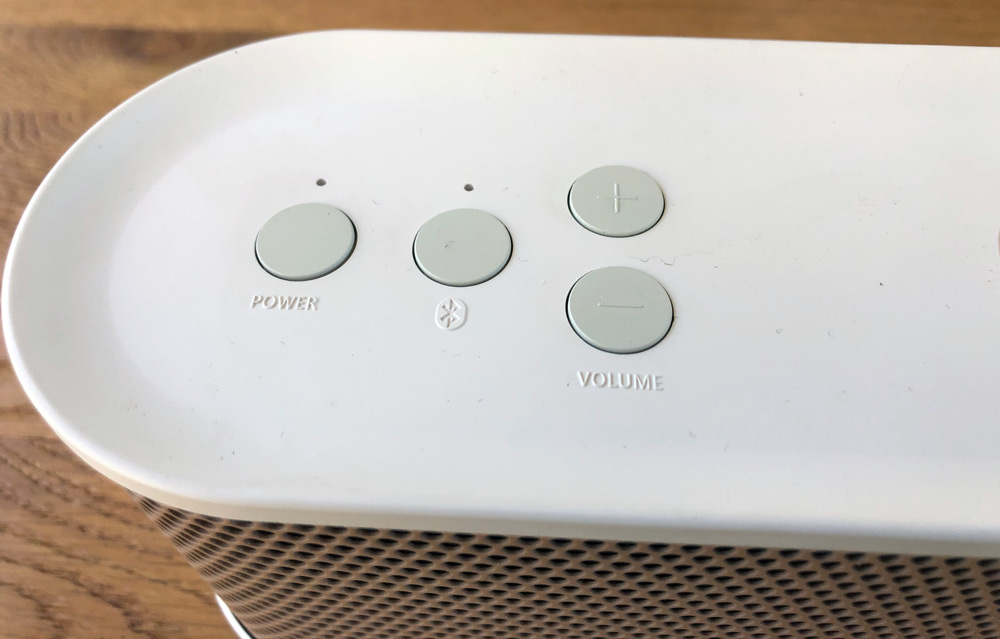 The guitar or instrument controls are gold analog knobs along with a single FX flat-top button.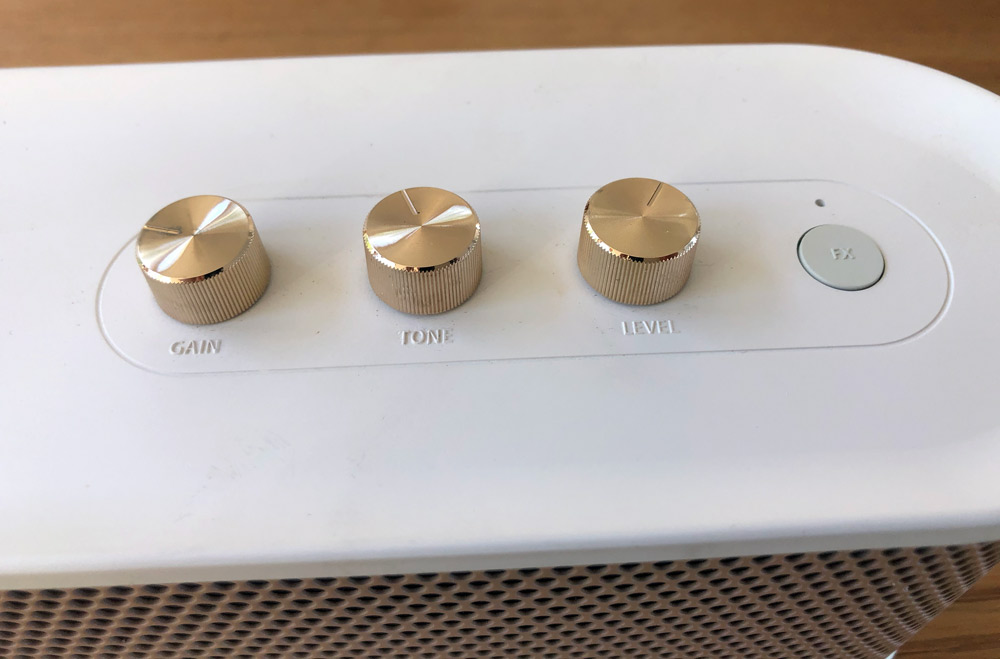 On one end you'll find the two 1/8″ jacks for aux-in and headphones along with the 1/4″ instrument input and USB Micro-B charge port.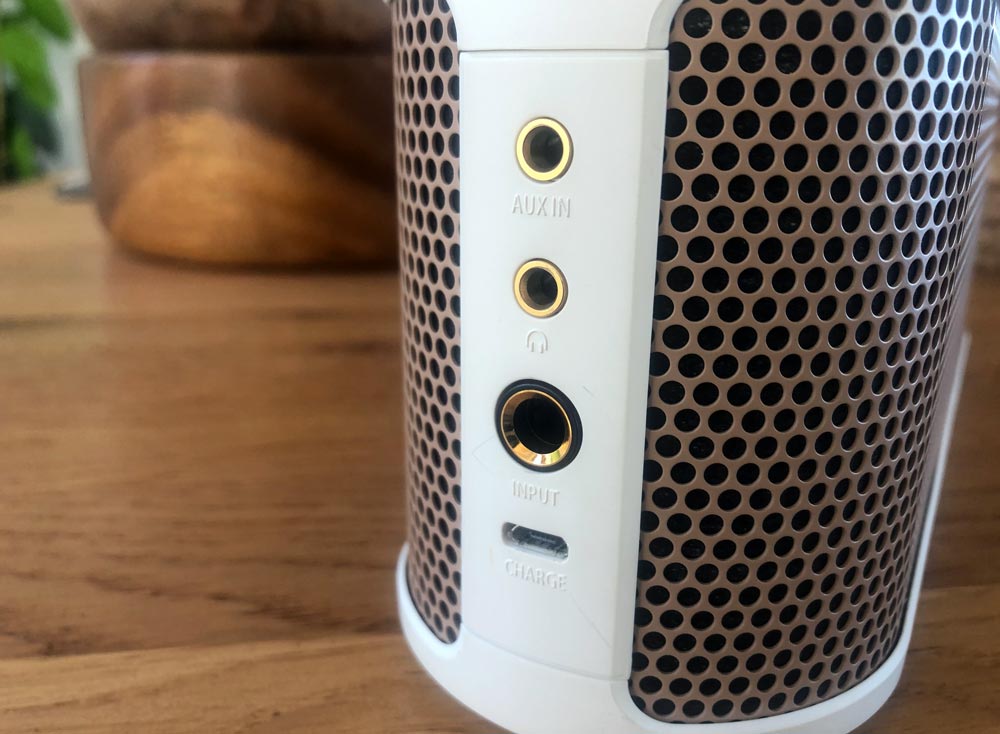 The bottom hides the product detail sticker along with two elastomeric feet to keep it solidly in place.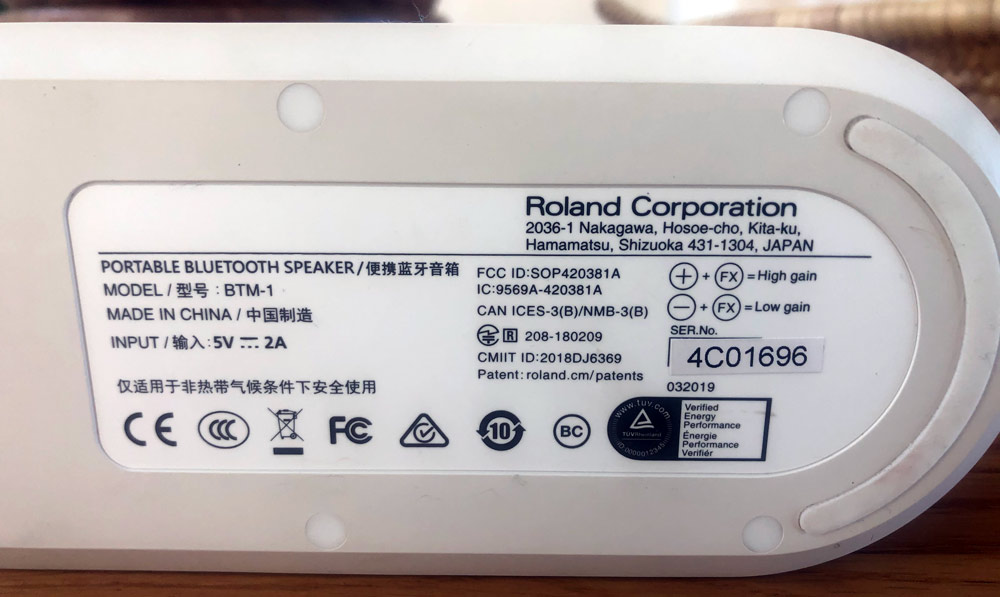 Setup
As with any battery powered device, you'll want to fully charge the battery first. Go ahead and connect the included charge cable and use any standard USB wall adapter (ideally 2A minimum of output for the fastest charge).
Press and hold the Power button until you hear the ascending chime. The speaker is now on. Repeat to turn it off again.
To pair a Bluetooth device, press and hold the Bluetooth button until the indicator blinks rapidly, then search for Roland BTM-1 on your source device. Confirm it works and repeat the process if necessary or to add an additional device. To turn off Bluetooth, press and hold for 2 seconds.
To connect a guitar, you'll want to make sure the gain and level knobs down and then plug your guitar cable into the 1/4″ jack on the end of the speaker. Turn up the volume on your guitar, and then adjust the speaker knobs to get to a tone and sound level that suits your taste. Other devices or instruments can be connected via the Aux jack.
Performance
I think it will help to set some expectations out of the gate. This is not a performance guitar amp or even a "practice with your band" amp. It is, however, a solid Bluetooth speaker and personal practice amp that's ideally suited for small to midsize rooms and will look much more room appropriate than a lot of guitar specific solutions.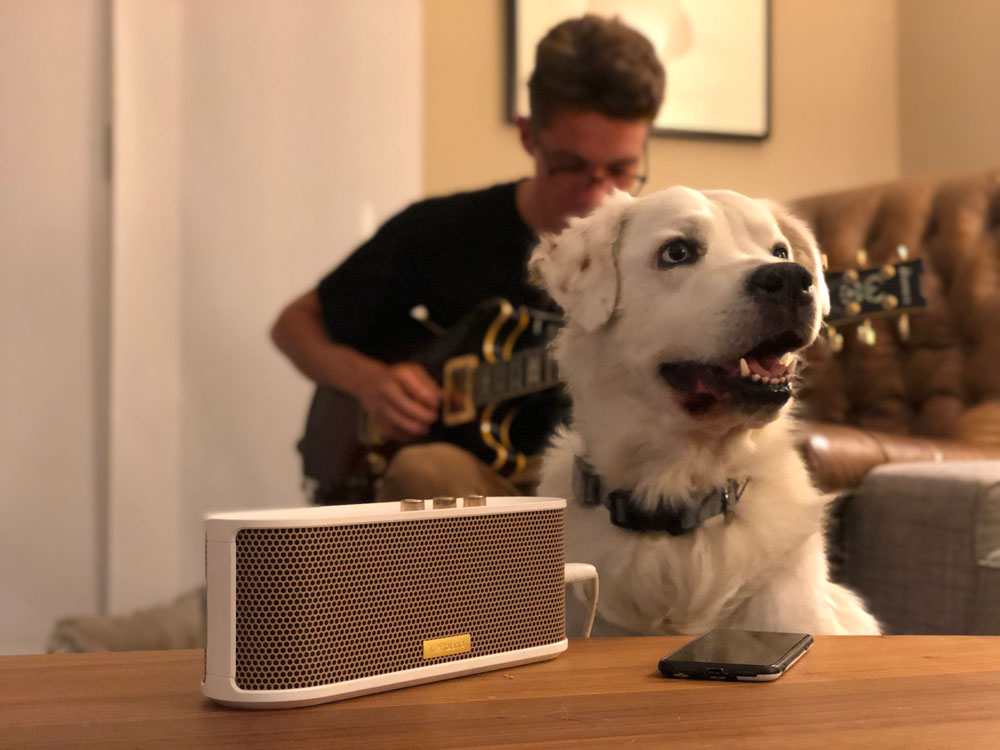 We've been using the BTM-1 solidly for a couple of weeks now. It's really easy to connect the first device. Each time you turn on the speaker it automatically reconnects which is great if you stream from a single device. If you stream from multiple devices or have multiple users sharing one speaker there's no quick way to toggle through different sources, so it feels a bit like constantly setting up. This is likely not an issue for most users, but in our family, we constantly trade DJ control.
Where this speaker really shines is the addition of the guitar input. It's super cool to be streaming and come across a song where you just want to play along or suddenly want to learn how to play a part. The separate controls for Bluetooth and guitar let you dial in the overall volume while balancing the mix between song and guitar. It's easiest just to let you see it in action so here's Satchel playing Santeria by Sublime trying not to crack up too much at our dog Ollie that just had to be in the video shoot too.
There's good control over the sound from clean to an overdrive while dialing in warmth with the tone knob. You'll obviously get a lot more control from a dedicated full size guitar amp, but if jamming along with tracks is your main thing this might be just the ticket.
What I like
Good balanced sound in a larger Bluetooth speaker that is still backpack portable
Guitar connection to let you jam along with the songs you want to learn
Retro-modern aesthetic that will look great in most rooms and doesn't scream GUITAR
What I'd change
I'd have the Bluetooth volume 1:1 with my phone for better distance control instead of separate phone and speaker levels
I'd have the controls labeled in a darker color to be easier to read
I'd like a faster way to toggle between known paired devices
Final thoughts
Roland's BTM-1 is a capable Bluetooth speaker with full sound that should be loud enough for most users. The fact that you can connect your guitar without anything more than a guitar cable icing on the cake. It's been a while since I've picked up my guitar and this speaker has just made it significantly easier to plug in and play along.
Price: $199.99
Where to buy: Amazon
Source: The sample of this product was provided by Roland.