We use affiliate links. If you buy something through the links on this page, we may earn a commission at no cost to you. Learn more.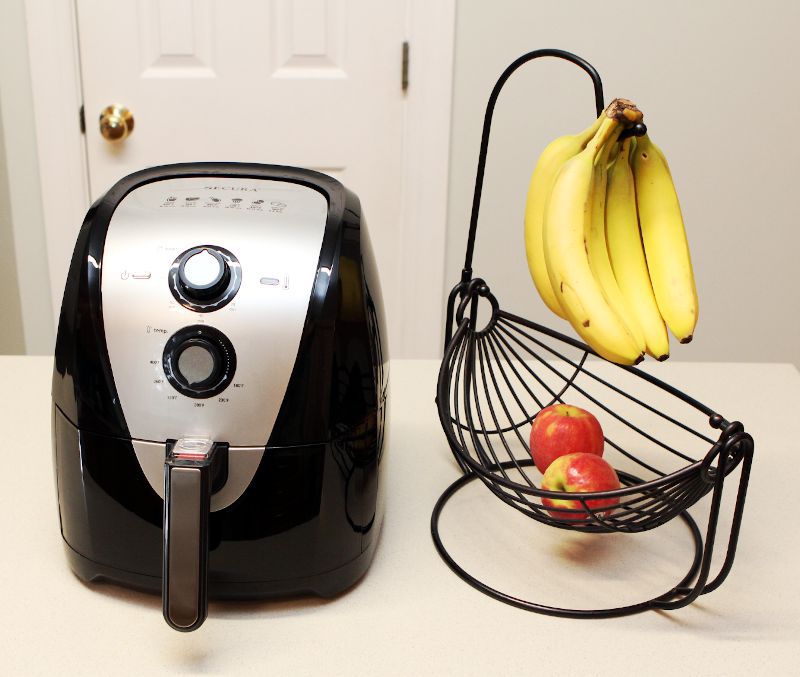 REVIEW – Some people love to cook and are good at it.  Others of us are not-so-skilled, but we still have to eat.  Eating out every night is rather expensive, and Ramen noodles get old in a hurry.  What's a non-cook to do?  I have a theory:  I think it's possible to do a lot of cooking using an air fryer.  Maybe not enough to be a sous-chef, but enough to eat good food and maybe even some healthy food.  To test my theory, I'm going to be using Secura's Hot 'n Crispy Air Fryer.
What is it?
The Secura Hot 'n Crispy is an air fryer with a 5.3L basket and 1700W of cooking power.  As with all air fryers, it's actually a smaller version of a convection oven that cooks by rapidly circulating hot air around the foods.  It cooks faster than a traditional oven (and thus generates less heat) and uses a lot less oil than a deep fryer.  Secura says that it "allows you to prepare your favorite ingredients and snacks in a healthier way."
What's in the box?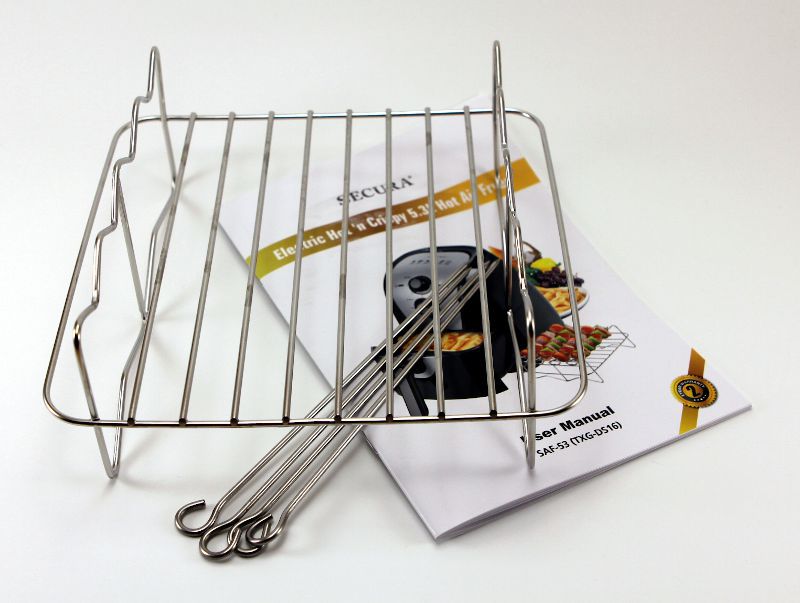 The air fryer with a basket and pan
A BBQ rack with 4 skewers
A user manual with 18 pages of English instructions and 12 recipes
Hardware specs
Basket capacity: 5.3L (5.6 qt)
Output power:  1700W
Weight:  11 lbs 3 oz
Size: 12.5 x 12 x 12 inches
Design and features
Secura's air fryer is a glossy, black plastic with a metallic-looking front plate that is dominated by two large, retro-looking knobs.  Sticking out the front is large, black handle with a clear plastic release button cover.  It's an aesthetically-pleasing design with lots of gentle curves that look good in the kitchen.
Installation and setup
Installation is simple.  First, remove the various packaging materials and stickers, including those in the basket.  Second, wash the basket and pan.  Third, wipe down everything with a moist cloth.  Fourth, put the basket into the pan and reinsert it into the fryer.  Fifth, run the fryer for 30 minutes on 400° to burn away any chemicals that might remain from the manufacturing process.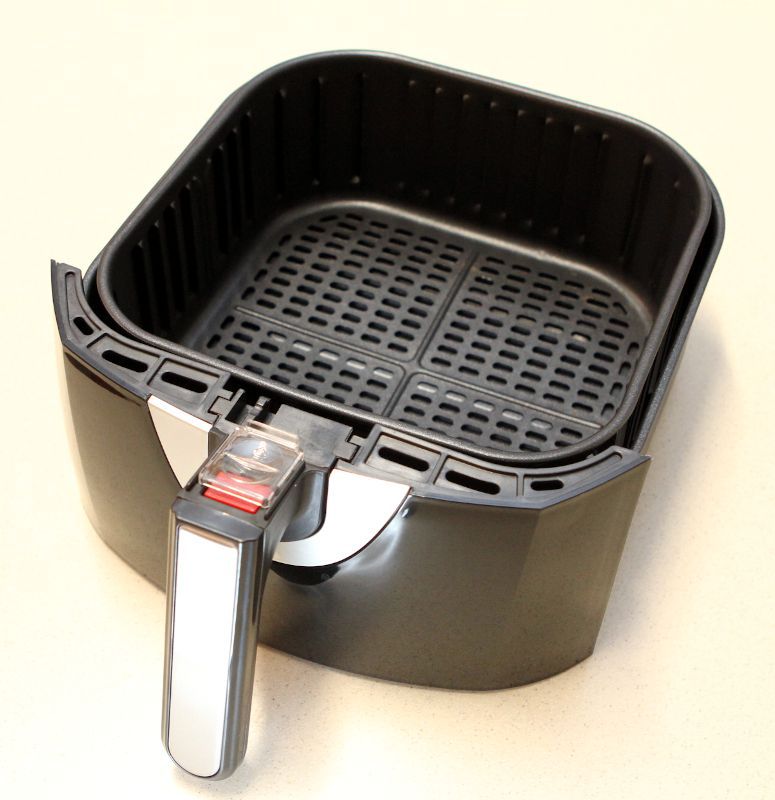 In my test unit, the pan doesn't quite fit perfectly into the fryer.  When I attempt to insert it, it doesn't go in all the way; it stops about 3/8 of an inch out and doesn't want to go in easily.  It looks like the manufacturing specs are off just a little bit. When I give it a good, hard push, it finally goes in.  This problem persisted throughout my testing.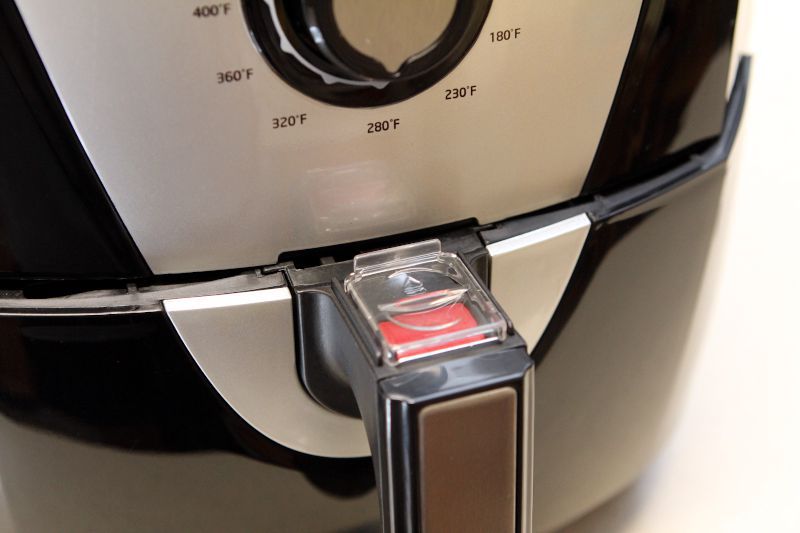 Performance
Cooking in Secura's air fryer is simple.  I only need to put the food in the basket and the basket in the pan and then set the time and the temperature.  These stylish knobs are the air fryer's greatest strength.  They can be set to any time or temperature that you want!  They are also its greatest weakness.  The temperature and time knobs are both analog, so I can't be precise when setting them.  The time knob, in particular, is very difficult to set accurately and useless for any time under 5 minutes.  It's spring-loaded and reminds me of the timers in microwaves from 20 years ago.  When the difference between 7 minutes and 9 minutes can mean burning the food, this knob can be frustrating.  There's no on/off button; the fryer turns on and begins to count down automatically when the time is set, so long as the pan has been inserted.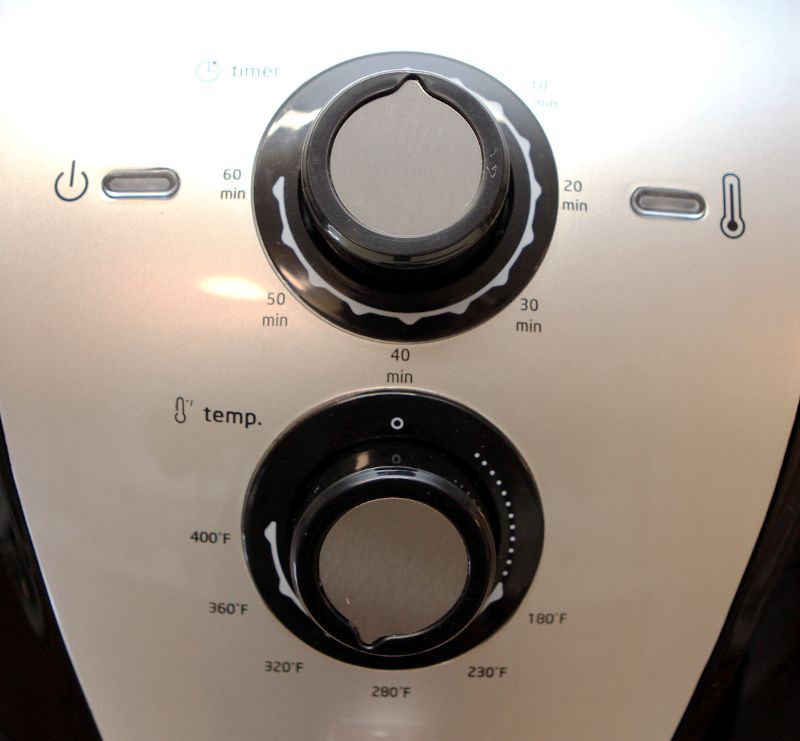 How does someone who is not-a-skilled cook know what time and temperature to use for a given dish?  Thankfully, Secura has provided some help with this.  Along the top of the fryer is a row of recommendations for common foods.

Additionally, a page and a half of the manual contains a more detailed set of recommendations, including types of food, amount of food, whether to shake it or not, and whether to add oil or not.  This is a nice reference, and it might be a good idea to cut it out and magnet it to your fridge.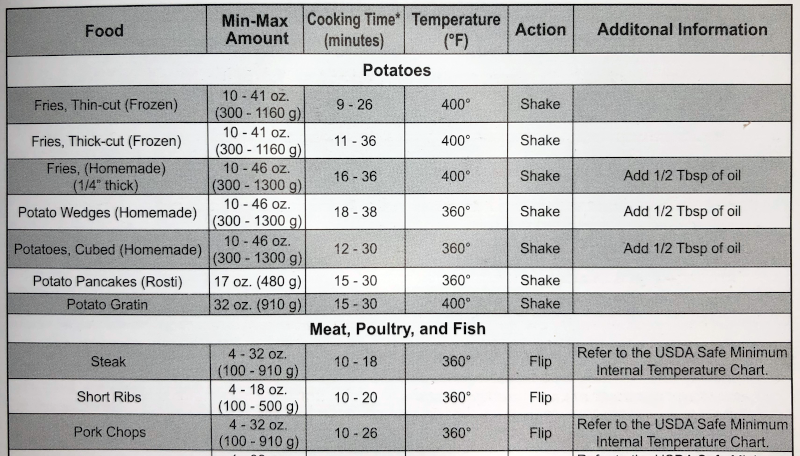 Unfortunately, these values can have quite a range.  Thick-cut frozen French fries, for example, take anywhere from 11 to 36 minutes to cook!  The only thing you can do is experiment, find the values that work best for you, and then keep some notes to remember what to do next time.
Another place to find the right time and temperature is on the food item itself, especially frozen foods.  A package of French fries that we bought from Wal-mart has air fryer-specific instructions (400° for 12-18 minutes), though a similar package of tater tots does not.
Finally, the best place is on a recipe that is designed for air fryers.  This recipe for beef kabobs from Berry & Maple, for example, recommends 400° for 10 minutes.
Many food items need to be shaken halfway through the air frying process, as this ensures that they are cooked evenly and completely.  Unfortunately, Secura's fryer does not provide any mechanism for reminding you to pull the pan out and shake it.  You either just need to remember, or you need to set the time to half way and then set for the rest when you reinsert the pan.  This is a feature that would be very handy to have, though it's not obvious to me how Secura can do it with an analog timer.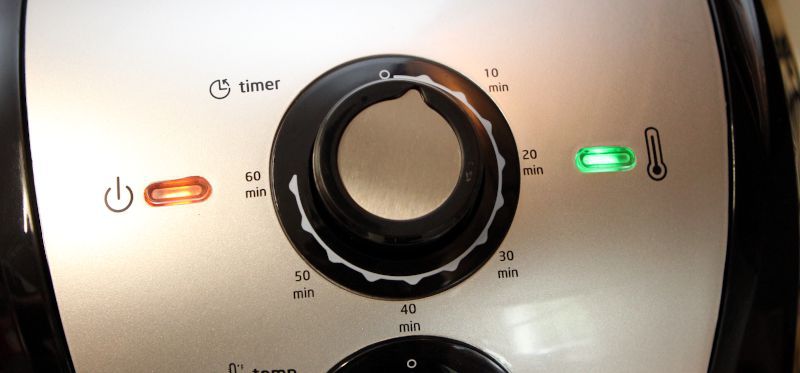 Fried Foods
At this point in the review, let's return to the original problem:  Can we find some good food for a not-such-an-expert cook?  The first thing that I tested in Secura's fryer was French fries and chicken tenders, which I bought in the frozen food section at Wal-mart; this is an air fryer after all.  I put some of each in the basket, looked at the range of recommended times, took an average (400° for 20 minutes), and started cooking!  I also remembered to give it a good shake half way through.  When finished, I had some golden, crispy, perfectly-cooked fries and tenders.  So yummy!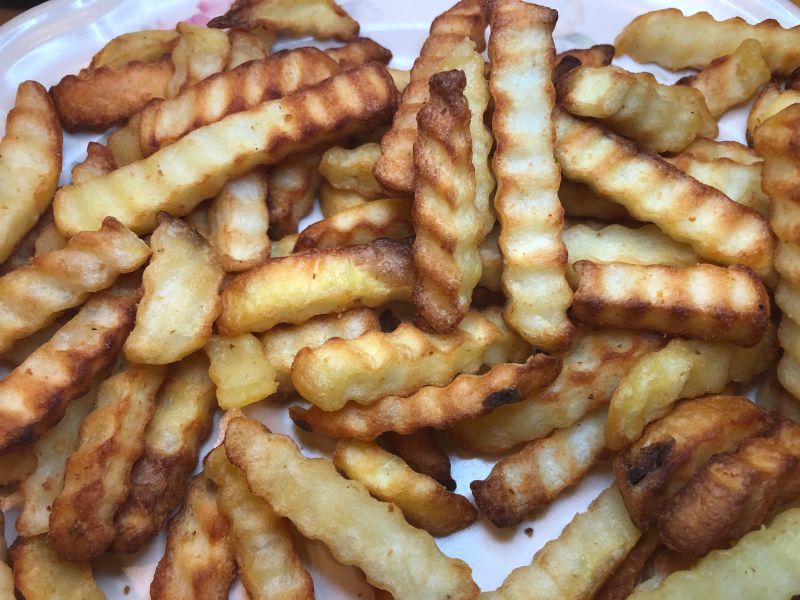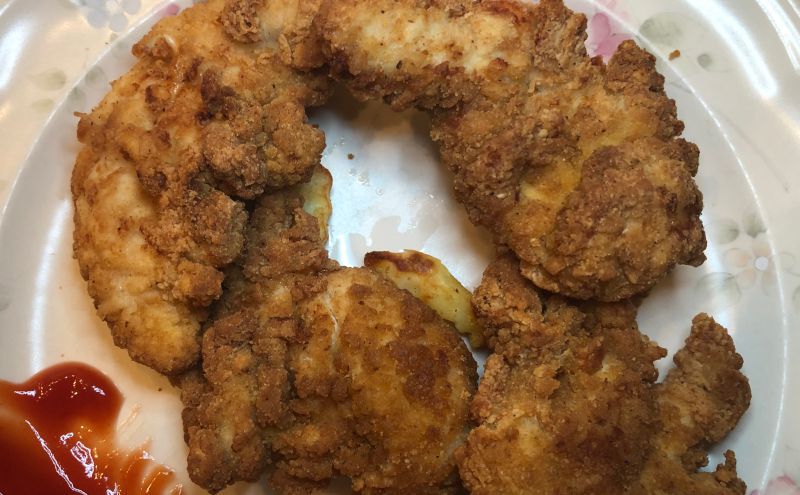 This may not be the healthiest meal ever made, but for our non-cooks this is a quick and easy meal.  The frozen food section of any grocery store will contain a variety of options, such as hash browns, egg rolls, and pizza pockets.  I suggest getting smaller items rather than larger, just to ensure they are cooked all the way through.  I don't suggest eating meals like this every day, but once in a while when you're in a hurry, it's nice to know that the Hot 'n Crispy can fry them to perfection.
Healthy Meals
I know that Secura's air fryer can handle fried foods, but can it cook something healthier, something with meat and vegetables?  The best way to start is to search online.  There aren't nearly as many air fryer recipes as there are traditional recipes, but there are enough.
Perhaps one of the best recipes for an air fryer is for kabobs.  The air can circulate all around the food, cooking it quickly, and it can contain a variety of meat (beef, chicken, or pork) and vegetables (peppers, onions, mushrooms, squash, zucchini, pineapple).  This recipe from Berry & Maple creates its own marinade, but if a non-cook wanted to make it even simpler, he could just use Italian dressing instead.  Secura's air fryer is the perfect gadget for this recipe, because it comes with a rack and 4 tiny skewers, exactly what is needed.
I marinated the beef for an hour, then put them on the skewers with onions and peppers.  I preheated the air fryer for 5 minutes, then put the kabob in for 10 minutes on 400°.  As you can see, that was a bit too long, so the next batch I did for a couple minutes less.  Despite being a bit too crispy, they were very good.  Four skewers is about enough for one person.  The only downside to this meal is that the marinade makes a bit of a mess in the fryer, so some extra cleanup is required.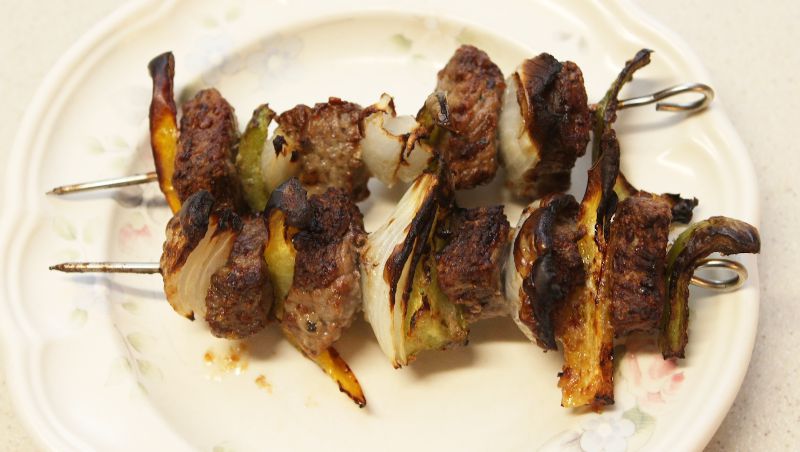 To give the kabobs even more variety, any grocery store will have a couple of shelves full of different marinades.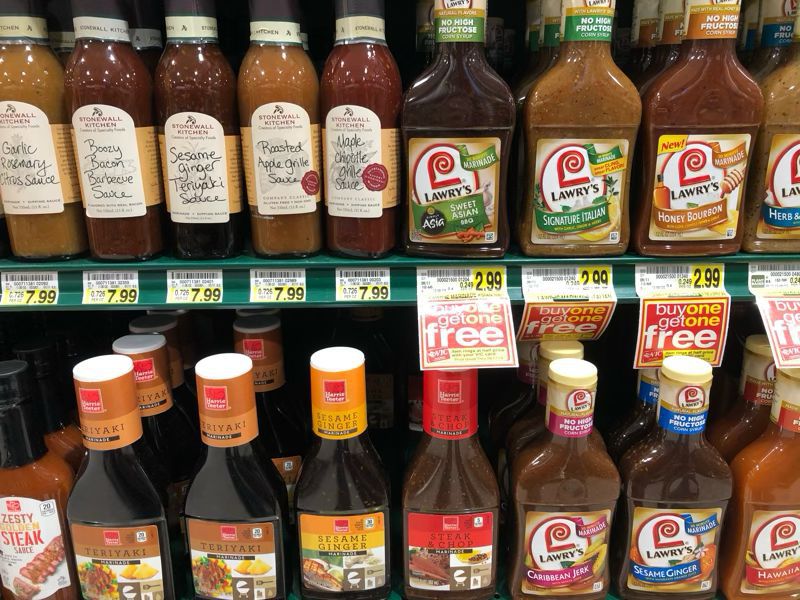 I found another recipe online, this one for a pork tenderloin with bell peppers.  It doesn't have too many ingredients, although there is one that is a bit strange, "Provençal herbs."  Another quick search reveals that they refer to a set of herbs used in French dishes, are more common called "herbes de provence," and can be purchased at Target.  Unfortunately, the food did was not nearly done after the allotted time; I suspect that 200° was the preheat temperature, not the actual cooking temperature.  To compensate, I had to turn the temperature up and cook a little longer, until it was done.  In the end, it worked out, as the tenderloin and the vegetables were juicy and tender, cooked to perfection; the secret to this recipe is the oven dish, which traps in the juices and keeps the meat from being dried out.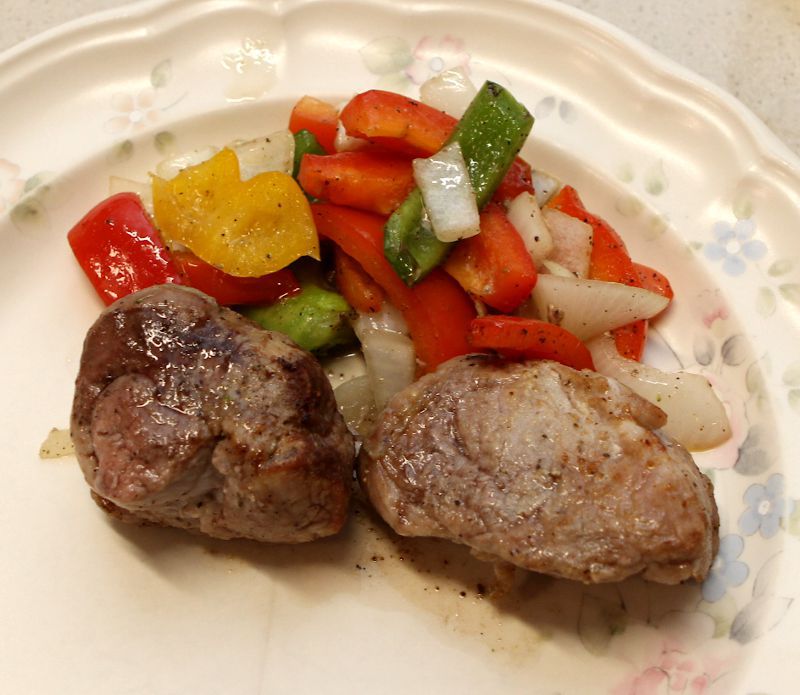 Although there are fewer recipes choices for air fryer foods than for other methods of cooking, I think it's safe to say there it is possible to eat healthy food with an air fryer, and Secura's air fryer does a great job cooking them.
Unexpected Items
For my final set of tests, I wanted to try a couple of recipes that are both delicious and perhaps a bit unexpected, just to show off the flexibility of the Hot 'n Crispy.  The first recipe I found was for smores.  It's surprisingly easy, and though it may lack the charm of a fire pit, it's also a lot less smoky.  Secura's air fryer makes some very good smores.  The marshmallows are soft and gooey, and the chocolate has just begun to melt.  The graham crackers are warm and crispy.  It's a quick, easy, delicious dessert.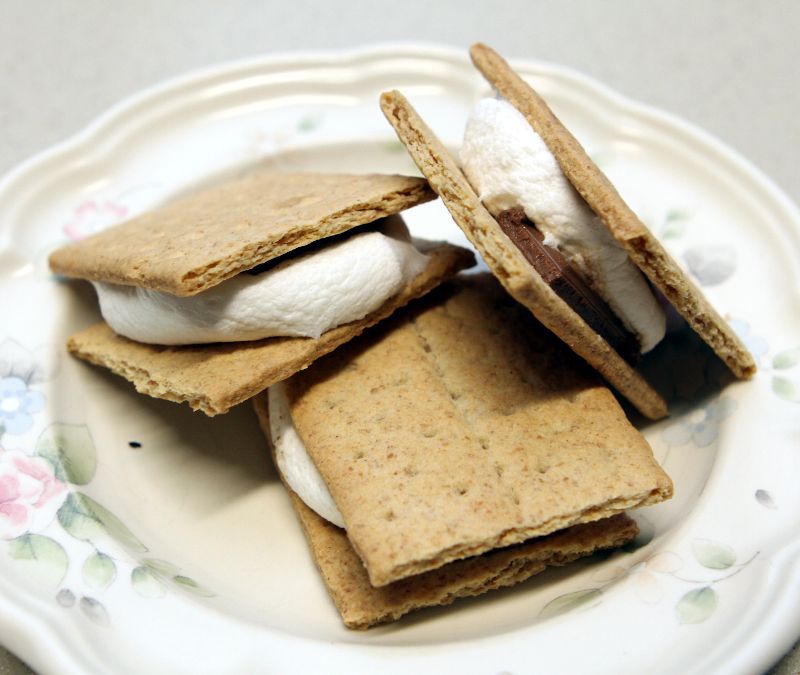 The second recipe I found was for crescents, small fruit-filled pastries.  It uses Pillsbury Crescent Rolls for the outside and an apple filling for the inside.  This recipe looks yummy, and a less-than-experienced cook could save a little time by buying fruit filling instead, apple, peach, or blueberry, which is what I did.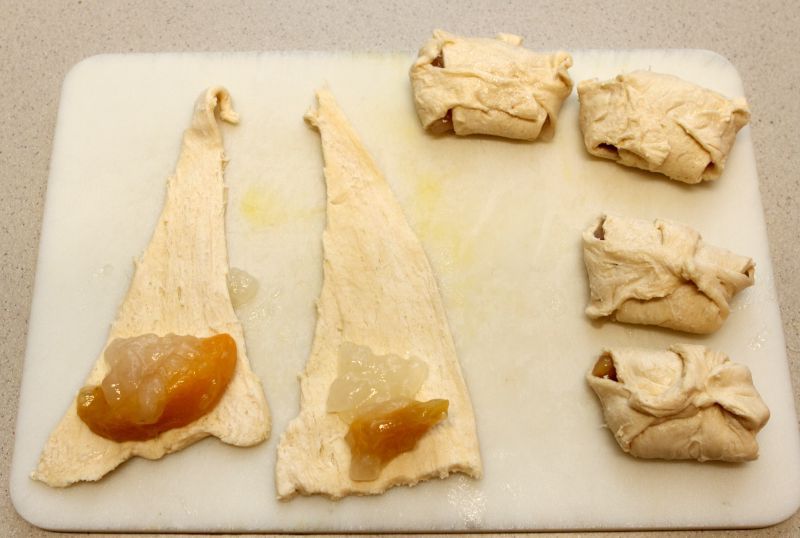 The air fryer turns the rolls a golden brown color and heats the filling inside until it's almost hot enough to burn the tongue.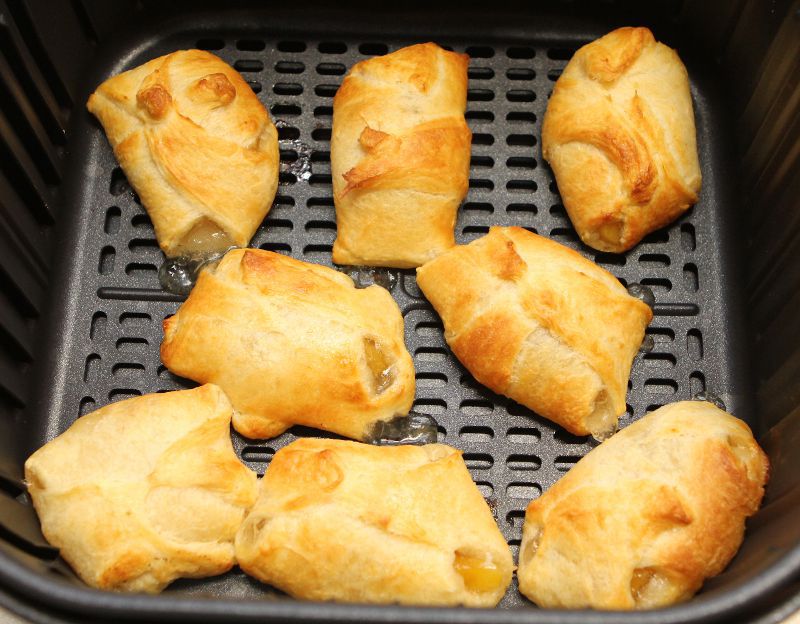 Even with these unexpected recipes, Secura's air fryer cooked them to delicious perfection.  It's good to know that it can easily handle a wide variety of recipe types.
Extra Features
The basket is intended to contain the food, and the pan is intended to catch any drippings of hot oil or grease.  When you take the pan from the Hot 'n Crispy air fryer, you should set it on a heat-resistant surface, like a hot pad, then slide the catch, press the release button, and extract the basket.  This allows you to pour your food into a bowl without also pouring in the oil or grease.  Alternatively, you can purchase a soft plastic or rubber spoon to remove your food; just don't use metal, which might scratch the non-stick coating on the basket.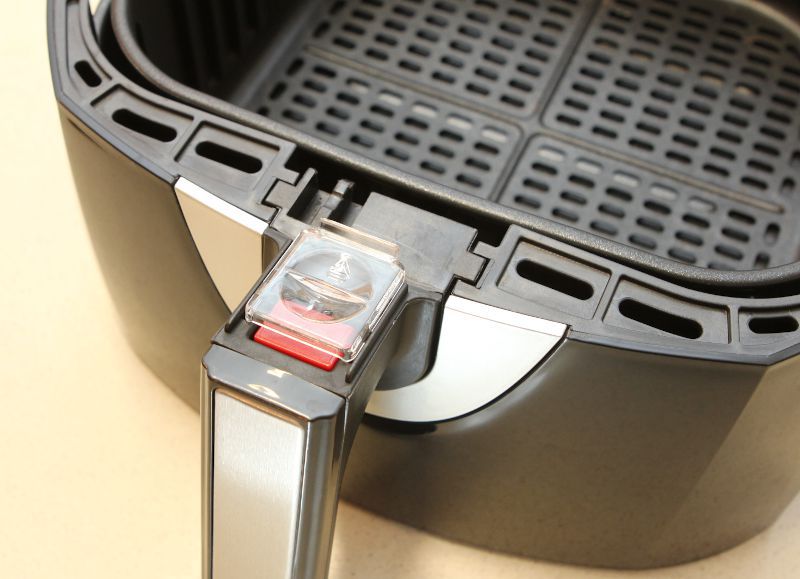 It's important to remember that the temperature inside this little appliance can get very hot, which can be dangerous.  The manual has many warnings, such as don't fill the pan with oil, don't put your hands by the steam outlets, and don't overfill the basket.  I recommend that you take the time to read through the manual carefully and heed all of these warnings.  When the pan is removed while cooking or if a sensor detects an overheating condition, the fryer automatically shuts down, which are welcome safety features.
The basket and pan are easy to clean.  They can be washed with any non-abrasive cloth or sponge, or they can be put into the dishwasher.  The inside and outside of the fryer can also be wiped down with a wet cloth.
The Hot 'n Crispy comes with a BBQ rack and 4 little skewers.  If you ever lose then, you can buy a replacement set.
What I like
Nice design that's easy to use
Detailed, well-written manual
Perfect air frying
Easy to clean
What I'd change
Fix the problem inserting the pan
Replace the analog timer with a digital timer
Add a shake reminder
Final thoughts
What about my theory?  Did I prove or disprove it?  I think I proved it to be true.  If you're a bit of a not-exactly-an-expert chef, then it's good to know that you can use an air fryer to cook a wide variety of foods using simple recipes, including some that are healthy.  In my testing, Secura's Hot 'n Crispy air fryer did a great job, frying everything from French fries to kabobs to smores.  Secura can significantly improve their gadget by replacing the analog timer knob with a digital one, which would make it so much easier to use.  If the timer doesn't bother you, however, this air fryer is worthy of your consideration.
Price: $79.98
Where to buy:  Amazon
Source: The sample for this review was provided by Secura.