We use affiliate links. If you buy something through the links on this page, we may earn a commission at no cost to you. Learn more.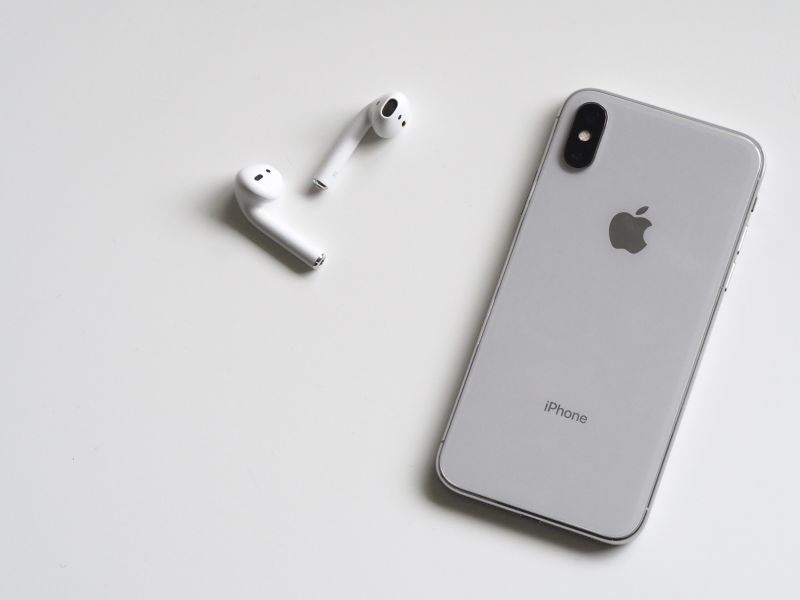 ARTICLE – I recently asked the Gadgeteer team to tell share with us their choice of their favorite wireless earbuds and what makes them stand out as their favorites. So in no particular order except that I get to go first, here we go.
Julie Strietelmeier
My favorite wireless earbuds are the Mobvoi TicPods Free wireless earbuds. I choose these buds because they have crazy long battery life when used with their battery charging storage case, they are extremely comfortable to wear, and they have easy to use touch controls.
The TicPods sound great too… as long as you're not using them to watch videos on YouTube. They have audio syncing issue while wat hing video with that streaming app. But other than that, I like them. A LOT.
Price: $129.99
Where to buy: Amazon
The Mavin Air-X TWS earbuds are a close tie with the TicPods. They sound great too and they DON'T have the audio syncing problem with YouTube. They also have the TWS feature which means you can use either earbud and you don't have to deal with master earbud issues. But, the Mavin's sometimes fall out my ears so I can't wear them when I work out.
Price: $139.00
Where to buy: Amazon
Raul Sanchez
My favorite all time wireless earbuds have to be the BackBeat FIT by Plantronics that I reviewed. Here is my review.
I have not found any other earbuds that could compare to what these earbuds have to offer. The FIT are very streamlined and compact. They don't stick out of your ears as most earbuds do. There is no dongle hanging on one side of the wire so it doesn't make them feel lopsided, especially when you run with them. What's I love the most is that the buttons are so easily accessible and responsive that I can literally Skip through 3 to 4 songs while running just at a touch of a button and just but raising my hand to my ear.
With other earbuds, I have to slow down my running, reach my arm up behind my head to reach the Skip button, hold it down for seconds to get to the next song. And if I don't like that song, I 'll have to do that same process over. It looks kind of funny when you are running down the road and you have your elbow sticking up in the air.
I like that with another tap of a button I can hear how much battery life I have left. My other wireless earbuds, I have to look at my phone to see the little battery icon on my phone to see the battery status. For some people, it may be difficult to see especially for they are running. And also, if their phone or earbuds will support that battery status feature.
I am not a fan of earbuds that dangle in front, or the side, of my neck and since the Plantronics FIT headphones go behind the neck, these are perfect for me.
When it comes to sound, these earbuds are one of the best I have heard. Sounds is clean and crisp and the bass is amazing. I can hear, and actually feel, the low frequency of the mids and bass. You will not be able to feel the bass in other headphones like this, let alone hear the bass. Most earbuds can't achieve those low frequencies. These are my go-to wireless earbuds.
Price: $67.29
Where to buy: Amazon
Soul Electronics Run Free Pro BIO Bluetooth headphones review
Coming in second for wireless earbuds that I like are the Run Free Pro BIO earbuds from Soul. When I run and want a little motivation and coaching, I definitely use these for running. You can see the video review I did for the Soul Run Free Pro BIO's here.
Price: $149.99
Where to buy: Soul Electronics
Julian Perry
The KNZ SoundFlux dual driver wireless earbuds continue to be my favorite pair of earbuds when on the go and looking for a lightweight and secure way to listen to music that I like, while having the ability to produce some amount of "Audiophile" sound reproduction. These earbuds fit very well in my ears and can be worn for long periods of time without any discomfort. The lows, mids, and highs are well represented with great frequency crossover. I have spoken with professional musicians who have tried them and find them to be great for their listening needs and habits. The build quality is good enough to withstand daily abuse and the battery life is still good.
Even when not on the go, and just sitting around listening to smooth jazz or well produced easy listening songs, these KNZ earbuds are winners.
Price: $74 (Intro price)
Where to buy: Pre-order via the KNZ Technology website
Jacob Hass
The BeatsX wireless earbuds are still my favorite pair of truly wireless earphones. They are still, after 2 years, one of the only sets of earphones that use Apple's W1 chip, which automatically shares pairing and fast switching with any device you're logged in to with your iCloud account.
The BeatsX are lightweight, quick to charge, and fit my ears better than any other set I've tried. They do a good job of blocking outside sound, have good audio fidelity, and charge using a Lightning cable, which is what my phone uses, so I always have a cable with me.
Price: $149.95
Where to buy: Amazon
David Ferreira
I used to change Bluetooth earbuds as often as I changed socks. Before you become ill, I switched earbuds daily. That is, I did until I landed on the Jabra Elite 65t. They sound perfect with all of the music and podcasts I listen to, they fit perfectly in my freakishly large ear holes, I can get nearly 15 hours playback (not continuous – about 5 hours with the case providing just over 2 additional charges), and the nearly non-stop stream of calls I am on for work are clearer with these than with any previous buds. Cost-wise, they are less than Apple's and Samsung's buds, and you can find manufacturer-refurbished versions on Amazon for just over $100. Oh, and did I mention that I can dial up or down the outside world (they call it ambiance, I call it "not listening to my own voice through a concrete bunker") through their Android app? All in all, for me these are the perfect buds, sock analogy notwithstanding.
Price: $169.99
Where to buy: Jabra or Amazon
Andy Jacobs
I have reviewed several pairs of true wireless Bluetooth earbuds and the SmartOmi ACE are my favorite for three reasons: they are small and lightweight, they come with a charging case (with magnets that keep them in place in the case), and they actually stay in my ear fairly well while exercising (this last one is a big deal for me). One drawback with them is that they can only be charged with the charging case—this would not normally be much of a drawback, but I managed to partially smash the case and it stopped charging the earbuds. 🙁 Other than that, these are a great pair of earbuds. Unfortunately, it appears they are no longer on the Smartomi site, and Amazon does not currently have them available.
Price: $79.99
Where to buy: Amazon
David Rees
The Jabra Elite Active 65t's are by far the best wireless earbuds I have ever used. I have oddly shaped ear canals that have (historically) rarely allowed in-the-ear earbuds to sit properly or (more importantly) stay securely in place during workouts. But the 65t's kind of twist into your ears and stay firmly, yet comfortably in place even during the most sweaty epic workouts. Add in the fact they sound great, are sweatproof, have a low profile, come with a 2yr warranty, and best yet don't look nearly as nerdy as the Apple AirPods they are definitely my go-to earbuds of choice…hands down, walking away. Bottom line is that if I lost or destroyed these, I would immediately purchase another pair to replace them.
Price: $169.99
Where to buy: Jabra or Amazon
Bill Henderson
When Julie tasked some Gadgeteer reviewers to choose their favorite wireless earphone, I felt a bit of a dilemma. There are many great-sounding wireless earphones, but they are not totally wireless. And yes, there is a major difference. Even though wireless earphones are technically wireless, there is a cord connecting the left to the right earphone. Totally wireless means just that—no wires, period. And that is what I am concentrating on.
I own and have reviewed a few totally wireless earphones:
Master & Dynamic MW07 true wireless earphones / $299
RHA TrueConnect true wireless earbuds / $169.95
Anker Zolo Liberty wireless earphones / $99.99
E'NOD Mini Ring wireless earphones / $79.99
Nuheara IQbuds intelligent truly wireless earbuds / $299
Nuheara IQbuds intelligent truly wireless earbuds with BOOST / $499
Apple AirPods / $159
The main problem with choosing a favorite is that each earphone I've reviewed addresses a specific need. Nuheara's two earphones will let you dial-in the world around you for people with hearing issues. The Anker Zolo (replaced by Anker Liberty Air, but may still be available) and E'NOD Mini Ring are reasonably-priced earphones—at least when compared to Apple's AirPods. RHA's TrueConnect rival Apple's AirPods with better sound and features, but are a bit more expensive than Apple. Then there's Master & Dynamic's MW07 offering a huge leap in sound quality and a huge leap in cost as well.
When comparing these seven earphones, I concentrated on comfort, day-to-day use, audio quality and cost. After weighing these factors, I could not choose just one earphone, I chose two.
Comfort: This was close. Both the RHA TrueConnect and Apple AirPods are quite comfortable with the RHA slightly edging out Apple. But they were both handily beat by M&D's MW07. I can wear these all day—and have. They look like the most uncomfortable pair of earphones ever invented, but quite the opposite is true. Their included "wings" help them stay in place and offer a soft, cushiony feel I didn't get with any of the others.
Winner: Master & Dynamic MW07
Day-to-day use: All of the totally wireless earphones on my list use Bluetooth connection (duh). And they all connect fairly fast and generally re-pair successfully when taking a call. But for owners of iPhones (like this fan-boy), Apple has an ace up its sleeve—the W1 chip, included in every AirPod. This little wonder beats Bluetooth hands down every time. When I get a call, I can open the case, pop either the left or right AirPod in my ear and almost immediately be conversing with the other caller. Admittedly, there has been frustration when that connection has been delayed, but that's rare and even when delayed, it's still faster than Bluetooth only.
Winner: Apple AirPods
Audio quality: This one is not even close. While I can listen to the AirPods for music (they sound WAY better than the free and awful earpods), it's not why I own them. RHA's TrueConnect offer a really nice musical experience, especially because of their superb isolation—something Apple's earbud design can't offer. But M&D's MW07 earphones stomps everyone with their "good-as-wired" sound. These are earphones you can buy for audio alone and be happy. The added wireless convenience is just a huge plus!
Winner: Master & Dynamic MW07
Cost: Here's where it gets tricky. When I'm reviewing something, I try to consider cost vs features and it's not always easy. For instance, the M&D MW07 earphones sound the best by far, but it comes at a price. They are quite expensive and their price can only be justified if they are your daily, go-to earphones—wireless or not. However, Apple's AirPods are also not cheap, but their cost can be easily justified—especially if used daily. Nuheara's are the most expensive of the bunch, but they have cutting-edge technology that no other totally wireless earphones offer. Bottom line is this: If you need a daily driver, so to speak, pay the extra money and be happy with your choice. If you have to count the pennies, there are countless less-expensive choices that are durable and sound good. If it's my money, I would choose Apple. The main reason is the advantage of the W1 chip. Because I am on the phone a lot at my office, I have become dependent on the AirPods.
Winner: Apple AirPods
Price: $159.99
Where to buy: Apple
Overall Winner(s): Apple for convenience and daily use and Master & Dynamic MW07 for its excellent audio quality and unbeatable comfort.
Price: $299
Where to buy: Amazon