We use affiliate links. If you buy something through the links on this page, we may earn a commission at no cost to you. Learn more.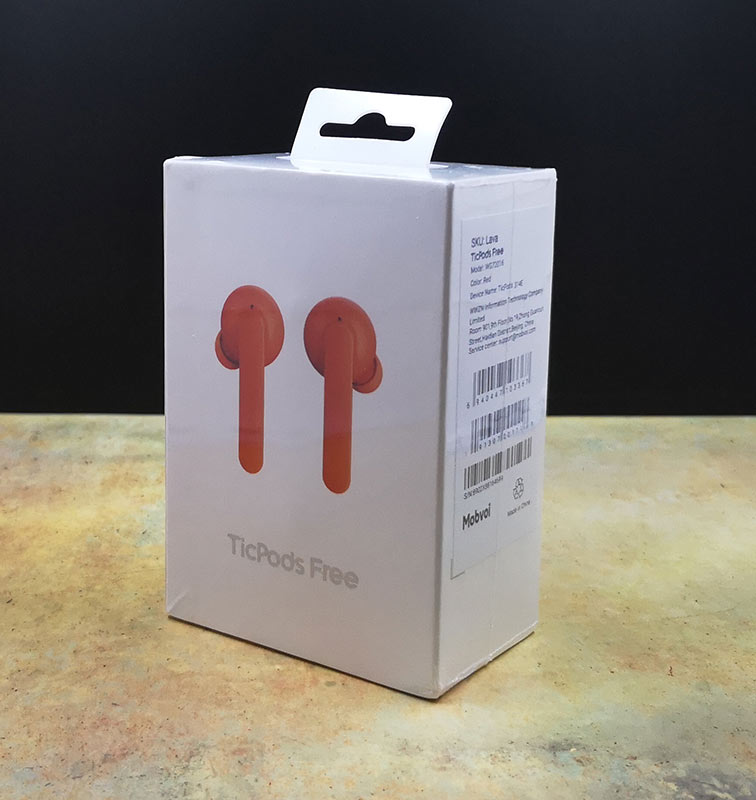 REVIEW – My personal quest to find my next favorite pair of Bluetooth headphones continues with the Mobvoi TicPod Free wireless earbuds which are reminiscent of Apple's AirPods. The TicPods Free was an incredibly successful Indiegogo campaign that earned 2.8 million! Let's check them out.
What is it?
The TicPod Free earbuds are Bluetooth earbuds that are completely wireless without a cable that connects the left and right earbuds to each other.
Hardware specs
Connectivity – Bluetooth 4.2
Speaker – 92dB +/- 3dB SPL
Noise cancellation – Yes
Battery life with case – 18 hours
Battery life on single charge – 4 hours
Fast charging – Yes 1.5hr
Water resistance rating – IPX5
What's in the box?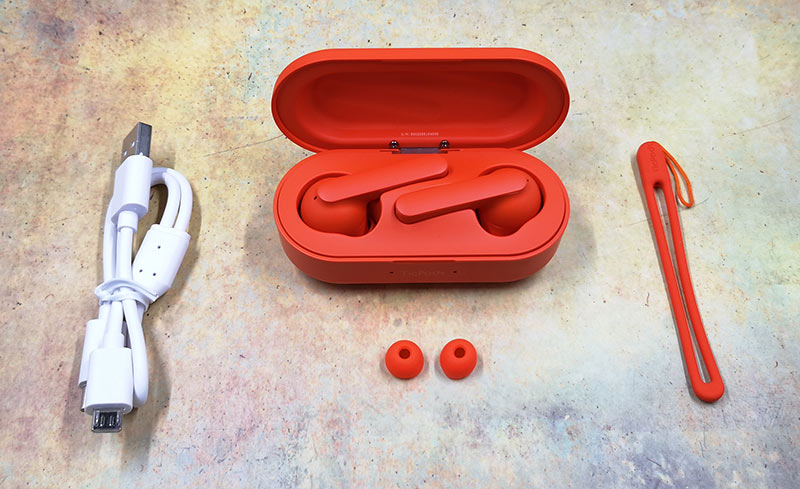 TicPods Free Bluetooth earbuds
Extra set of ear tips
Charging case and lanyard
micro USB charging cable
Design and features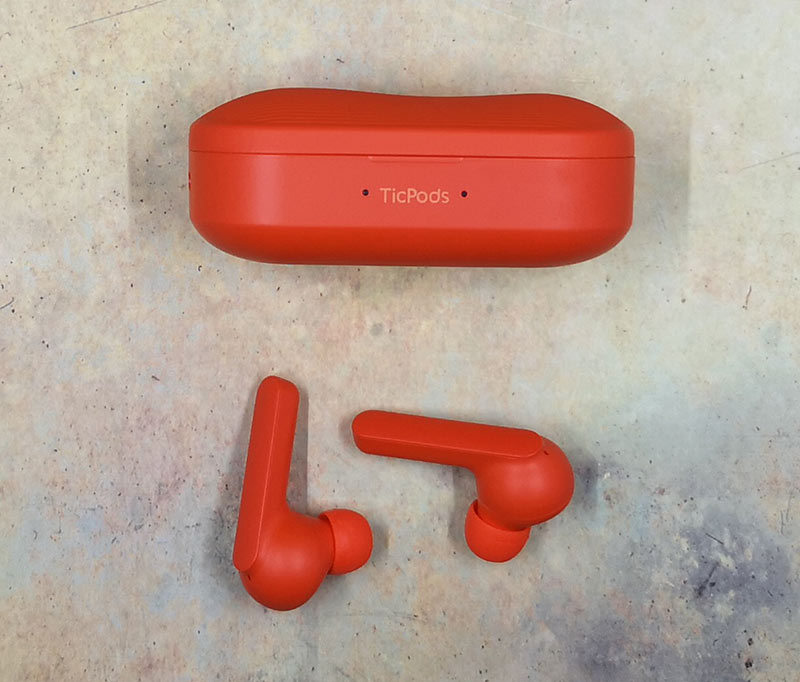 I've never tried Apple's Airpods, but the TicPods Free earbuds certainly share a similar design with  "stems" that point down from your ears. The TicPods Free earbuds are a little more adventurous than Airpods because they come in a lava red color in addition to navy blue and white versions. As you can see, Mobvoi sent me the red version.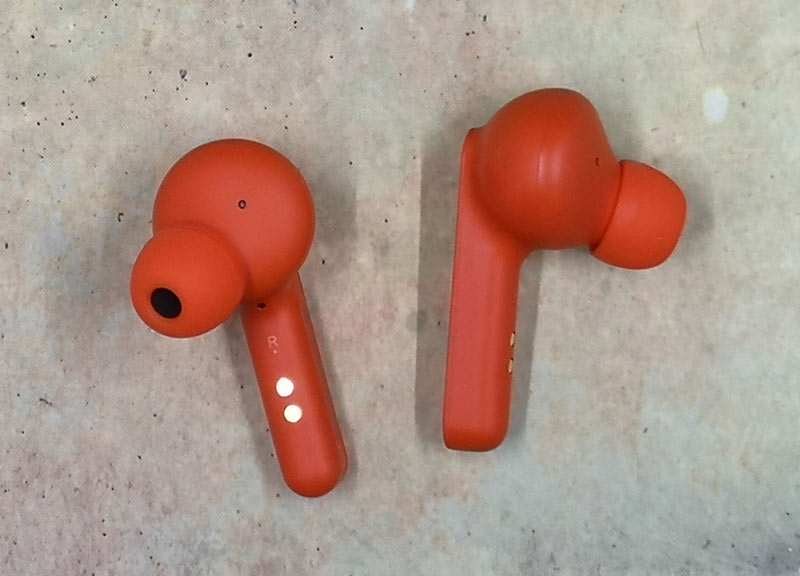 The earbuds feel solid and feature replaceable ear tips and a touch-enabled stem. Each earbud is clearly marked so you'll know which ear it goes in. There are also two electrical contacts on each earbud stem for charging purposes.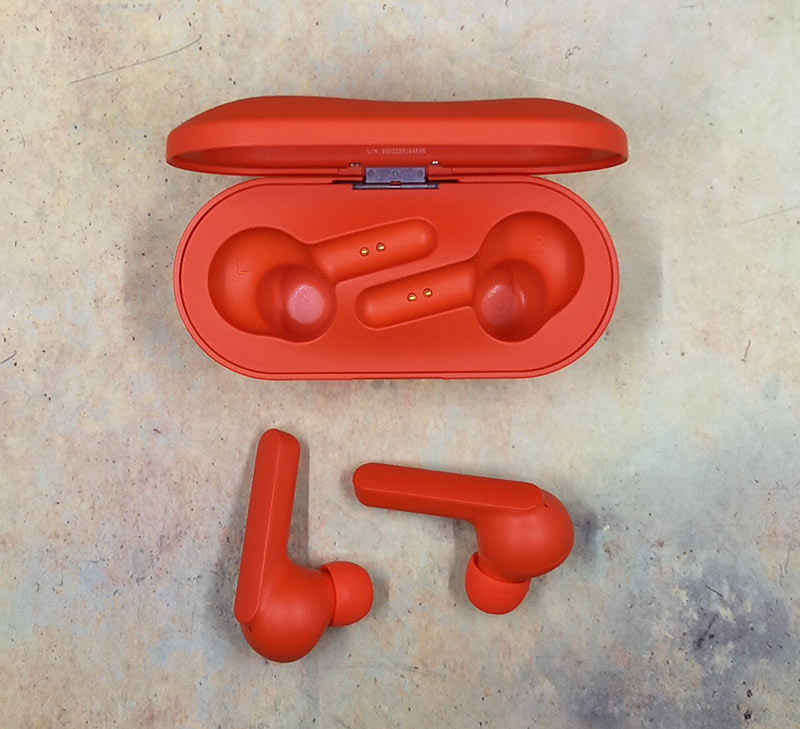 The TicPods Free comes with a handy storage/charging case. Magnets hold the earbuds in place and as soon as you flip open the case's cover, the earbuds will automatically power on and reconnect to the previously paired device. When you place the earbuds back in the case, they will power off, disconnect from the paired device, and charge. The case itself has a built-in battery which charges with the included micro USB cable. The earbuds will recharge within 1.5hrs after being placed in the case.
Fit and comfort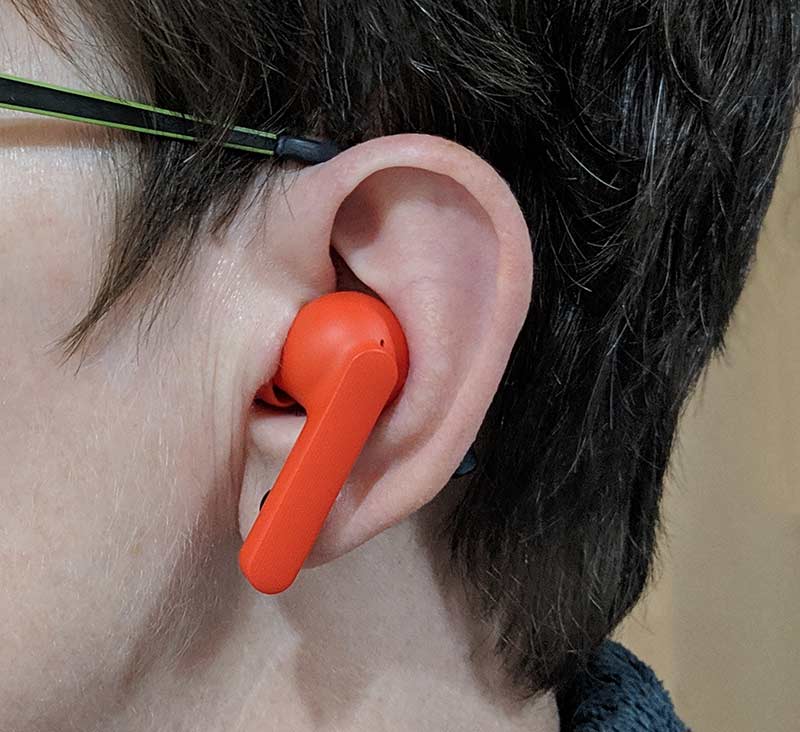 I'm happy to report that the TicPods Free is the most comfortable pair of earbuds that I've tested so far. The left bud fits perfect, but the right one is a little more fiddly. But that's just me and my ears. Everyone will have a different fit and feel due to individual ear shapes. But for me, I can wear the TicPods Free for hours on end with no ear fatigue which is a big deal since most earbuds become painful for me within minutes of wearing them.
I can't comment on how well these earbuds will stay in your ears if you wear them during workouts or while running. I used them while doing my workouts, but I don't jump up and down a lot. That said, they didn't fall out during the movements I did do.
The small ear tips do provide noise isolation which you may or may not like.
Touch controls
There's good news here too. I usually hate touch controls on wireless earbuds because they require me to tap harder and harder to get the gesture to be recognized and as a result, my ear starts hurting from all that pounding. That's not the case with the TicPods Free. The double tap to answer/end a call or advance to the next song works great as does the slide up and down gesture to adjust volume. Then there's the tap and hold on the left bud stem to play/pause and on the right stem, the same gesture initiates voice assistant (Google or Siri). If you do the same gesture on either earbud while in a call, the call will be rejected.
I really love that I can leave my phone in my pocket or across the room and still be able to change tracks and adjust volume.
Audio quality for music and calls
More good news! Audio quality on the TicPods Free is awesome. I tested the earbuds with Spotify, Amazon music and other streaming services, and was very happy with the audio quality of the music. Even bass lines sound better than so many other Bluetooth earbuds that I've tested.
In calls, the TicPod Free earbuds sounded fine on my side of the conversation, but on the opposite side of the call, I was told that I sounded a bit muffled but no so more than when I've tested other Bluetooth earbuds. Note that due to their in-ear noise isolation style fit, you'll hear your own voice in your head as you talk.
Multiple device usage?
From what I can tell, you can only pair with one device at a time.
One earbud usage?
There's a feature built into these earbuds which will automatically pause music if you remove one of the earbuds from your ear and will resume when you put the earbud back in your ear. While this feature is nice, I often like to use only the left earbud to listen to music when I'm at work so that I can hear things that are going on around me and I can talk to people if they walk up to my desk. I didn't think I'd be able to do that with these earbuds but I found that it is possible to use the right earbud individually, but not the left earbud. From the Mobvoi website:
The microphone is located on the right earbud, which functions as the master control earbud. How it works is that phone calls/music will be transferred from your phone to the right earbud, and then from the right earbud to the left earbud. So you can leave the left earbud in the charging case, close the case, and continue to listen to calls/music using just your right earbud.
You might be wondering why the right earbud is the "master earbud". It's because the right earbud is the one that has the microphone for calls and using the voice assistant.
Battery life
Each earbud has an 85mAh battery and a full charge will provide up to 4hrs of play time. The fast charging case has a 700mAh battery which will provide up to 18hrs of battery life.
What I like
Comfortable
Fast charging
Fast pairing
Above average audio quality
Easy to use touch controls
Auto pauses audio when removed from ear(s)
What needs to be improved
Can't use just the left earbud
Only comes with one extra pair of ear tips
Doesn't have multi-device pairing capability
Final thoughts
Drumroll please… I'm happy to report that the Mobvoi TicPods Free wireless earbuds have earned the award of becoming my current favorite pair of completely wireless earbuds. They tick all the boxes for me. They are comfortable to wear for hours at a time, they have easy to use touch controls, they sound great, and they charge in their own case when they aren't being used. I highly recommend these earbuds.
Updates 12/06/18
I've only been using these wireless earbuds for about 2 months, but they have easily become my favorite pair of wireless earbuds. So much so that I've stopped my quest (for now) to find a good pair. They are comfortable, sound great, and have really good battery life. They only issue that I've found is that there is an audio lag when I use them with a Windows 10 laptop and am watching YouTube videos. I've read that there's a firmware update that may fix this problem, but I've not yet received that update. I'll confirm the fix if/when I get it, but even with the slight lag, I still love using them.
Price: $129.99
Where to buy: Amazon
Source: The sample for this review was provided by Mobvoi.