We use affiliate links. If you buy something through the links on this page, we may earn a commission at no cost to you. Learn more.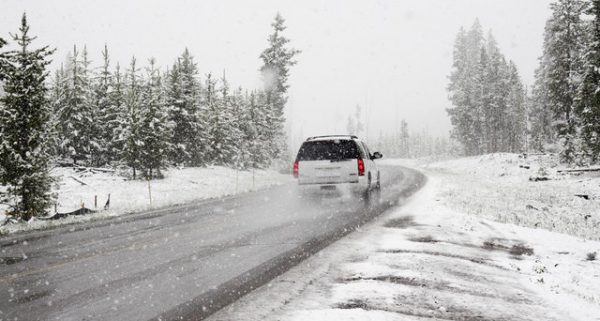 ARTICLE – Winter is just around the corner, and most people can't completely avoid driving in the treacherous conditions that typically characterize the season.
In addition to being extra cautious behind the wheel, it's wise to invest in these six winter-ready gadgets.
There's nothing quite like the heart-sinking sound of car wheels spinning in the snow because the vehicle is stuck. Trac-Grabber is a portable traction device that helps a car wheel get the grip it needs to move freely again. It has straps and a block of material that grips the snow. A user loops the Trac-Grabber straps around an affected wheel, then secures them.
Then, they get in the car and try to drive out of the spot where the vehicle is stuck. In some cases, it's necessary to repeat the process for all wheels. An included Trac-Grabber pouch allows for quickly stashing the accessory in a console or seat pocket until the next use.
Many people already have the hard plastic ice scrapers in their cars during the winter, but this product goes beyond what those accessories offer. It plugs into a car's outlet to heat up and has a cord that's over 12 feet long. The gadget also features an LED light that makes it easier to see the surface of the windshield and find the areas with the most buildup even in the dark.
Ice and snow make it difficult to stand or walk outside without slipping. Then, it's challenging to assess the extent of the winter weather emergency while on the road. These easy-to-use cleats strap onto boots and give snow-gripping capability via the studs extending through the forefoot to the heel. The replaceable cleats also make these accessories a good value for multi-year use.
A flat tire disrupts a road trip at any time, but especially when you're subjected to harsh winter conditions. A portable air compressor allows inflating the tire quickly and resuming the journey instead of spending time shivering in the driver's seat while waiting for roadside assistance.
People should look for portable air compressors with tanks no smaller than three gallons. Also, the compressor should ideally offer 0.5 CFM and 90 PSI, so it's smart for buyers to read the product specs before finalizing their purchases. The CFM is cubic feet per minute, and it represents the air output or flow level of the compressor. The PSI is pounds per square inch, and it's a measure of force given by the compressor.
Never miss one of our posts again. Sent MON, WED, and FRI with the latest gadget reviews and news!
Some portable air compressors come with carrying bags, making them easy to pack into the car before a trip or keep in the vehicle until needed.
Seatbelts and door locks are designed to keep people safe, but sometimes they malfunction, leaving individuals trapped. Some people wonder if they should drive with their doors unlocked to prevent a door lock malfunction. However, experts say that even when people don't engage the locks, the impact of a crash could make the door not work as expected.
Being trapped in a car is dangerous at any time, but the risk of severe consequences goes up if a person is in a collision during subzero temperatures. The Resqme Quick Car Escape tool fits on a keyring and has attachments that break window glass and cut through seatbelts. The effective yet compact design also means it won't get in the way of a house key or other things on a keyring.
Once the thermometer plunges below zero, it's possible to suffer from frostbite after only minutes of exposure. The risk is still present at higher temperatures too, especially when people don't prepare for the weather. A blanket carried in a car is a multipurpose item because a person could kneel on it while inspecting the underside of a vehicle, use it for a pillow while waiting for rescue and, of course, rely on it for warmth.
A heated travel blanket is even better, provided that the car's 12-volt outlet still works during an emergency. Some blankets come with cords long enough to reach the back seat and are wide enough to cover two adults. Besides the potential threat to one's well-being for not being ready for the cold, frigid temperatures make waiting for help substantially unpleasant. A user-friendly blanket offers practicality and comfort.
Get Prepared for Winter Auto Emergencies
Some people who anticipate crises happening while driving won't ever need to use the tools they buy.
However, circumstances could change in seconds during an otherwise uneventful journey. That's why it's essential to stock up on these gadgets and anticipate winter's ferocity.
Image by Chris Peeters