We use affiliate links. If you buy something through the links on this page, we may earn a commission at no cost to you. Learn more.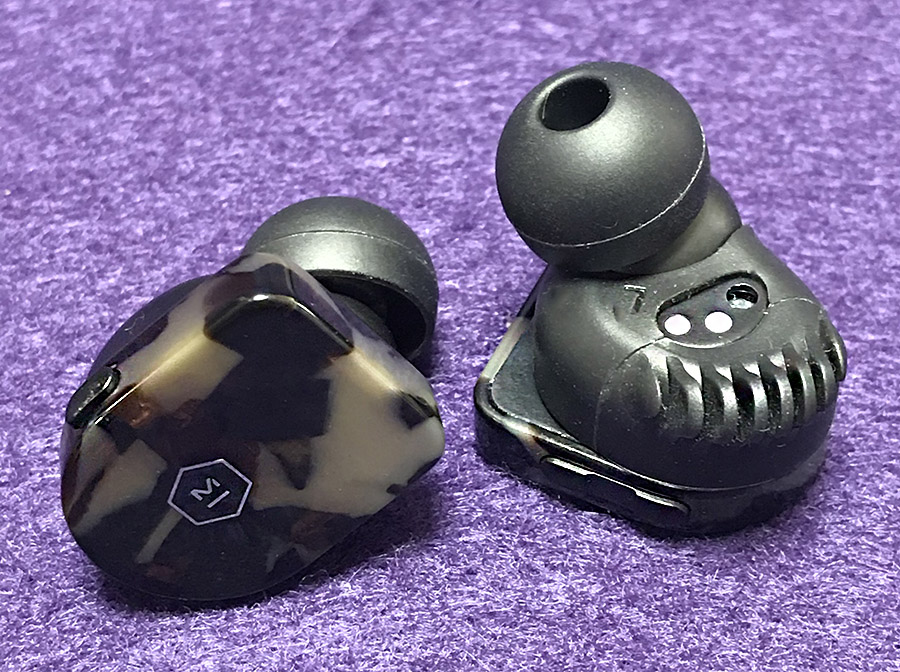 REVIEW – When I review many products from one company, it can be hard to differentiate similar efforts. Such has been the case with Master & Dynamic's various headphones. They are all based on a similar (but beautiful) design esthetic. And they are all excellent headphones—if a bit expensive. This is—and isn't—different. Master & Dynamic has ventured into the totally wireless arena as only they can. The MW07 True Wireless Earphones are not me-too earphones—not by a long shot. They are about as unique as they can be in an increasingly crowded wireless earphone market. The MW07 earphones do hold on to one M&D trait among its products—they are expensive. But are they worth it?
Master & Dynamic's headphones are not cheap—there's no getting around that. However, Their headphones are made as well or better than many I can think of. We're talking all metal and leather—no plastic exterior parts. The quality is apparent when holding and wearing them. Thankfully, M&D's audio quality matches the materials used. A slightly warm sound approach has become M&D's trademark that's evident in all of their headphones. That trademark sound has now been successfully transferred into the MW07 wireless earphones.

What is it?
The Master & Dynamic MW07 true wireless earphones are just that—truly wireless. There are no wires anywhere. Each earphone is independent of the other, giving the listener a freedom unmatched by semi-wireless Bluetooth earphones. The MW07 wireless earphones are made of handcrafted acetate. They come in four colors: Matte black, tortoiseshell, grey terrazzo and steel blue. The earphones come with what M&D calls "fit wings". More on these wings later.

Specs
Dimensions:
Earphones 1 in. (L) X .87 in. (W)


Case: 2.5 in. (L) X 1 in. (D) X 1.75 in. (W)

Driver: 10mm Beryllium
Weight:
Earphones: .3 oz.


Case: 2.7 oz.

Materials: Acetate body, stainless steel case
Battery life:
Earphone: 3.5 hrs.


Case: 3 full charges

Bluetooth: 4.2 aptX
Range: 65 ft.
Waterproof: IPX4 splash proof

What's in the Box
Earphones
USB Adaptor
USB-C Charging Cable
Canvas Earphone Pouch
Fit-Wings
Ear tips

Design and features
The MW07 earphones are lightweight and comfortable over long listening periods, although after a couple of hours, I began to feel they were there. The fit wings help make the MW07 earphones more comfortable and more secure in the ear. At no time did they feel loose.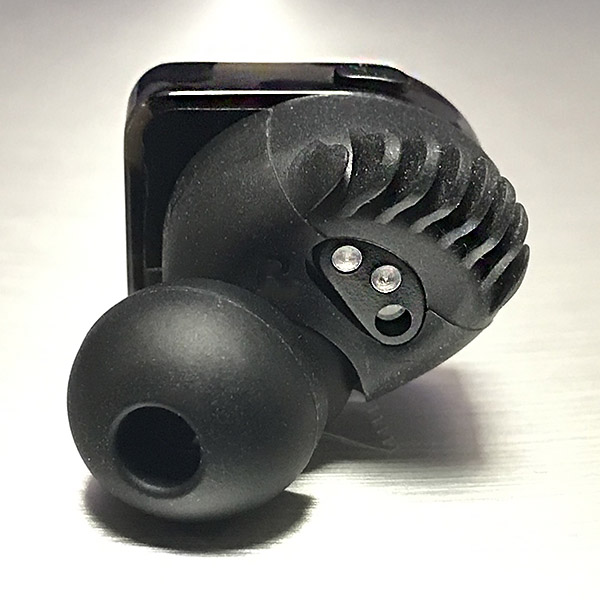 The more I wear the earphones, the more amazed I am at the genius of the fit wings. They come in two sizes and the silicone "fingers" provide just enough force to hold them in place without applying any unwanted pressure. I'm not sure if these wings are patented, but I've never seen them on other earphones. Their use is optional, but I highly recommend trying them out before dismissing them as a gimmick.
The MW07 earphones come with 5 sizes of silicone ear tips in clearly marked tiny bags. The fit wings come in two sizes: Medium and large. A more varied tip selection should have been offered at this pice range— there are no foam or flanged ear tips included. However, you shouldn't have any problem finding an ear tip that fits.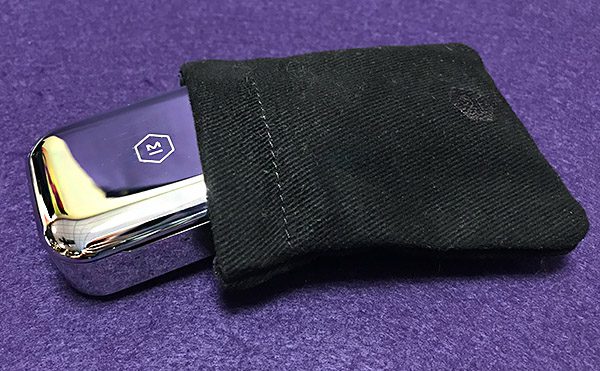 The MW07 earphones are double-protected. When not in use, they are stored in the chrome charging case which can be kept inside an included canvas carrying pouch. Although the chrome case is a fingerprint magnet, it reeks of style. It has three charging lights and secure snap-shut lid. The lights indicate whether the case or earphones need recharging with green, yellow or red lights. The earphones fit only one way inside the case so left and right can't be mixed up. Note that storing the earphones with the fit wings attached has a tighter fit than without.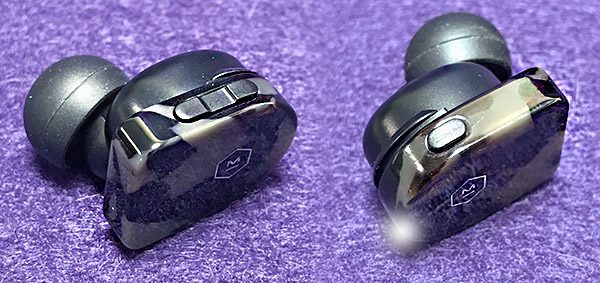 Removing the MW07 earphones turns them on and starts the pairing process. There are buttons on both the left and right earphone. The left earphone has two buttons that control volume. It's the right earphone that does all the work. Its single button controls play/pause/skip functions, as well as pairing and voice assist activation. That's a lot for one button to do and it requires a slight learning curve to memorize. Also, the right earphone will work without the left one, but not the other way around. That's not ideal for me because my left eye and ear are dominant.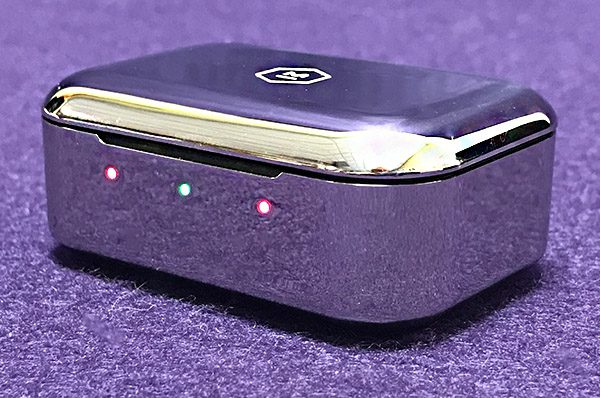 The speaker drivers are made of 10mm high-performance Beryllium that results in a warmish sound. This simply means that your music will exhibit a bit more bass. Normally in this price range, you might think that a more equal setting of low, mid and high frequencies would be ideal, but a slight boost in the low end helps make music more pleasant to listen to—especially for longer periods. This is the sweet spot that the MW07 earphones strive for and hit. They sound more like a good pair of headphones than a pair of totally wireless earbuds—and that's a really good thing.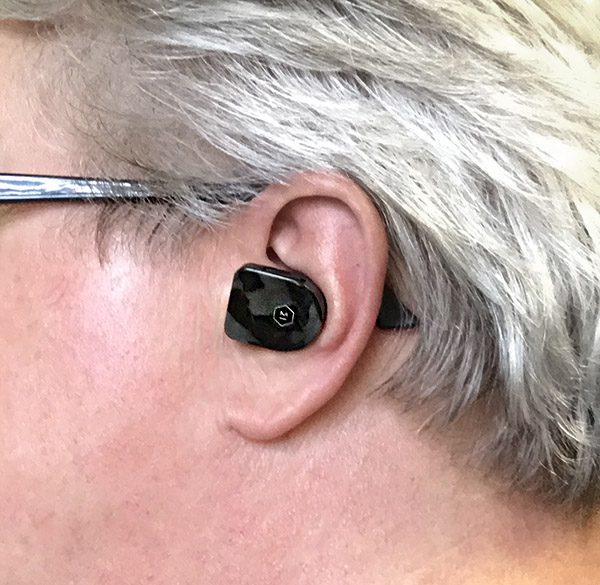 It doesn't seem to matter what genre of music you prefer, the MW07 earphones handle them all with ease. They are forgiving enough so lower resolution music files can sound good without digital artifacts being brought out in glaring detail. As a fan of 60s-80s music, I listen mostly to analog recordings that have been converted to digital. Even if analog's inherent graininess and compression remain, the MW07 earphones don't care.
The intro of The Moody Blues "Question of Balance" album begins with an energetic strumming of an acoustic guitar when a crescendo of sound suddenly pounds you without letting up. This aural slam from the MW07 earphones is applied to full effect—especially at high volume. The opening to "Seventh Sojourn" is only slightly less impactful on the MW07 earphones. The driving, primal beat of "Lost in a Lost World" underlays the revolutionary (but dated) lyrics about earthly catastrophes.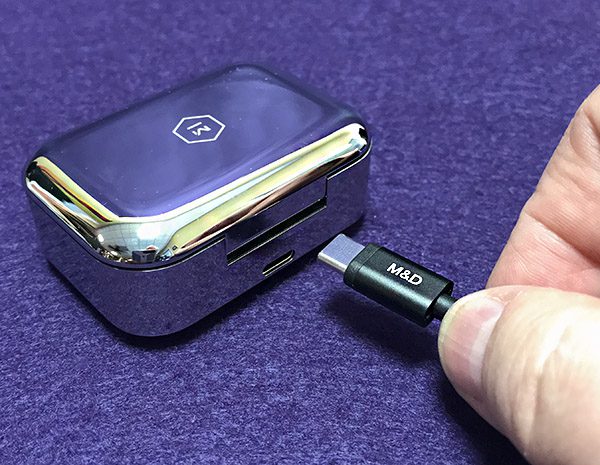 David Bowie's cover of the Johnny Mathis classic "Wild is the Wind has him crooning as good as Sinatra ever did. The MW07 earphones show how good a singer Bowie was when he wanted to be. His voice displays an emotion that even Mathis didn't show in the original. Add some kick-butt percussion and your ears are in for a treat. A perfect follow-up to Bowie is Fun.'s "We are Young" with a backbeat that you can feel as well as hear. Again, at high volume, the MW07 earphones don't disappoint.

What I like
The MW07 earphones Have a lot going for them, They're much more comfortable than most truly wireless earbuds. They're hand-made from premium materials with a sound to match. The stainless steel chrome case is a step up from everyone else's plastic versions. They are definitely expensive, but they look and feel what they cost.
What needs to be improved
You can't get around the $300 price when many other good wireless earphones cost half that. Bluetooth is 4.2—not the newest version 5. 

Final Thoughts
Master & Dynamic have hit it out of the park with their first entry into the wireless earphone arena. If you can afford the steep price of admission, you will be rewarded with a comfortable fit and stellar sound—two things not usually associated with totally wireless earphones. Highly recommended.
Price: $299 US
Where to buy: Amazon
Source: The samples for this product were provided by Master & Dynamic.