We use affiliate links. If you buy something through the links on this page, we may earn a commission at no cost to you. Learn more.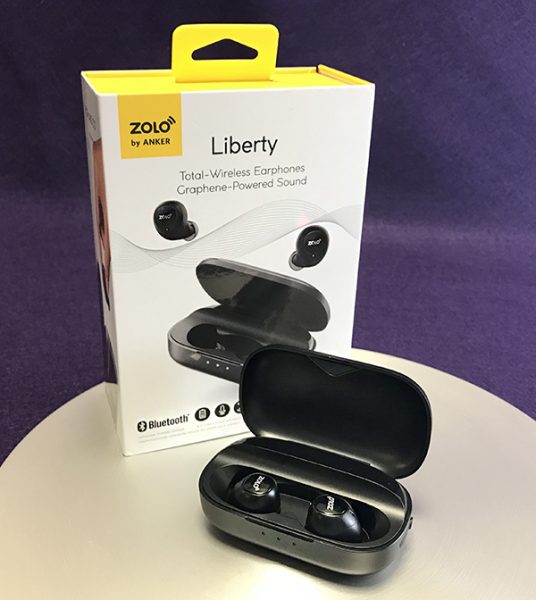 I've reviewed three pairs of what is called "totally wireless earbuds," so I'm now fairly comfortable with them and know what to expect for the money. The affordable  E'NOD Mini Ring buds are okay, but not great—lacking in bass and lackluster call quality. The much more expensive Nuheara iQbuds also do much more. They have an amazing call quality,  and a jaw-dropping ability to isolate individual voices in a noisy environment. But they had long-term comfort issues. Now, we have the Anker's Zolo Liberty totally wireless earphones. Has Anker managed to make Liberty earphones unique in an increasingly crowded market? Let's find out.

What is it?
Anker makes some really good computer and smarphone accessories. Zolo is their new spinoff company that specializes in audio. Liberty is Zolo's first product(s). There are actually two models—Liberty and Liberty+. Liberty+ is identical to Liberty, but has better battery life, built-in toggle sound isolation and (of course) costs more. I'm reviewing the standard Liberty.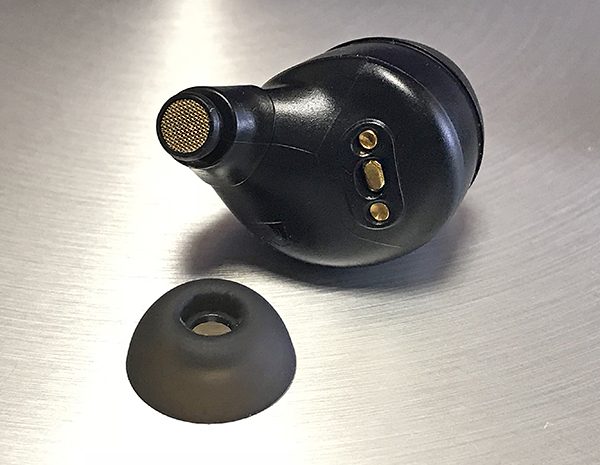 Liberty is a totally wireless earphone. This simply means there are no wires connecting the two earphones to each other. This has advantages and disadvantages. The advantage is no constraints when moving around. However, this also makes them easy to lose. Have fun replacing just one bud if lost.
Liberty is great for exercising and are IPX5 rated—water and sweat proof. So no worries if you're caught jogging in the rain.

Hardware specs
Liberty is a dynamic-styled earphone. Dynamic speakers look just like tiny versions of regular speakers. The big difference with Liberty is that the speakers are graphene-coated. This makes the speakers more rigid without adding any weight. Speaker rigidity makes the speaker "snap back" after handling a sound vibration. The result is less muddiness to the audio and more detailed and impactful music. Note that this improvement is more subtle as opposed to an OMG moment.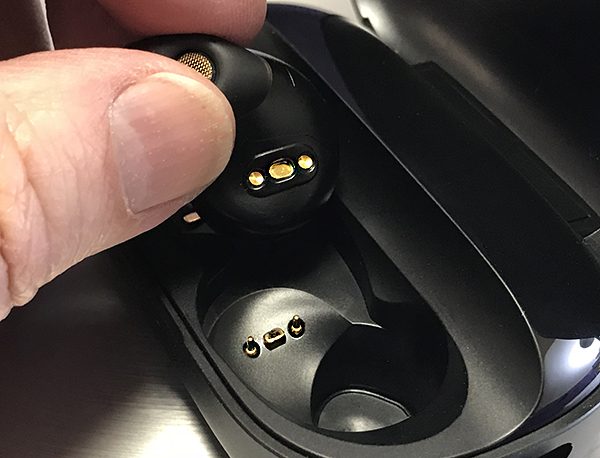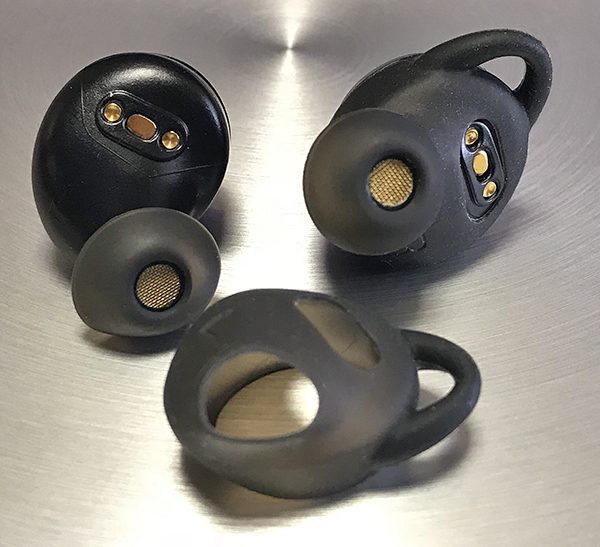 Battery life is 3.5 hours of playtime at reasonable volume. The included case adds 24 hours playtime. The earphones are automatically recharged while seated into the hard, protective case. Lights on the earphones and case indicate how much battery life is left. Seating the earphones into the case is easy and secure. The case is hinged for a tight and secure closure. The Liberty earphones come with silicone jackets that have an included molded gripper locking them securely into the ear. It works great—but the jackets make it more difficult to properly seat the earphones into the case. It can be done—it's just a hassle.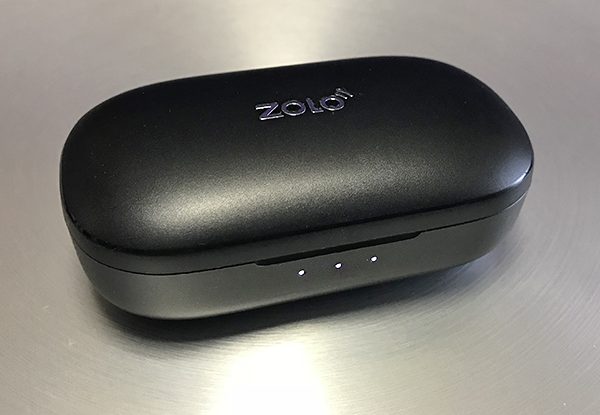 When battery life is low, Liberty will beep every few minutes as a warning until they give out completely with a "turning off" sound and need to be recharged.
Liberty comes with what Zolo calls Smart Control. Tapping the earphones performs various functions. Tap once and music pauses music or a phone call is answered. Tap and hold will either replay (left bud) or forward (right bud) a song. Double tapping will activate your smartphone's AI—in my case, Siri. I didn't even have to say "Hey, Siri." It just connected. Nice.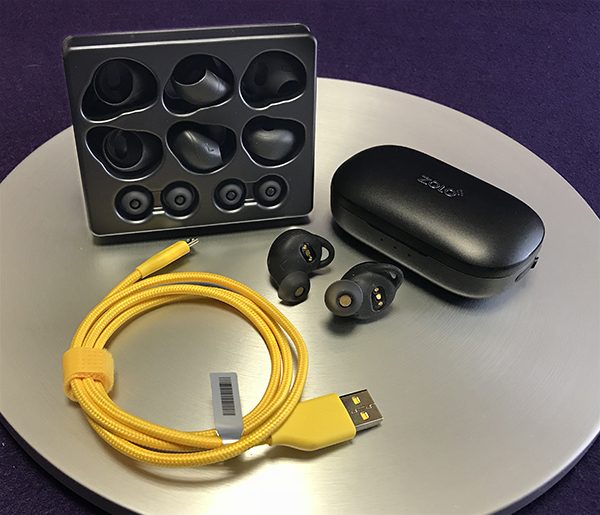 Bluetooth is 4.2 (Liberty+ has the newer Bluetooth 5.0). I had no issues initially pairing and connections have been solid with (so far) no drop outs. Later however, sometimes if only one earbud was paired, I had issues getting the other bud to pair and match its twin. In extreme cases, I've had to take them out, place them in the case and start over. It can be a pain, especially if the case is not nearby. I've had this issue with other brands, so it's not unique to Zolo. It happens rarely, but it is something to consider if you're looking for wireless ear buds. Once the tech matures, this issue should hopefully disappear.
Call quality is good. It amazes me how a mic in the ear can pick up a voice as well as it does. People I've talked to say they can hear me just fine, with a hint of echo. Callers are only heard by me in the right ear bud—the opposite of most wired earphones with the mic attached to the left wire. I'm left handed and prefer my left ear for calls, so this takes getting used to. I wish Liberty could be set up for either the left or right ear.
Specs
Drivers
2 * 5.5mm Graphene Dynamic
Frequency Response
20Hz~20kHz
Audio Codec
AAC, SBC
Bluetooth
4.2
Microphone (right earphone only)
MEMS with CVC noise reduction
Battery
Earphones: up to 3.5hrs audio playback
Charge case: 24+hrs additional audio playback
Water Resistant / Sweat Proof
Sweat Proof: IPX5
Power Source
Micro USB 5V/1.5A
What's in the box?
Liberty Total-Wireless earphones
Charging case
4  silicone jackets
3  silicone ear tips
Micro-USB charging cable
12-month warranty

Design and features
Liberty earphones are solidly built. When in the ear, they look like most other wireless buds. The Zolo logo is printed on the exterior in white letters. The teardrop shape fits well and the supplied ear tips provide a good seal. They are comfortable for a couple of hours, but then my ears begin to hurt a bit. In fairness to Zolo, I haven't yet found a long-term comfortable pair of totally wireless ear buds yet.
I also haven't yet found a pair of wireless ear buds that sound as good as comparably priced wired earphones. No surprises there. As good as Bluetooth has become over the years, wired connections are still better sounding. Having said that, many times the convenience factor outweighs minor audio improvements.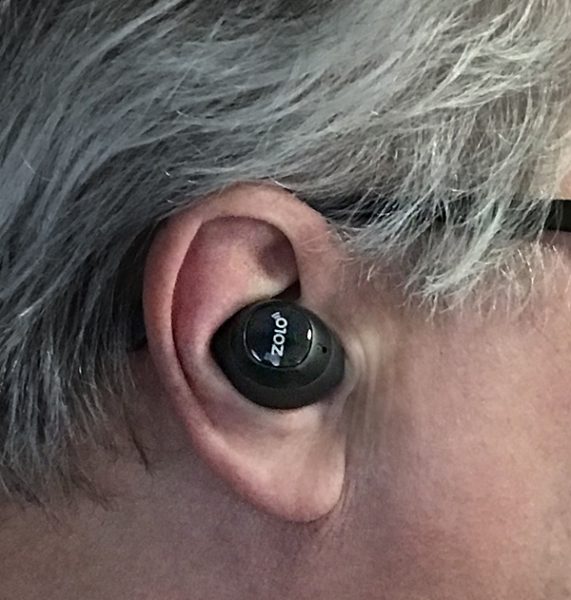 Listening to music with Liberty reminds me of earphones tuned more towards modern music than classic rock or jazz. Bass is prominent, but not overpowering. Middle frequencies (where most vocals lie) are recessed a bit, but vocal performances are not hindered. On certain songs, treble can be a too bright, but that's rare with music I prefer.
What I like
Solid build
Wireless freedom
East pairing
Music sounds good
What needs to be improved

Final Thoughts
All in all, I like the Zolo Liberty totally wireless earphones. Music sounds good and they work great while watching movies on my iPhone—as long as the movie isn't longer than 3.5 hours! They have their quirks, but it seems all wireless ear buds do. Liberty is appropriately named—it allows you to cut all the wires and gain the freedom of going truly wireless.
Price: $99.99
Where to buy: Amazon
Source: The sample of this product was provided by Zolo.