We use affiliate links. If you buy something through the links on this page, we may earn a commission at no cost to you. Learn more.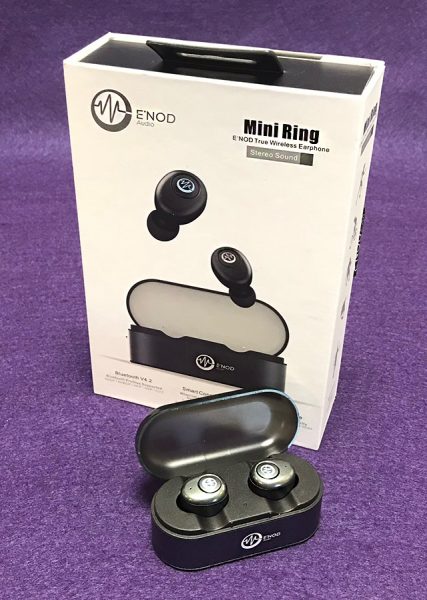 With all the wireless headphones and earphones coming out, it really is becoming a wireless world—finally. However, what really excites me about the near future is the advent of what are known as True Wireless Earphones. You may be asking, "Aren't all wireless earphones wireless?" Well, yes—and no. While wireless earphones are (usually) Bluetooth and not connected to your smartphone, they are connected to each other by—you guessed it—wires. Which brings us to the "True" kind of earphone. These little wonders are truly wireless. They are two separate earphones—one for each ear. As this market matures, the earphones are getting better, can do more and are becoming affordable. Case in point: the E'NOD Mini Ring wireless earphones.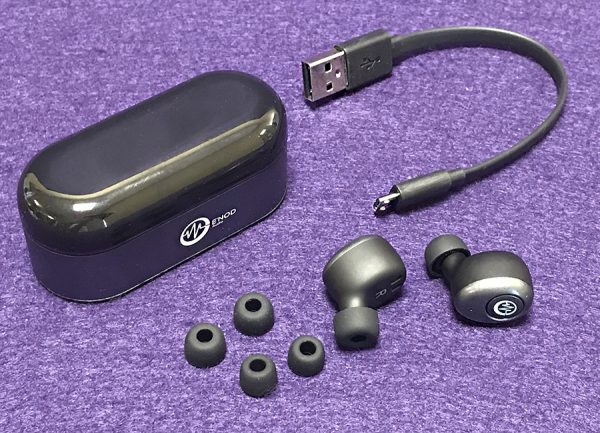 The E'NOD Mini Ring (the name makes no sense) are petite earphones that fit easily into my ears. They're a bit thick and protrude outside the ear, but not too much. Since they have a plastic shell, they're light which helps keep them comfortable. There's no included ear-lock, but they still stay in place for walking or exercising. Plus they are sweat proof and IPX4 water resistant due to a protective nano-coating. Keep in mind that they are not waterproof, so treat them with care.
The Mini Ring earphones are not what I would call a name-brand product—they look suspiciously just like the SmartOmi ACE Bluetooth Wireless Earbuds reviewed recently by our own Andy Jacobs. But the build quality is impressive. Everything fits and seams are smooth. They look and feel more expensive then their cost. There are three included silicone ear tips; small, medium and large. I would rename them tiny, small and medium. Maybe I have big ear holes, but the large-sized ear tip was not big enough to give me a good seal. And as I've said before, "No seal = no bass"—more on that later.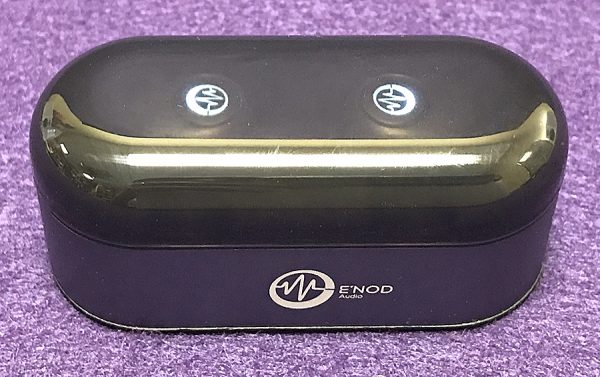 Pairing with my iPhone was easy as soon as I removed them from the box, but I had issues pairing with my iPad for this review. The earphones kept wanting to re-pair with the iPhone. The manual was no help at all (the manual had tiny text—I literally needed a magnifying glass to read it). I had to do some research online to find an answer. Once paired however, the pairing with my iPad remained in place. However, later when I tried to re-pair back to the iPhone, I continually had to disconnect and reconnect before the earphones would work properly. Often, only one earphone would pair and not the other. I ended up having to shut them off and retry which finally worked on the third try. It became very frustrating, but once re-paired they worked great. This won't be an issue if you want to first connect to your smartphone and leave it that way. The Mini Ring earphones use Bluetooth 4.2, so they will work well with the latest devices.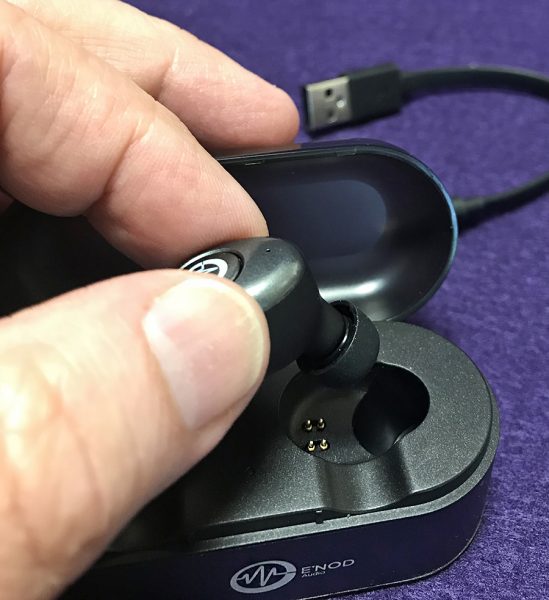 Speaking of connecting, when you remove the Mini Rings from the case and put them in your ears, you will first hear prompts that the pair has connected to each other last/right channel (this happens before any Bluetooth pairing). When Bluetooth does pair, there are voice prompts for that, too. These prompts are quite helpful since there is nothing to see when they're in your ear. There's also a voice prompt when they've reached low battery power.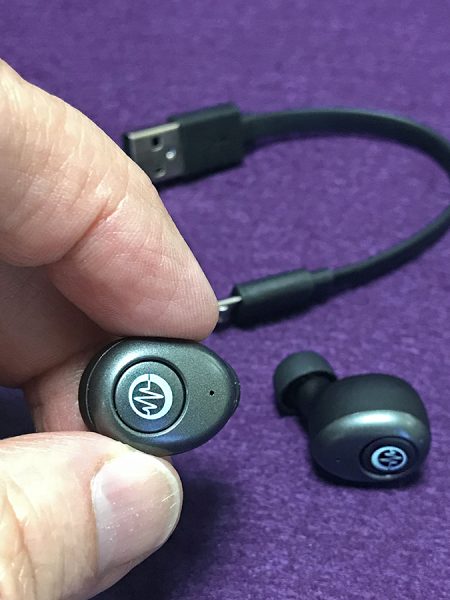 Each earphone has only one button. Pressing the button (left or right—it doesn't matter which one) will pause music; twice to skip forward and three times to replay the previous song. Holding the left button for one second will pause music and set up for a phone call. If you receive a call, music will pause automatically until the call is terminated; then music will resume. A long press on either button will power the earphones off. It's recommended to leave them in the charging case when not in use. The case will recharge the earphones 3 times before the case itself needs charging.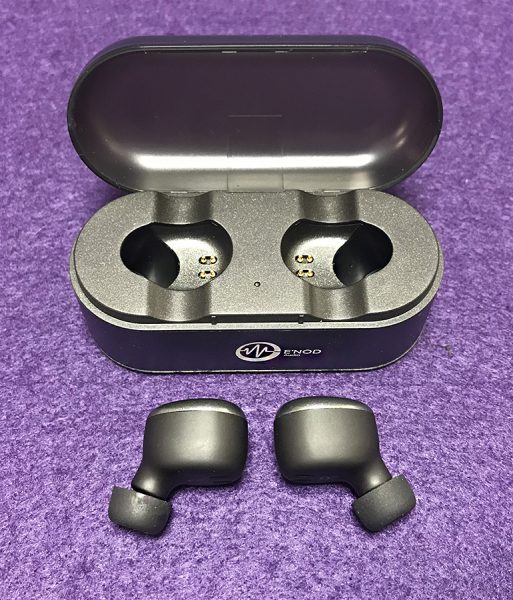 The Mini Ring earphones will play music for 2-3 hours between charging. That's not a long time, but if they lasted longer, they would need to be larger and heavier or much more expensive, so compromises must be made. This situation should improve in the years ahead as battery technology progresses.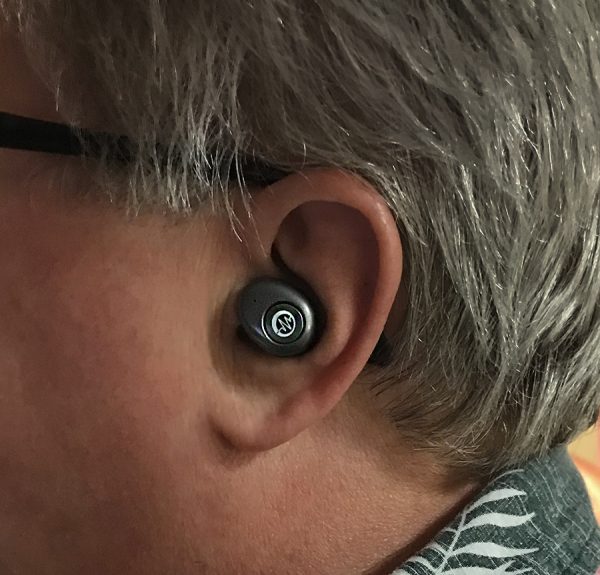 Call quality was iffy. I could easily hear the person I was talking with, but they said that I sounded distant, as if on a speaker phone. I had to talk a bit louder to be clearly heard, which I should not have had to do.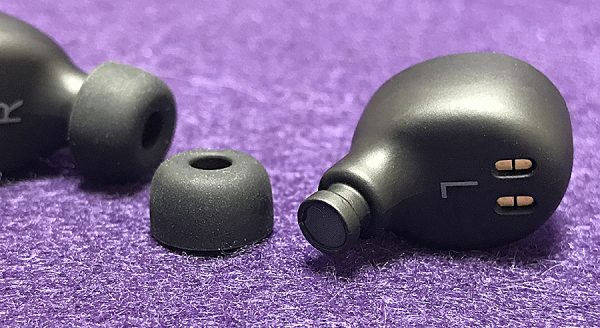 Musically, the Mini Ring earphones sound accurate, but as I said before, bass is weak at best due to the smaller ear tips. When I physically pressed the earphones deeper into my ears, the bass picked up immediately and sounded good (if a bit muffled)—until I let go. Actually, this is a good test that the problem is in the seals and not the earphone itself.
I sampled many songs and albums across a few decades of music to get a good sampling. Because of the bass issue, I discovered what works best are older songs such as classic rock, standards or even talk radio or sports. If you're into hip-hop or bass heavy music, look elsewhere.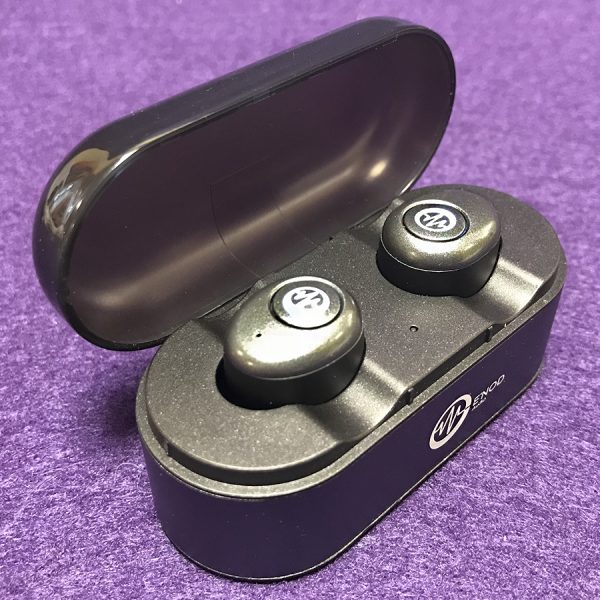 The E'NOD Mini Ring earphones belong in a category that hasn't quite matured as much as I would like. They are well made, fun to use and sound good. If you plan on pairing them only once, aren't a bass-head and will only use them to make an occasional phone call, then these earphones won't let you down. But the pairing issues and lackluster call quality prevent me from giving them a full recommendation.
Source: The sample for this review was provided by E'NOD. The Mini Ring sells for $79.99 US. Please visit enodaudio.com for more info and Amazon to order