We use affiliate links. If you buy something through the links on this page, we may earn a commission at no cost to you. Learn more.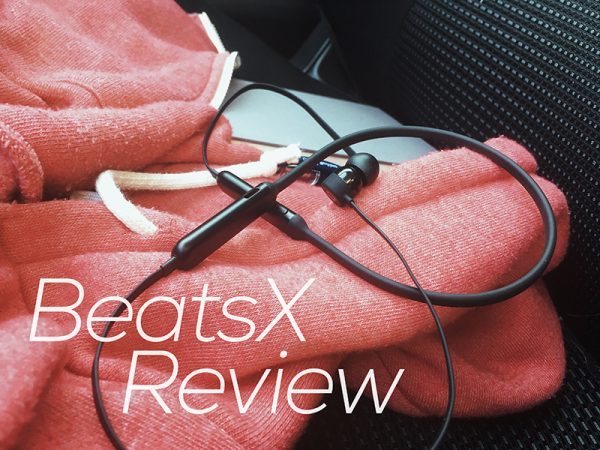 It feels like ages ago when the iPhone 7 was officially announced, putting to rest the rumors on whether or not it would do away with that ubiquitous feature that graces almost every mobile device… the headphone jack. In classic Apple fashion, their self-described bold move was backed by a new wireless audio technology that would quickly be found in several of the popular Beats earphones, the W1 chip.
I believe it was in November when the BeatsX were shown off and finally, three months later, I was finally able to secure a pair for myself. Not because it was in short supply… they were simply delayed that long. I assume it was to add some cushion for Apple to sell its own diminutive AirPods. So here's the big question… were they worth the wait? So very much.
I should address this W1 chip right off the bat. What's the big deal? The W1 is a standard Bluetooth receiver, compatible with any other Bluetooth device, but when paired with an iPhone, iPad, Apple watch or iMac, it gains several important improvements. Once you connect the earphones to one of your Apple products, it's automatically paired with all your devices signed in with the same iCloud account. Switching the device the earphones are connected to takes one simple tap. The chip also massively increases the range. I was easily able to leave my iPhone on my desk and walk around the entire office without losing a signal.
Only a handful of earphones utilize this technology so far — several other Beats products and Apple's AirPods, which were in short supply at launch — and this technology is, to me, what made the BeatsX worth the wait. But what about the actual headphones, themselves? Let's get into it.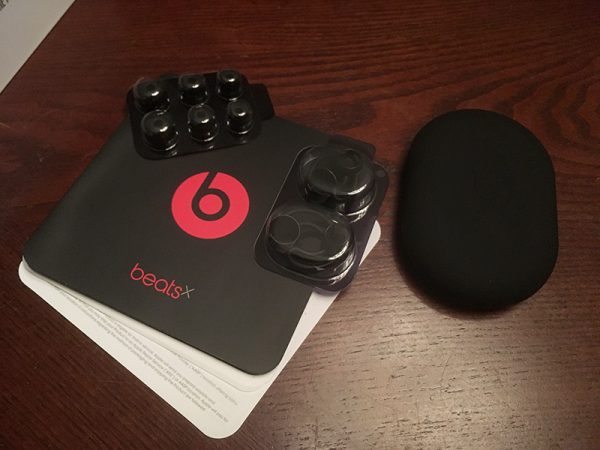 Here's what's in the box:
BeatsX earphones
Eartips with four size options
Removable secure-fit wingtips
Pocket-sized carrying case
Lightning to USB-A charging cable
Quick start guide
The unit that I purchased also came with a promotion for 3 free months of Apple Music. I'm already a subscriber, but was able to convert the offer value into iTunes store credit, which was just like chopping money off the cost of the earphones and moving it into apps I'll eventually buy, anyway. Pretty good deal.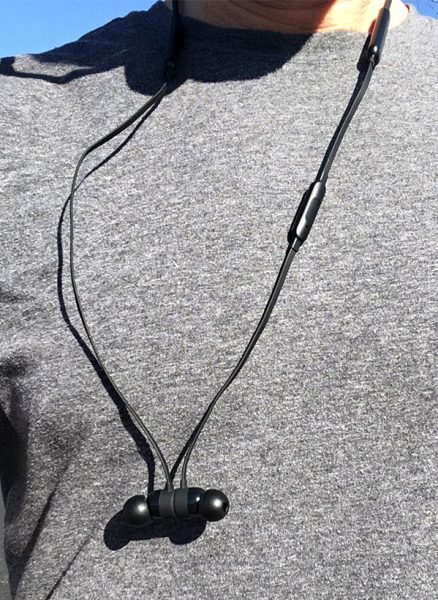 As for the earphones themselves, they are extremely lightweight, seem rather sturdy and sweat/water resistant. The earbuds form a good seal and didn't shake loose while jumping around and shaking my head. They're designed for sports, workouts, running, biking… anything where a long cable would be considered a nuisance. I don't do a lot of that right now, being winter and living in the northeast, but I imagine when it's warmer and I start jogging again, they'll go with me.
Inside the earbuds are two small magnets that clasp together to keep them from swinging around when they're not in your ears. This is probably my favorite feature of any earphones I've owned. I have a fair amount of talk time at work, so it's nice to be able to keep my earphones around my neck, lanyard-style, when I'm engaged in a conversation or walking around the office, and go right back to listening in one quick motion.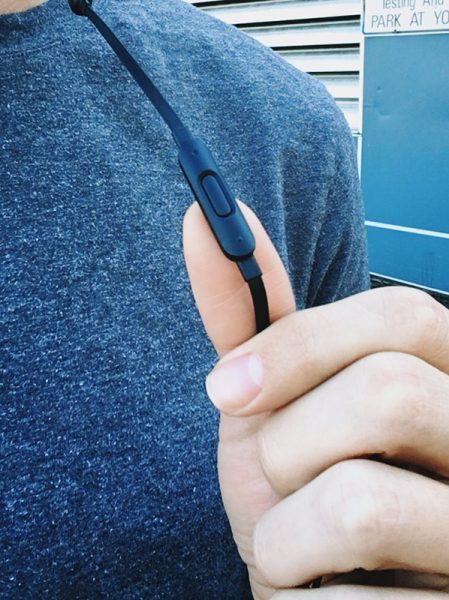 On one cord, there is a simple volume clicker with a center button for answering calls and music controls. The mic is located on this bit and hangs close enough to your mouth to pick up normal conversation levels.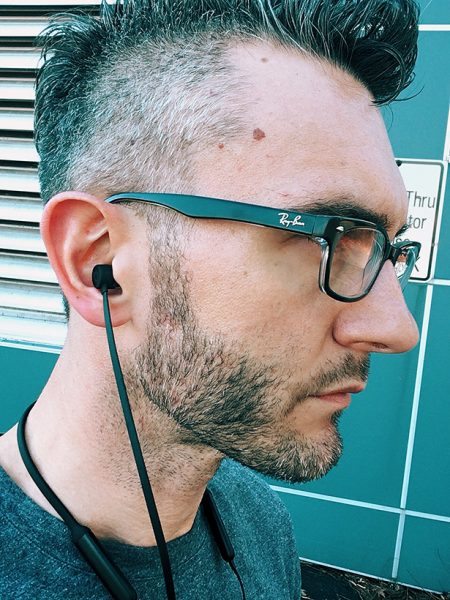 The earphones have an interesting construction. There's a flexible neck strap that rests on the back of your neck, kept in place by the weight of the two battery packs on both sides. One of the battery packs houses the power/pairing button with a tiny charging indicator LED. The other has a Lightning port for charging, which is fantastic. I have several Lightning cables at work, in my car and at home, so an opportunity for a battery top-off is close at hand.
The battery life is quite good… eight hours on a full charge. The Beats brand touts what they call Fast Fuel rapid charging, giving them the ability for 2 hours of battery off a 5 minute charge.
You're probably thinking by now, "Yeah, okay, that's a lot of really neat stuff, but how do these things actually sound?"
I mean, that's kinda of the whole point, right? I wouldn't consider myself an audiophile by any stretch of the imagination, but as a casual earphone user, I'd award them a solid B. They're not the best, in terms of clarity, but they're certainly a step up from any stock earphones that you'd get with a phone or a wired pair you'd drop $50 on.
Beats have always been punchy and bass-heavy, and while the tiny drivers in these are surprisingly loud, they tend to be a little too muddy for my taste. The highs aren't as crisp as I'd like, but overall they sound pretty good. The sound certainly benefits from the earbud construction, forming a tight seal in your ear canals. They do block quite a bit of outside noise, even when nothing is playing, so that's something to keep in mind for traffic safety if you're going to be biking or running or, I don't know, walking on some railroad tracks. Take heed!
It's the combination of the W1 chip, smart construction and good sound that makes the BeatsX an easy recommendation at $129. That may be a tall order for some looking for a simple pair of earphones. While the headphone jacks of the world don't seem to be going anywhere in a big hurry, any future iPhone I'll be purchasing will certainly be devoid of that option, and I sure do hates me some converter dongles. For me, wireless is the way to go, and these came in at a much lower price than many of the other options out there.
Updates 11/16/17
I still love these headphones and use them every day. I usually put them on around my neck in the morning and keep them on all day, whether I'm listening to them or not. I like how lightweight they are and the fact that they charge via lightning cable instead of some proprietary means. Worth every penny.
Source: The sample for this review was purchased with my own funds. For more information, visit the Beats by Dre site and Amazon to order.

Product Information
Price:
$149.95
Manufacturer:
Beats by Dre
Retailer:
Amazon
Pros:

W1 chip = simple pairing and super long range
Decent sound
Long battery life
Lightning cable charging

Cons:

Relatively expensive
Not the best sound you could get for the price vs. wired earphones