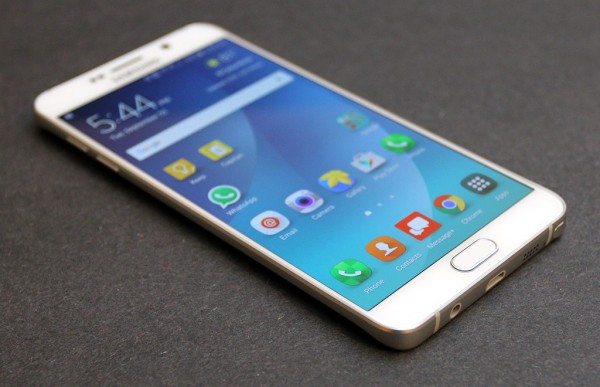 Samsung's newest top-end smartphone is the Samsung Galaxy Note 5. How much has it evolved since the Samsung Galaxy Note 4 was introduced last year? Should Note 4 users consider upgrading? Those are just a couple of the questions that I'll answer in this review. Let's get started.
Note: Images can be clicked to view a larger size.
Hardware specifications
Processor: Samsung Exynos 7420 Octa-Core 64-bit
Operating System: Android 5.1.1 & Touchwiz
Memory: 32GB or 64GB on board memory + 4GB RAM
Network: CDMA Data – 1x and EVDO Rev0/Rev. A, LTE: 13(700), 4(1700/2100), 2(1900), 3(1800), 7(2600), LTE CA 13+4 (10+10); Global Network: GPRS/EDGE/GSM(850/900/1800/1900), HSPA/UMTS(850/900/1900/2100)
Display: 5.7" Quad HD Super AMOLED®, (2560×1440), 515ppi
Camera (rear): 16MP
Camera (front): 5MP
Wi-Fi, Bluetooth 4.2, NFC, Fingerprint sensor
Headset: 3.5mm Audio Jack
Battery: 3000mAh (Fast charging non-removable battery)
Dimensions: 6.04" (H) x 3.00" (W) x 0.3" (D) inches
Weight: 6.03 oz
In the box
Samsung Galaxy Note 5
Pre-installed SIM Card (4FF)
SIM Removal tool
3000mAh Battery
USB Cable
S Pen
Quick Reference Guide
Physical design and features
The Note 5 is available in Black Sapphire or White Pearl. As you can, see, I was sent the white version for my review. Taking a page from the Samsung Galaxy S6 design playbook, the Note 5 has been redesigned with both a glass front and back, giving it a premium look and feel deserving of the Samsung flagship device. The front of the Note 5 has thin bezels on the left and right edges and the familiar home button in the lower center. That home button doubles as the fingerprint scanner. But more about that later.
On the back of the phone, you'll find the camera and the LED flash which doubles as the heart rate and blood oxygen sensor. The back of the phone has nicely curved sides that allow it to fit comfortably in your hand. The Note 5 is very solid and has a quality feel. It has no problems with flexing or creaking when I put it to the Gadgeteer squeeze test. That shouldn't be a surprise though as this is a sealed phone. The back does not come off. That means that the battery can't be replaced and there is no micro SD card slot. Both of these changes will come as a disappointment to a lot of Note fans like myself. Although two features were removed, Samsung did see fit to include wireless charging, so we can at least be happy about that.
Do me a favor and click on the image of the back of the phone so you can zoom in. Do you see the top left corner? It's shattered. Although a glass back looks sexy and feels great in your hand, you need to be careful because it's an extremely slippery device. Yes, I dropped the Note 5. It's the first time I ever damaged a loaner phone in the 18 years that I've been reviewing products. 🙁

The left side of the phone has individual volume buttons. You can also see the aluminum sides. The Note 5 feels nicer in your hand than the Note 4 due to the beveled edges. I distinctly remember the Note 4 almost having an almost sharp feel in my hand. This isn't the case with the Note 5. The Note 5 is also slightly smaller in every dimension compared to the Note 4. But the difference really isn't enough to be that noticeable.

On the right side of the Note 5 you'll find the wake / power button.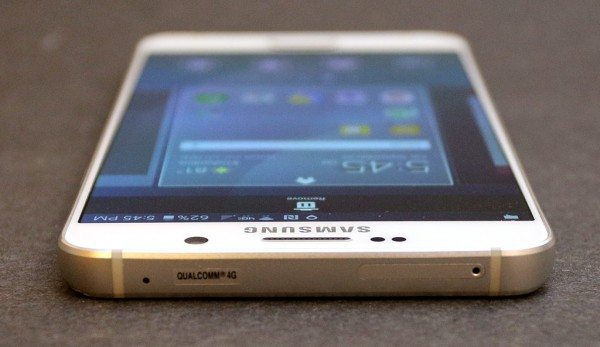 On the top edge you'll find the SIM card tray and a microphone. If you like to use your Note 4 as a TV remote, you won't be happy to learn that the IR blaster feature has been dropped.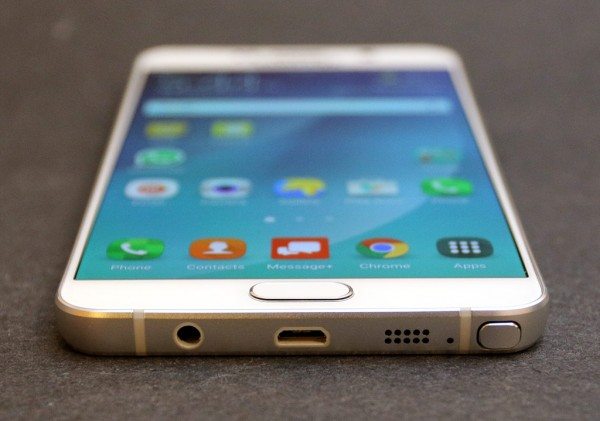 On the bottom edge of the phone you'll find the home button which is also the fingerprint scanner. As I mentioned earlier, the scanner on this phone is fantastic. It's better than any other fingerprint scanner I've ever tried, including the one on the iPhone 6, which was my previous favorite. I have had a lot of issues with fingerprint scanners in the past. Basically, they just don't want to work for me unless I try multiple times. This wasn't the case with the Note 5. It worked 99% of the time with just one press. No swiping necessary. I loved it!
You'll also find the 3.5mm headphone jack, micro USB charging port, speaker, another microphone and the S Pen slot on the bottom edge of the phone.
I mentioned that the Note 5 has Qi and Powermat wireless charging built in. I tested the phone with my TYLT VU wireless charging dock and two of my Nokia DT910 charging docks. The Note 5 worked perfectly with the TYLT VU charger, but didn't want to work with the Nokia chargers until I turned the phone sideways and placed something under the edge to raise the phone about an inch.
If you're not a fan of wireless charging, the Note 5 also has fast charging feature using a USB cable.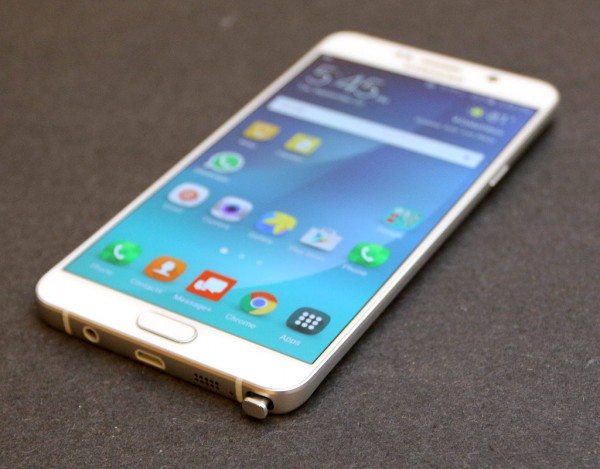 The S Pen slot has been improved since the Note 4. Remember how you had to use your fingernail to grab the edge of the pen to pull it out? Now the slot is now spring loaded. Just press the end of the S Pen to pop it out so that you can easily remove it.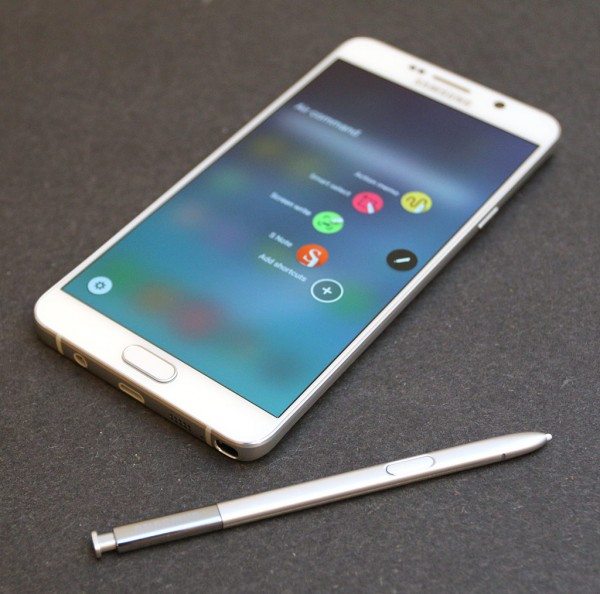 When you do so, it will automatically show a menu of S Pen enabled apps that you can use. This is called the Air Command menu and you can even add your own shortcuts.
The S Pen is my all time favorite stylus. It has a very small tip that gives you a perfect pen on paper feel and experience with no lag or jaggy diagonal lines. Apple, I'm looking at you…
Display
There really isn't much that has changed since the Note 4. The screens are the same size, have the same resolution and look just as nice in my opinion. Some people don't care for the slightly over saturated look of the Samsung Touchwiz user interface, but I like it. Everything I tried from games to videos and image viewing looked great to me. No complaints.
Camera
The Note 4 had a 16MP camera and so does the Note 5. It might not have been updated, but it is a very capable camera that captures crisp, vibrant images. The images above are straight out of the phone with no touch ups. The front facing camera has been upgraded to 5MP which is up from the 3.7MP front facing camera on the Note 4. That means better selfies! Oh boy!
Software
Although there are little tweaks here and there, not much has changed software wise between the Note 4 and the Note 5. Small things like double clicking the home button to launch the camera app come to mind. There's also the addition of Samsung Pay and the ability to take multi-page screenshots and write notes on the lock screen with the S Pen.
Using the Samsung Galaxy Note 5 for phone calls
I experienced no issues making and receiving calls with this phone. Audio on both sides of the conversation was clear with good volume. I also did not experience any dropped calls while testing this phone.
Overall performance and battery life using the Samsung Galaxy Note 5 for day to day tasks
Without performing exhaustive benchmark tests, which I never do with my reviews, I have to say that the Note 5 performs very well. But then I can't recall the last time any phone felt laggy to me. Launching apps, switching between apps, scrolling through long lists is no problem for the Samsung Galaxy Note 5.
As far as battery life, the Note 5's battery which I'll remind you, is sealed, lasted through a normal workday, but sometimes just barely. This isn't a problem for me since I have a wireless charging dock on my desk at my day job and at home. I wasn't blown away by the battery life, but I can't complain much about it either when you consider that this is a phablet with a large display.
Final thoughts
The Samsung Galaxy Note 5 is currently Samsung's newest and most expensive device. It's been upgraded to have a more premium look and feel that is in line with Samsung's S6 and S6 Edge phones. But when it comes down to it, now that the Note 5 no longer has a removable battery, micro SD card slot and IR blaster, it is really just a slightly larger S6 with a built in stylus. It makes me wonder who this device is really made for. It's like the new iPad mini which was just released from Apple. It felt almost like an after thought from Apple and the new Note 5 feels similar to me. Samsung has updated it to look nicer, but it has removed all the special sauce that made it special. The only reason to buy the Note 5 instead of an S6 is if you love the S Pen.
Source: The sample for this review was provided by Verizon. Please visit their site for more info.
Support The Gadgeteer
:
We may earn a small affiliate commission from purchases made from buying through links on our site. As an Amazon Associate I earn from qualifying purchases. Learn more.
Product Information
Price:
$696 - $792
Manufacturer:
Samsung
Retailer:
Verizon Wireless
Pros:

Wireless charging
Spring loaded stylus
Fingerprint scanner works great!

Cons:

Slippery
No micro SD slot
No replaceable battery
IR blaster feature removed