We use affiliate links. If you buy something through the links on this page, we may earn a commission at no cost to you. Learn more.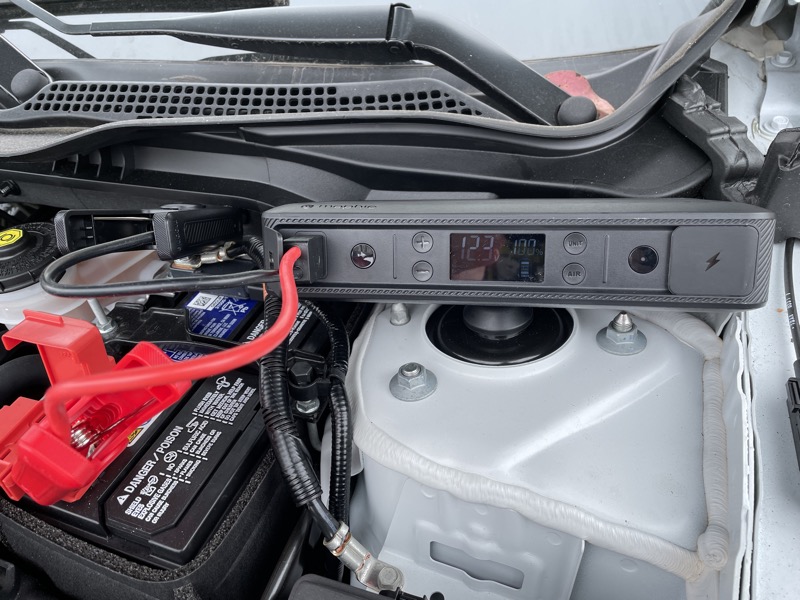 REVIEW – About 20 years ago, I had one of those older lead-acid jump start battery packs. It was very heavy, but it saved the day more than once. It even had an air compressor on board! Newer jump start battery packs are much smaller with lithium batteries. Today I get to try one with a built-in air compressor.
What is it?
The Mophie Powerstation Go Rugged is a portable battery with USB-A ports, air compressor, and car jump starter.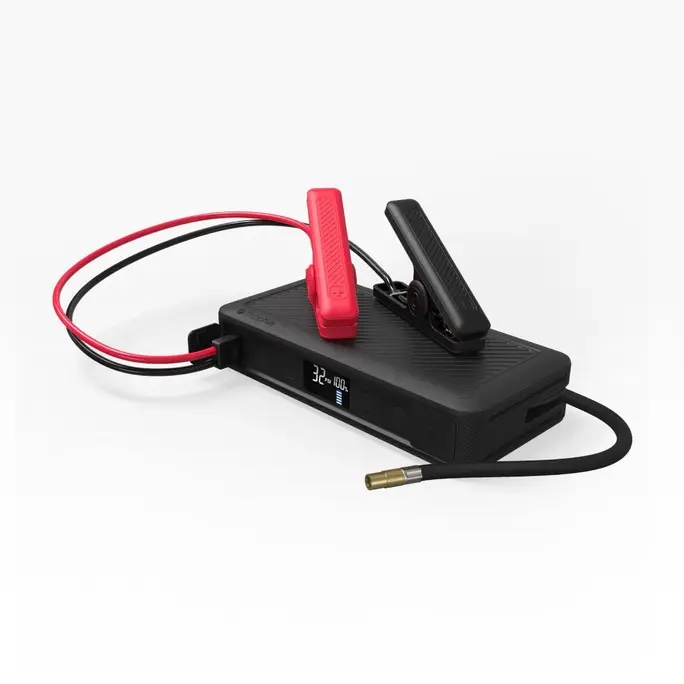 What's in the box?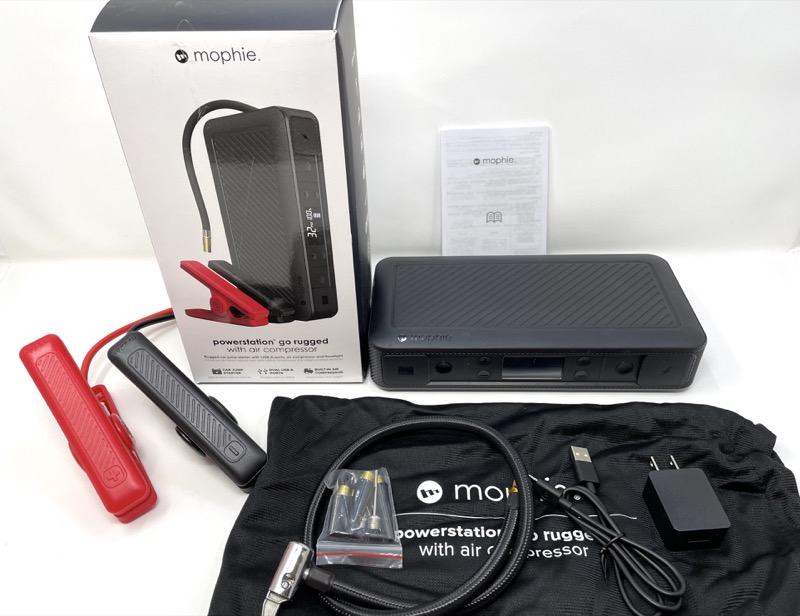 Battery/air compressor combo
Car battery clips
Inflator hose extension
Air attachments (needles, nozzles)
USB cable and charger
Hardware specs
Dimensions: 4.65 in x 9.52 in x 1.85 in
Battery: 55,500mWh
Design and features
It's larger than today's smaller lithium-based jump start packs, but for anyone who remembers the giant lead-acid ones from years past, this is downright compact. It's about as big as two VHS tapes stacked together.
On one end, there's even an LED light that switches from white to red and blinking red.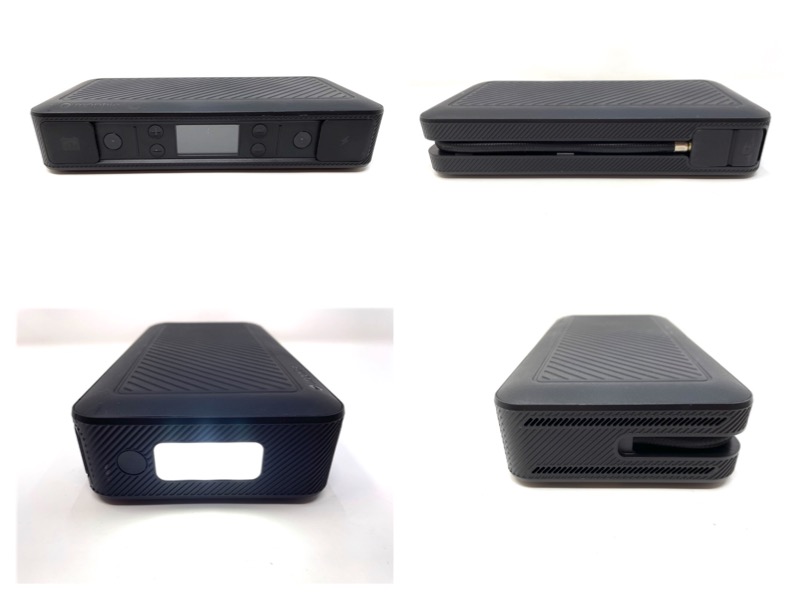 Everything fits in a cloth drawstring bag. The bag isn't very thick but gets the job done.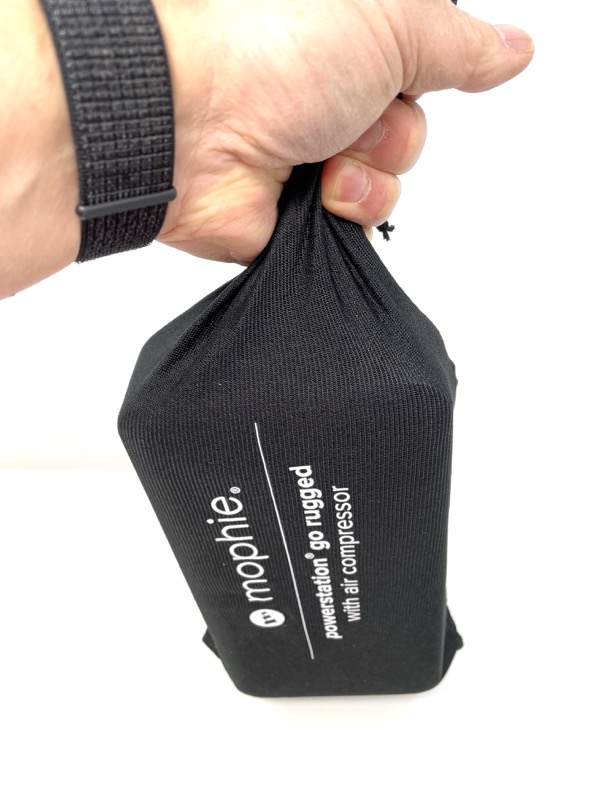 With all the accessories in the bag, the kit weighs just over three pounds.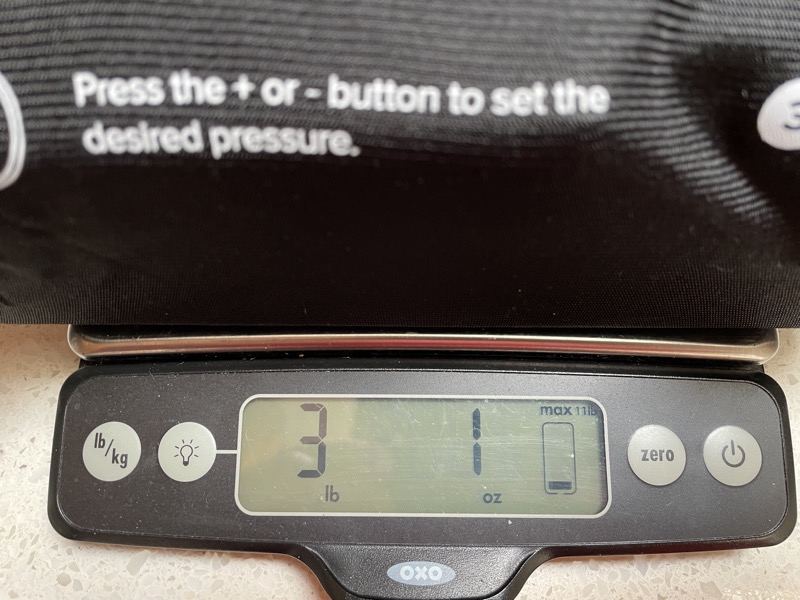 I seldom read instructions. I really like the printed summary on the bag itself. No instructions to lose.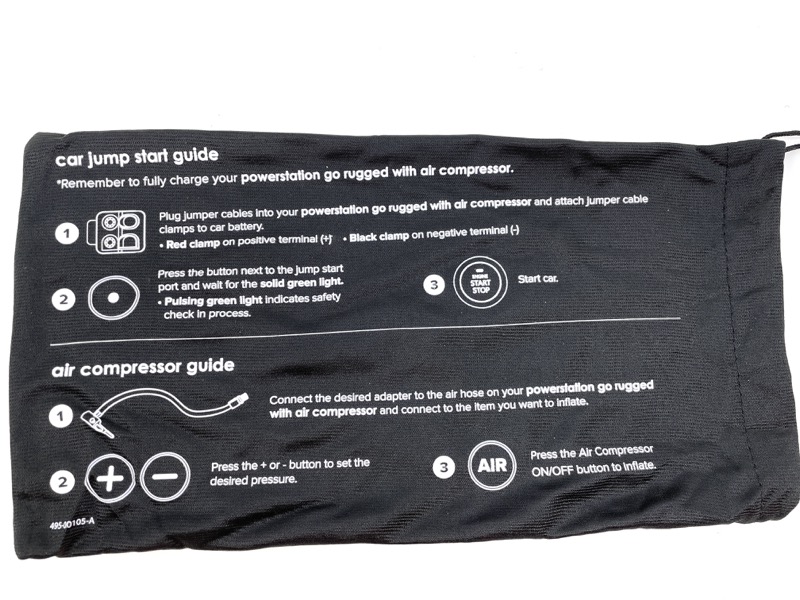 The front panel includes a backlit LCD display and controls. The +/- buttons set the pressure preset target for the compressor.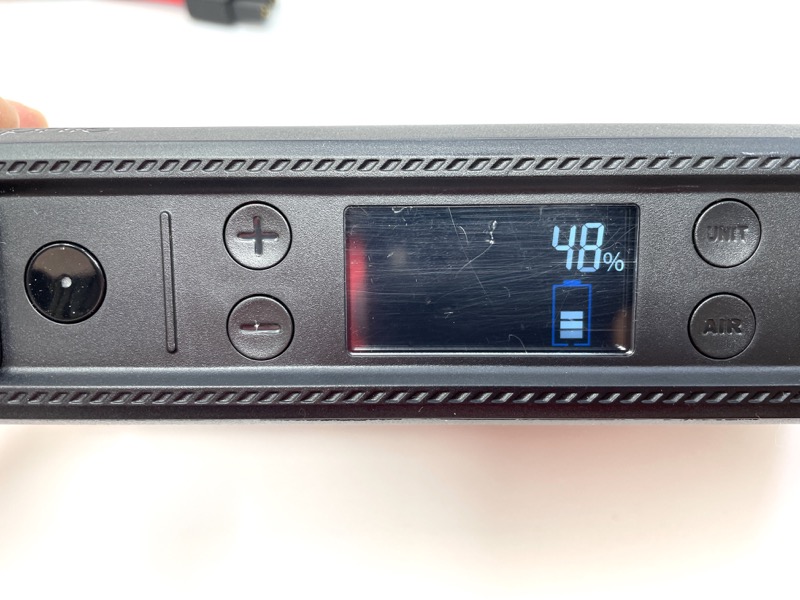 There's a label on the bottom side that's hard to read. I had to tilt it so the camera could capture the text. 55.5 Wh capacity. Will output 12V at 600A for jump starting. Note the USB-C recharge specs of 5V at 2A. More on that later.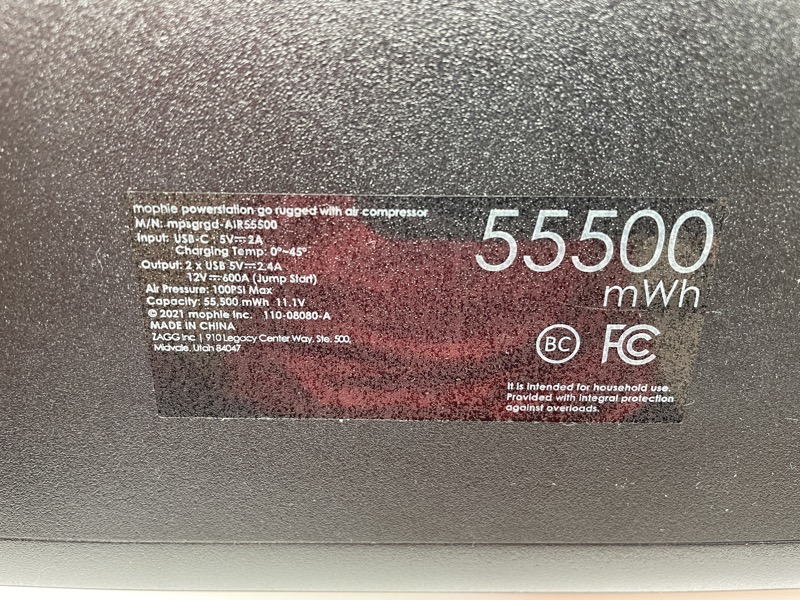 Setup
The ports are covered with hard, flexible plastic. They don't bend much. I really had to fold this one back for the USB-C recharging cable.
I tried one of my junk drawer chargers to get this battery pack topped off, but it wasn't going anywhere. I switched to the USB charger Mophie included, which is rated at 2A. I guess there's a reason they included one! It drew a constant 2A during charging. It's pretty hungry.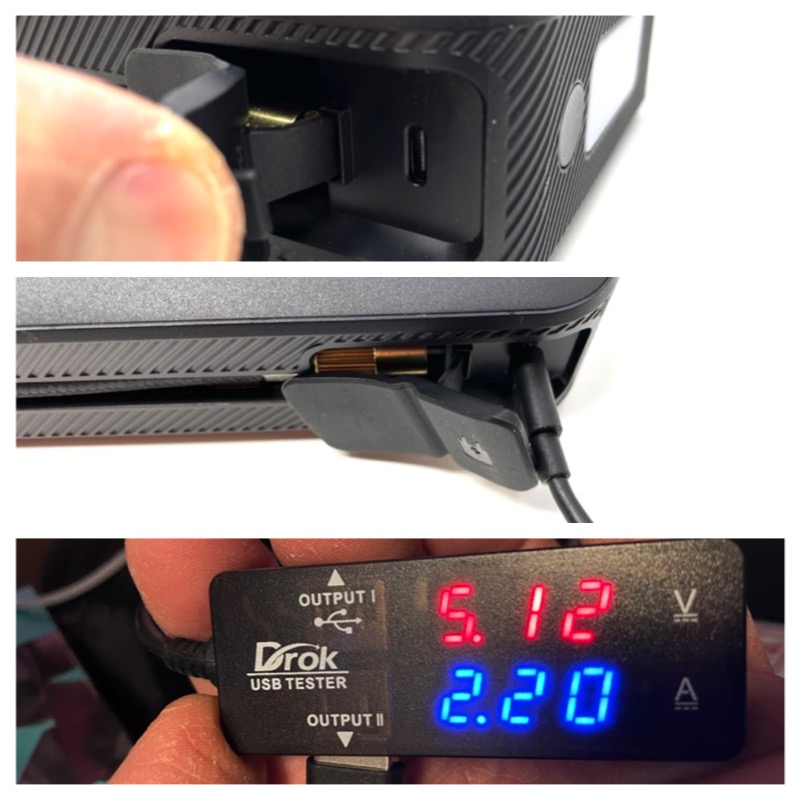 Here the front LCD display shows the battery is actively charging. I forgot to remove the protective plastic on the display so it looks a little scratched up! Note the CHARGING text and the green lightning bolt.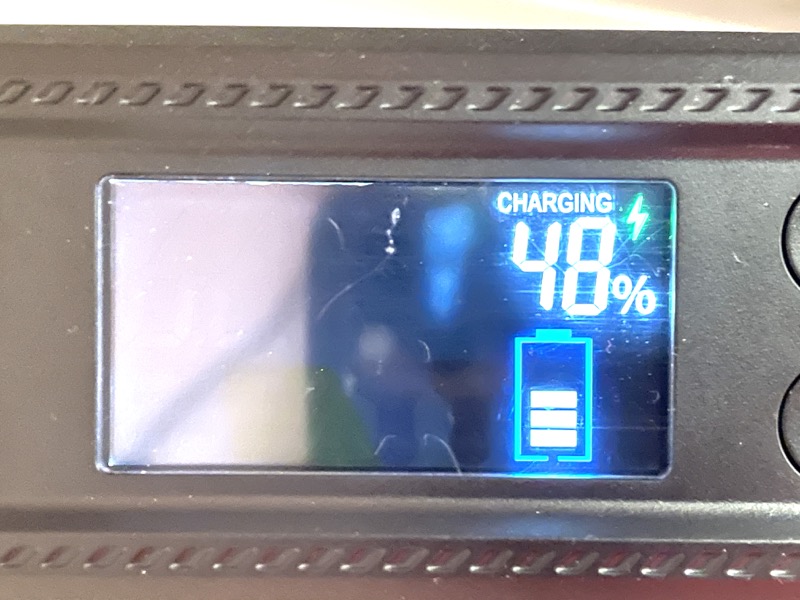 The air hose stores in a slot along the body of the charger. The extension with quick release screws right in.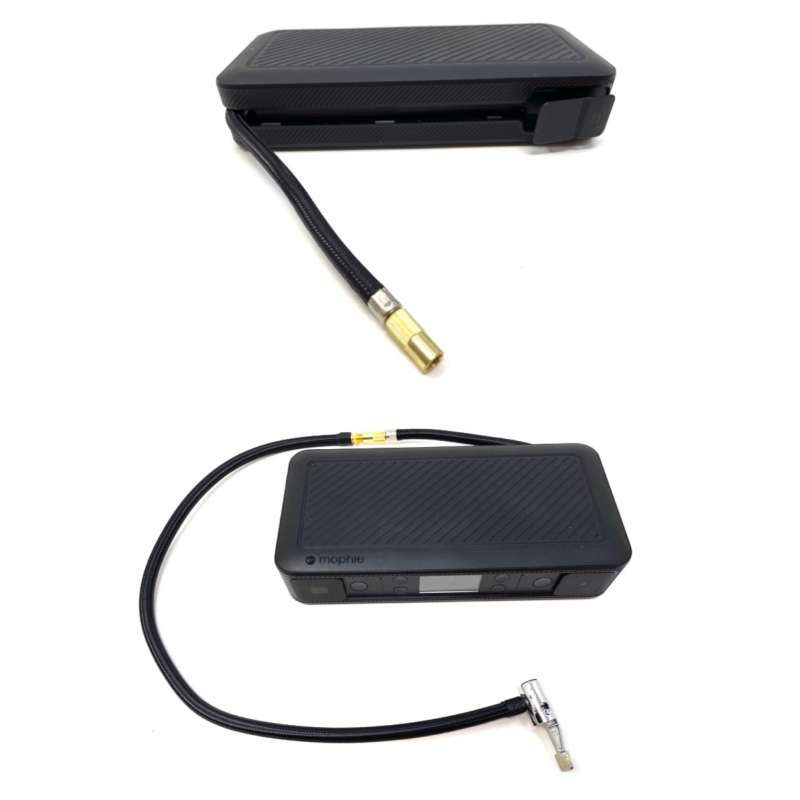 Mophie includes an assortment of nozzles and adaptors, including some needles.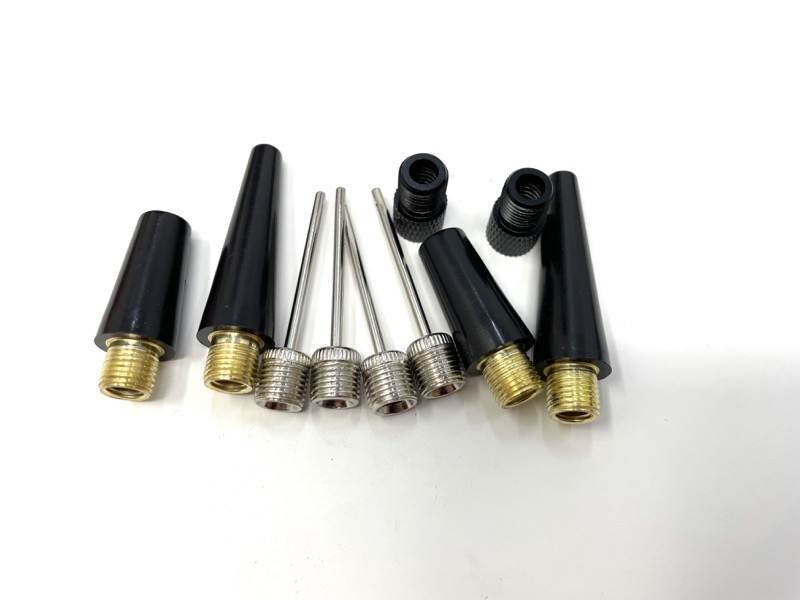 To set up the jump start cables, attach one end to the battery pack. It only goes in one way.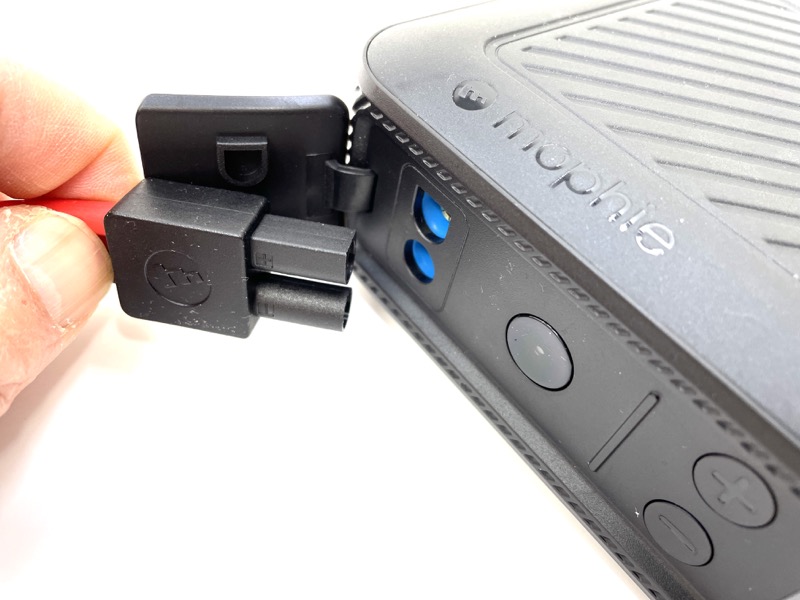 The clip ends are ready to be attached to the battery terminals.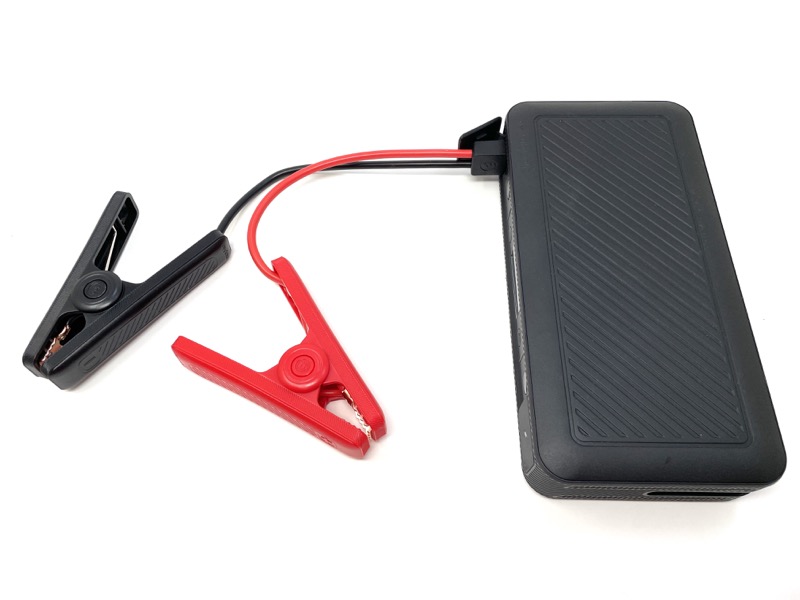 Performance
None of our cars have dead batteries,  but I attached the Mophie to one anyway. Here you can see the voltage reading on the LCD screen. To jump start, press the round button on the left until the LED light is solid green, then start engine.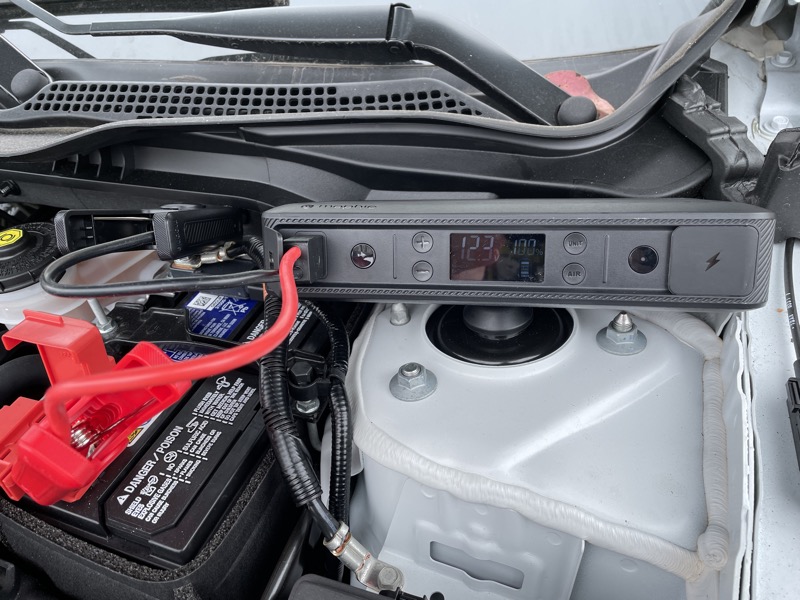 I also tested the inflator. It's loud, but not deafening.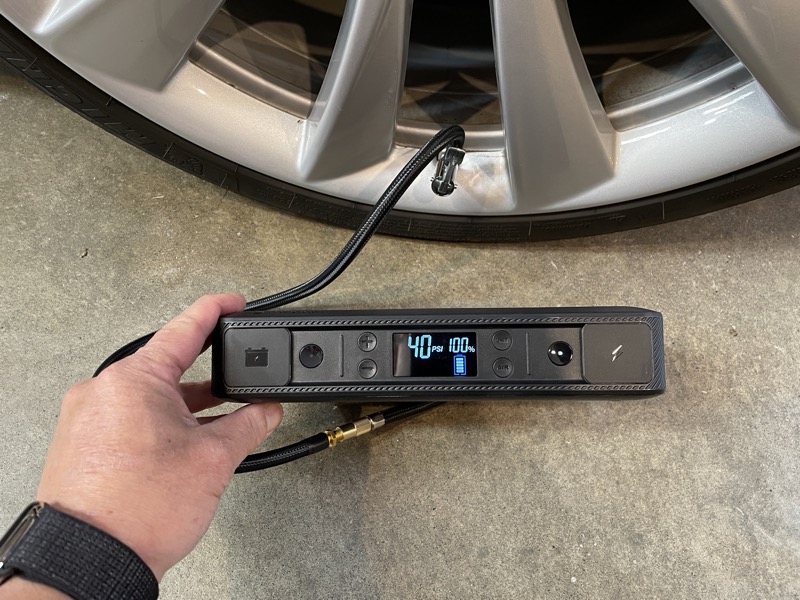 What I like
Jump start and inflate tires (or toys) all in one package
Compact
Comes with air attachments and 2A USB charger
What I'd change
The pouch is a little thin, but the printed instructions make up for that.
Final thoughts
I used to try to pack a battery for jump starting and a separate tire inflator that runs off the cigarette lighter socket. This solution is much more handy. It's found a home in my car.
Price: $159.95
Where to buy: Zagg
Source: The sample of this product was provided by Zagg.