We use affiliate links. If you buy something through the links on this page, we may earn a commission at no cost to you. Learn more.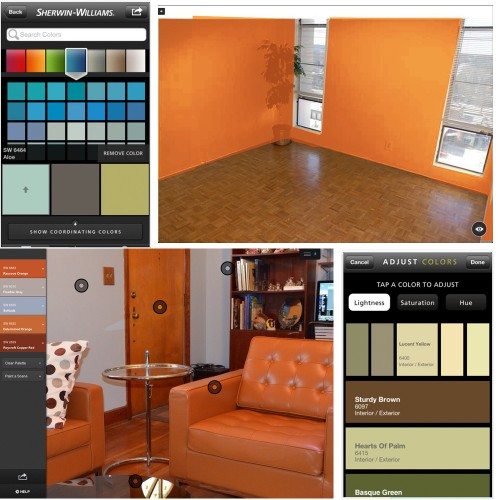 After upteen years at the same address, my family will soon be moving into a almost time-capsule mid-century condo.  Moving has a lot of work and a lot of expense associated with it (and I'm not just talking about the mortgage, either), so I want to be sure I get things right the first time.  This is especially important for a task that everyone in my family hates – painting.  I hate looking at 2″-square paint chips trying to envision how it might look on the walls.  I hate having to buy small quantities of paint to try out it out on the walls, and I hate making the wrong decision and having to either repaint or live with it.  Sherwin-Williams has an app that takes some of the work out of choosing a paint color.  The ColorSnap app is available for iOS, Android, and Blackberry devices.  I've tried it on my iPad, and I've found it to be a very useful tool.
You can explore Sherwin-Williams' color gamuts (upper, left) to see what strikes your fancy.  You can take a photo or use one in your device's photo album and  have the app tell you SW's closest match to a color in the image (bottom, left).  You can see how a selected color will look if it's darkened or lightened (bottom, right) or see coordinating colors.  Once you've settled on a color, you can "paint" it onto a picture of your room to see how it looks (upper, right).  (You'll notice the app paints over things on the wall, like the artificial fig the listing agent included to liven up the empty room.)  You can even save your painted roomscapes and save a palette of your favorite colors to make picking up paint at your local Sherwin-Williams store easier.  Because we can both see what the other is talking about, it's even prevented some arguments with my daughter, who talks about color with her artistic eye, while I talk about color through my science background.  Peace within the family is worth any cost, but the ColorSnap app is free.