We use affiliate links. If you buy something through the links on this page, we may earn a commission at no cost to you. Learn more.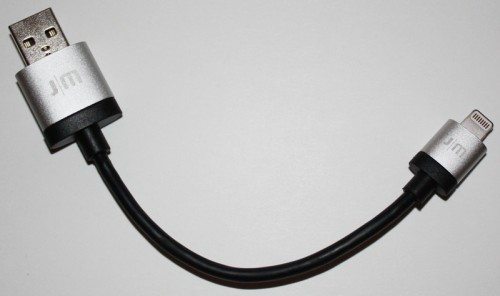 There are so many ways to charge your phone nowadays that a charging cable is an essential part of a gadget bag. One problem I have is carrying around the long, Apple cord that gets tangled up while in my purse. We have finally started seeing Apple-certified Lightning cables come out, so I was happy to get the chance to try out the AluCable Mini Lightning cable by Just Mobile. At just 4″ (10 cm) long, there's no way it can get in the way, right?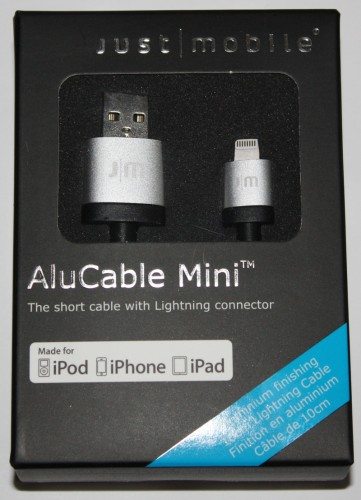 Inside of the nice packaging, you'll find one short Lightning cable. When I say short, I mean it. From end to end it is about 6.3″. (The 4″ is the cable itself, not including connectors.) It is much shorter than I had anticipated. For my purposes, however, that was a good thing.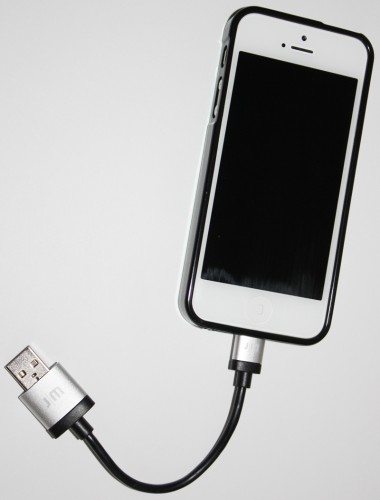 As you can see, the cable is about as long as the phone itself. It plugged in easily to the phone, and it felt secure and fit perfectly. If you talk on the phone while plugged in, this cable will not work unless you want a portable battery hanging from your ear.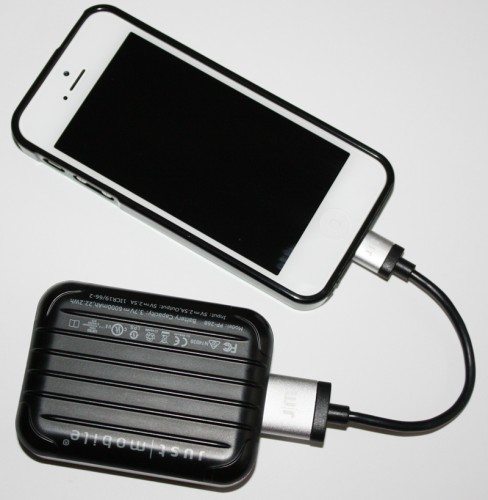 I tried the cable with my most portable battery, and the USB end fit perfectly into it; it worked as well with my computer and a power brick. The cable charged my devices at the same speed as my other cables.  You should have no worries about it damaging your phone, as the ends do not even get warm while in use.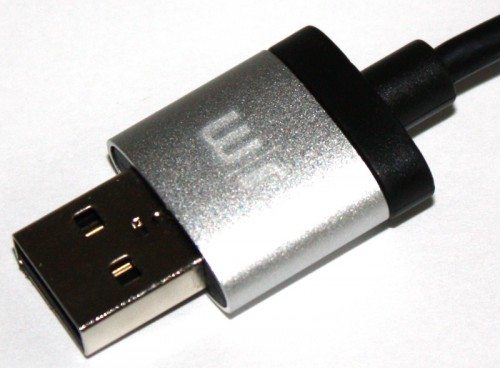 Each end has premium aluminum finishing and a solid connecter. I really liked the little J|M logo, as it gives it a nice touch. Since the connecter is thick, it gives great leverage for pulling it from the USB port. The cable is also tough enough that it withstood me yanking it from my phone by the cable itself several times.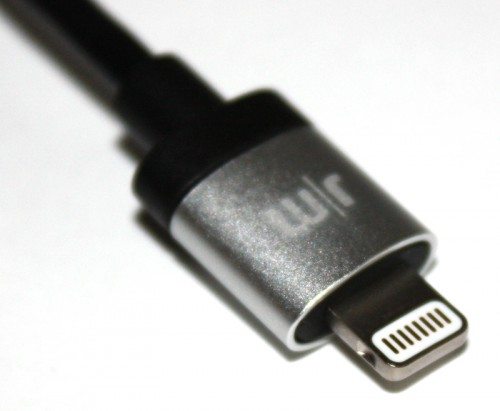 The only flaw I found with this cable happens with most cables not manufactured by Apple. The Lightning end is quite a bit thicker than that of the Apple cable (0.51″ vs 0.31″), meaning any case that you have will need to have a good-sized hole for the charging port. Otherwise, the Just Mobile AluCable Mini is a great little cable to throw in with your travel gear. It is sturdy enough to handle most of what you dish out and short enough that it takes up hardly any room. I would highly recommend this for a purse or travel bag, especially if you use portable batteries often.
Product Information
Price:
$19.95
Manufacturer:
Just Mobile
Pros:

- Very portable
- Sturdy and well built
- Apple Certified

Cons:

- Not compatible with some cases