We use affiliate links. If you buy something through the links on this page, we may earn a commission at no cost to you. Learn more.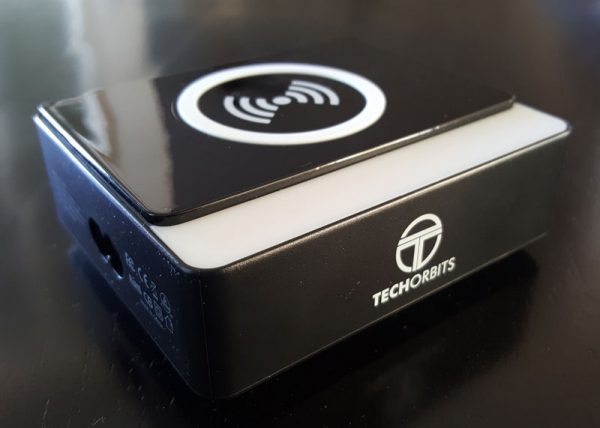 I have been obsessed with wireless charging ever since I got my Galaxy S6 Edge+ phone.  Cutting myself loose from charging cables is a wonderfully freeing experience, and I honestly think that wireless charging is going to be the future and all sorts of surfaces around the house, restaurants, and the office will be wireless charging enabled.   But in the meantime, we still need USB ports.  So to combat that mass of USB cables that clutter up your bedside table, I propose the $29.95  TechOrbits Qi Wireless & 8-port USB charger. Yes, you read that right, 8 USB ports.  Let's discuss.
First, the specs from TechOrbits:
Qi wireless charger & smart charger: Charges up to 9 devices simultaneously with 8 fast charging USB ports and 1 Qi wireless charger (for wireless charging, your device/back cover must be Qi-enabled)
Smart detection: Features 8 X 2.4A output charging hubs. Total output 12 A/60W. Each hub is equipped with intelligent detector (ID) technology to identify the phone's current for fast charging
Intelligent Features: Temperature Control activates at 107° Fahrenheit to keep your device safe. Power-efficient idle mode never overcharges your battery or wastes energy.
Compact Design: 3.7 x 3.2 x 1.3 inches and 8.5 ounces in weight, portable and handy. AC 90-240V input voltage for travel, and a detachable 5 feet power cord(US Plug) is included for easy transport
Package content: 1 X Techorbits Wireless Charging Hub + 1 X wall Adapter + instructions + 18 months warranty and unparalleled customer service.
Wireless charging
First, let's discuss the wireless charging.  What I like about this wireless charger is that you don't have to line up your phone in a certain way to get the charging to start. Just lay it on top of the TechOrbits on the non-slip rubberized logo at any angle and it charges.  With my Choetech wireless charger I have used by my bed for several months you have to line up the phone perpendicular on the pad or it won't charge.  So I have run into the problem during the middle of the night where I reached for something on the bedside table and accidently touched the phone on the Choetech pad and move it slightly, therefore messing up the charging. Not so with the TechOrbits.  Just lay it on top, and it charges.  Nice.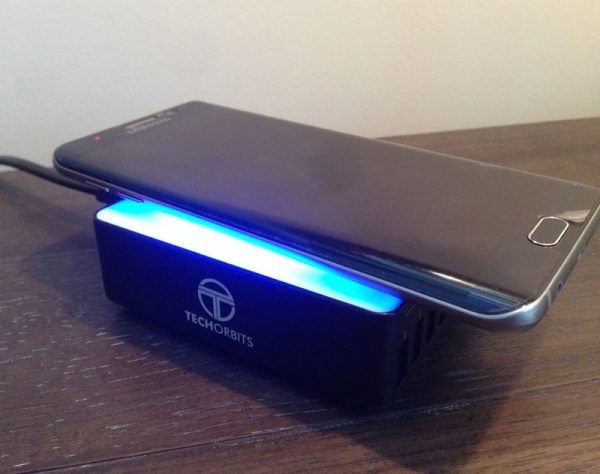 What I don't like about the TechOrbits is that the blue indicator light that runs along one side of the charger on the top is so bright that it lights up the whole room at night.  I mean, this thing is bright.  Most chargers have a small indicator light, but this indicator light is big.  It was annoying, honestly.  I have to cover it up so that the whole room wasn't lit up.  It does go out when the charging is complete, which is nice of course because you can visually see that charging is done.
The second issue I have with the TechOrbits is the same as many others.  This thing gets hot.  If you look at the bullet points above of the features, it is advertised with a feature called "temperature control".  I see now why.  I will say that all wireless chargers I have used make the phone hot.  I think that's just what comes with wireless charging.  But this is the hottest wireless charger I have used thus far.  When you take the phone off it cools down pretty quick, so it isn't enough of an issue for me to not recommend it.
USB wired charging
I will admit, having 8 USB charging ports is awesome.  I have charged up to 4 devices at one time, which is nice, although having that many USB cables on the bedside table is a bit messy.  I can't imagine what 8 cables would look like.  You can turn the Tech Orbits device sideways so that the charging cables hang off the back of the table.  Anyway, that's the trade-off of being able to charge 8 USB devices at once!
I will also say that I did experience fast charging with the TechOrbits.  It is advertised with "smart detection" and will detect your fastest charging speed available for your device, and I would agree with that.  I found that to be true.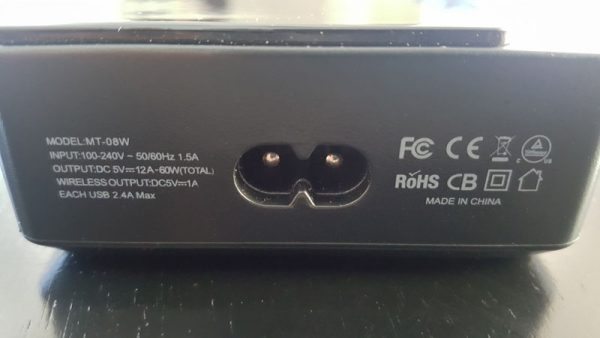 Final thoughts
I do recommend the TechOrbits, if for no other reason than the 8 USB charging ports.  Not having to climb behind furniture to plug in your chargers is just convenient and smart.  Plus, finding 8 power outlets is going to be a tough thing to do.  The wireless charging is, of course, awesome to have, but you'll have to put up with some heat and that bright indicator light.  If you aren't bothered by bright lights when you sleep, then perhaps that is a non-issue for you.  I still recommend it for the convenience it provides and the great price.
Discount when ordering through TechOrbits site: 15% OFF
Discount code: Thegadgeteer
Expiration date: Does not expire
Source: The sample for this review was provided by TechOrbits. Please visit their site for more info and Amazon to price check / order.
Product Information
Price:
$31.95
Manufacturer:
TechOrbits
Retailer:
Amazon
Requirements:

Power outlet
Qi-enabled wireless charging device

Pros:

8-ports. Need I say more?
Wireless charging

Cons:

Wireless charging gets hot.
Really bright indicator light